Nature's Essence Bridal Glow Pack Review. Earlier I tried the Nature's Essence Bridal glow kit and this time, I tried this Nature's Essence Bridal Glow Pack with the rose and sandalwood oil. So, what different in this pack? This is a bridal pack which is formulated for the glowing skin. A lot of us will have dull and lifeless skin so, to improve the skin complexion and to get the glow, facial kits and facial packs are very important. In the festive season, a lot of girls will seek the glow on their face. This is the reason, I got this. I got this when I was searching for some good face pack for glowing skin. This says it is a bridal glow pack but actually anyone can try it. So, read this Nature's Essence Bridal Glow Pack review.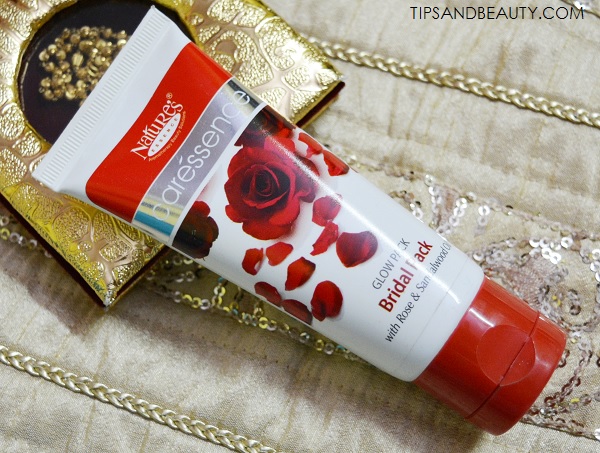 Price of Nature's Essence Bridal Glow Pack:
Rupees 100 for 60g pack
Product Description:
The Nature's Essence Bridal Glow Pack is a miraculous blend of rose and sandalwood oil which gives fresh and rejuvenated look to the skin.  This special bridal pack helps maintain a youthful texture, glow and leaves skin pure, velvety and well toned.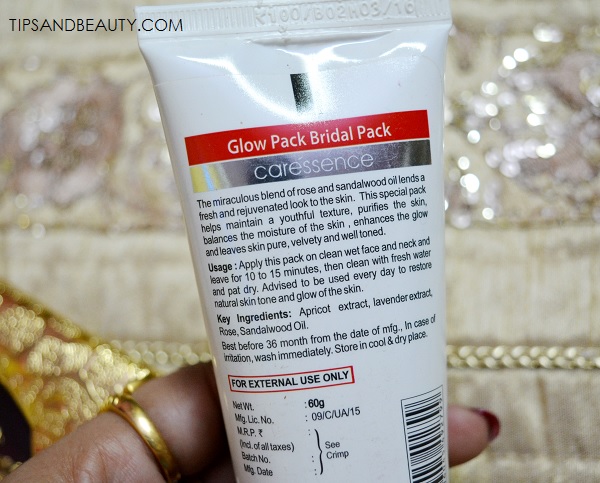 Directions to Use this Nature's Essence Bridal Glow Pack:
Clean the skin with a good facial cleanser and when you have rinsed the face do not wipe it off but rather use the pack. Wet skin is good for using the paste like face packs. So, apply this pack on the skin. Leave this for 20 minutes. Rinse the pack off using normal plain water. It says that this has to be used everyday but I use this 2 times in a week.
Key Ingredients:
Apricot extract, red chandan (red sandalwood), lavender extracts and rose. Rest of the ingredients list is missing from this face pack's packaging.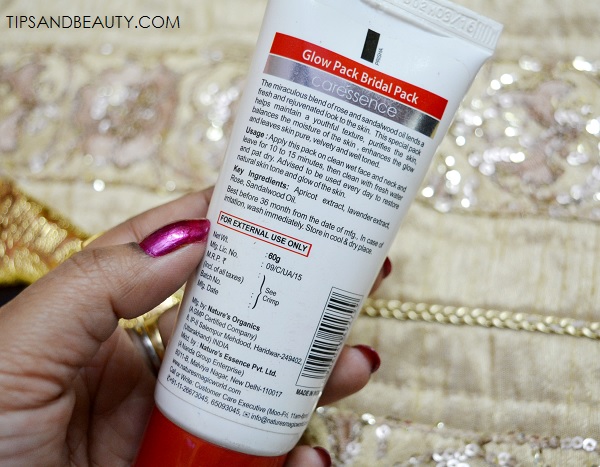 Experience with Nature's Essence Bridal Glow Pack
Packaging:
I got this product when I was searching for a decent skin pack that can give glow on the face. My skin was not breaking out but did not have the glow so, I got this. This has Rose and sandalwood oil which are excellent products to impart healthy glow on the face. This Nature's Essence Bridal Glow Pack comes in a white tube and has the red cap. The packaging  is very bridal and looks good. I really liked this red and white tube. The face pack is light pinkish in color which looks like as that of the multani mitti color mixed with rosy color. The tube can be taken when you travel and application is very easy. Like you just open the tube and smear the pack. It is as simple as that!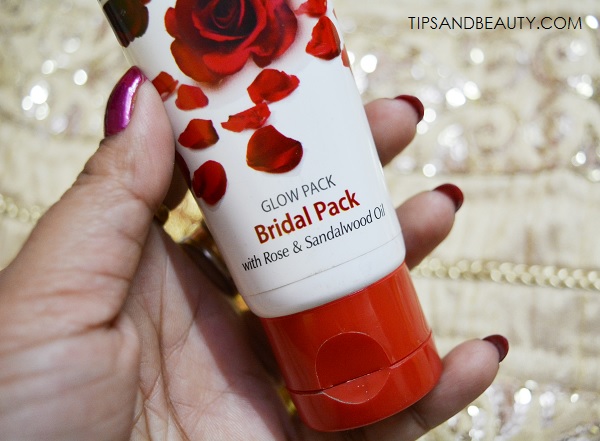 Texture and Smell
The pack is quite thick and is not lose runny paste like. It's smell too is not over powering but has a nice subtle smell that feels good. After all, who wants to use a product that smells bad or too strong. Have you noticed that some cheap quality products have the perfume like artificial smell that means a lot of chemicals have been used in those products.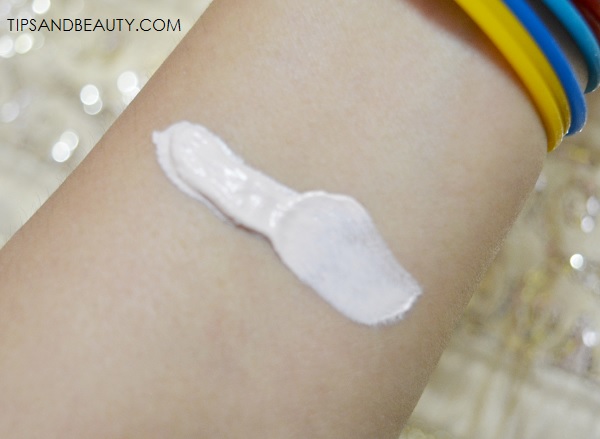 The consistency as I said is more like a paste and it is very easy to apply. I have written above how I used this pack. There I said, it should be applied on the wet face, so that this pack gets spread nicely all over the skin. Wet skin aids in smooth and even application since the pack is a quite thick paste like.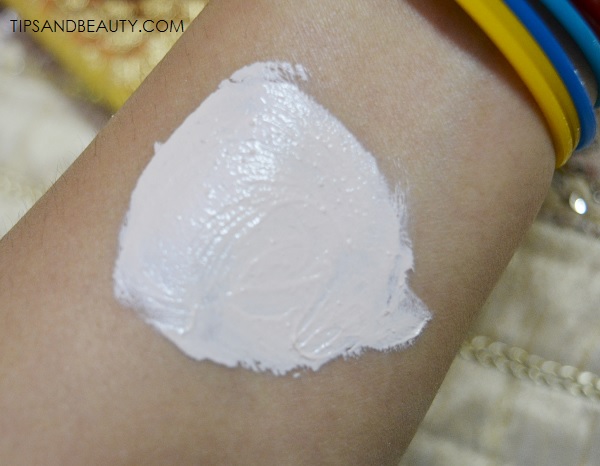 Once, I have used this pack on the face, this feels nice and does not irritate the skin or sting the skin. There is mild sandalwood smell and is good for the skin and is beneficial.
Once the pack gets dry after 20 minutes, I will splash some water and then rub the skin so, that the dried pack gets loosen up. This helps to get rid of the face pack off the skin nicely. While this is on my face, it does not make the skin feel stretchy when this gets dry. Like the miltani mitti or other clay based face packs which will dry the skin if your skin is already dry. My skin is combination oily yet I did not feel that this has made the skin even oilier or greasy etc.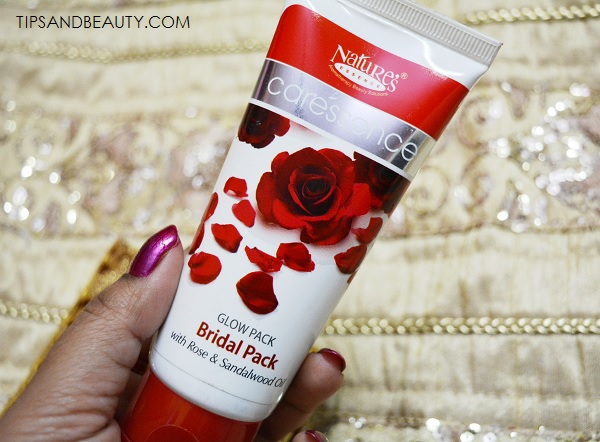 Results
After rinsing this face pack off, the skin feels dewy and there is a velvety layer like on the skin. Therefore when I splash the water, it feels like velvety soft. Skin looks cleaner and softer. But sadly the effects last temporarily. At most the effects will last for 2 days. I think that is still okay as when you are heading for a party or major event then the application of this Nature's Essence Bridal Glow can give some glow on the face instantly.
I think the product has given good results and fulfils the claims. It has not break me out. Also, I feel that this is good for dry skin as well. The sandalwood oil is ideal for making the dryness get healed faster. In summers, too skin dryness is seen and sandalwood is able to cure that.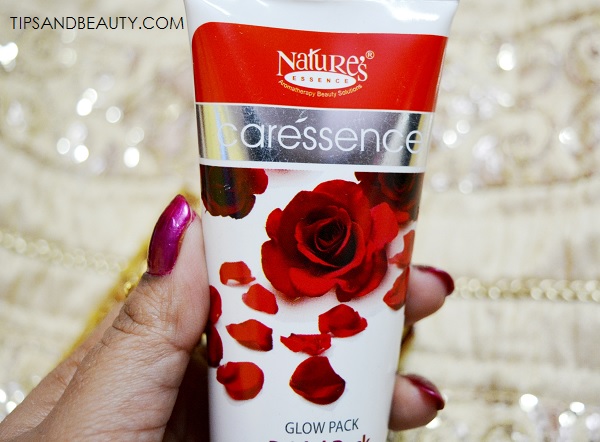 Good about Nature's Essence Bridal Glow Pack
Packaging is good as this is easy to use and apply

The product is not irritating to the skin

It has mild and subtle smell

Application is easy from the tube

Gives a glow and natural smoothness of the skin

The price is also good as this is for 75 rupees for a 60 g pack

It is filled with the goodness of roses and sandalwood oil

Good shelf life of 36 months hence this can be used for more time. No need to worry about finishing it faster
Not so good about Nature's Essence Bridal Glow Pack
Not all the ingredients are mentioned on this pack

Availability is not that difficult but in small cities, I guess this may be a bit difficult to find.
Rating for Nature's Essence Bridal Glow Pack: 4 out of 5
Nature's Essence Bridal Glow is for instant glow and brightness of the skin. This pack is a decent pack that is infused with the sandalwood oil and the power of roses. It gives glow to the skin and face appears smoother as well. Price is also very inexpensive so that many girls can try it. Also see our best readymade sandalwood face packs in India
Will I Recommend Nature's Essence Bridal Glow Pack?
Yes I will, but I also think that I will try it as long as I do not get another product like that.
This was the Nature's Essence Bridal Glow review. Have you tried this yet? Which is the pack you try for glowing skin?
Do read our natural homemade fruit face packs for fair glowing skin and other product reviews from Nature's Essence:
Nature's Essence Diamond Bleach
Nature's Essence Bridal Glow Facial Kit
Nature's Essence Apple Pack Skin Polishing Pack
Nature's Essence Lacto Bleach Tan Removal Cream
Nature's Essence Lacto Tan Clear