Nature's Essence Diamond Bleach Review. Hi girls, I like to bleach my facial hair as my facial hair is quite dark and they make my complexion look uneven and patchy. Therefore, to hide the unwanted hair and to lighten them, I use bleach creams. I will do this Nature's Essence Diamond Bleach review. This review was pending since long until, I got another pack  of this for myself. This bleach cream is not just a regular bleach cream that we have used but it is diamond bleach. Now what is so special about the diamond bleach creams. I feel that they help to polish and detoxify the skin. I have also tried VLCC diamond bleach cream. Nature's essence products have done well for me and have suited me as well. So, I had good expectations from this cream too. Let know if this Nature's Essence diamond bleach cream is worth using. We have also shared this in our best diamond bleach cream post.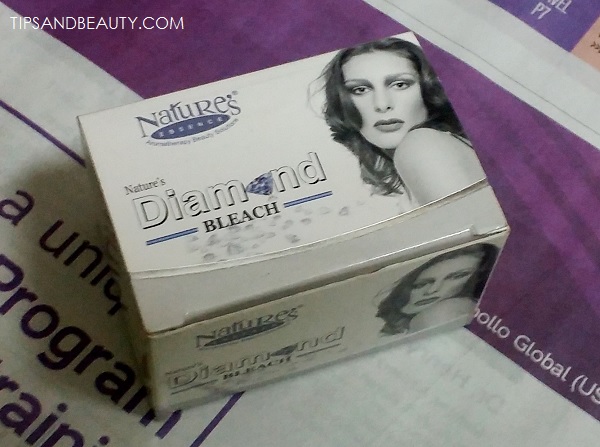 Nature's Essence Diamond Bleach Cream Claims:
This bleach cream is infused with the power of diamond ash. This skin bleaching is formulated to give your skin natural glow. It will also improve the texture of skin but also blends facial hair, cleanses pores and removes impurities of the skin.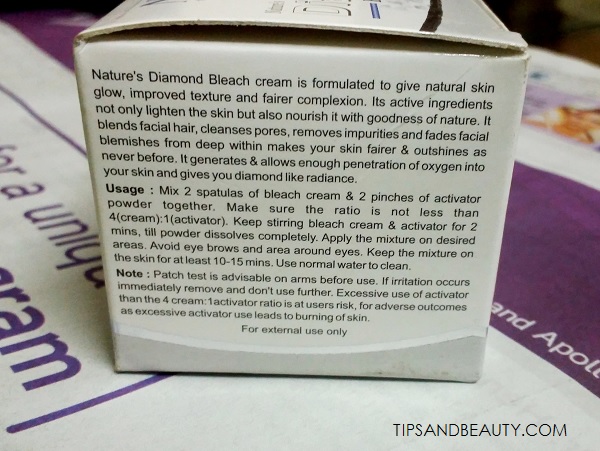 How to use this Nature's Essence Diamond Bleach Cream
Application:
Using this diamond bleach is pretty simple. I will take 2 scoops of the cream and mix that with 3 pinches of the powder activator. The powder activator is the one that contains the diamond extracts. I will mix it thoroughly with my fingers, till I feel that the activator granules have been dissolved completely. It is essential that we mix the bleach cream nicely for a smoother and effective application. Now, once I am sure that I have mixed everything well, I will again using my finger, will apply this bleach cream on my face. I will avoid the areas like lips, too close to the eyes, eyebrows and high on the hairline.
How much to wait?
Then, I allow this cream to work on its way to lighten my facial hair. This usually takes around 10-15 minutes, but if your skin tone is very fair then that means that you will need lighter color of the hair hence, you should keep the bleach cream for at least 15 minutes. I keep this bleach on my face for 15 minutes. This much time is idea for this to make my facial hair match with my skin tone. For dark skin, 10 minutes should be fine.
If you are using bleach for the first time or from a new brand then, I will suggest that you apply some of it near the jaw line or close to the ear to check if, the product suits you or not. By the way, when the bleach is working to lighten the hair mild tingling sensation happens so that is pretty normal.
Best Diamond Facial Kits in Indian Market
How to remove?
To remove the bleach cream you should first take off the bleach with a cotton or a tissue paper then wash the face. Washing the face directly is not good as this will be a messy process. Wiping off the cream first and then washing your face is the easiest way to remove any bleach cream from your face.
Shelf life: 1 year to 18 month
Price of Nature's Essence diamond bleach cream:
90 rupees for 43 grams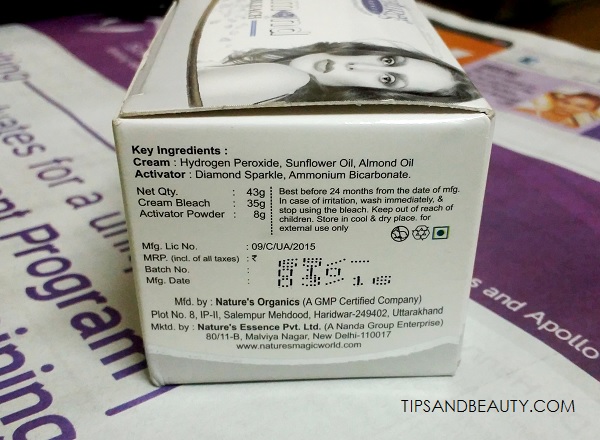 My experience with Nature's Essence Diamond Bleach Cream
This Nature's Essence diamond bleach cream is packaged in a small carton box. Inside you will receive a tub of cream which is bigger and a small tube of powder activator. This powder is rich in the so-called diamond bhasma or diamond ash. This is somewhat granular. I have seen that most of these powders are granular in texture. This is why I always recommended you guys to thoroughly mix the powder in the cream. As if the powder is not mixed up or dissolved properly then the results will not be as effective.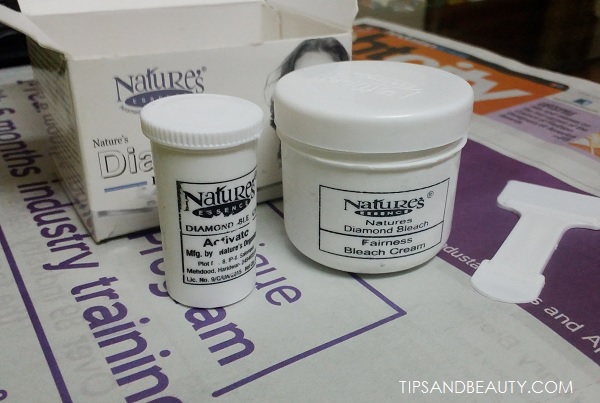 I like bleach creams that are not very strong as my skin is sensitive. But I have to say that post using this I feel that the cream is not harsh on the skin and has given good results. Such face bleach be used before using diamond facials as well.
VLCC Diamond Facial kit Review
Procedure for diamond facial at home
Results:
After using this bleach, I feels that the dark-colored hair that the facial hair were lightened and my complexion looks smoother and cleaner than before. The reason the face look clearer is that the dark-colored hair have been lightened and skin appears smoother. I have not faced any irritations. Burning or itching post using this. I feel this is safe for even the sensitive skinned girls as well.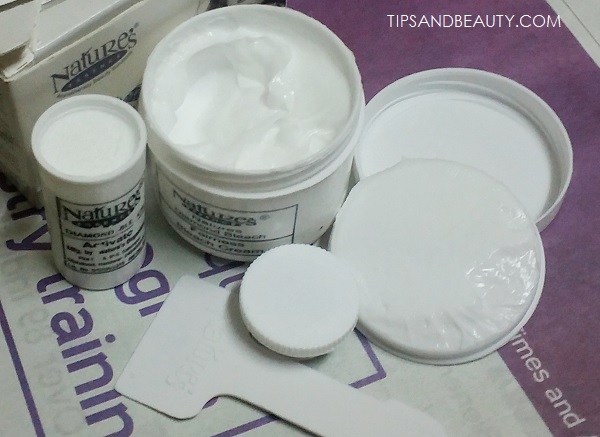 Pros of Nature's Essence Diamond Bleach Cream
The product is very affordable

There is diamond ash which polishes and detoxifies the skin, Don't know how true is that.

Is will not sting, burn or itch the skin

It lighten the facial hair effectively.

My skin feels glowing and fresh post using this

The application is easy and non messy.

It is good for sensitive skin too though I will advise you to do a patch test
Cons of Nature's Essence Diamond Bleach cream
There were no Pre and Post creams in this bleach Cream if in case you like that concept

Rating: 4 out of 5
Nature's Essence diamond bleach is good for the sensitive skin and for the usage before the functions, parties etc to get the glow. But I will suggest that you try the bleach a day before the event. I am saying this because if there are any rashes then that can be healed in a day at least.
So, I hope you liked this Nature's Essence Diamond Bleach Review and share your thoughts in the comments below.
Do see other products:
Nature's Essence Fruit Bleach Cream Review
Fem Gold Golden Glow Bleach Cream