Nature's Essence Kesar Glow Saffron Facial Kit Review. Hello friends, you may know that saffron is beneficial for skin and health. Saffron which is also known as kesar, can make the skin tone lighter and also relives the skin from those dark spots, marks and acne scars. I got a new facial kit few weeks ago and this is the Nature's Essence Kesar Glow Saffron Facial Kit. I bought it because I wanted to try it as it has kesar or saffron in it. The time when I bought it, I had tanning and my complexion was a bit darker so, I thought it would be good if I can use a kit that contains the kesar in it. Moreover, I have used fruit facial, gold, pearl, diamond etc so, this Nature's Essence Kesar Glow Saffron Facial was a new variant for me. Let's know if this Nature's Essence Kesar Glow Saffron Facial Kit is really worth trying or not.
Price of Nature's Essence Kesar Glow Saffron Facial Kit 
350 Rupees for a facial kit box
In the Kit you get these 4 products:
Kesar Cleansing Cream

Keasr Exfoliator scrub

Kesar massage cream

Skin firming Glow pack
These are not the single time use kit but they products are in big containers so, this can at least be tried for 3-4 times. I have not seen the small one time use pack of this saffron home facial kit that is why I bought this bigger pack. Let me tell you friends, how I have used this Nature's Essence Kesar Glow Saffron Facial Kit.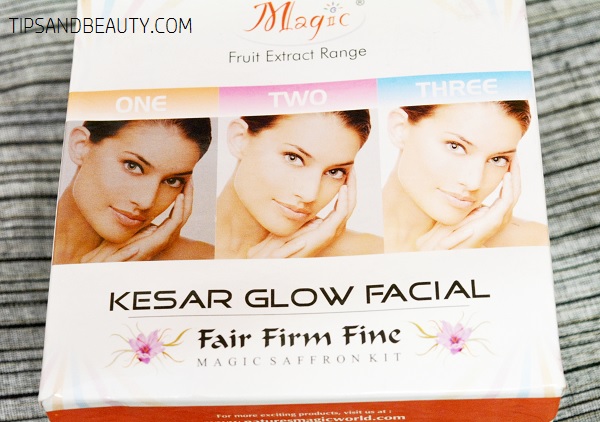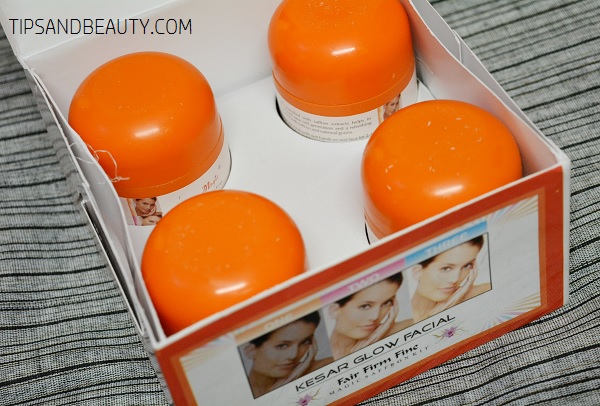 Experience with Nature's Essence Kesar Glow Saffron Facial Kit
The kesar facial kit comes in a big carton like box in which there are 4 orange colored jars. The quality of the jars is not that good I mean they look like made with the cheap plastic and the labels are also not pasted uniformly. I liked the packaging and quality of the Nature's Essence pearl facial kit more. There the tubes were made with quality plastic and the lettering etc was also neat and clear.
Anyways, the kit has 4 containers which is for the 4 basic facial steps, like the cleansing, scrubbing, massaging and the pack.
Let me describe them one by one and how I tried this saffron facial at home.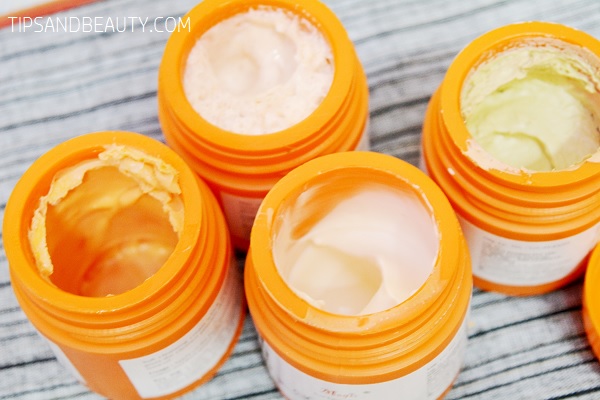 1. Saffron Care Cleanser (Deep Cleansing Cream)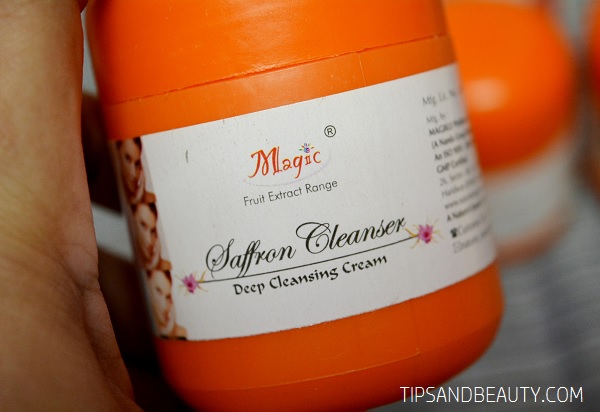 This facial too start with a cleanser. The cleanser that I have got in this kit was so bad that I have no words. Just see yourself in the image of swatches. The cleanser jar only had little bit of product and that too is a glob of oily greasy mess. I was literally scared to see the oil in it. When I picked it up with my finger and applied on my arm to show you guys, I was not even able to stick it. It was like halwa. No seriously, the oils and the sticky product was very bad. Good that I did not have to use this on my already oily skin. The cream is peachy in color and what a terrible product!! It can clog your pores and in  the next 2-3 days, you can expect to see those pearl tiny whiteheads or blackheads on your face.
2. Saffron Care Exfoliator (Refreshing Exfoliator Scrub)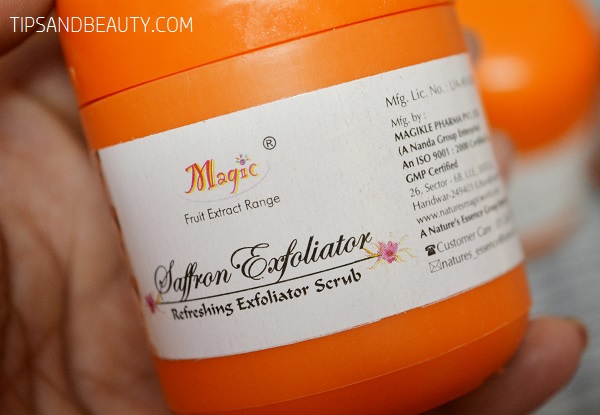 This exfoliator was okay. It had little smell which was okay. It had this creamy base in which the walnut scrub particles are there. I used this and felt and this does its job well but when I tried to get rid of this from my face, it was sticky and very slippery. So, this product too cannot be considered as a suitable product for oily skin or acne prone skin. The light brown walnut particles were a bit abrasive so if you have sensitive skin then makes sure to wet the face first then try this on your face. We need to scrub the face at least for 2-3 minutes but with light hands and gentle finger pad pressure. This was average product for my oily combination skin.
3. Saffron Care (Kesar Massage Cream)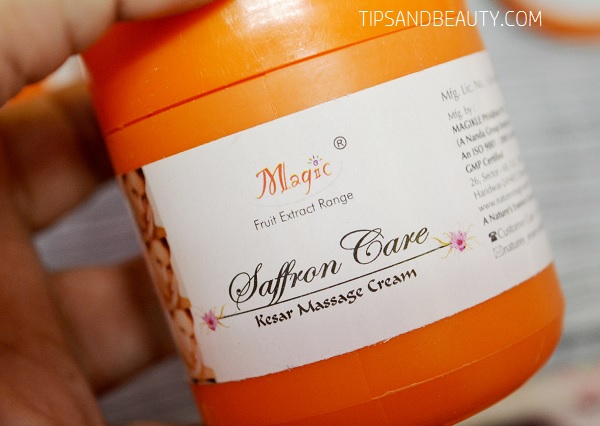 Massaging is the next step. The massaging cream is whitish in color and has very strong smell. The texture of this cream is okay and is thick like the massaging creams are. But the strong smell is a turn off for me. I have mentioned this several times friends, that I do not like strong perfume like smelling products. They can irritate the skin and also can be harsh for most of the skin types due to the strong fragrances used. Anyways, I applied the cream and massaging with this was good. I use rose water to lubricate my massage cream. Rose water helps to lubricate the skin and hands glide smoothly. Massaging needs to be done at least for 20 minutes to boost the blood circulation. I find the cream massaging with this kesar cream to be an average experience as after the massaging my skin was feeling as if I had massaged with a very oily cream like a cream which has malai in it. Honestly, when you have oily skin you will never want to use anything that is oilier. Right? Moving on to the next step.
4. Saffron Care Firm Glow Pack (Skin Firming Glow Pack)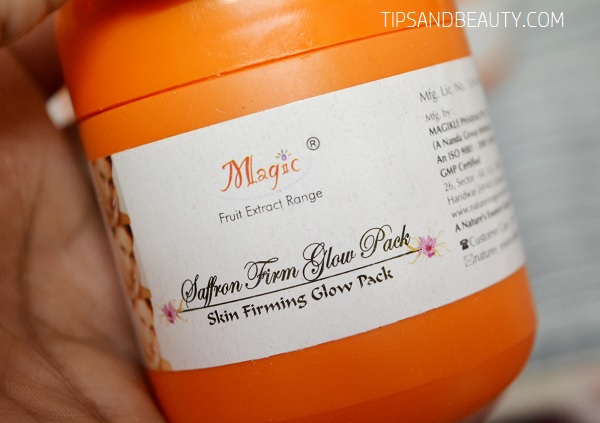 Saffron face pack is with a light yellowish tinge. It is thick like the multani mitti pack and has a mild smell. I think it has multani mitti for sure since the color and the thickness and smell of this pack reminds me of fuller's earth. So, I applied this pack on my face and after 20 minutes, I wash it off. It was the only product which I liked as this did not have artificial scent and the product is non greasy. This pack was more like a mud pack.
Best Mud Packs and Clay packs in India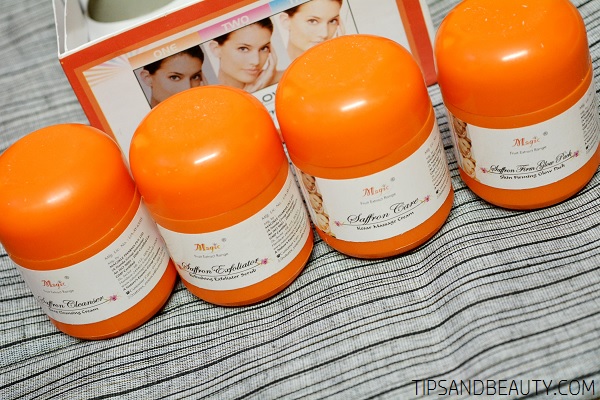 Results:
After using this kit I was not happy at all but somewhere in my mind I had thoughts that it may not give me acne and pimples. My skin is clear at the moment so, I was dreading that. But that did not happen except for few tiny bumps on my chin, the next morning.
But, I will still not recommend this facial kit to anyone, Not to people with oily skin or the girls with dry skin as well. Apparently, this product is made with so many chemicals and oily greasy harmful products which can irritate the skin. It would be better to use a good brand like VLCC. I am not saying that VLCC facial kits are 100% free of the chemical, but at least the quality is still good  and they do not use those cheaply available chemicals. I am saying this as I have used around every VLCC facial kit.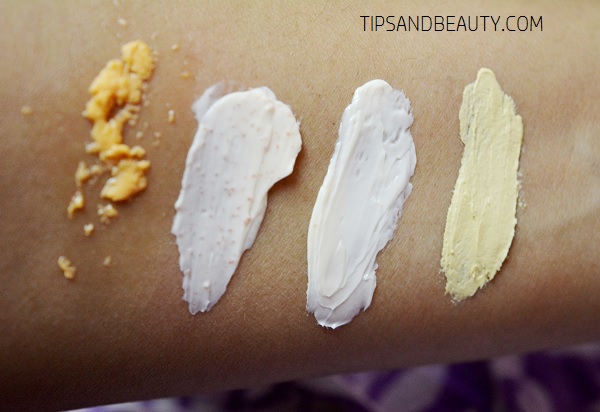 Pros of Nature's Essence Kesar Glow Facial Magic Saffron Kit:
Scrubbing cream was okay
The pack was good and able to make the skin a bit tighter as it had mud
Packaging looks good from the outside but not when you open it.
Cons of Nature's Essence Kesar Glow Facial Magic Saffron Kit:
Cream cleanser was so bad that the container was empty and whatever product as there that was sticky oily blob.
It can cause irritation to the sensitive skin due to strong scents used in this facial kit especially the cleanser and cream.
Not at all for oily and acne prone skin
It can give you more acne and breakouts
Glow would be there but what's the point when you also get breakouts free with the glow
Rating: 1.5 out of 5
I will not recommend this to anyone, friends.