Nature's Essence Lacto Tan Clear Review, Price, How to use
Hi all!! How are you all doing? Summers means sun tan. Right? Yes, for most of the Indians, they worry about getting darker in summers. Now a days, even boys are aware of their skin color and wants lighter skin tone. Couple of days ago, there was this product called spinz sun tan remover detanning cream. I used it and that was okayish. On first time that gave good results but the results decreased after some time. Then, I thought of using this Nature's Essence Lacto tan clear. I had used this product 5-6 years ago as well. Since one of my aunt's acquaintance was selling these Nature's Essence products and she used to recommend products to my Aunt. I mean to say my Chachi. At that time the product used to come in a plastic jar and was not so hygienic to use. I am glad that this time the product is in the form of a tube which I find extremely. So, is this product really good? Let's start the Nature's Essence Lacto tan clear review.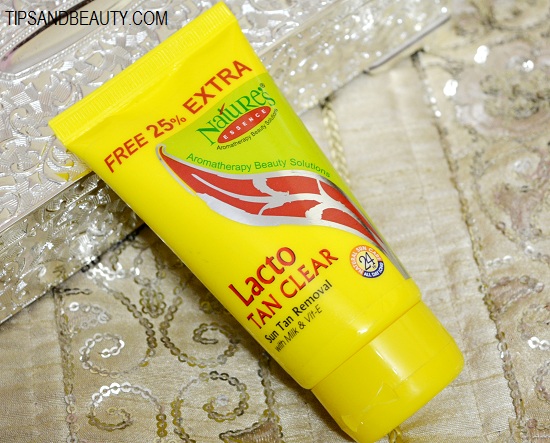 Price of Nature's Essence Lacto tan clear: This is priced at 85 rupees for product.
Key ingredients: Coconut oil, milk, vitamin E acetate and geranium oil. Rest of the product list is not mentioned on the packaging.
Experience with Nature's Essence Lacto tan clear
The product comes in a bright yellow tube and I just loved the packaging. The product has become so easy to use. Just take out, apply and sit. No need to dig your fingers in a tub or jar. Another thing I would like to mention is that this has a shelf life of 36 months so you can use it for that long but to be honest the pack will not last. I think the pack will last for 10-12 usages. It can be more but that totally depends on how much you take.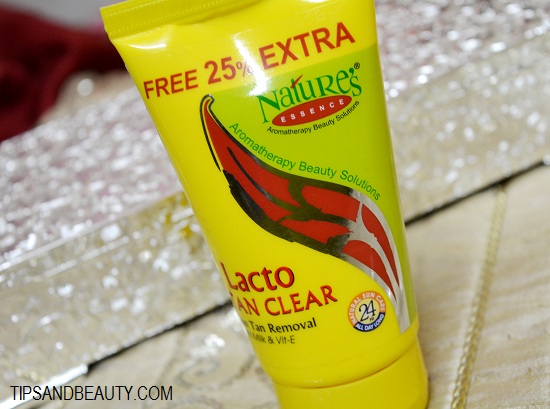 Another thing is that this can be used every day for getting back the lost complexion. This is what was there on the tube. The product is a thick shaving cream like thick. It smells nice and pleasant not like some chemically filled product. This is creamy white in color and has creaminess.  The creaminess is not just thick so that this gets difficult to apply but okayish. Now, let me tell you how I use this sun tan remover product.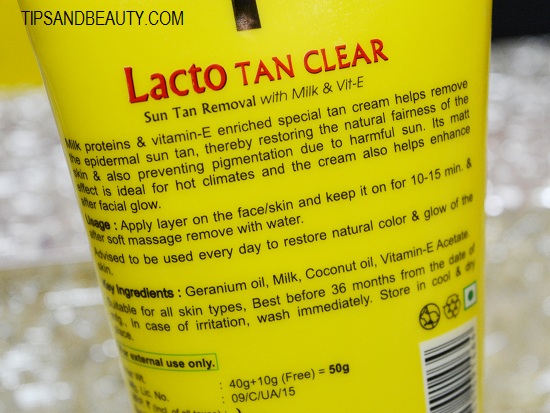 Nature's Essence Lacto Tan Clear How to use:
To use this product, I will first wash my face with a face wash and then I will take around a teaspoonful of this product. Trust me friends, a teaspoonful of this product will be enough for the entire face and for the neck as well. After I have applied it on my entire face, I will wait for 15 minutes, then will wash it off. I will not directly wash this off but first, I will wipe of fusing a tissue paper or with a wash cloth. A wash cloth is actually your face towel only. :D
Soon after I had washed my face, I can feel that my face looks a lot brighter and cleaner. One more thing I had noticed is that there is a mild whitish layer that is there on the face but with more washing the skin gets free of nay debris and residue. This has really worked to give me back my complexion to good extent like if you are not using anything then the complexion may take some time to get back but when you use tan removal products then getting your original fairer complexion is a lot easier. Do keep in mind friends that this is not a fairness product but this just removes or fade the tanning due to sun exposure. I think this product will be great for teenagers, college students and people who get dark skin while working under sun.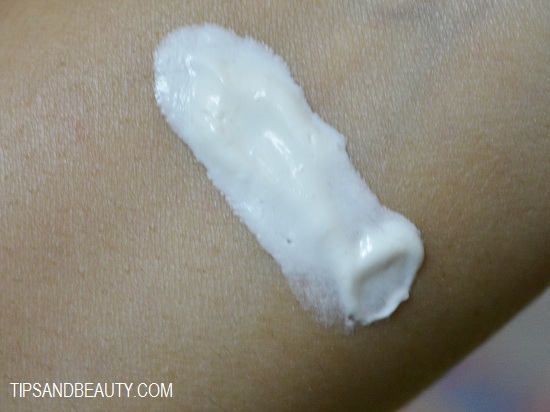 This has not made my already oily skin any oilier. Moreover, my mum has dry skin and this product has not made her skin any drier. Thus, this is a product suitable for all the skin type. Other than that I also do not feel that this gives temporary results. I mean to say that if this has taken off the tan and the skin looks fairer only and will not get dark unless you go in the sun.
One more thing I noticed that this cream doesn't feel that strong in smell but after I had applied it for the next 15 minutes, I felt the smell becomes a lot stronger. Not very but that became strong enough.
Pros of Nature's Essence Lacto Tan Clear
This is an affordable product that can be used by everyone.
This product is used as a facial pack for sun tan removal and this is very beneficial in lightening the sun tanned skin complexion.
Application of this tan removal cream is easy since the tube pack is user friendly.             
This product is also good for all the skin types.
The wait time is only 15 minutes hence you can use this and get the benefits fast.
This can be used every day to remove the sun tan.
Cons of Nature's Essence Lacto Tan Clear
Smell gets a bit stronger after the application
This also has hidden ingredients and it would have been better if they would have shown the complete list of products.
Rating: 4 out of 5
Nature's Essence Lacto Tan Clear is a very affordable and effective product that helps to lighten the sun tanning and skin darkening. This has helped me to get back the original skin color and faded the tanning. I have used this continuously for a week and had seen a lot of improvement.