Nature's Essence Oxy Fair Oxygen Bleach Review
Hi all, I am going to share this Nature's Essence Oxy Fair Oxygen Bleach review and its details. Skin bleaching is essential when we have too much dark facial hair. We can get rid of the unwanted hair but at times due to time constraint, we cannot go to the salon or palour. Then face bleach cream are really helpful. Bleach cream will hide the dark colored facial hair and then will lighten them. I got this Nature's Essence Oxy Fair Oxygen Bleach when I was looking for an oxy bleach. Like the regular bleaches, oxy bleach creams are good as they also impart oxygen deeper into the skin cells. So, let's see the Nature's Essence Oxy Fair oxygen bleach review.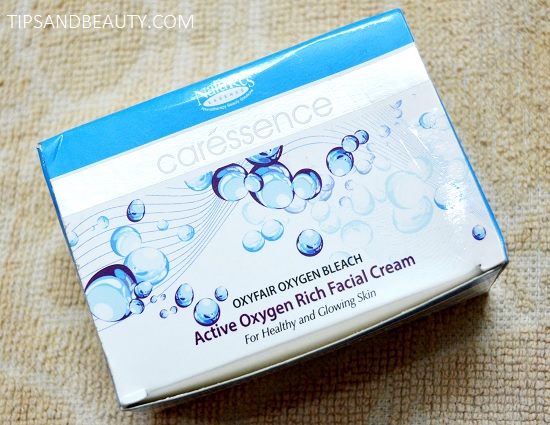 Product Description:
Oxyfair is an oxygenated skin bleach cream which facilitates the oxygen in the skin cells. Resulting in skin breathing. Oxy bleach cream gives hydrating, glowing and smooth texture to the skin, thereby bleaching dead skin and exposed patch areas.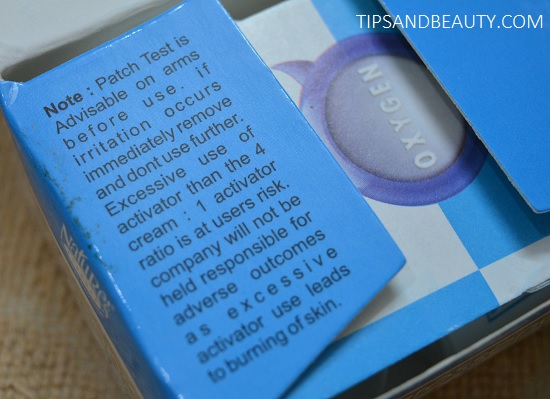 Key Ingredients of Nature's Essence Oxy Fair Oxygen Bleach:
Cream Bleach: Hydrogen Peroxide, Sunflower oil.
Small Lacto Bleach: Milk, Honey, Geranium Oil, Coconut oil.
Activator Powder: Ammonia bicarbonate.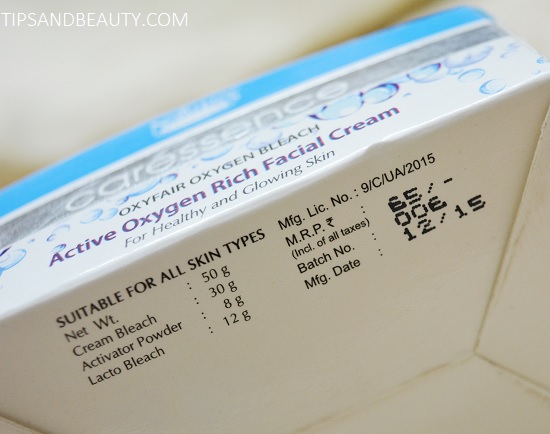 Price of Nature's Essence Oxy Fair Oxygen Bleach:
65 Rupees for 50g products in total Bleach is 30 g, Activator is 8g and Lacto bleach is 12g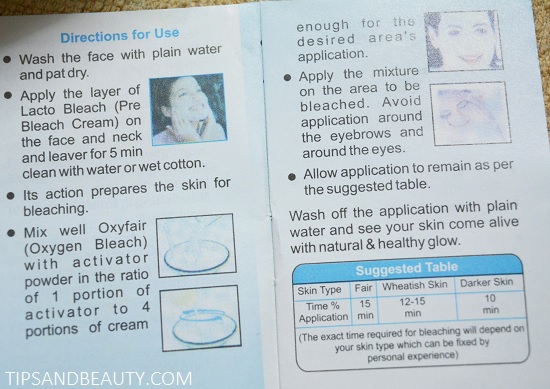 How I use this Nature's Essence Oxy Fair Oxygen Bleach:
To apply this cream bleach first of all, I was my face with my daily skin cleanser. Then I  will take all the hair up so that they do not gets tick to the bleach and come on the face afterwards. 

As the pack says, we have to use the lacto bleach first. So, I take around a tiny scoop of this lacto bleach and rub all over the face and some on the next. I will wait for 5-8 minutes and then wash my face with water. But wait! I do not wash the face directly with face rather I wipe of the product and then wash with water. This makes the rinsing process non messy and clean.

Then I will take 2 scoop of the bleach cream, yes the white cream and then would mix 2-3 pinches of the powder activator. The powder activator is strong smelling and looks like light bluish granules. We need to mix the powder completely in the cream so that this gets effective when we use it.

Now, once I feel that the activator has been fully dissolved in that cream. I will apply this mixture all over the face some on my neck as well. I take care that I do not apply the cream bleach on my eyebrows, lips or too close to my eyes.

I generally keep my bleach or 12-15 minutes. This si sufficient time that will lighten my facial hair. In summers when I use bleach, feel a bit sweaty and eyes gets watery. It is normal so, even if you experience the same there is nothing to worry about.

After 12-15 minutes, I take a small towel and wet that with clear water and squeeze dry. I will wipe my skin with this and remove all the traces of bleach from the face. Then I will go ahead and wash the face.

I really like the skin that gets so softer and brighter looking. The lacto bleach also helps to get rid of the tan.
Experience with Nature's Essence Oxy Fair Oxygen Bleach:
I like using skin bleach as they leave my skin looking fairer and also gets rid of the sun tanning and  skin impurities that I have accumulated over the days. This bleach is an oxygen rich bleach which is accompanied with the lacto bleach. I have already used the Nature's essence lacto tan clear bleach. This is not a bleach but a tan removal cream. The bleach comes in a carton and the packaging is kept blue and white. Inside you will get a tub of 30 g of cream which is the base and an activator powder along with the lacto bleach.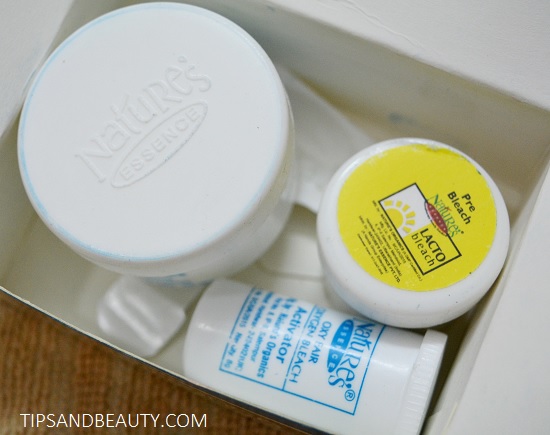 Packaging is good and the price of this cream is also affordable. As I have mentioned above that how I used this bleach cream, the process is pretty simple. The application of lacto clean before applying the bleach prepares for the bleaching. Next step was application of face bleach.
Results:
Once I have removed the bleach off my face, I feel that the skin looks clear. With clear I mean the dullness is not there rather skin appear a lot softer and clean. Most of the bleach cream odes that as the activator powder will do reaction that not only lightens the facial hair but will also clarify the uppermost skin layer.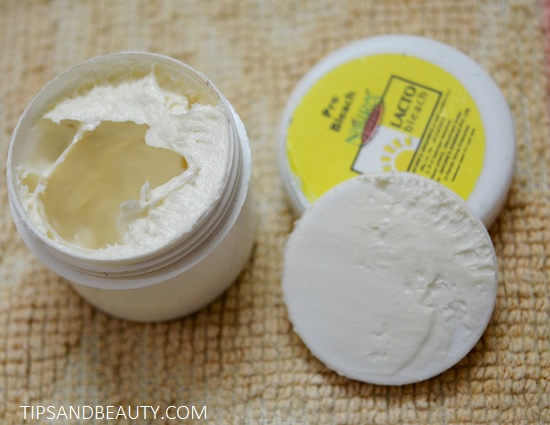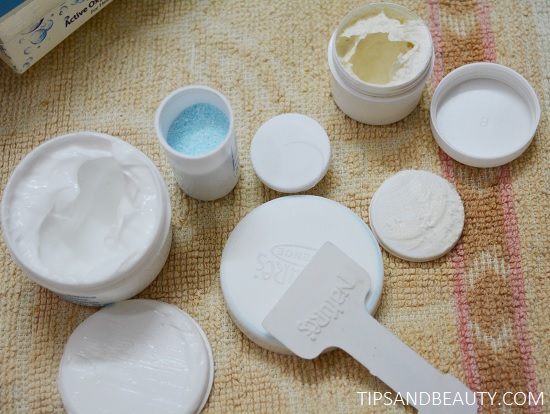 So, I liked this a lot. Another thing is that the next day, when I wake up the skin look really nice. Bleach also removes the tanning from the skin. We like in a polluted world now hence the pollution and dust etc get deep seated, this also removes them. Furthermore the hardened sebum blackheads etc are also softened so that we can take those out with gentle pressing.
How often I apply the bleach cream
I apply bleach every 2-3 weeks or more if I forget or when I am busy but once in  15-20 days is ideal usage time.
Pros of Nature's Essence Oxy Fair Oxygen Bleach
Nature's Essence Oxygen Bleach is very affordable and is easy to get from the local shops and online shopping

Price is affordable which means a lot of people can try this cream bleach

This gives a natural glow and fairness to the skin

Effectively lightens the facial hair to match them with the true skin complexion

Is good for sensitive skin as well

Lacto bleach cream helps to get rid of the tanning and dullness

It revives the dull and tired skin

Active oxygen helps to boosts oxygen and gives fairness

Suitable for all skin types
Cons of Nature's Essence Oxy Fair Oxygen Bleach
There are no cons as such
Rating: 5 out of 5
I liked this Nature's Essence Oxy Fair Oxygen Bleach for its affordability and performance. This helps to get rid of my skin dullness, darkness and tanning as well. The cream bleach is not harsh on the skin rather it gives glow and lightens the hair effectively.
This was the Nature's Essence Oxy Fair Oxygen Bleach review? Have you tried it or thinking of using it? Do try it I am sure you will like it.
Do check out some more bleach creams that we have reviewed here:
Nature's Essence Fruit Bleach Cream
Fem Golden Glow Gold Bleach Cream
Nature's Essence Diamond Bleach
Nature's Essence Lacto Tan Bleach Cream
VLCC Insta Glow Oxy Bleach Cream