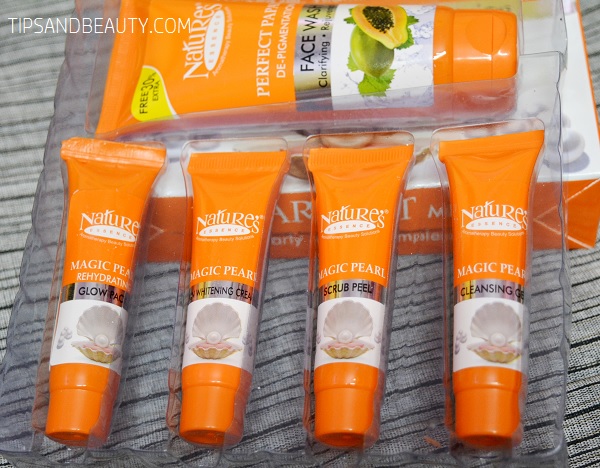 Nature's Essence Pearl Facial Kit Review. Hi everyone!! Do you like home facials then you would have heard about the pearl facial kits. Pearl facials are used for the oily skin and the skin that needs detoxification. But to be honest anyone can try a pearl facial. First of all, I will talk about how you can also try a facial at home. I have this Nature's Essence Pearl facial kit with me which bought around 2-3 months ago but I could not use that. I was actually using the other facial kits from VLCC so, now I have used this facial kit for 2 times already, I am ready with the review of this Nature Pearl Facial Kit. Pearl has the capability to whiten the skin and to get rid of the toxins that are trapped in the skin cell layers. Facials also increase the blood circulation which also loosens the trapped impurities and releases the lymph flow. Therefore, doing facial at home is recommended.
Price of Nature's Essence Pearl Facial Kit: 
225 Rupees for 52 g
Shelf Life: 2 years or 24 months
Ingredients: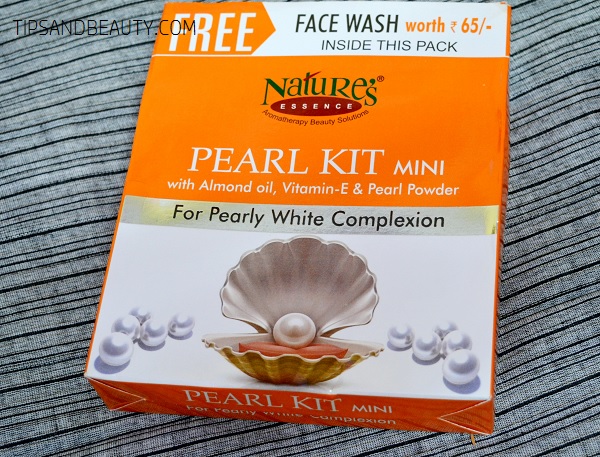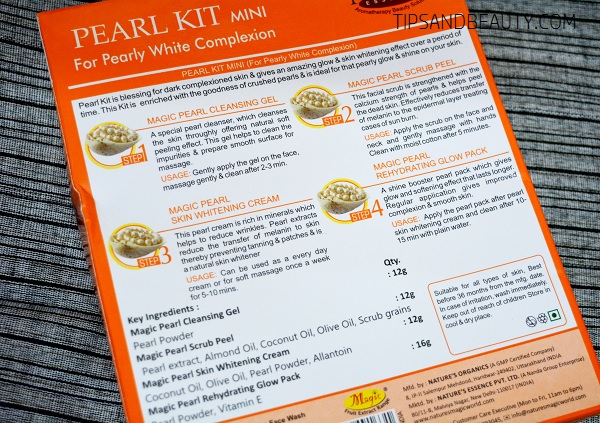 Experience with Nature's Essence Pearl Facial Kit 
This Nature Pearl Facial Kit is packed in a bright orange colored packaging which consists of the tiny tube of orange color. I have liked the packaging as this is very nice to look at and it also is very travel friendly. You can simply take out all the tubes and then put them in your small clutch while you travel. So, this mean that if you are going for a wedding in other city or place then, you can take the tube and try the facial yourself a day or 2 prior to the function. This is a single time use pack as the tubes contain only 10 ml of the product.
Astaberry Pearl Home facial kit Review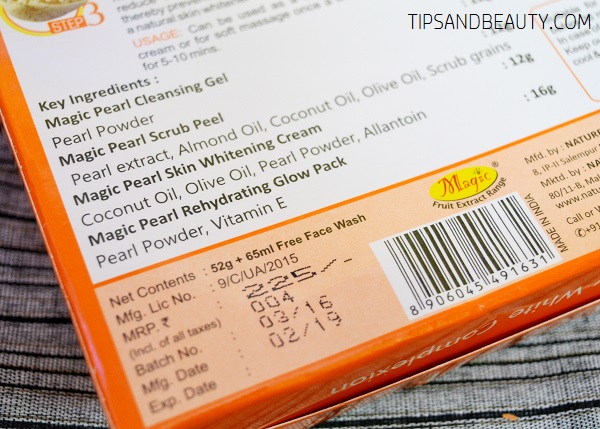 Let me tell you how, I have used this Nature Pearl Facial Kit and did the facial myself.
But before that it will be good if you tie all the hair up and then leave the face free of any floating hair on your face. Yes, this is crucial as hair should be kept off the face while you do facials. Use a hair band instead to do that.
1. Pearl Cleansing Gel
Most of the facials start with the cleansers and there too, we have got this pearl cleansing gel. The gel is a clear gel which looks like that of the aloe vera gel and has a mild smell. I really dislike the products which ooze the perfume like smell. Moreover, this also indicates that there have been too much of the chemicals used. I applied this on my face and then I massaged the skin for 2-3 minutes. Massaging is done to stimulate the skin's blood circulation and to cleanse the skin deeply. After massaging this for few minutes, I will wipe this off the face and rinse my skin thoroughly using clear water.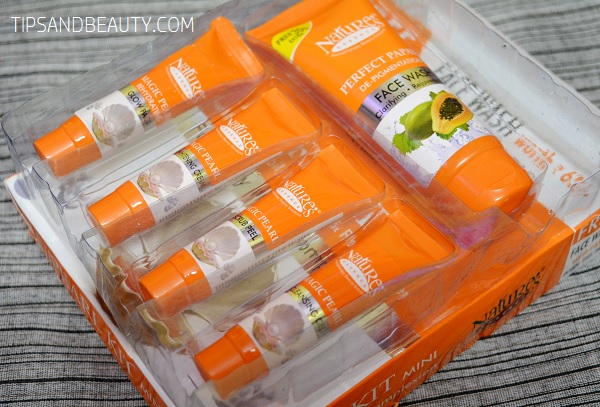 2. Pearl Scrub Peel
Scrubbing is the next step in this Nature Pearl Facial Kit as well. There we get a gel cleanser which is supposed to have the pearl content or the extracts of the pearls. I do not know but I doubt if it really has pearls in it. There is no such fragrance in this product and the texture too is grainy and thick. I used this like the half of the tube and it was sufficient. It is suitable for my oily skin and does exfoliate the skin. I hate creamy scrubs that leave the greasy feeling on my face but this does not do anything like that. You should scrub the face for 2-3 minutes, if you have sensitive skin then you can try for 1-2 minutes only. But do splash the face with water first so, that the scrubbing will work better and hands glides easily.
3. Pearl Skin Whitening Cream
Pearl Skin whitening Cream is white in colour and has herbal smell. Thankfully this too does not have strong smell. The cream is not thick not liquid-y but is a medium consistency. This is the pearl whitening cream which has to be massaged on the face. When I applied this on the face, It does not appear or feel greasy as such. I like using little bit of rose water to make the creams glides on the face and so that my hands also glides smoothly on the contours of my facial skin. When the cream gets absorbed fully, I take some more and then take some of the rose water and again will massage on my face. I give mire importance to the massaging step in my home facials as massaging is the step that should be done at least for 20 minutes. Massaging with creams boost the blood circulation which helps to make the skin glow and also increases the lymph circulation of the face.
4. Pearl Rehydrating Glow Pack
Facial pack is most of the times, the last step in the facials. Packs and mask will boost the skin tightening s they firm the skin and also makes the skin pores tighter. Packs also cures the darks pots and are considered good of anti aging. The pack is whiten color and has a little yellowish tinge and I was wondering why it is like that.
Anyways, I applied this pack evenly on my skin and then allowed this to get dry and work on my face for about 20 minutes. Most of the face packs will give good results  in 15-25 minutes. I washed it off when it gets dry. This is easy to rinse off and unlike the Just herbs anti tan cleanser or any multani mitti pack.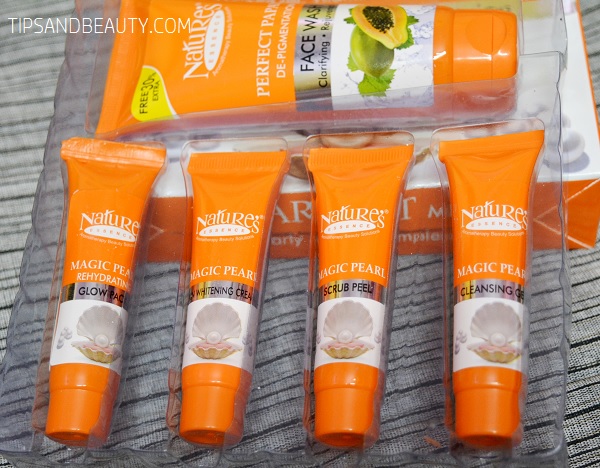 So, now friends, my facial is done. And I will have to see the results.
The facial has given my skin a boost of freshness. Yes, my skin looked softer and supple it was due to the fact that the cleanser, scrub, cream and pack have worked to clarify the skin. When our skin looks softer and clearer then it also looks fairer.
I overall liked the effect of this facial, but I will also tell you that the results will last for a day or 2 only so, if you are heading for a wedding or a party then you must try it a day prior so that it gives maximum results. For home facial, this is an affordable and effective kit.
Pros of Nature's Essence Pearl Facial Kit
Packaging is good and is also hygienic to use rather than the tube packs
The scent is mild in the products which is good
Facial step products were nice and non greasy or non oily for the skin
Gives glow and hydration for around 1-2 days which is ideal for a home facial kit
It has not irritated my skin
Cons of Nature's Essence Pearl Facial Kit
Effects last for 1-2 days only
This is suitable for all skin type but I think it is less hydrating for very dry skin
Rating: 4 out of 5
Nature's Essence pearl facial kit is a decent and affordable facial kit which can be tried at home. It gives glow and suppleness for the 1-3 days so that you can look beautiful and fresh.
Do check out our 5 Best facial kits for oily skin in this video and please subscribe friends.