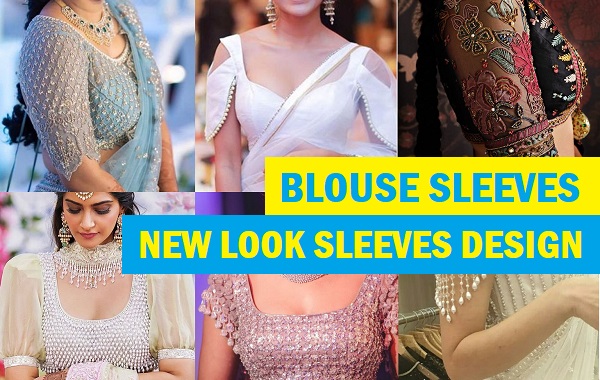 Saree, the timeless traditional attire of India, is not just a piece of clothing but an embodiment of grace and culture. Over the years, the saree blouse has undergone significant transformations, evolving from a simple supportive garment to a canvas for artistic and fashionable expressions. One of the most crucial aspects of a saree blouse that has garnered considerable attention is its sleeves. The design of saree blouse sleeves plays a pivotal role in elevating the overall look of the ensemble. In this article, we will explore the latest saree blouse sleeves design trends that are captivating the fashion world.
Different Types of Blouse Sleeves
Traditional Sleeves
In the past, saree blouses featured straightforward and traditional sleeve designs. These sleeves were usually elbow-length or full-length, enhancing the elegance of the saree without overshadowing its beauty.
Modern Innovations
With the evolution of fashion, saree blouse sleeves have undergone dramatic changes. Fashion designers now experiment with various sleeve patterns, using a mix of traditional and contemporary elements to create unique styles that suit different tastes and preferences.
Short Sleeves
Short sleeves are a versatile and classic choice, perfect for both formal and casual occasions. They usually end above the elbow, allowing easy movement and providing a balanced look.
Cap Sleeves
Cap sleeves are small, rounded sleeves that cover just the top of the shoulder. They add a touch of femininity and charm to the blouse, making them ideal for delicate and elegant saree drapes.
Puff Sleeves
Puff sleeves are voluminous near the shoulder and gradually taper down to a narrower fit at the forearm. This style adds drama and vintage charm to the saree, making it a popular choice for weddings and festive events.
Bell Sleeves
Bell sleeves flare out gracefully from the shoulder and resemble the shape of a bell. This design adds a bohemian and free-spirited vibe to the saree, making it a favorite among modern fashion enthusiasts.
Butterfly Sleeves
Butterfly sleeves are wide and airy, resembling the wings of a butterfly. They create an illusion of broader shoulders and are perfect for adding a touch of glamour to the saree.
Cold-shoulder Sleeves
Cold-shoulder sleeves feature cut-outs around the shoulder area, adding a contemporary and edgy touch to the traditional saree blouse.
Ruffled Sleeves
Ruffled sleeves create a playful and feminine appearance. The ruffles can vary in size, from subtle frills to more dramatic cascading layers.
Flared Sleeves
Flared sleeves start narrow at the shoulder and widen as they reach the wrist. This design exudes elegance and sophistication, making it suitable for formal occasions.
Sleeveless Blouses
Sleeveless blouses offer a modern and minimalist look, allowing the focus to remain on the saree's intricate details.
Choosing the Right Sleeves for Your Body Type
When selecting the perfect saree blouse sleeves, it's essential to consider your body type. Different sleeve styles complement various body shapes, enhancing the overall silhouette. For instance, puff sleeves and bell sleeves are ideal for balancing broader hips, while cap sleeves and short sleeves flatter petite frames.
Styling Tips for Saree Blouse Sleeves
To create a statement look with your saree blouse sleeves, consider the following styling tips:
Pair intricate and heavily embroidered sleeves with a simple and elegant saree to strike a balance and draw attention to the sleeves.
Go for sheer sleeves to add an element of sensuality and sophistication to your saree ensemble.
For a fusion look, pair a traditional saree with a contemporary blouse featuring modern sleeve designs.
Experiment with contrasting colors and patterns between the saree and blouse sleeves to create a captivating visual contrast.
Embellishments and decorations on saree blouse sleeves can elevate the outfit's charm significantly. From delicate lacework and sequins to intricate embroidery and mirror work, there are endless possibilities to add a touch of glamour to your sleeves.
Latest Style of Blouse Sleeves Designs
1. Ruffled Short Blouse Sleeve Design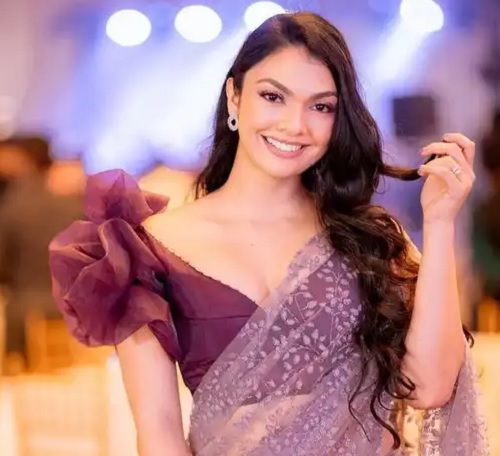 2. Net and silk Heavy work Blouse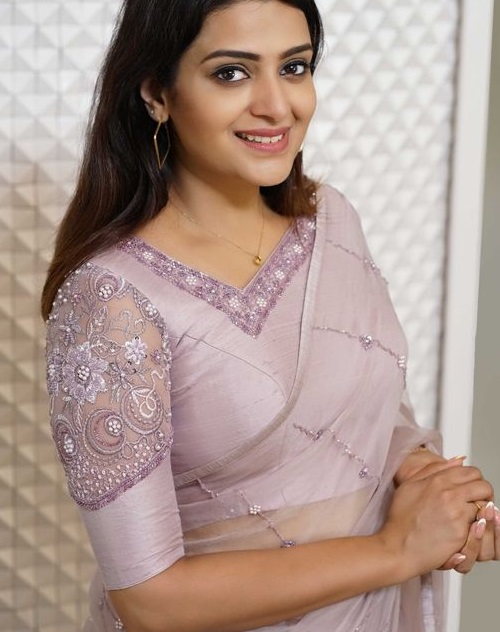 3. Butterfly sleeved Blouse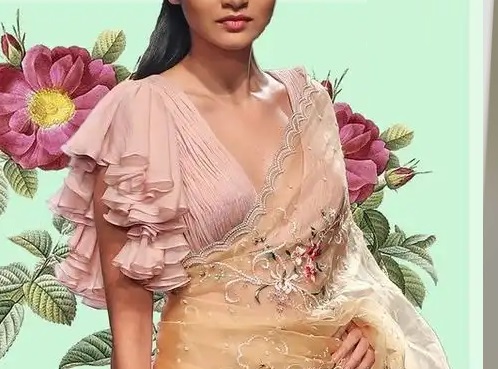 4. Balloon and string Blouse Sleeve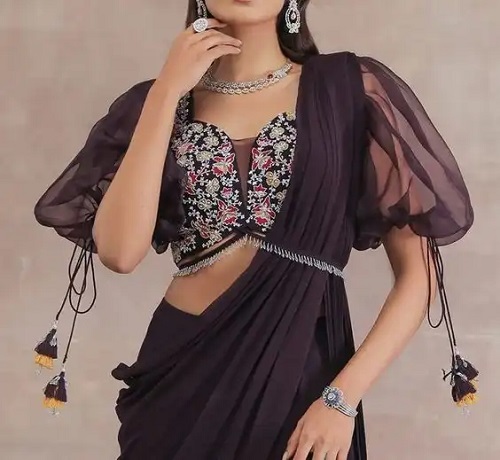 5. Short layered sleeved Blouse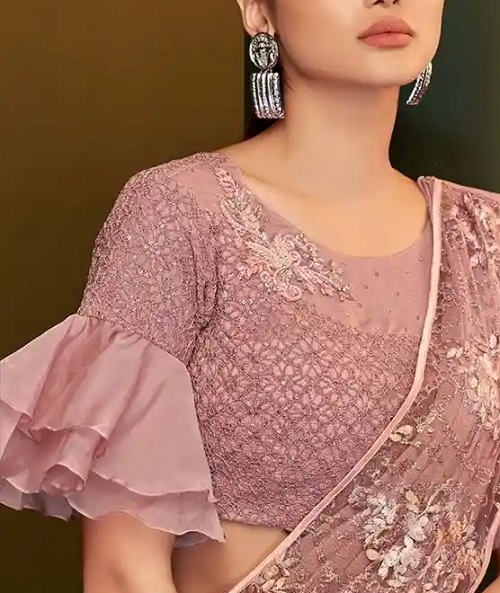 6. Long slit style bell Sleeve
7. Beaded Heavy short Blouse sleeves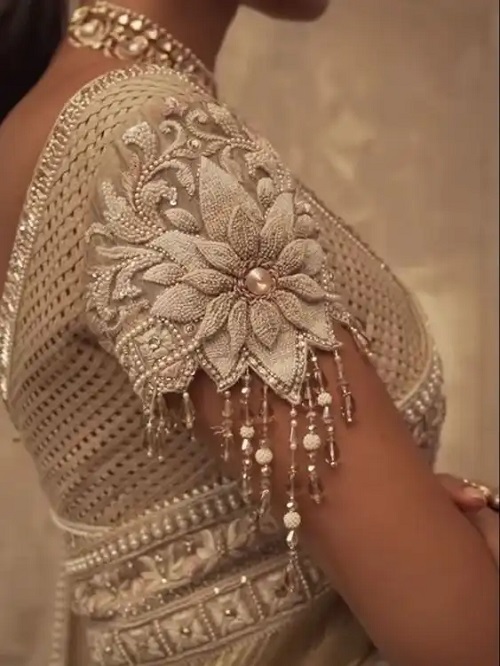 8. Designer wedding short Blouse sleeves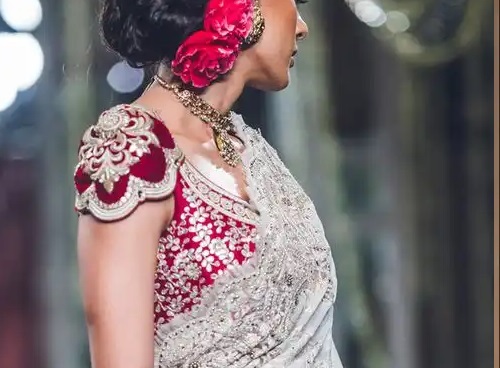 9. Flower Elbow length Blouse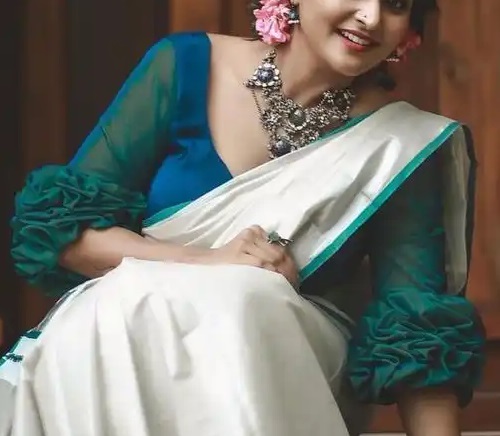 10. Short sleeves boat neck blouse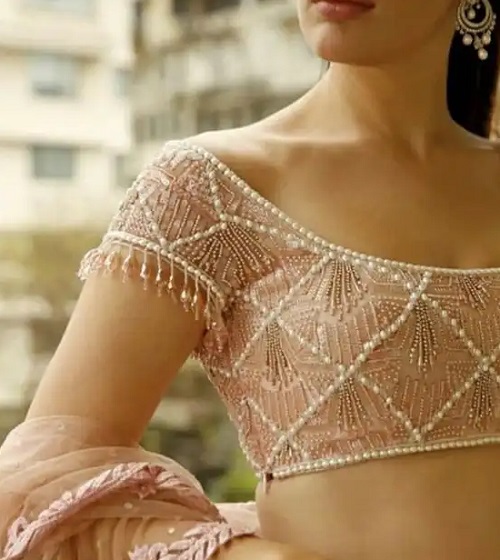 11. Simple Net Blouse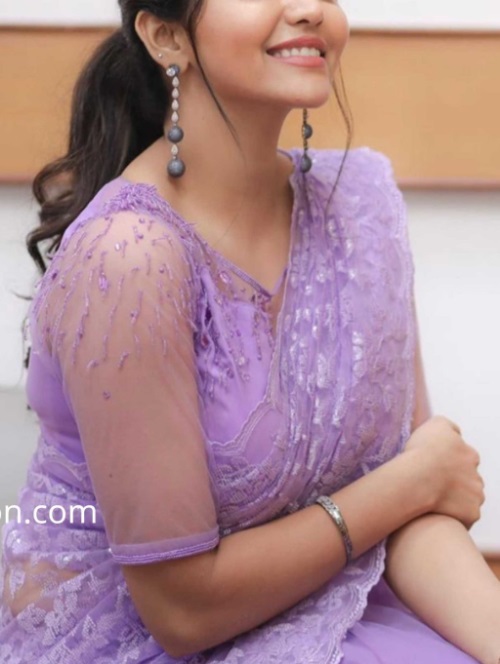 12. Beaded and embroiderd Blouse design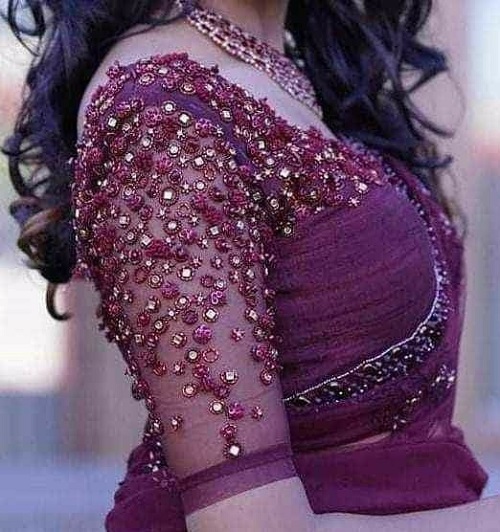 13. Silk blouse designer sleeve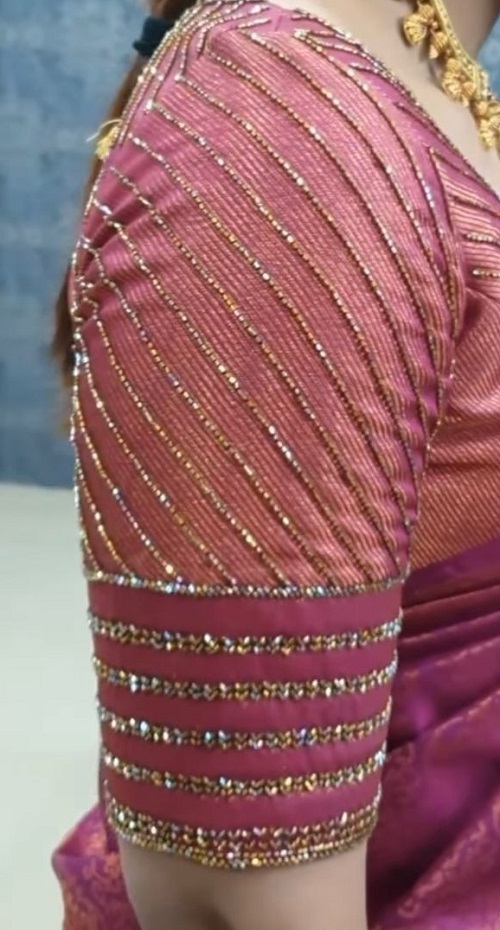 14. Peach Designer long sleeve blouse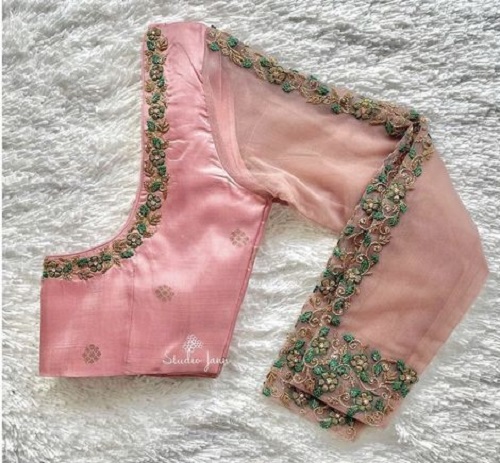 16. Patch and beaded style Blouse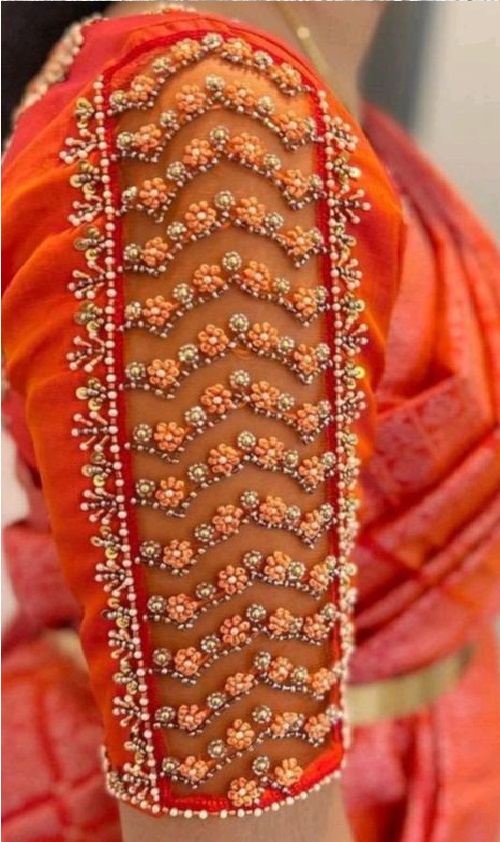 17. Zircon work heavy Blouse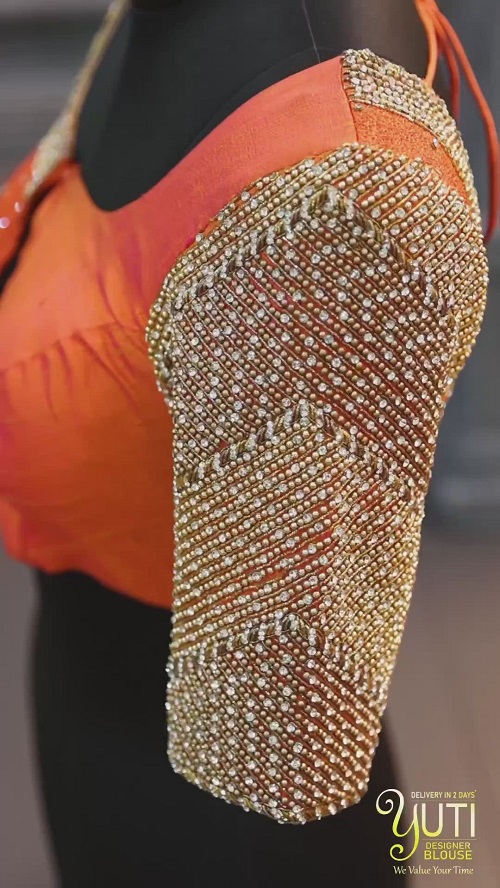 18. Zari and dabka work blouse design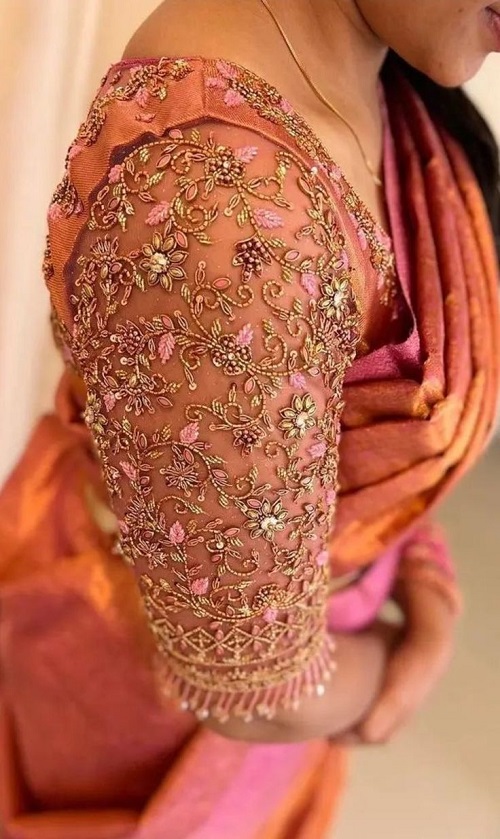 19. Puff sleeves Chiffon Blouse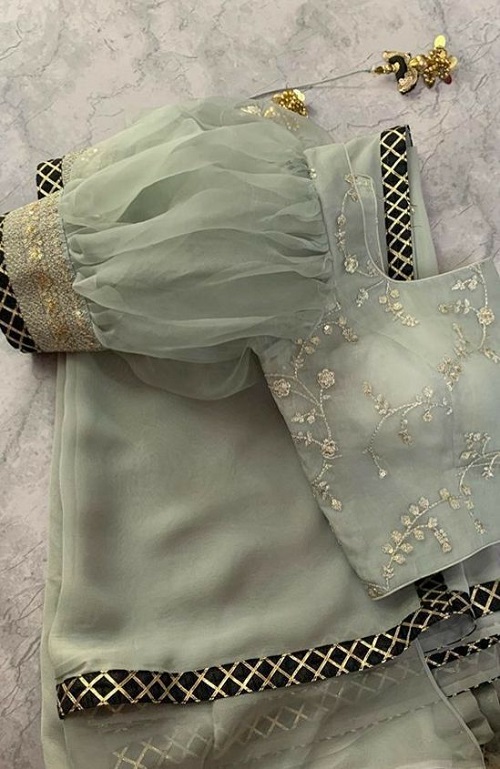 20. Dori work short sleeves Blouse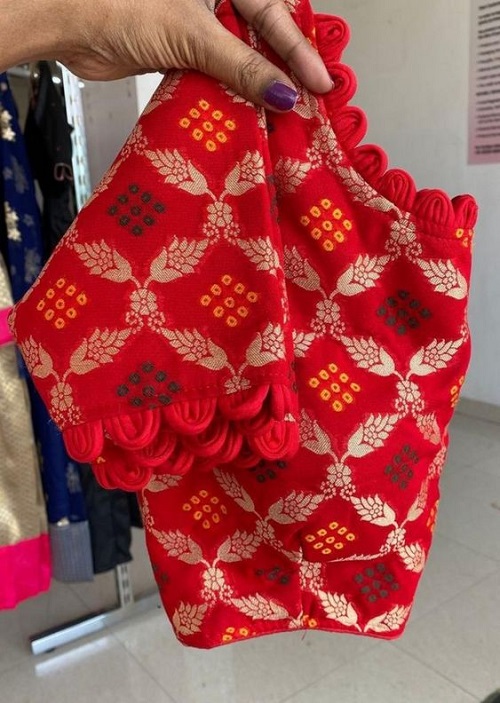 21. Puff sleeves sweetheart neck Blouse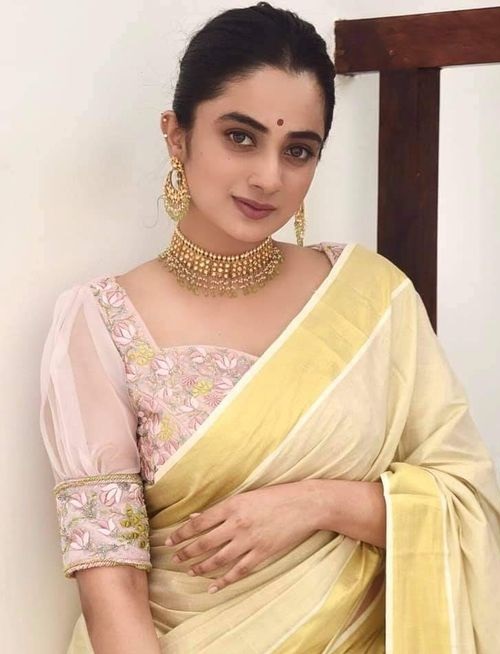 22. Chiffon and silk patch style Blouse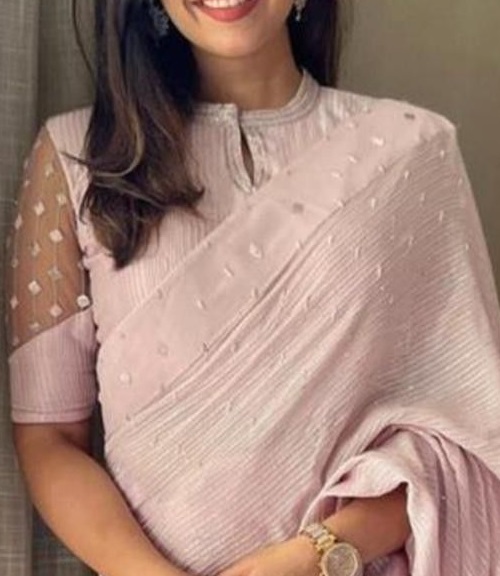 23. Chiffon Simple Blouse with thread work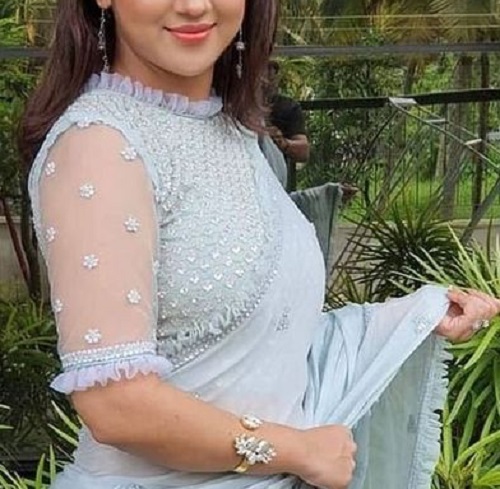 24. Patch style net beaded blouse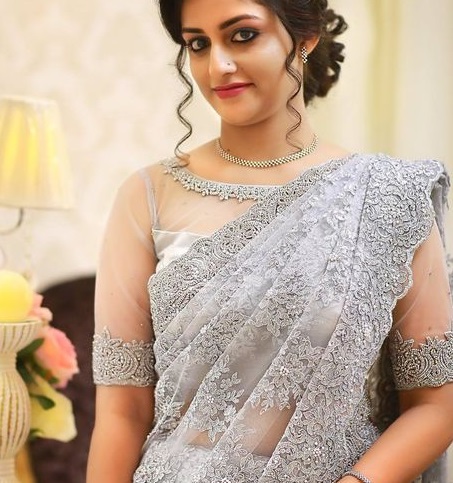 25. Silk and embroidered net blouse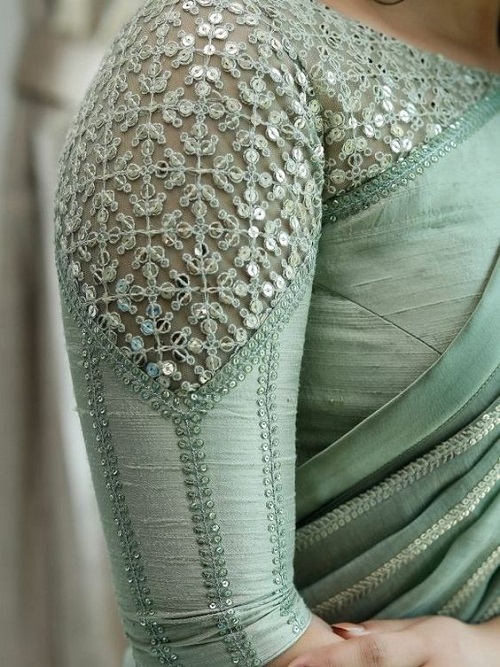 26. Silk and net patch stye blouse work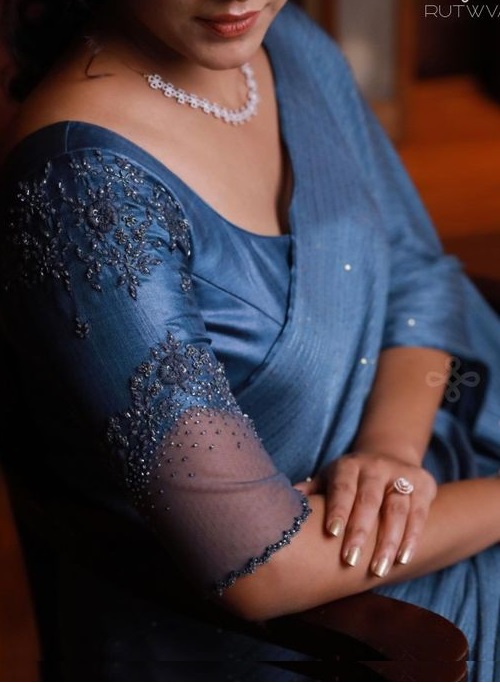 27. Long embroidered chiffon sleeves Blouse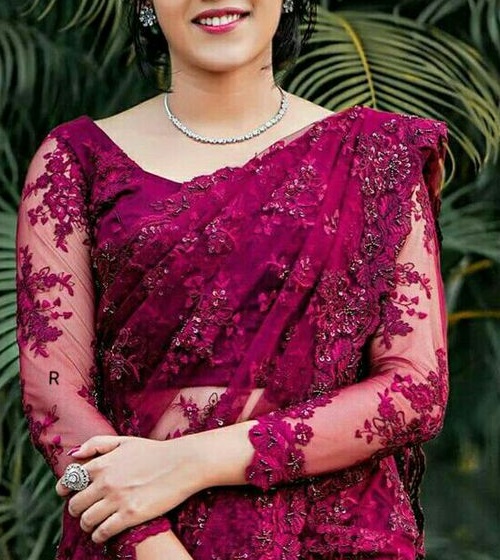 28. Short sleeves pearl chiffon Blouse
29. Silk designer Blouse with sarees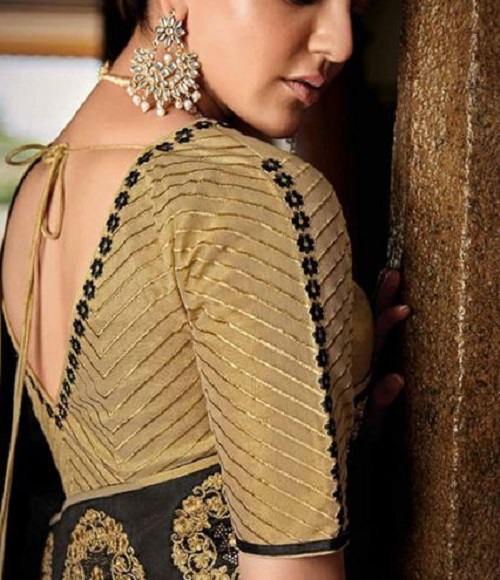 30. Triangular patchwork Blouse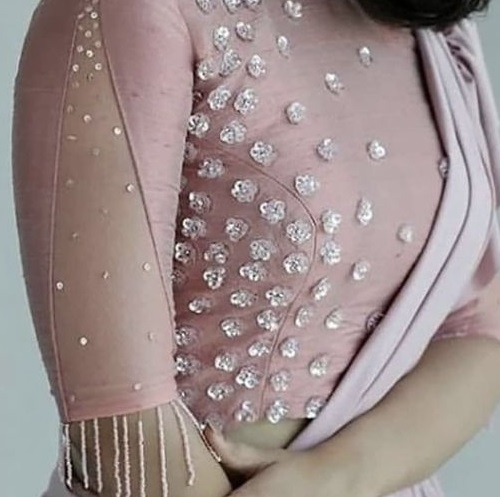 31. Rhombus cut work Blouse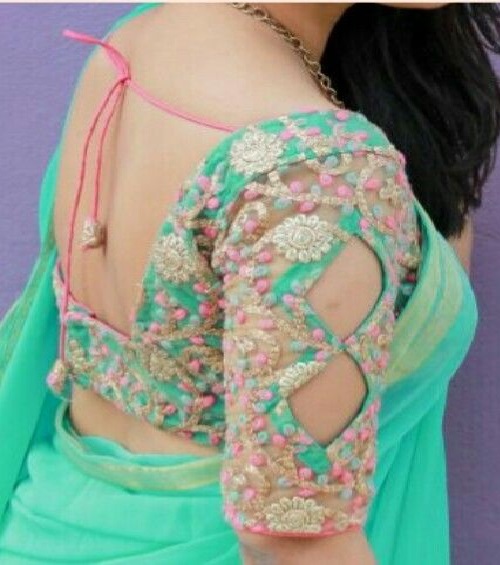 32. Designer printed blouse pattern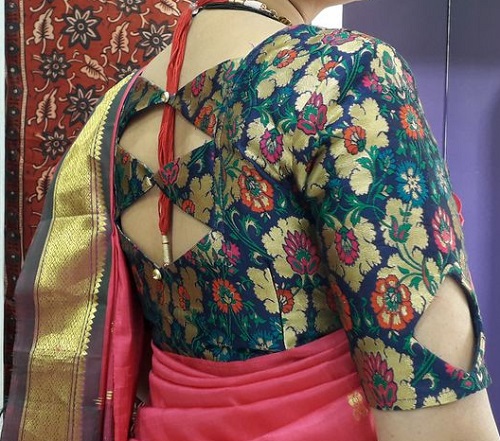 33. Triple keyhole pattern Blouse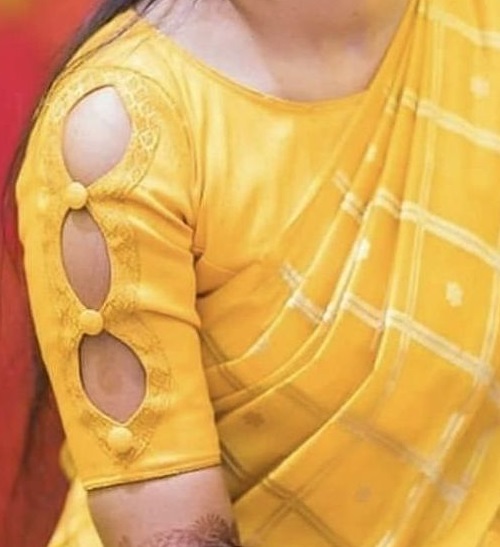 34. Heavily embellished black designer Blouse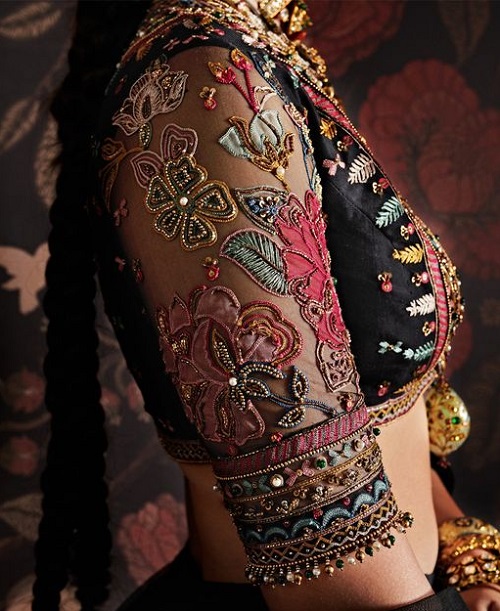 35. Short designer sleeve with pearl work Blouse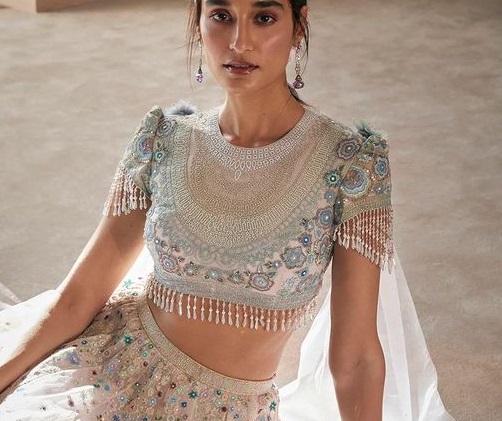 36. Puff sleeves chiff blouse
37. Bead work partywear Blouse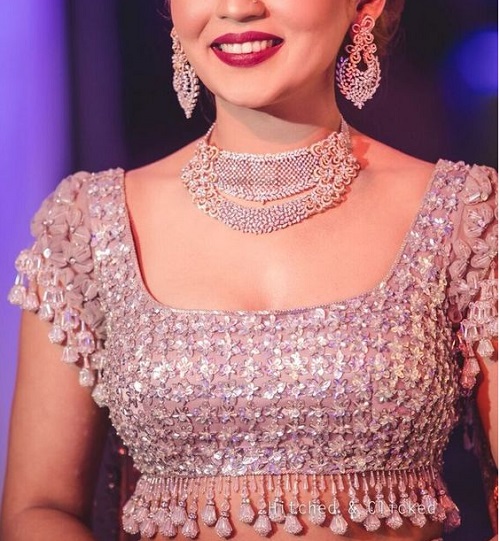 38. Beaded sleeve Blouse
39. Dori flower and keyhole design Blouse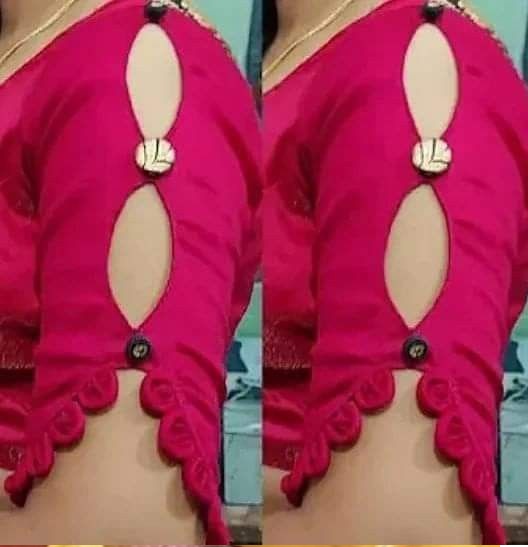 40. Organza Ruffled Blouse design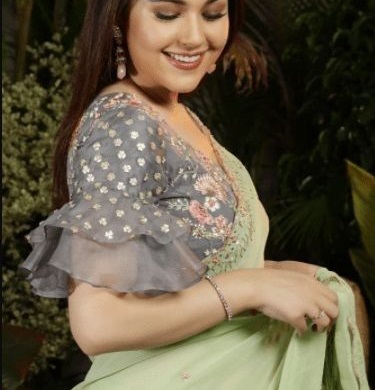 41. Double ruffled stylish blouse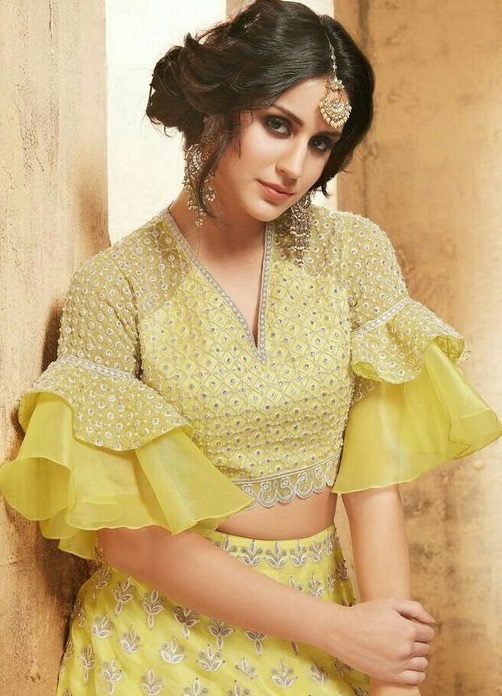 42. Mirror work ruffled Blouse sleeves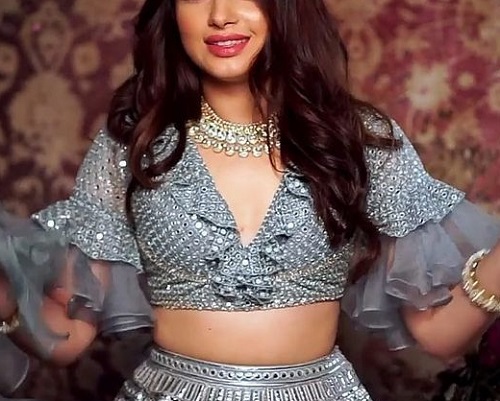 43. Balloon sleeves in silk and net Blouse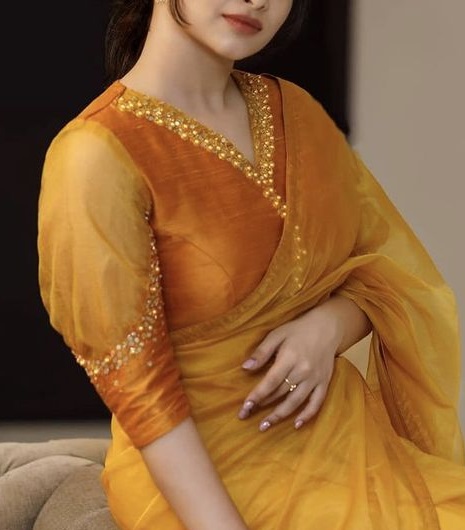 44. Double balloon sleeve blouse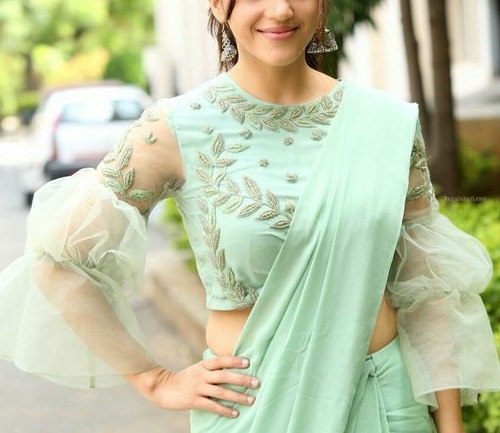 45. Long embellished Blouse sleeves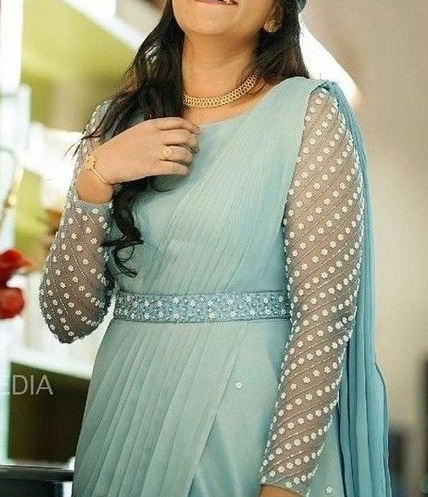 46. Heavy work designer wedding Blouse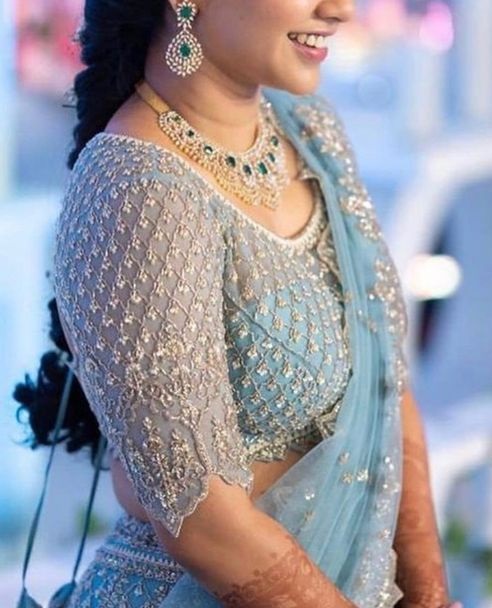 47. Lace crochet work Blouse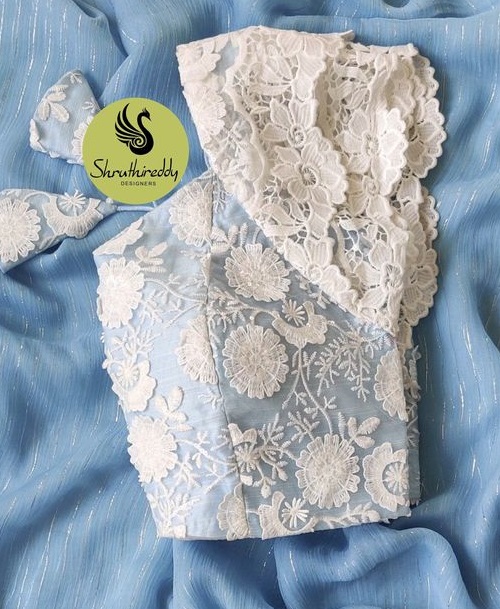 48. Simple black georgette puff sleeves Blouse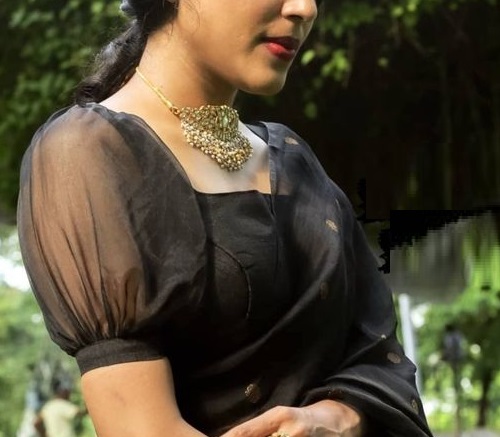 49. Cold shoulder princess style Blouse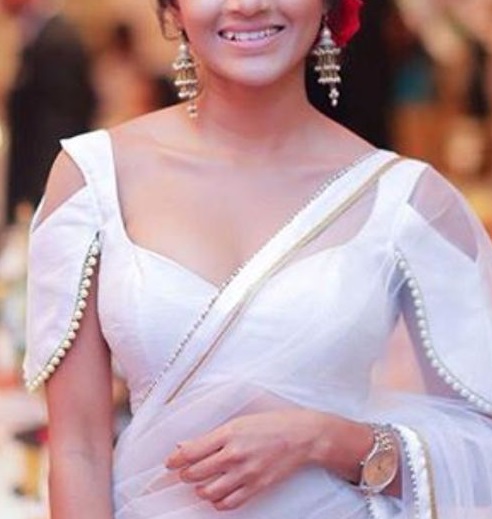 50. Designer floral motif blouse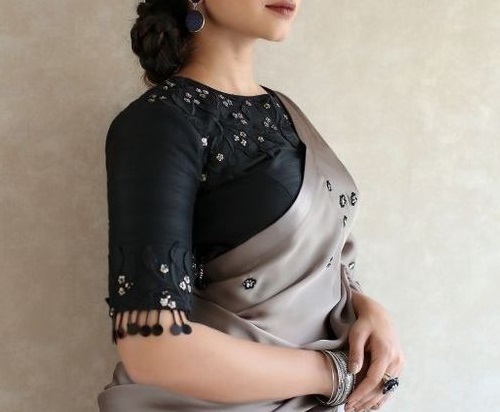 Trending Designs and Patterns
Floral Prints
Floral prints on saree blouse sleeves have gained immense popularity for their refreshing and feminine appeal. They add a touch of nature-inspired elegance to the ensemble.
Embroidered Sleeves
Intricate embroidery on sleeves creates a regal and sophisticated look. From traditional motifs to modern designs, embroidered sleeves are a timeless choice.
Sheer Sleeves
Sheer sleeves, made from translucent fabrics like chiffon or net, offer a contemporary and sensuous touch to the saree blouse.
Statement Sleeves
Statement sleeves, featuring bold and eye-catching designs, are the latest trend in saree fashion. From oversized ruffles to geometric cut-outs, these sleeves are meant to make a statement.
Seasonal Sleeves
Saree blouse sleeves can be adapted to suit different seasons. For warm weather, opt for lightweight and breathable fabrics, while for colder months, consider adding layers or using warmer materials like velvet or silk.
The Fusion of Tradition and Modernity
The latest saree blouse sleeves design exemplifies the beautiful fusion of tradition and modernity. Fashion designers are continuously pushing the boundaries of creativity, resulting in breathtaking designs that resonate with women of all ages.
DIY Sleeve Designs
For those who love getting creative, DIY sleeve designs offer an opportunity to craft personalized and unique blouses. From fabric painting and appliques to hand embroidery, there are numerous ways to express your individuality through your saree blouse sleeves.
Maintenance and Care
To preserve the beauty and longevity of your saree blouse sleeves, it is essential to follow proper maintenance and care. Always read the care instructions on the garment label and store the blouse appropriately to avoid damage.
The allure of the saree lies not only in its traditional roots but also in its adaptability to modern fashion trends. The evolution of saree blouse sleeves showcases the continuous journey of this traditional attire, making it relevant and captivating to contemporary sensibilities. With an array of designs, patterns, and styles to choose from, every woman can find the perfect saree blouse sleeves that resonate with her personality and style.
FAQs
Q: Can I wear short sleeves for a formal event?
Yes, short sleeves can be an excellent choice for formal events, especially when paired with an elegant and sophisticated saree.
Q: Which sleeve style is best for a petite frame? 
Cap sleeves and short sleeves are ideal for petite frames as they create an illusion of elongated arms.
Q: How can I add a modern touch to my traditional saree?
You can opt for cold-shoulder sleeves or statement sleeves to add a modern and edgy touch to your traditional saree.
Q: Are puff sleeves suitable for all body types?
Puff sleeves are best suited for individuals with a slender or hourglass body shape, as they may add volume to the upper body.
Q: Can I wear butterfly sleeves with a heavy embroidered saree?
Yes, butterfly sleeves can complement heavy embroidered sarees and add an element of gracefulness to the overall look.