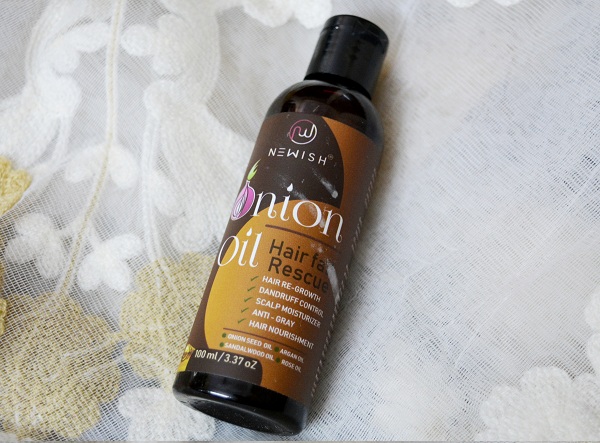 Newish Red Onion Hair Oil Review
Hi everyone, I got to try this Newish Onion hair oil recently. Onion extracts have high sulphur content due to which they are considered as best for hair growth. It has been researched that applying sulphur rich ingredients boost the hair growth and gives considerable relief in the hair fall, dandruff and even greying of hair.
I will review Newish Onion Hair Oil which is made to control hair fall and eliminate dandruff and initiate hair growth.
Let's get to know more about this product.
Price of Newish Onion Hair Oil: 549 rupees for 200 ml
Newish Red Onion Hair Oil Review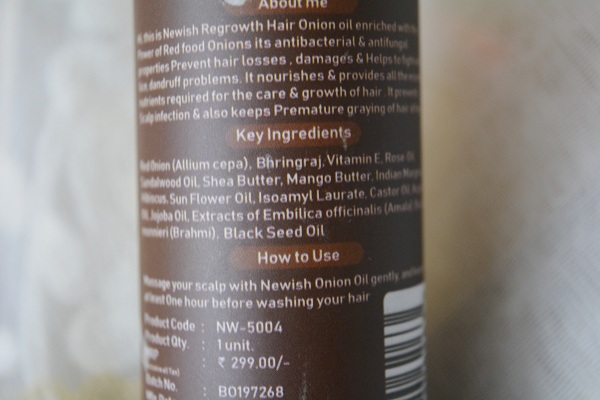 The onion oil comes in dark coloured plastic bottle that has a flip top cap. It's packaging is east to use and travel with. At the mouth of the bottle, there is a stopper, therefore, the oil will not leak when you carry it along. The hair oil is light pink in colour which smells pleasant and mild. I have come across so many Ayurvedic and herbal hair oils with extremely strong smell and because of that using such oils is really difficult. When a hair oil has onion, one can imagine, how bad the smell can be however, that is not true for this hair oil. Even though, it contains onions, it does not smell strong or unpleasant at all. Along with onion extracts, it also contains Black Seed Oil, Argan Oil, Sandalwood Oil And Rose Oil.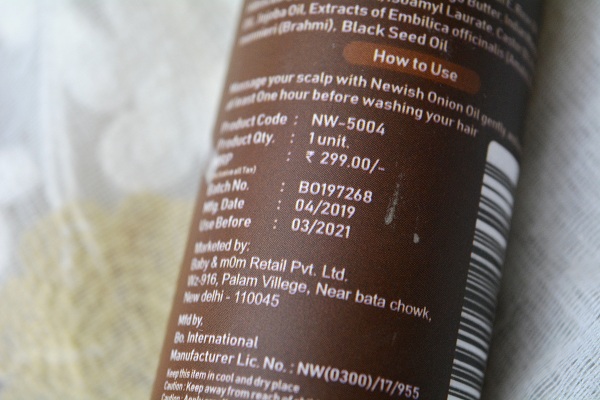 After the pregnancy, I am experiencing hair fall that I have not experienced before and this is why I was in search of a good product that can help combat hair fall. So, when I got to try it, I had high expectation because of onion in it. I am using it for mostly overnight massaging. I would take the oil and massage my scalp thoroughly using this. Applying it is very easy as, I mentioned it does not smell strong rather is light weight.
Even the texture and formula is not very thick, which makes it get blended and rubbed over the scalp extremely easy after applying the oil on my scalp and hair I would tie the hair and leave it overnight. The next day, I would wash my hair with my regular shampoo, it is able to get rinsed off easily.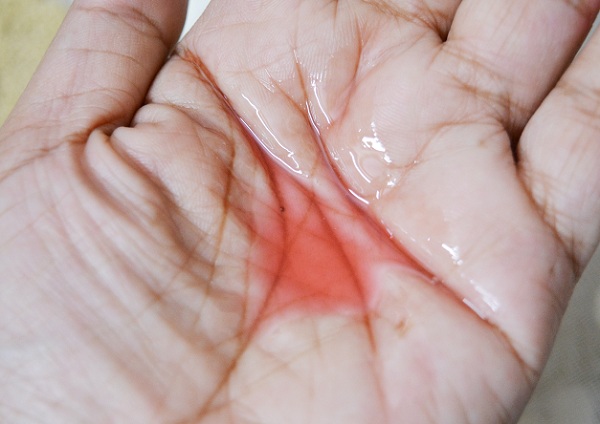 You can imagine, after applying hair oil, you would need a lot of shampoo after using this I did not feel the urge to do so. Actually, I have got the combo of Red Onion hair oil and shampoo both.
I have tried different recipes like applying fresh onion Juice on my scalp but with such recipes, my hair used to smell of onions and even after washing the hair with shampoo, the onion smell will not fade for hours. So using and applying the hair oil was very easy and no bad smell at all.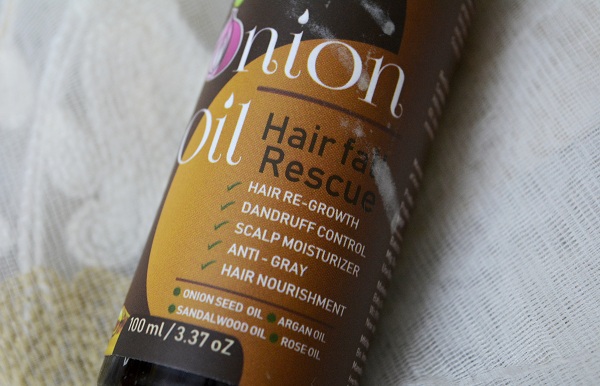 I have only used this 4-5 times so far and based on that, I can say that I have experienced some benefits in the hair fall control part as the longer you use a product the better benefits it would be able to give you. As it contains multiple beneficial ingredients like Black Seed oil, Argan oil, Rose oil, Onion extracts, it helps to keep hair fall under check.
Additionally, this hair oil also the dandruff and scalp itching. While going through the description of this product, I also get to know that it also contains like coconut oil, castor oil, Sunflower oil, Amla extracts, Jojoba oil, Hibiscus extracts, Neem Oil, Bhringraj extracts along with other herbal.
I am expecting that within after two months, my hair fall would be drastically reduced. I'll update you on the same. I would also like to tell you that after using the hair oil my hair feels extremely smooth and soft because of all the natural ingredients present in the oil which helps to smoothen the hair when you keep it overnight. It's a very affordable and effective product for people suffering with roughness, dandruff, hair fall, greying of hair and dryness.