Nivea Body Lotion Night Whitening Skin Moisturiser Review
Hi everyone, this post is about the Nivea Body Lotion Night Whitening Skin Moisturiser. Skin whitening is what a lot of us would like to have. College students or working people get tanned when they have to go out and face the sun thus a whitening skin cream ensures that the skin tanning is removed. I have used a lot of skin whitening creams but a skin whitening body lotion is even better as this will remove the body tan. I get lazy to use sunscreen on my body so a body lotion with skin whitening properties is extremely beneficial for me.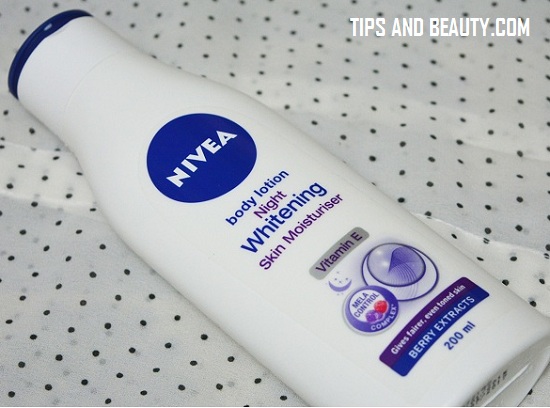 I got this Nivea body lotion night whitening skin moisturiser and was happy to try this as it needs to be used for the night time so that it can work and lighten the tan. But does this product really work. Let's find out in my Nivea body lotion night whitening skin moisturiser review.
Price: This Night whitening body lotion costs 249 rupees for a bottle of 200 ml.
Claims for this product: Sun exposure can darken the skin and the harsh chemicals in the atmosphere can dehydrate the skin. This new Nivea body lotion night whitening skin moisturiser is enriched with the natural skin moisturiser Vitamin E. This hydrates and rejuvenates the dull dark skin.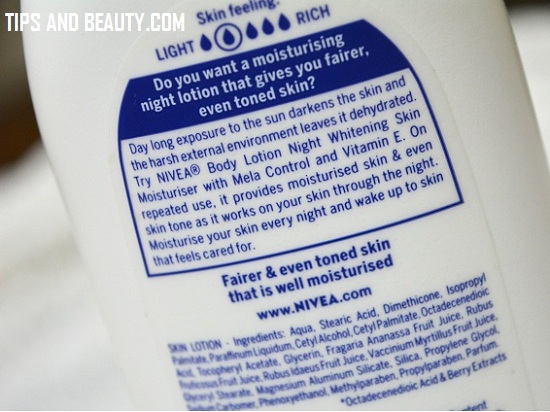 Views on Nivea body lotion night whitening skin moisturiser
Packaging:
Nivea makes a lot of moisturizers and body lotions. I have used almost each and every Nivea body lotion. It is because my mum's skin is super dry and she likes Nivea as a brand. So, she would get their body lotions. And also, Nivea sends me their products to try and review for you. This time they have changed the packaging of their body lotions. I like these new packaging as this white bottle with dark blue cap looks really nice and attractive.
This is a night whitening body lotion so, has to be applied at night so that its ingredients works on the skin to make it fairer, removes the tan and even tones the skin complexion. I always use a night cream, homemade lip balm and a body lotion when I go to sleep. So, earlier I was using the body butter from The Body Shop. When this Nivea body lotion night whitening skin moisturizer was sent I started using this.
9 Best Nivea Body Lotions in India
Smell and Texture
It smells extremely soothing and nice. Do you know that when we smell nice we sleep deeply. :) The texture of this body lotion is very water based and skin lotion like. I like the way this whitening body lotion spreads nicely on the skin. But this is not very greasy or creamy so this will be suitable for people with normal skin. My mum has very dry skin and she says that this lotion does nothing for her. I will agree on this as I have normal body skin and it is okay for me as I use this for the night time only. In winters, when the weather is dry, I am sure I would need some more hydration so, I will use body butters but not this lotion. This will be a good body lotion for the summer time for normal skin.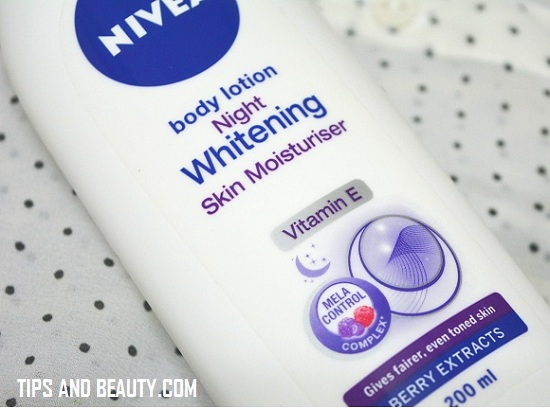 Pros 
Packaging of this body lotion is good

Price is good as this bottle will last for more than 2 months if used only for the night time.

Nivea products are easily available in market and online shopping sites.

This lotion gets absorbed easily in the skin

Non sticky and refreshing texture

This is good for night time for normal skin

This is a body lotion for summers
Cons 
It can remove the skin tanning and keeps the skin softer but there is no whitening thing

This is not very moisturizing so, not for the dry skin at all.
Rating: 4 out of 5
I like that this Nivea Night whitening body lotion makes my skin refreshed and very soft. There was some tan that it had removed. This body lotion has the berry extracts and vitamin E which soothes my skin. tanning has been lightened but I have not seen whitening. But still I am satisfied with this Nivea body lotion night whitening skin moisturiser. This is a body lotion for normal skin which doesn't need too much moisturization. This is not for dry skin. It is good for everyday use during the night time in summers.
This was the Nivea whitening body lotion review! Have you tried it? How did you find this lotion for skin whitening for the night time?