Kurtas for office or your work not just make you look presentable but also keeps you comfortable all though the day. So, that you can only focus on your work. Kurta and kurti is a traditional wear piece of clothing but they are extremely comfortable and this is why they have been chosen even as comfortable office wear. They not only look appropriate for the office they are also very comfortable for all round the seasons. In this post we have compiled this list of beautiful office wear kurtis and kurtis made from different fabrics and styles. So while you are working in a corporate or even in a school, looking polished is as important and this is why wearing something that makes you cosy and restful all through the day is extremely essential. Let's have a look at the images of the best office suitable kurtis for women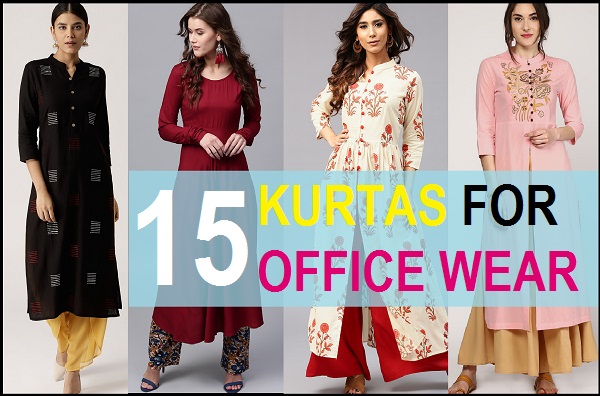 Women's Designer Office Kurta and Kurtis Images
Here are the modern and new kurtas patterns for ladies who like to wear kurtas for work or office.
1. Pastel Olive Green Solid A-Line Kurta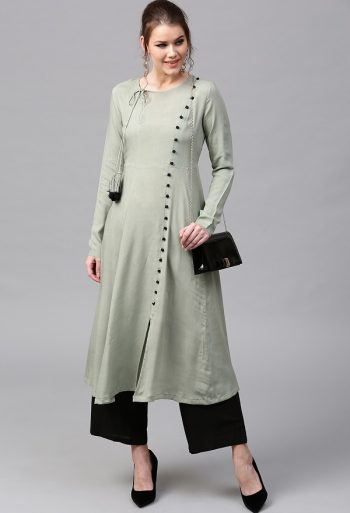 Clearly, the design is amongst the best kurtis for office available online. It has a string which means it has a round neck with a knot that has two strings that you can be tied. On one of the sides there are potli buttons that goes till the end. As, it is an A-line kurta that is perfect for slim and bulky women both. The full sleeves make it a perfect kurta for the autumn season and office. It can be paired with leggings, trousers, and even the process. Any footwear would look lovely with this elegant kurta.
2. Peach Printed

Professional

Kurta for Office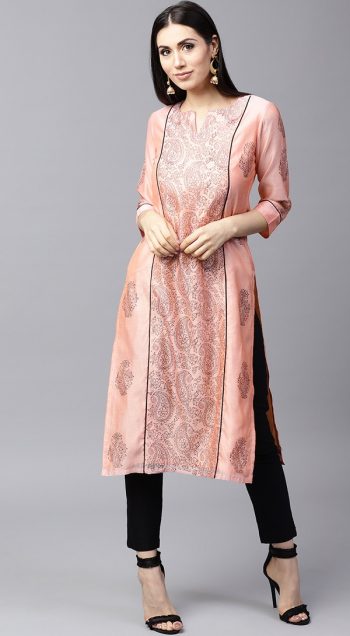 The light peach kurta has black print over it with and round neck. It has three quarter sleeves and straight hemline. The side slit are kept till the mid hip area. This modern looking kurti is perfect for office that can be paired with straight pants, trousers, leggings and palazzos. As the neckline is quite high, there is no need of a dupatta.
3. Black Embroidered Straight Formal Wear Kurta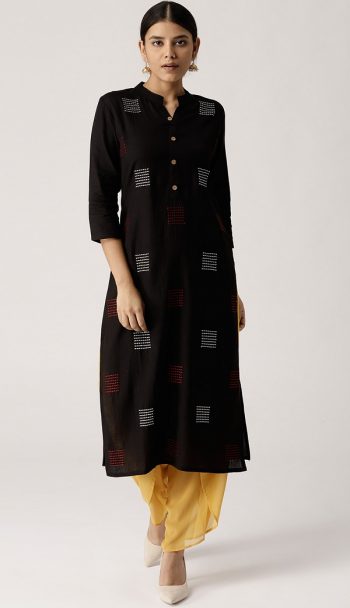 The Mandarin collar of this kurti has buttons that runs below the breast. The black kurta has embroidery all over into different colors. It comes with three quarter sleeves and straight hemline with side slits. This designer and modern kurta is perfect for office. It is comfortable and does not require any stole or dupatta. You can just wear it with flats or pumps and you are ready to go.
4. Printed A Line Formal Kurti For Office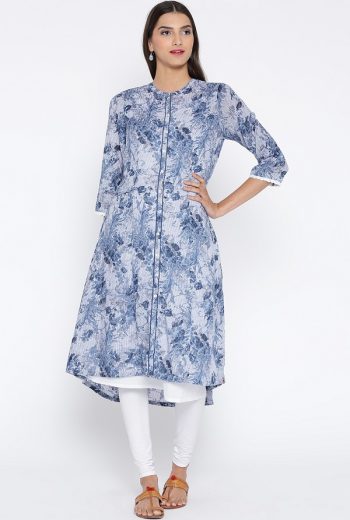 It is perfect for women with short height as the kurta is not long in length. The floral printed trendy kurta has three fourth sleeves and a curved Hem line. The print is quite alluring and makes you feel good. It's Mandarin collar has a full button placket that goes till the end or hemline. This Kurta is perfect for daily wear and office.
5. Navy Blue Pathani Kurta For Office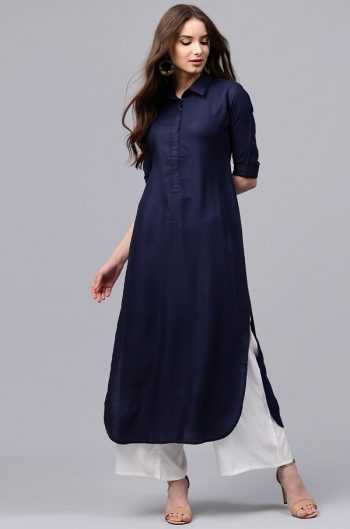 The office wear Pathani kurta is actually a long kurta that would look lovely when paired with white Palazzo, black leggings or white trousers. The navy blue Pathani formal women's kurta has a shirt collar has rounded hemline with side slit. It can also be worn for a small family event or lunch.
6. Grey Printed Simple Office Wear Kurta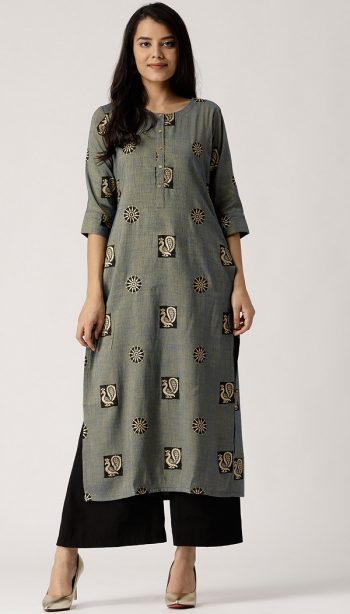 The formal use kurta has a round neck with a button placket. The straight office use kurta has side slits and straight hemline with three quarter sleeves. It can be a perfect maid for your office when you are attending a meeting or going out. It can be paired with any type of bottom that you feel like she's the color is great it can be paired with most of the neutral shades of bottoms.
7. Checked Pathani kurta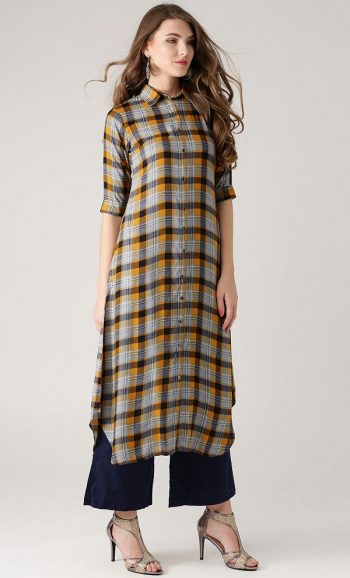 The Pathani kurta is a long kurta that has shirt collar and three quarter sleeve. It has a curved Hem line and front slit with side slits and two pockets on the sides. Search Khudgarz would look lovely with palazzos and flats.
8. Modern Black Floral A-Line Kurta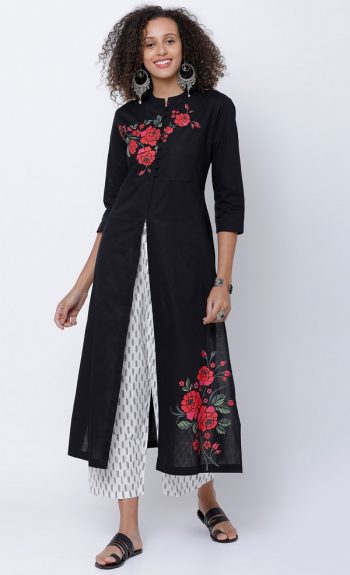 A-line formal wear kurta has beautiful red floral embroidery on the upper part and on one of the side bottom. This is such a beautiful looking good so that you can wear it up with jeans or palazzos. It has a Mandarin collar and three quarter sleeves. It has three sides to on the sides and one in the centre. It is one of the best looking office wear kurta for Young women.
9. New Office Wear Kurta Design for Women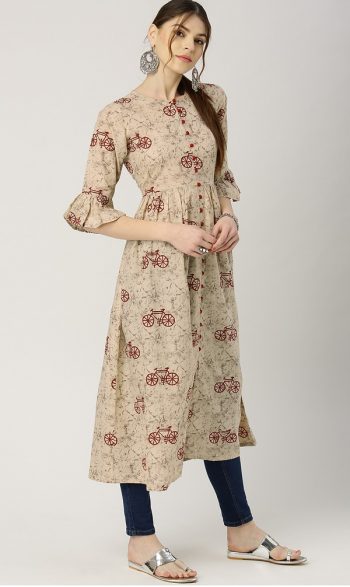 The pretty kurta has round neck with a black cat that Run across and ends in a sentence lit it has potli buttons on the entire kurta. The kurta has three quarter Bell sleeves and fluid hamline. It has only Centre slit and has a line styling. Such good as would look good on the women who are on the bulk your side.
10. Green Solid Straight Formal Kurta Design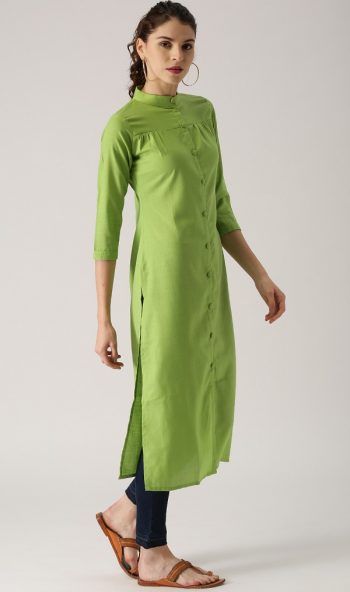 The green solid kurta is extremely beautiful and formal looking. It comes with a Mandarin collar and hook and eye closure. The three quarter sleeves are straight with no styling. It has 2 side slits and a button placket in the centre gives it more detailing. Such kurta for perfect to pair up with your palazzos and jeans. You can wear high heels, flats and even the Kolhapuri chappal along with this kurta.
11. Mustard Yellow Straight Office Use Kurti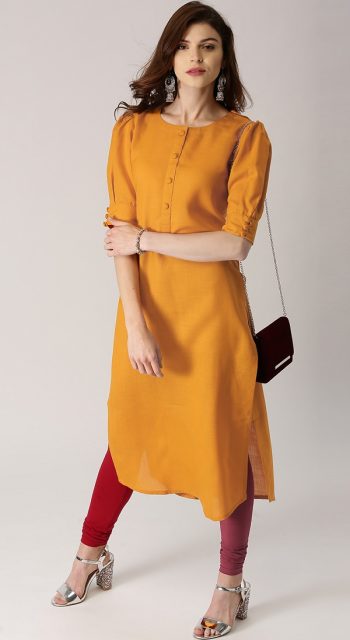 The straight Kurta in mustard yellow looks quite appealing with round neck and a short button placket the short sleeves runs till the elbow and has multiple buttons on the edge. It comes with a curved Hem and side slit. With minimal jewellery this kurta would look really great for office
12. Maroon Solid Cotton Office Wear Kurta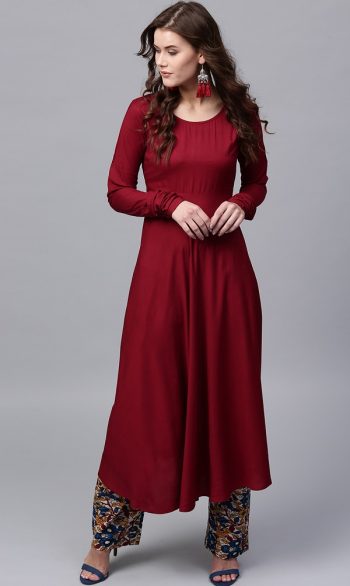 This is such a stunning piece of kurta that would look good on even the women with short height. Though the kurta is long you can pay it up with palazzos or leggings. The full sleeves are churidar and there is no slits as it is an Anarkali. The long sleeves look good and that is the highlight of this kurta. The color is amazing and would look beautiful with black bottom or even with golden bottoms can be worn if you have a small function in the office.
13. Peach Office Wear Long Kurti for Women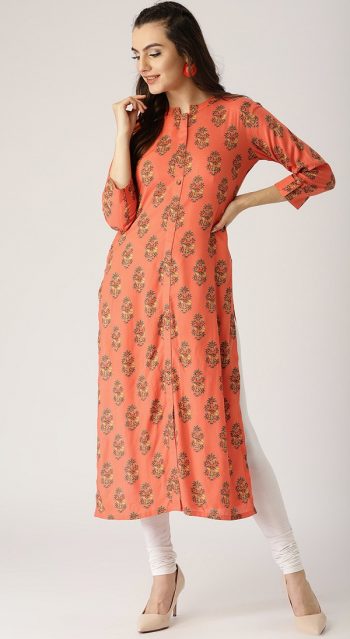 The printed straight kurta has a Mandarin collar and three quarter sleeves. This straight hem-line has multiple slits that make it perfect to be worn with palazzos and jeans.
14. Stylish Printed A-Line Formal Kurta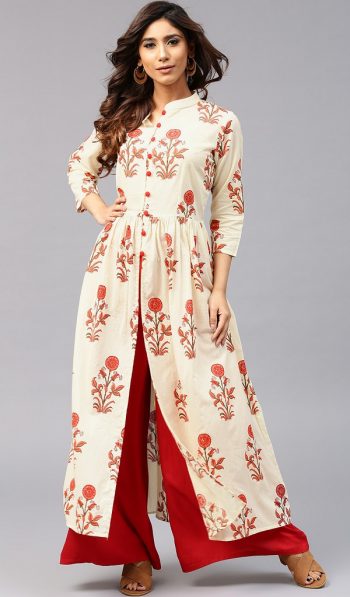 The kurta design for office has a very high slit that makes it perfect kurta to be worn with jeans or palazzos. The Mandarin collar has button placket till the waist with small buttons. 3/4 sleeves adds more beauty to this A-line kurta. This can be paired with any type of footwear that you feel like.
15. Embroidered Trendy Formal Kurta for Ladies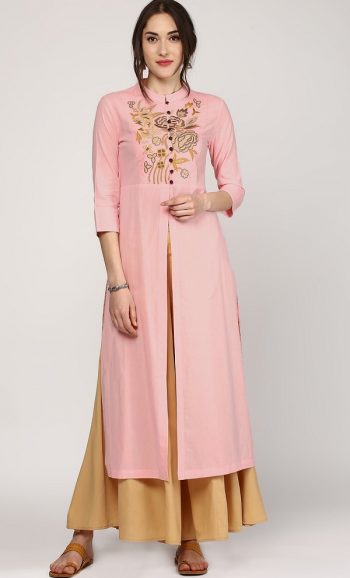 The kurta has a Mandarin collar and buttons. It has three slits on the side and a single slit that goes very high till the waist. It would look  beautiful when worn with flared pants trousers or the palazzos.
These were the office wear kurta suitable for women with different body types. Most of the kurtas are perfect for even healthy or women as well. You can surely pair your designer kurtis for office wear with palazzos, leggings, trousers for even jeans for indo-western look. There is so much to experiment when it comes to styling a kurta for women.