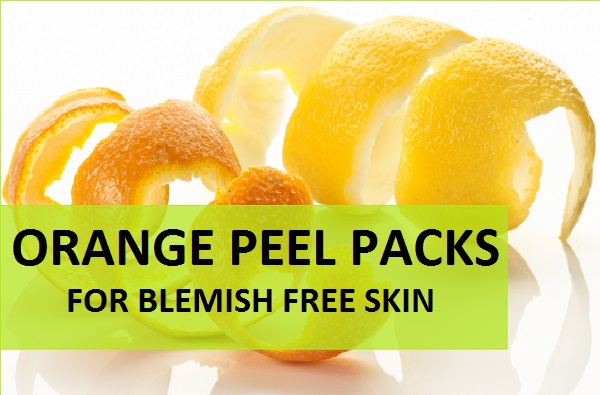 Best Orange Peel Facial Packs for Glowing skin
We all end up buying those expensive creams to look beautiful with glowing skin. We try to cover the wrinkles, fine lines, acne spots and to get super fair skin to click some attractive selfies. Isn't?? Girls! Now you don't need to spend so much money on such fake fairness products. I have natural remedies for you all that lightens the skin tone in short time.Also for a blemish free clear skin complexion.

Moreover, these remedies will also reduces the skin blemishes. Today, I'm sharing the remedy of glowing blemish free skin using orange peel. Yes! A fruit can bright up your skin tone and make you look gorgeous like never before. Orange peel is just amazing natural product for oily acne prone skin. It acts as a skin exfoliator that keeps the oily skin pores clean. Therefore, the skin problems can be reduced with orange peel powder. This is available in the market at inexpensive rate.
Furthermore, the orange oil in the orange peel will help to minimize the appearance of blemishes like dark marks, black spots, acne scars etc. So, if you have been thinking of using orange peel for treating the blemishes then this post will surely give you some easy home made beauty tips with orange peel powder.
Best Homemade Orange Peel Pack for Blemishes Free Glowing skin
Orange is a juicy fruit that consists vitamin-C, the radiance and glow agent. It is an excellent source of vitamin-A and vitamin E that gives a healthy and soft skin. It helps in controlling the melanin level in the skin. It gradually decreases the chances of cancer. Oranges are rich in fiber and calcium that are necessary for soft and glowing skin. It's juice is orange in color and has very thin consistency. This delicious fruit can be used as skin lightening treatment for different skin types. In fact, orange peel powder is also used in our Indian face packs recipes also.  Let's have a look how you can achieve glowing skin at home using the orange peel powder.

1. Orange Peel Pack for oily skin
Oily skin is generally prone to acne. It looks dull and dirty due to excessive sebum and dust that it attracts thorough out the day. To get a forever glow and get rid of the blemishes using orange peel. This is also the best natural recipe for the sun tanned skin. Here is the recipe:
Take 2 tablespoons of fuller earth and  add 2 tablespoons of orange peel in it.

Add a few drops of rose water in it and make a smooth pack.The consistency should be medium.


Now apply this orange peel facial pack evenly on the face and wash it with cold or lukewarm water after 20 minutes.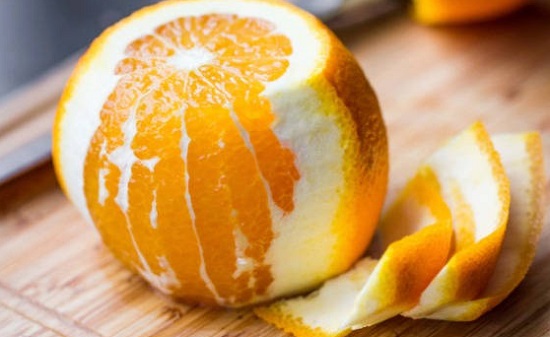 2. Orange Peel Pack for combination skin:
For combination skin, your T zone is oily and other facial area is normal. This is the characteristic of a combination skin. Such type of skin is not too oily or too dry. It is affected by seasonal changes or even hormonal changes. Like it can become oily and dull in summers and dry and patchy in winters as well as a bit sticky in humid weather. Use this recipe to get rid of the blemishes from the face.

Take 1 cup of boiled oatmeal, 4 spoons of fresh orange peel powder, 1 spoon of lemon juice and a pinch of turmeric.

Mix all the things together in a small bowl. Add some water(if required) and make a pack of it.Keep the consistency medium.


Now gently massage it on the face in a circular motion using your fingers.

Let it dry for 20-25 minutes and wash thoroughly with water.
3. Orange Peel Pack for dry skin
 Dryness is the outcome of lack of moisture. This is due to the less active sebaceous glands. It is most challenging in winters to retain moisture in dry skin. Get a glowing skin with orange peel powder pack and a toned glowing skin.This will treat dryness and provide you with smoother skin naturally without spending much.

Take 3 spoons of cream (Malai), 1 spoon of fresh orange peel, 1 spoon of glycerin.

Put all the ingredients in a small bowl and whisk properly.

Now apply this face pack on your face.

Lastly wash this pack after 25 minutes and get the glow like never before.
4. Orange face pack for sensitive skin
People with sensitive skin should avoid using different products because it may affect their skin negatively. Go for natural and soothing things. You can get a great glowing healthy skin for your sensitive skin by trying this orange peel pack.

Take 2 full spoons of orange peel, mix some rose water and aloe Vera gel in it.

Apply this orange peel pack gently on the skin and wash it after 20-25 minutes.
These are the face packs using orange peel and its powder. These are wonderful for curing acne and pimples. These packs also regulates the excessive production of sebum by the glands.