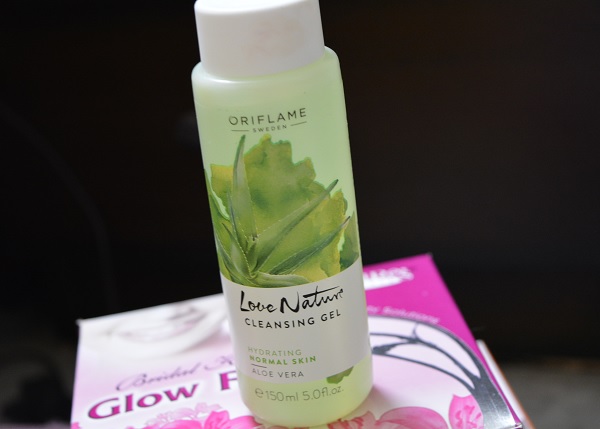 Oriflame Love Nature Cleansing Gel Review. Hey friends, I will do this Oriflame Love Nature Cleansing Gel review. I have been wondering about a new cleanser since many months but have not done so. There were so many cleansers and face washes still lying unused. So, I finally opened this Oriflame Love Nature Cleansing Gel and kept this on my shower rack. I like using new face washes by the way because they will give me happiness. Yaa, I am of those kinds who like using different facial cleansers but only that suit my oily combination sometimes acne prone skin. The reason why I was excited to try this Oriflame Love Nature Cleansing Gel is that this gel has the aloe vera and I am currently liking beauty products that has aloe vera in them. By the way, if you have seen the product image, you can see that that bottle is chubby and has a wide mouth, I do not know why but I liked that even if it is not a very user friendly packaging. Do stay with me and read the Oriflame Love Nature Cleansing Gel review.
Price of Oriflame Love Nature Cleansing Gel:
329 rupees for a pack of 350ml. This can be purchased online these days easily and also from the Oriflame representatives.
Key ingredients:
Aqua, Sodium Laureth Sulfate, Glycerin, Cocamidopropyl Betaine, Sodium Chloride, Coco-Glucoside, Disodium Cocoamphodiacetate, Peg-7 Glyceryl Cocoate, Sodium Cocoamphoacetate, Phenoxyethanol, Glyceryl Oleate, Sodium Lauroyl Sarcosinate, Peg-18 Glyceryl Oleate/Cocoate, Parfum, Dmdm Hydantoin, Disodium Edta, Melaleuca Alternifolia Leaf Oil, Citric Acid, Sodium Citrate, Ci 42090, Ci 19140, Ci 17200.
Experience with Oriflame Love Nature Cleansing Gel
The facial cleanser comes in a tall chubby packaging. It looks nice but the mouth is wide so while you are trying to use this, you may end up taking more than the desired amount. But wait. There is a stopper on the top which will give only little bit of product. The face wash has a gel texture or formula that I liked as I find that gels are good for all skin types else there are so many drying face washes, yes for oily skin as well. This Oriflame Love Nature Cleansing Gel is made for the normal skin as mentioned on the packaging itself.
Best Garnier Face Wash in India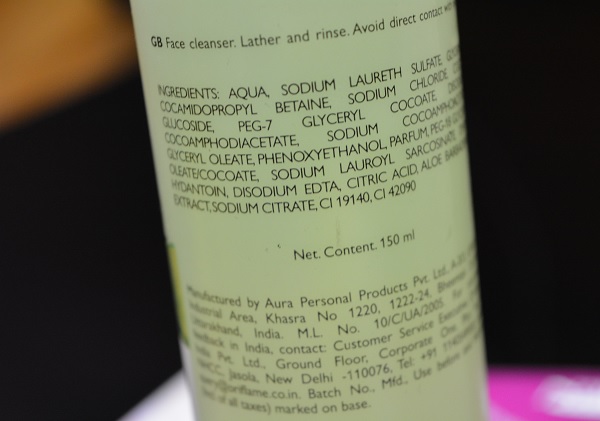 Oriflame Love Nature Cleansing Gel is very hydrating and while I use it on my face it does help clean the skin thoroughly. The main thing that I like is that this is not very moisturizing like those face wash which has got shower gel like texture. You keep on pouring water but those shower gel types face washes will still give slippery residue. So, this Oriflame face wash is not like that. This is for normal skin but worked well even for my oily skin. I used this in summers so, it was good as in summers when the skin gets oilier and more sebum is released, I tend to use foaming or clay based face wash like the Pond's pimple clear white face wash or Ponds white beauty even.
This also works nicely for the boys and girls who have got dry skin as my cousin visited me and used this facial cleanser. I asked her how did she like it and she said this was very hydrating for her skin. The aloe vera as a major ingredient also helps the skin so that the skin appears softer and supple. I think the price is also good as the face wash bottle will last really long.
Overall, I am happy with this and would use during winters if some of it stays unused in this season.
Best Lakme Face wash available in India
Pros of Oriflame Love Nature Cleansing Gel
It has gel like texture
Lathers well but not like those slippery shower gels
Helps cleanses the dirt, sebum off the skin
Aloe vera is the main ingredient that gives it soothing properties
Remove oils and dust thoroughly from the face
After using it, my face looks fresh and no stretchiness
Mature skinned men and women too can try it
Smell is very refreshing and no strong smell like some fake herbal brands, No I am not pointing towards Himalaya or Lotus as I like those brands.
Suitable for all skin type
No skin irritation or itching post using this cleanser
Cons of Oriflame Love Nature Cleansing Gel
None as such, but will not perform brilliantly for oily skin during summers
Oriflame products can be difficult to get but with the online generation it is easily available online
Rating: 4 out of 5
Oriflame Love Nature Cleansing Gel is a good face wash for all season for people with normal to dry skin. For a person like me who has got oily acne prone skin, they can try this in winters when the season gets dry and cold.