Oriflame Studio Artist Foundation Review Olive Beige Price and swatches

Hi girls. In this post, I am going to do a review on Oriflame Studio Artist Foundation. This foundation is available in 5 shades. I got this Oriflame Studio Artist Foundation in Olive beige. You know I just hate when the companies make very light foundation. It seems like they are just for the fair skinned girls and not for dusky girls in India. I have noticed this with Revlon, Maybelline a lot. I have a fair wheatish complexion so, I don't face that problem but I see that some for my friend or even cousins who are a little darker will apply the foundation that are not for their skin color. And that looks mismatched. Makeup is for everyone and not just for fair skinned ones. Right my friends? But I like Lakme which is our Indian brand and makes foundations that suits even the ladies/girls with darker skin colors.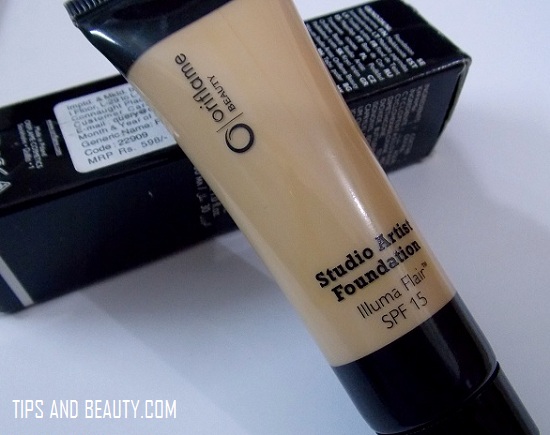 Anyways, moving on to this review of Oriflame Studio Artist Foundation. The complete name of the product is Oriflame studio artist foundation with SPF 15 Illuma Flair to be accurate.
Price of Oriflame studio artist foundation: This oriflame foundation is for 600 rupees for 30 ml tube pack.
Claims for this Oriflame studio artist foundation : This oriflame foundation has the light diffusing Illuma Flair Complex which gives a even toned skin and natural glow as this blurs out the imperfections. This has 5 different shades like Porcelain, Olive Beige, natural beige, tanned beige, fair nude. Out of these shades Porcelain is the lightest shade for fair skin and this color olive beige is meant for the medium skin. Tanned beige is suitable for dusky skin. Do check out the foundations for Dry skin in India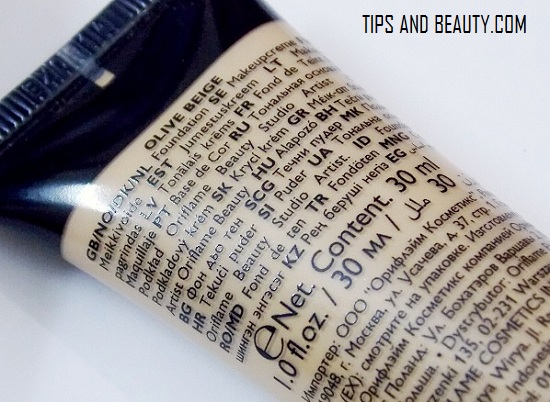 Experience with Oriflame Studio Artist foundation Olive Beige
This Oriflame studio artist foundation comes in a tube pack. I like pump packs but tube is okay too at least better than the tub or jar like packaging. The foundation is slightly runny so, make sure that you invert the tube with care. You know when I first opened this cap and inverted it, a lot of foundation came on my hands. Hence, that leads to product wastage. So, be careful haan. :)

This Oriflame studio artist foundation do not have any fragrance or smell that is good as very scented products can irritated the sensitive skin so that way this is really good.
Shade Description:
Oriflame studio artist foundation Olive beige is a color that can be used by the wheatish to fair Indian skin tones. Like if you have a complexion that look fair outside and wheatish inside the home like my skin complexion. Then this color will match you.
I have seen a lot of foreign make up brands that this foundation has this pink undertones like Revlon foundation. I simply dislike that as that looks so unnatural. Did you remember the review I did on that streetwear color rich foundation recently? Let me tell you a funny thing, I once tried the Revlon Touch & Glow foundation and that was so pink that I can use that as cream blush for me. haha. :)
How I use this Oriflame foundation:
I need only a pea sized amount of this. So, I will clean my face. Apply my favorite face primer then will take the foundation on the back of my hand. Then I will use the flat top brush and buff the foundation on my face. This looks natural and not light for my complexion. I also use this with my fingers which also works well. I think for this foundation fingers works better as this is very easy to blend.
The foundation is very runny and creamy so, this will be quickly blended on the face and neck. But I then feel that this is more suitable for dry to normal skin. As I used this in the day time once and my face started sweating and the foundation melted and made my face greasy.
I like using this for winter for my oily combination skin but not in summers as I like My Za perfect fit liquid foundation for summers which is a foundation designed for oily skin.
This is not sweat proof or waterproof so, if you are going at some place where you will sweat like a party in summers where they are no ACs or some street shopping then this foundation is not good for oily skin. Though dry skin will like this as this has moisturizing formula. 
Oriflame studio artist foundation imparts a dewy finish on the skin which also adds a glow. My mother liked this foundation for her dry skin. This has SPF 15 so, good for day time. One thing I loved about this Oriflame studio artist foundation as that this won't feel heavy like I have used a foundation on my face rather feels light.
Good about Oriflame studio Artist foundation
Price is affordable and Oriflame also gives good discounts.

Packaging is okay and is quite on the affordable side.

This has 5 shades but the 2 shades are too light so, I don't think they will suit our Indian skin complexions.

It has a moisturizing formula which helps to cure the dryness as well.

It gives a dewy finish and is not an exactly matte finish as such which is desired by the oily to combination skinned types. 

Does not feel heavy on the face even when layered, hence the coverage of this foundation is quite buildable.

This Oriflame studio artist foundation will suit dry to normal skin better.

Combination skin can try this in winters may be.

This blends every nicely as it has a very light texture.

This is Semi waterproof and sweat proof but melted in summers.

This foundation has SPF 15.
Not so good for Oriflame Studio Artist Foundation Olive beige
This is not for oily skin that too in summers for sure.

Dewy finish can make the oily skin look greasy

It is runny so, invert the tube slightly else too much of the foundation will come and then it will be wasted.

Availability is an issue.
Rating for Oriflame studio Artist foundation
3.75 out of 5
Take- Oriflame studio Artist foundation is an affordable foundation. This blends well but is suitable for dry to normal skin then the oily skin in summers. Oily skinned ladies can try this in winters maybe. This gives a dewy finish which is good for those who have dry skin.