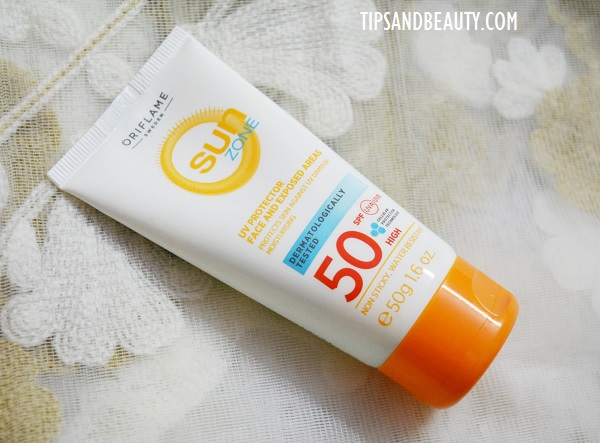 Oriflame Sun Zone Sunscreen with SPF 50 Review. Hi everyone!! Have you thought about using sunscreens over SPF 50. Yes, a lot of us would skip the sunscreen as we feel it makes the skin sweaty and oily but the fact is even if it does, it still shields the skin against the harmful UV rays. The UV rays are harmful as they can make the skin get those fine lines and wrinkle especially under the eye area. Under eye area is delicate and it needs the moisturization and sunscreens definitely help you with that. So, in this post, I will do Oriflame Sun Zone Sunscreen with SPF 50 review. Even if you apply sunscreen with SPF 15, then you should do. Because getting sun protection becomes crucial for the good skin. Oriflame Sun Zone Sunscreen is a water resistant sunscreen which is made for all skin type but does it work on my combination oily skin, let's find out.
Price of Oriflame Sun Zone Sunscreen with SPF 50:
This sunscreen is for 799 rupees but the price may vary as the Oriflame gives discounts regularly. The discounts can be grabbed from their catalogue and their representatives will know about it.
Ingredients: Do check the image below.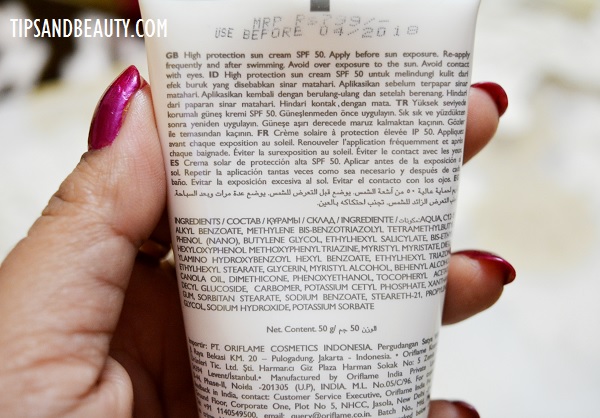 Experience with the Oriflame Sun Zone Sunscreen with SPF 50
This sunscreen is packaged in a tube packaging. The tube is white in color and the lettering and flip top cap is orange in color. Have you noticed friends that most of these sunscreens will have the orange or yellow color as I guess it denotes the color of sun that is why every sunscreen in every part of the world, will have the typical orange yellowish color somewhere on the packaging?
This is a 50 ml pack which has a sunscreen which is white creamy in color. The SPF 50 is the highlight is have seen a lot of girls using high SPF sunscreens. It's because the higher the SPF the more lasting protection you get. The texture is creamy and this is also thick like those thick body lotions. So, is is a good sunscreen lotion over SPF 50.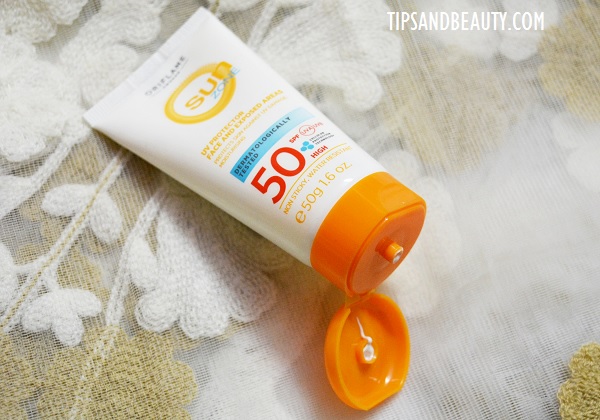 How to use this sunscreen
Like the other sunscreen this also has to be used prior to 20-25 minutes before you leave the house so that the sunscreen gets absorbed fully. It is a physical sunscreen by the way. I use this on my body for the first time and when I was in sun, I started sweating and the sunscreen gave slightly greasiness on the body. This means this is not those matte sunscreens. Honestly, I like gel based sunscreen a lot because the gel texture gets absorbed easily but still will not make the skin sweat under the sun and humidity.
You know that feeling when you have applied sunscreen and your skin start feeling chip chip. It is gross and so uncomfortable. This also does that but not much. There are some Lakme sunscreens which used to make my skin feel extremely sweaty and oily. Therefore, this isn't a good sunscreen for oily Indian skin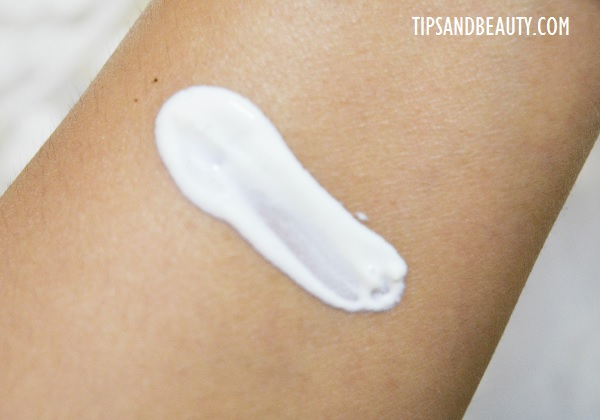 The next time, I used this Oriflame Sun Zone Sunscreen on my face before applying my makeup. So, after 2-3 hours my skin was slightly oily and sticky on the T zone. I know I have oily-combination skin but still I really don't want products which can exaggerate that. So, this was of no use to me. I gave it to my cousin who has dry skin. She is now loving this sunscreen as she uses this and her BB cream. This provides moisturization and even after 2-3 hours when her face sweat her skin looks dewy and not oily like mine. This is because I already have oily skin so the greasiness of sunscreen plus the oils and sebum of my own face made the situation worse. However, her dry skin kind of absorbed the oily layer that the sunscreen gave her after couple of hours.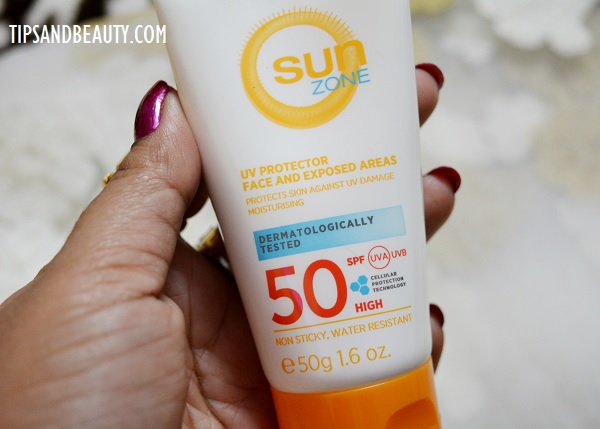 So, this becomes clear that Oriflame Sun Zone Sunscreen with SPF 50 is a good sunscreen but not for oily skin to combination skin but yes for the dry skin it acts as a moisturizer and a sun protectant lotion both.
Pros of Oriflame Sun Zone Sunscreen with SPF 50
Packaging is good
Price is affordable but I still feel that you can get this for less
This gets absorb easily on the skin
Good for dry skin
Gives moisturization
Has SPF 50
Easy to use tube pack
Cons of Oriflame Sun Zone Sunscreen with SPF 50
Not for oily to combination skin
Makes kin sweaty and greasy in summer heat
Rating for Oriflame Sun Zone Sunscreen with SPF 50: 3.75 out of 5
Oriflame Sun Zone Sunscreen is a ideal sunscreen with a high SPF of 50 but it is ideal only for those who have got dry to normal skin and not for someone like me with oily skin and combination skin. It gives moisturization and sun protection and also makes the skin feel hydrated by for dry skin while for oily skin this can do totally the opposite. I will recommend it to girls and boys with dry skin and that too if you get it on discount.
Have you tried this Oriflame Sun Zone Sunscreen. How did you like this friends?
Do tell me in the comments below.