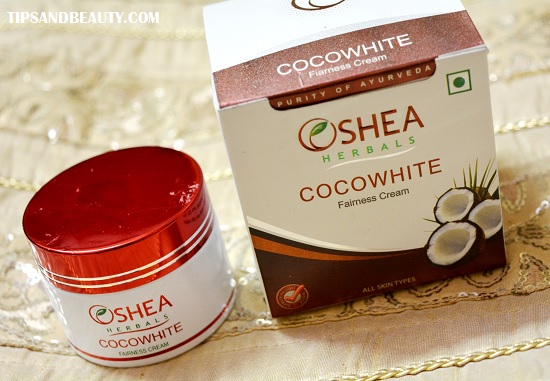 Oshea Herbals Coco white Fairness Cream Review: Hi girls, I will be reviewing this Oshea Herbals Coco white Fairness Cream in this post today. A lot of us like to use fairness cream, while a lot of us will not use them at all. I am somewhere in the middle, I will use some of them and not thinking much about the fairness but to remove the tan, make the skin texture better than before. So, this s Oshea Herbals Coco white Fairness Cream is the recent cream that I used and is using, Let's see friends, how this cream fared for me.
Price of Oshea Herbals Coco white Fairness Cream: 295 rupees for 50g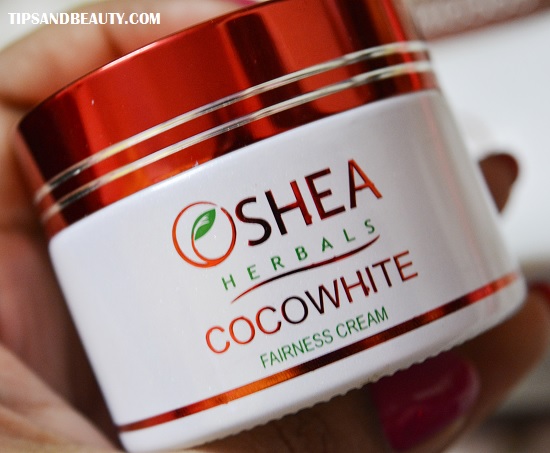 Experience with Oshea Herbals Coco white Fairness Cream
This cream is packaged in a very beautiful packaging. The white glass tub with a  red metallic lid. I liked it. But it may not be very travel friendly. The cream if you will see the pictures, is a white colored thick cream. This has the herbal ingredients like that of the Ginseng, Licorice, Coconut, Lemon Peel and Tulsi. I like that this has lemon peel and tulsi since these two ingredients are anti bacterial as well, hence it can prevent acne to certain extent. I have been using this cream for the past 2 weeks and I use this 2 times in a day. Honestly, after using this for all these days, I have seen some positive changes which I will tell you later, but first let me tell you about this fairness cream's texture and other details. :)
10 Best Anti Pigmentation Creams in India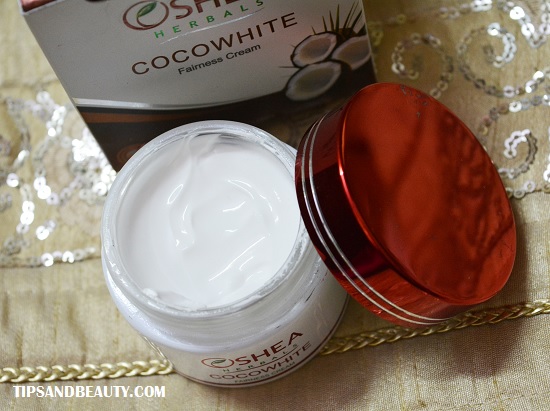 The Oshea cream smells very nice with faint coconut smell. I loved this smell, very sweet and nice. The texture is thick and white but when you apply this, the face will not look greasy or ashy, but this is ideal for oily skin too, but not very moisturizing for very dry skin at the same time and for the very oily skin. In winters though girls with very oily skin can give this a shot too. I did not find this oily or greasy on my combination skin. As soon as I apply this my skin looks radiant and dewy. I like the finish and feel on my skin. This also works well as a foundation base. So, after using this for so many days, I noticed that my skin looks clearer than before, I had some tanning that this along with few other products like scrub, packs etc was reduced to good extent. I will honestly be using this since this is not greasy, dry, ashy for my skin type. I really liked this.
Best Kojic acid creams in India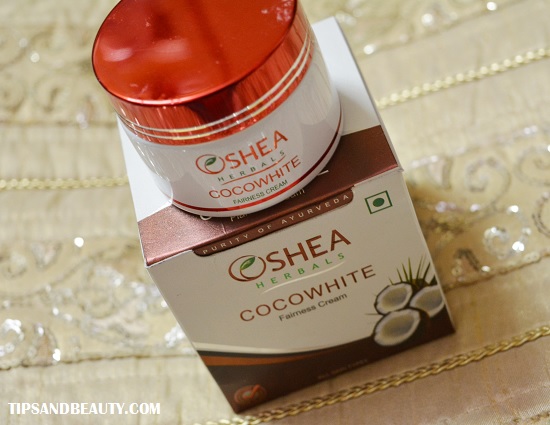 The products like licorice, tulsi, lemon peel makes this an effective skin cream for oily skin. I was first hesitant to use this as my skin breaks out at time when I use some creams. But when I tried this, I like that even after after ingredients like coconut it does not give greasiness or oily feel to the skin. It is good for combination face. Even after the end of the day my skin does not look greasy or too shiny.
Tulsi helps to prevent the acne and lemon peel further tones the skin and gives astringent like benefits. It does not block or clog pores due to these very herbal ingredients. I am extremely satisfied with this fairness cream. I have also noticed that this has even toned my patchy chin and skin looks fresher after using this skin cream
10 Best Skin Lightening Creams and Serums in India
Pros of Oshea Herbals Coco white Fairness Cream
Price is affordable and packaging looks really good with that red and white glass bottle.
Smell is nice and coconut like. It is very sweet but not harsh or strong
Gets into the skin after little massaging and rubbing
It does not leave the shine or greasiness on the skin surface. There is no shine as such.
Boys and girls both can use this as this is a unisex product
Does not give ashyness and white cast unlike other fairness creams which is the highlight of this fairness cream.
Have not break me out or blocked the pores
Gives a matte finish and skin looks a tad even toned and smoother
Good for normal to combination skin and skin type which are not extremely oily or extremely dry.
Cons of Oshea Herbals Coco white Fairness Cream
May not suit very dry or very oily skin type
No miraculous fairness but yes, a good skin texture, tone and radiance.
Rating: 4 out of 5
Oshea Herbals Coco white Fairness Cream is an affordable cream that is good for every day use that gives a nice tone and texture to the skin. This also makes the skin look dewy and radiant but not oily. I liked that there is no white cast as such but this gives reduction in tanning and dullness.