Oshea Herbals Rose Moist Winter Care Cream Review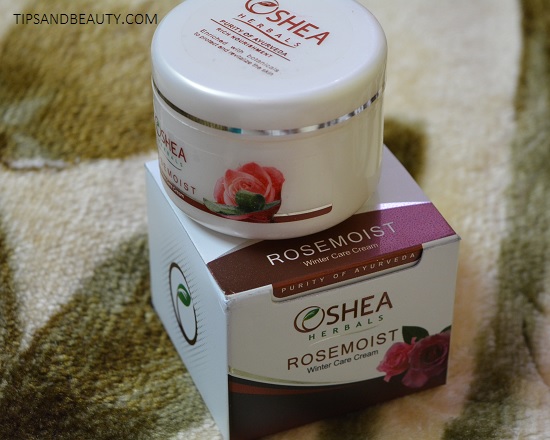 Hi girls, when winters are there, we seek skin care products which are loaded with skin moisturizing ingredients. I will review this Oshea Herbals Rose Moist Winter Care Cream in this post. This is the cream, that I had received 2 weeks ago and I am using this at night. I would also like to say one thing that I liked the Oshea coco white fairness cream a lot since for oily skin that does not feel oily and brings a bright glow on the face. Winters can be harsh and drying for the dry face therefore, the proper skin care products use is very important. For men and small kids the skin moisturisation is much needed. My husband has oily skin like me but in winters, even he feels that his skin gets a bit dry on certain places like the cheeks. My mother who already has got dry mature skin feels the utmost need to sue a skin cream even in the summers o, in winters for her a good healing skin cream is inevitable. So, let's see dearies, how this winter care cream fared for me.
Price: Oshea Herbals Rose Moist Winter Care Cream is 165 rupees for 50 g pack.
Experience with Oshea Herbals Rose Moist Winter Care Cream
This ream for winters is packaged in a very simple looking beige colored tub pack. The packaging is simple, decent and user friendly, moreover, one can easily keep this in the bag. The cream is not very thick but has this medium consistency and feels light when massaged on the skin. By light, I do not mean that this is non greasy. As per winters, skin creams are concerned they generally are greasy and very hydrating so does this cream here. This is creamy and moisturizes the skin very well.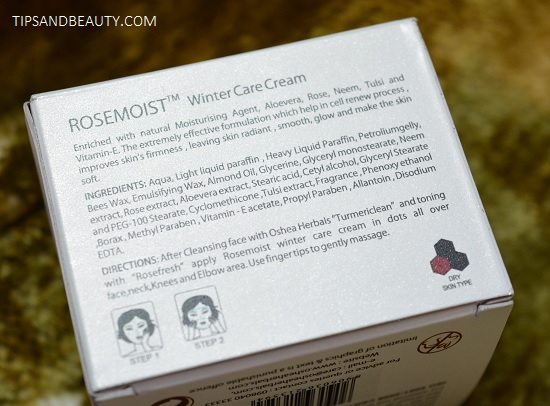 My skin is combination so, I would take a tiny pea sized amount. By the way, this also acts as a wonderful massage cream for winters. My mum would massage her face with this at night and this actually helps to get rid of the dryness and peeling skin. I too used this at night and liked the way this moisturizes the face. As per the skin type, the quantity can be adjusted.
This rose moist cream is enriched with natural Moisturizing Agent, Aloe Vera, Rose, Neem, Tulsi and Vitamin-E. The extremely effective formulation which help in cell renew process, improves skin's firmness, leaving skin radiant, smooth, glowing and soft. I liked that this has neem which is anti bacterial hence this will help to combat the acne and pimples on the skin. Vitamin E is considered a great skin healing cheap ingredient. We can also use vitamin E oil in the form of capsules at home. I have few with me which I use occasionally. Similarly, the aloe vera and rose is also ideal to heal and cure the dry patches on the facial skin. I was happy that this winter cream has neem and tulsi, so when I use this on my oily skin, I feel happy that these ingredients will help to prevent the acne and pimples in spite of giving moisturization.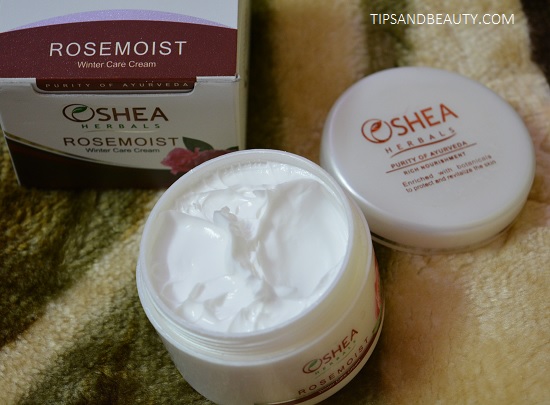 I would also like to tell you one thing that so far, I have tried so any Oshea Herbals products and most of them have worked really well and the price is also affordable. So, if you wish to use an affordable and in budget cream for winters then I will suggest you to try this and if you have oily skin then do try the Coco white fairness cream for the day time, Like I do.
10 Best Kojic acid skin whitening creams in India
Pros of Oshea Herbals Rose Moist Winter Care Cream
The packaging is very nice and cutesy tub.
It is very moisturising and hydrating
Texture is smooth and thick in consistency
This gets blended on the skin easily and skin look glowy and dewy
It is good for dry skin in winters
It is no very sticky but gives enough hydration and moisture
Little bit is needed and so this will last longer, I mean the pack of this cream
There is no skin irritations and itchiness post applying this skin cream
Cons of Oshea Herbals Rose Moist Winter Care Cream
None as such!!
It's just that it is not for oily skin as this is very hydrating.
Rating: 5 out of 5 (I seriously could not find any cons in this product since this does what a winter cream should do)
This give adequate moisturization and nice rosey like smell which is good. Even for the small kids this cream can be used. The cream has a thick texture which nourishes the skin layers. This can be sued twice in a day for a skin that looks smooth and feel hydrated.
Have you tried this Oshea Herbals Rose Moist Winter Care Cream?