Oshea Sheasoft Fairness Nourishing Body Milk Review
Hi girls!! Its winters and we will need body lotions for sure, do you know that body lotions are also laced with fairness features. Yes, I got this Oshea herbals body lotion that is a whitening lotion just like the Nivea fairness body lotion. I got this product couple of weeks and have used this since then. This is enriched with shea butter for ends which is extremely nourishing for the skin. So, let's get to know if it really helps to supple and hydrate the skin this winter or not?
Price of Oshea Sheasoft Fairness Nourishing Body Milk:
This is priced at 225 rupees for a pack of 200ml.
Ingredients:
Check the image below.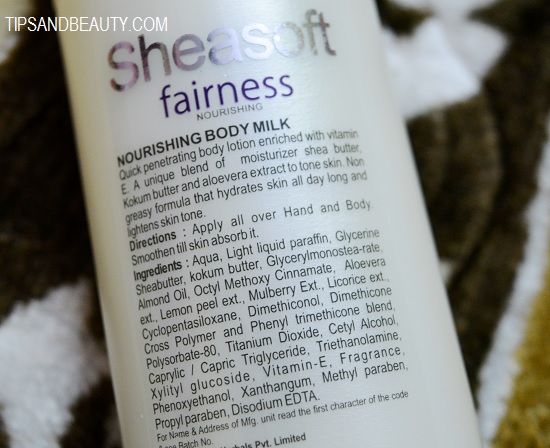 Experience with Oshea Sheasoft Fairness Nourishing Body Milk
Packaging:
This body milk or body lotion comes in a pump pack. I can not emphasis more girls, why I like pump packs. This is because they are hygienic and do not have to dig your fingers in the jar like packs. But having said that there is a drawback of pump packs too. Like we can not take them with us while we are travelling. Anyways, I still like such packs and would keep this on my dresser so that I can use this quickly after the shower. This month, I am being sent a lot of body oils and lotions hence I like using them alternately. But this body milk is becoming my favorite because whenever my skin feels dry, I would just press the pump and would apply this. So, simple and time saving!
Texture:
The body lotion has a lightweight texture which is non greasy and gets absorbed in the skin quickly. It smells nice and not too strong. I like faint smelling skin care products and this is just like that.
Performance:
The body lotion claims that this gives 24 hour moisturization so to check that I used it on my hands and legs and honestly, for me it lasted for a full day which is up to 8 hours. Which is also good though after which I had to reapply. I would say that you can use this and then forget about the dryness but if your skin is dry then re-application is definitely needed. I liked that for my normal body skin this does not feel greasy.  You may have used some of the body lotions which feels greasy or sticky on the skin but this feels light and non greasy just like the Nivea night whitening body lotion that I had used.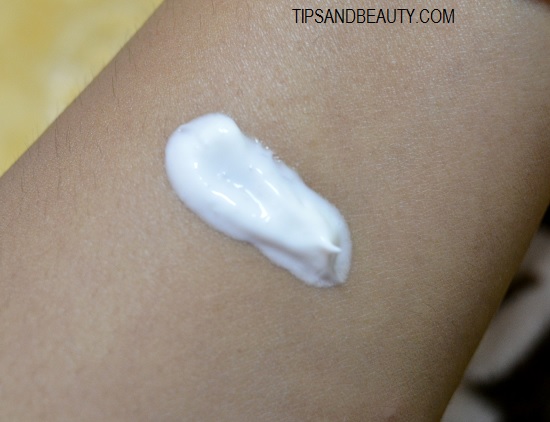 As far the fairness claims are concerned, the body lotion is rich in Shea butter which hydrates the skin immensely and it also contains aloe vera and kokum butter extracts that also rejuvenates and revives the dry dull skin. It also has licorice and mulberry extracts which are known to lighten the skin. So, I think with regular usage due to the ingredients in this lotion, it should make the skin texture look better but after using this for 2-3 weeks, I have not seen any visible changes in the skin color. But let me also tell that it has SPF 15 hence will help to protect the skin from sun tan and sun damage which is a good thing for me.
You should also read about the body lotions with SPF in India, if you wish to use high SPF lotions in summers.
Now, let me tell you the pros and cons of this Oshea Sheasoft fairness nourishing body milk.
Pros of Oshea Sheasoft Fairness Nourishing Body Milk
Nice pump pack which is easy and hygienic to use
This is very affordable for a 250 ml pack
It will get absorb into the skin easily
Gives proper moisture to the skin for up to 8 hours which may vary from person to person
Has aloe vera, licorice and mulberry extracts which helps in making the skin tone lighter
Has SPF 15 for sun protection
It also has shea butter and kokum butter
The lotion does not feel greasy or heavy
Soft light weight texture which is not heavy on the skin in summers.
Can be used by everyone in the family like the kids and men as well.
Cons of Oshea Sheasoft Fairness Nourishing Body Milk
Dry skin will need reapplication as the texture is moisturizing but not that much
Fairness is not seen so far
Rating: 3.75 out of 5
Overall, the Oshea herbals Sheasoft fairness lotion is good everyday use for people with normal skin. For dry skin reapplication will be needed. This is non greasy and does not feel heavy on the skin. I liked this and its is also very affordable. A pack of 225 rupees will last long.
So, this was the Oshea herbals Sheasoft fairness lotion review. Have to tried it yet? Which is your favorite skin whitening lotion?Also do see the review of Patanjali Body lotion