Oshea UVShield Sunblock Gel with SPF-20 Review: Hi everyone!! Summers also mean tanning for most of us. It does not matter how much we stay under the sun but I have noticed at majority of us will get tanned during the summers, so one thing that is crucial to prevent that and to keep the skin free from premature aging is sunscreen. Sunscreens should be used everyday when you step out of the house. In this post, I will talk about the Oshea UVShield Sunblock Gel with SPF-20. It's gel sunscreen which I like as my skin type is combination to oily hence, whenever, I use other cream based sunscreens my skin gets greasy further.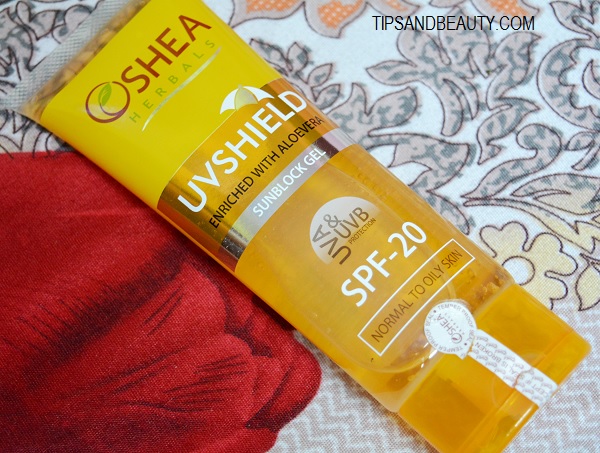 Price: This Oshea Sun Shield Protection Gel is priced at 195 rupees This brand is not very popular all over the Indian market at the moment, but I have seen that Oshea products are available on all the major online stores. 
Experience with Oshea Sun Shield Protection Gel with SPF-20
This sunscreen gel is packed in a transparent tube which is very travel friendly and has a tight flip top cap. The gel is light orangish in color just like the color papaya. This is enriched with the extracts of cucumber, vitiver, carrots, chamomile and aloe vera gel. The tube of this sunscreen look good with the orange gel filled inside.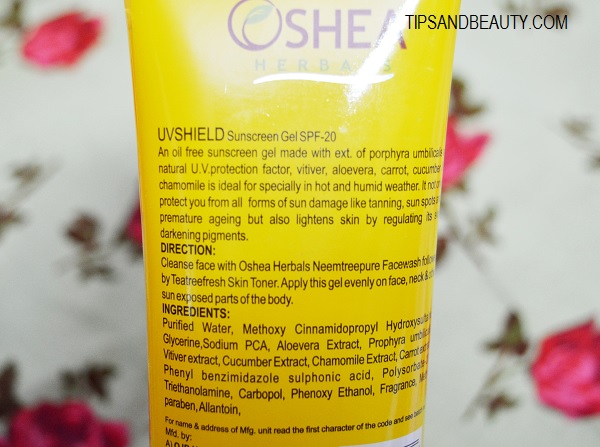 The gel is very light weight. I have used gel based sunscreens earlier as well, but this is extremely gel like watery thing which is not sticky at all. I have noticed that some of the gel sunscreens would be sticky gel like but this is watery gel that has to be massaged on the skin before this gets fully absorbed into the skin. This smells like herbal formulas and is very mild. The texture is what I liked the most about this sunblock gel. This is very light and just glides so smoothly over the skin. This gel texture also makes this ideal sunscreen for oily and combination skin. Since a lot of us oily skinned people will not use sunscreens as they will make us feel sweaty and sticky or even be very heavy on the skin, but this is light, non sticky and non greasy. Hence, can be used easily on the skin.
How I use:
I like to use this on my face as soon as I am done with the toner. After using this I will use a BB cream over my skin or would sue a light foundation if I am going out. So, overall this sunscreen is excellent for the price and for oily skinned people.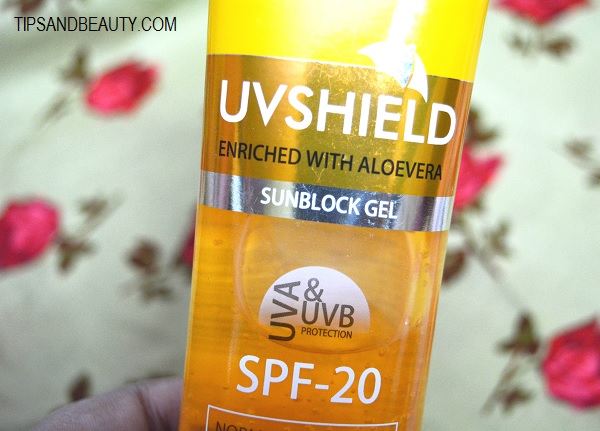 This can be used on the face as well as on the body as well but I use a different lotion on the body so, I kept this only for the face and find this very useful for my oily skin especially in summers when that gets very oily. This has SPF 20 which is decent amount of SPF, so if you don't wish to use a high SPF sunscreen then this is ideal.
Biotique saffron dew day cream
Biotique Bio Dandelion Ageless lightening serum
Lakme 9 to 5 CC color Transform Cream
Pros of Oshea UVShield Sunblock Gel with SPF-20
Affordable in price and it can last long since we only need less amount of this product
Good for travelling as the pack has flip tip sturdy cap.
Packaging is good and easily dispenses the product.
Liked the subtle smell of this sunscreen
The gel texture gets inside the skin nicely
It is not greasy and sticky at all
Feel nice on the skin and keeps the skin non greasy
It wont make the skin sweat like the creamy sunscreens can do
Ideal for oily and normal combination skin and for everyday usage die to its non sticky texture
Even the dry skinned ones can try and then sue their daily lotions and creams
Have not faced any irritations, burning or rashes after using this product
This is rich in cucumber, aloe vera, carrot and chamomile etc.
Cons of Oshea UVShield Sunblock Gel with SPF-20
None as such!!
Rating: 5 out of 5
Take: Oshea UVShield Sunblock Gel with SPF-20 is a perfect everyday sunscreen for oily skin. Its watery gel like texture is really nice feels cool on the skin. This does not block the pores or would feel greasy and sticky after the application. The price is affordable hence, I will advice this if you really wish to use a gel sunscreen with affordable price.