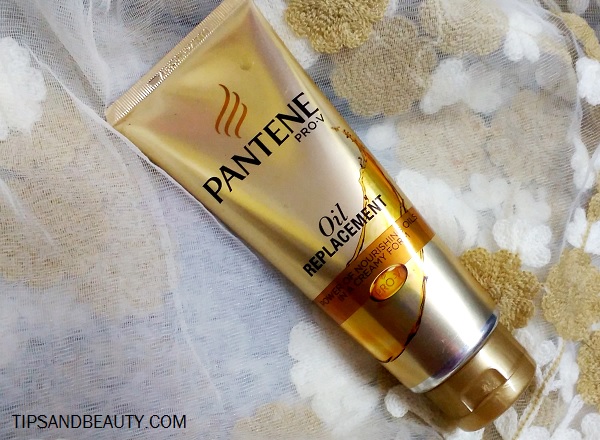 Pantene Pro-V Oil Replacement Review, Price and How to Use
Hello girls, I am going to write about this Pantene Pro-V Oil Replacement. This is the recent addition in my hair care products. Out of those several hair care products that are still lying un-reviwed, I picked this up today to do a review on. Pantene Pro-V Oil Replacement is the new product by Pantene and this is what I am currently addicted to and have been using a lot lately. The reason is pretty simply. The product gives moisture and this is what we need the most in harsh winters. So, do check out the Pantene Pro-V Oil Replacement review.
My Experience with Pantene Pro-V Oil Replacement:
The name itself makes it very clear that the product is something that can replace the requirement of oils in your hair care regimen. Why and how? I will tell you. Pantene Pro-V Oil Replacement product is packaged in a gold colored tube which looks luxe. Honestly, the packaging is very luxurious and high end product like. Otherwise the tube is very easy to use and is just like the normal tube packaging that we use every day in our facial cleanser, creams etc. To make things simple, the product is actually is a leave-on hair cream. This is what you can liberally apply on the hair and leave on so that it can give you those smooth and full of life tresses. Pantene Pro-V Oil Replacement has a thick buttery texture that smells subtle and pleasant.
It can be used either on your dry hair or the semi dried hair post shower. The major purpose is to smoothen the hair and to detangle. Moreover, I feel that these leave on products also makes a film or thin coat on the hair that further protects the hair from the sun rays and other environmental damages.
How to Use it?
While I use it, it feels really nice and gets applied really well. It is not that sticky kind of oil creams or hair creams rather has a satiny texture and non greasy formula. It works well when the hair is semi dried or damp as that way it can make the hair a lot smoother and lessens the hair fall that happens while combing the shampooed hair.
I take around a two coin sized of this product as per the length and volume of my hair. This can be increased or decreased accordingly that depends on your individual hair type, length and volume.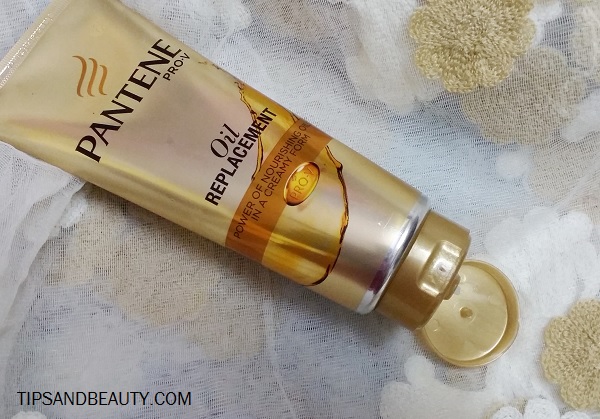 How it performs?
Post application the product does not feel heavy or greasy on my hair. Not it makes the hair look weighed. Like there are some post shower hair products that can make the hair look sticky and weigh the hair down. The case is not with Pantene Pro-V Oil Replacement.
It helped me in reducing and smoothening those tangles that I get near the hair in my nape area. It was effective and something that I can recommend it to  the girls who are looking for a leave on cream like product for their hair. But one thing noted with this product is that, this gives smoothening effects but it can bit treat the extreme dryness of the hair. So, if you have dry hair or very curly hair then you should shampoo first then use a hair conditioner that can smoothen the hair, And after all that you can apply this to get some good results with your dry tresses. The light scent that comes from the hair post applying this product is really good though it does not stay all day long but still worth mentioning here.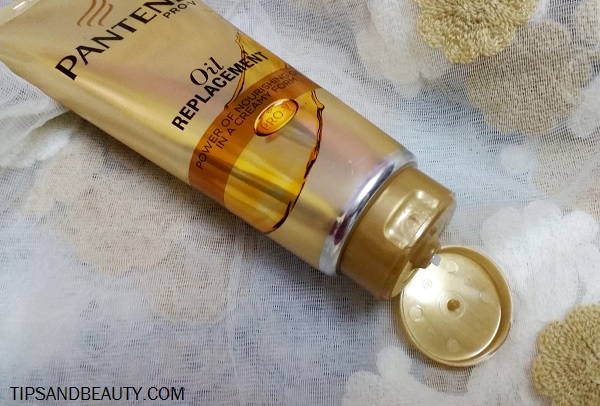 Pros of Pantene Pro-V Oil Replacement
Beautiful gold colored packaging
Very travel friendly packaging
Affordable product
Pleasant smell that also makes the hair smell nice post the application
Creamy formula that blends nicely on the dry and semi-dried hair
Leaves the hair softer and glossier
Non oily and no sticky product for hair
Hair smells nice and not over powering
Don't weigh down the hair
Frizz is controlled to certain extent.
Cons of Pantene Pro-V Oil Replacement
May not give the same benefits on dry and very curly hair
Rating: 4 out of 5
Pantene Pro-V Oil Replacement is a very easy to use product that is affordable and easily available. You can try product like this to tame those unruly hair like I had few days ago due to harsh weather. The product smoothens the hair and hair appears a lot silkier but the same effects cannot be seen when you have extremely dry hair.