Partywear Dupatta Designs
There are different types of dupatta designs. A dupatta can make your outfit look charismatic. Some of the dupattas can be really simple and plain, while some can be very heavy studded with sequin work embroidery and more. So, here is a trendy catalogue of party wear dupatta designs. These dupattas are available online and one can try it to make their plain and simple outfit really suitable for the festivals and other such occasions. These beautiful dupattas are available in velvet fabric, cotton, georgette and heavily embellished net fabric. Sequin studded net dupatta, Zari work is really popular and they can really highlight any simple outfit. You can wear these embellished and heavy dupattas along with your simple kameez, crop tops, maxi skirts and more.
1. Heavily embellished gorgeous party wear Dupatta design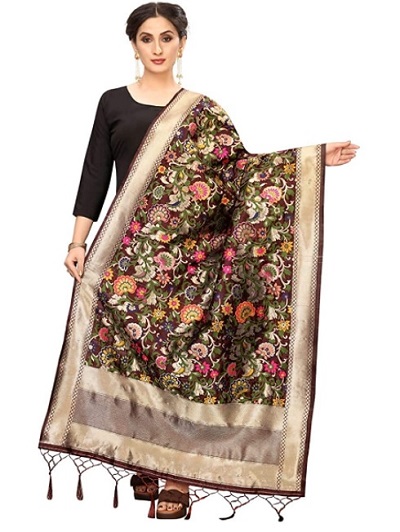 This is a really beautiful very heavy embellished cotton Silk Dupatta with motifs. It has floral neat and unique paisley embroidery that makes it really beautiful and trendy. It can really go well with the Cotton silk salwar kameez and even the lehengas.
2. Banarasi Maroon woven pattern Dupatta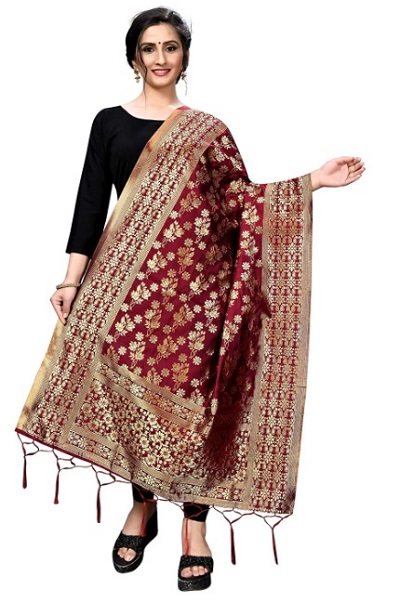 The stylish Dupatta has floral print and is a gorgeous Banarasi silk Dupatta design. It can be tried for different party wear Salwar suits and even for the Lehenga in Banarasi silk fabric. Such dresses are also appropriate when you wear them for the festivals as well as for the parties. Therefore, the Dupatta is ideal to be paired with such dresses.
3. Pink cotton Silk Dupatta for parties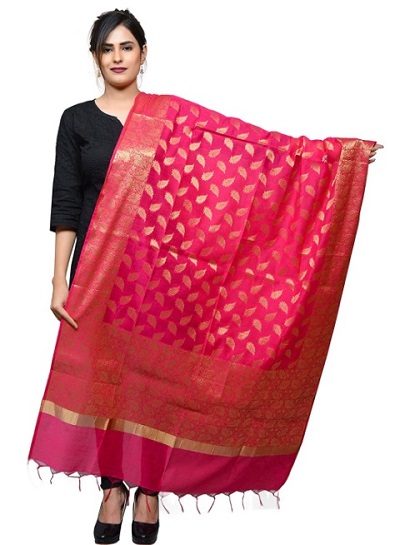 The party perfect and ideal dupatta is also a party wear Dupatta in cotton Silk fabric. It is not only lightweight but it is also ideal for festival and functions. One can try these dupatta to accentuate a plain cotton Silk or any lehenga.
4. White net embroidered Dupatta design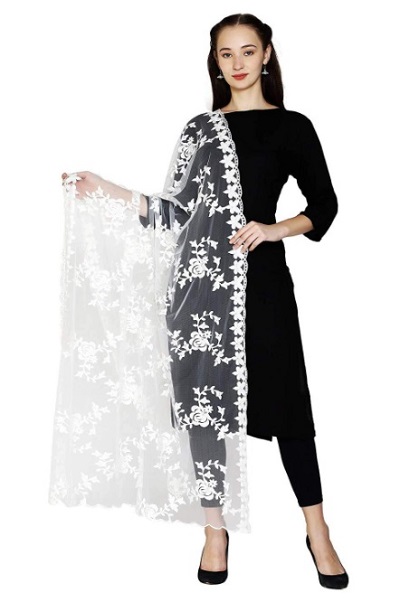 The Dupatta is like a must have in any wardrobe because the net white Dupatta can be paired up with different Salwar suits and lehengas. Essentially, a white Dupatta can also be paired up with Indian style long gown. Therefore, this is really nice option to pair when you have to be subtle and elegant but not to be over the top.
5. Stylish Bandhej printed party wear Dupatta design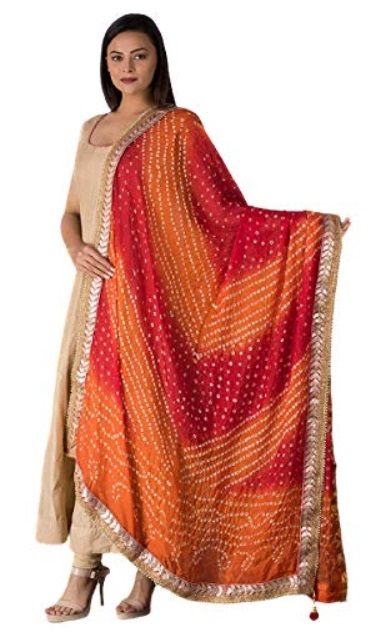 The Bandhej printed dupatta looks really beautiful and the border embellished with sequin just adds much more attractiveness. This Jupiter is ideal for all those lehengas and Salwar suits, where you can pair it up and make your output look amazing.
6. Orange and pink Bandhani print Dupatta with beads and border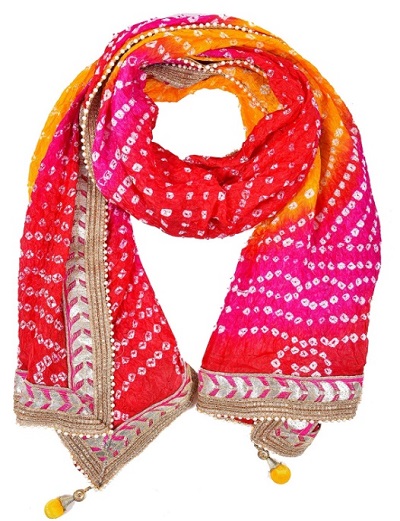 Bandhani Dupatta in orange pink and yellow actually make the combination look mesmerizing. It has a Gota Patti work border and a beaded border trim. It looks really beautiful and can make your outfit ideal for parties and attractive.
7. Net Sequin studded pink Dupatta pattern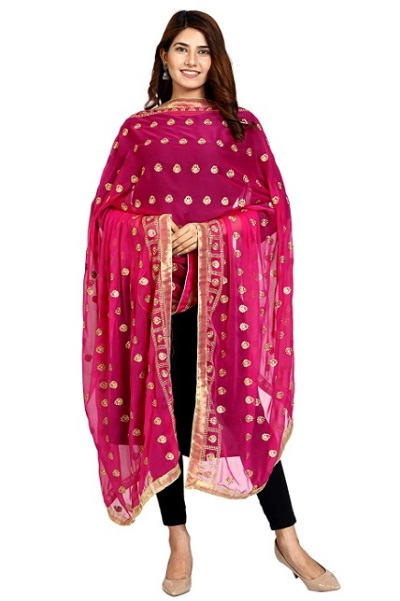 The net dupattas are ideal for any type of fabric of the salwar kameez. This dupatta has a sequin all over and border on the four sides. It looks really beautiful because of the work done and the fact that it is a highly embellished net dupatta.
8. Stylish netted partywear dupatta design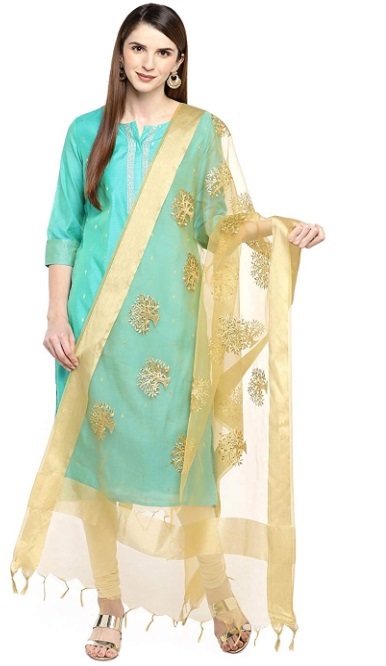 This dupatta has a mirror work and sequin work. It is such a beautiful dupatta that one can pair it with their net salwar suit, cotton salwar suit, georgette and even with the lehenga. They are ideal because they are lightweight, yet are very embellished hence to make your outfit party or festive appropriate.
9. Cotton silk embellished and sequin studded dupatta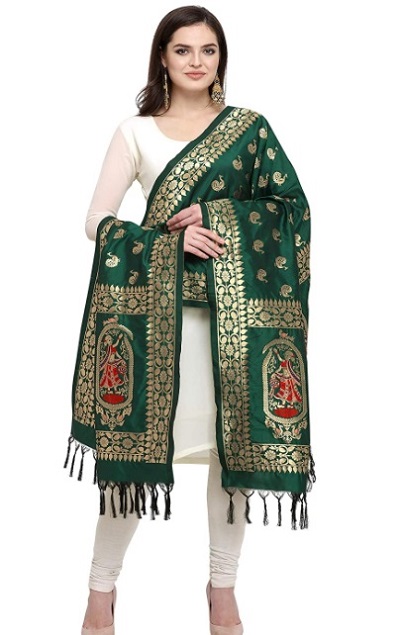 The Cotton Silk Dupatta has a very thick Golden border and sequin and embroidered booty are given all over the Dupatta. They are also really good for your events which are in cotton fabric. Even the bandhej or Banarasi salwar suit set fabric dupatta would be ideal.
10. Black and gold Silk heavy dupatta
Banarasi silk is royal and rich looking elegant fabric. If you are dressing like the salwar suit or your lehenga is of Banarasi silk or cotton Silk fabric then, such Banarasi silk heavy and Royal looking too but as will highlight the outfit like nothing. They are easy to carry and another thing is that they look so rich and royal for the festivals and parties.
11. Bandhej printed yellow and pink Dupatta design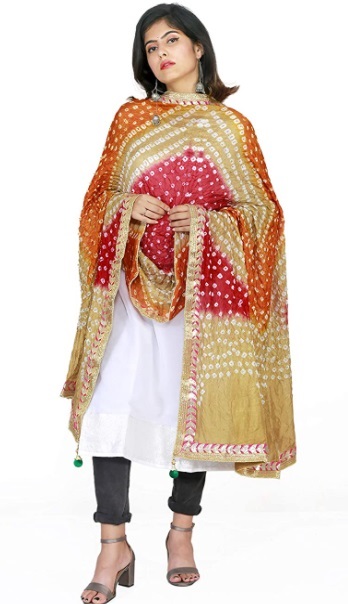 12. Pink Banarasi Dupatta for weddings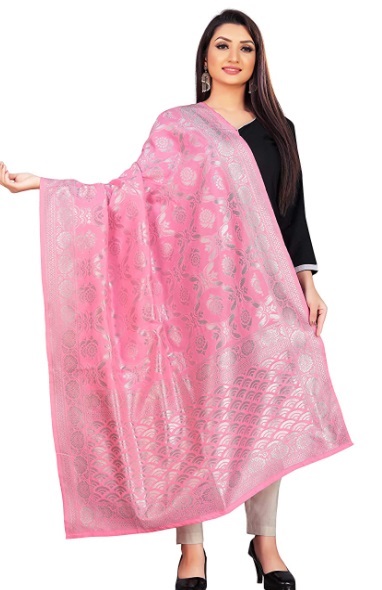 13. Chiffon printed Dupatta design for parties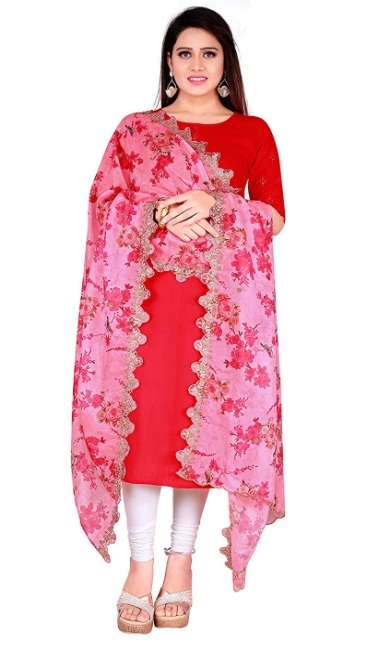 14. Pink net sequin studded party wear dupatta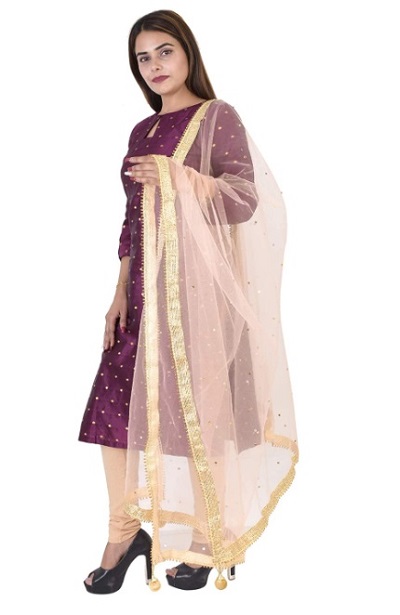 15. Dark pink net floral embroidered pink dupatta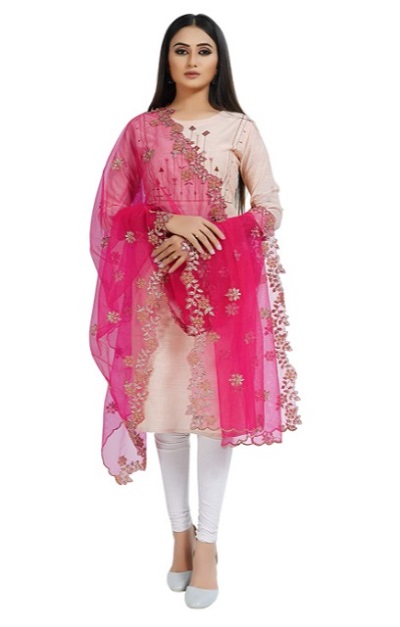 16. Stylish Phulkari work Dupatta design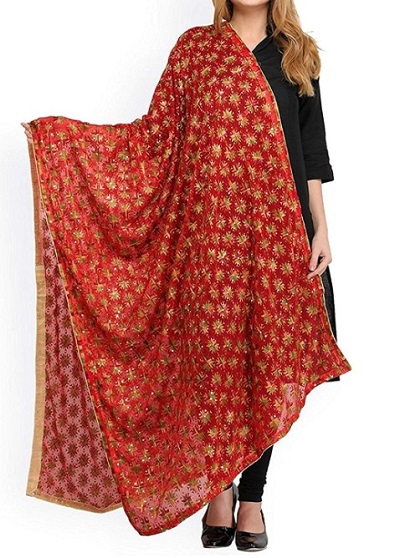 17.  Green net embellished and sequin studded dupatta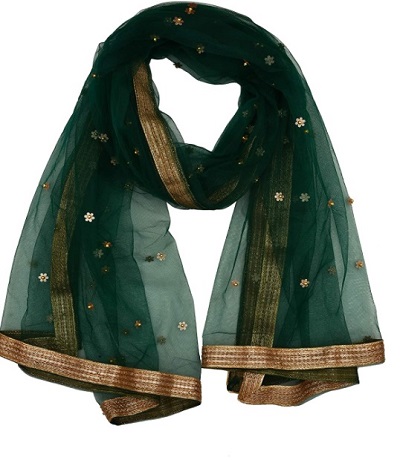 18. White floral embroidered party wear Dupatta design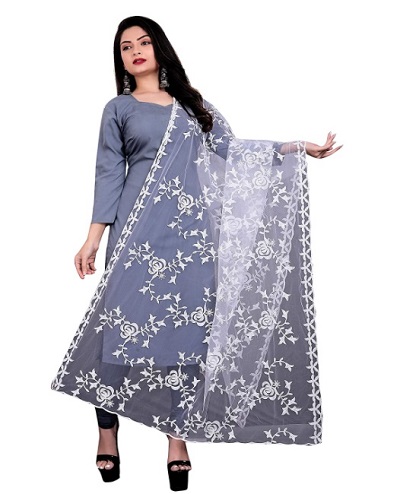 19. Carrot pink net Dupatta with border and beadwork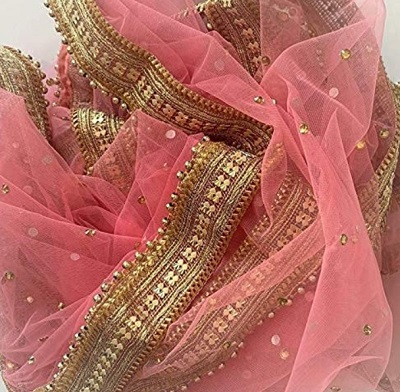 20. Net and mirror work Dupatta design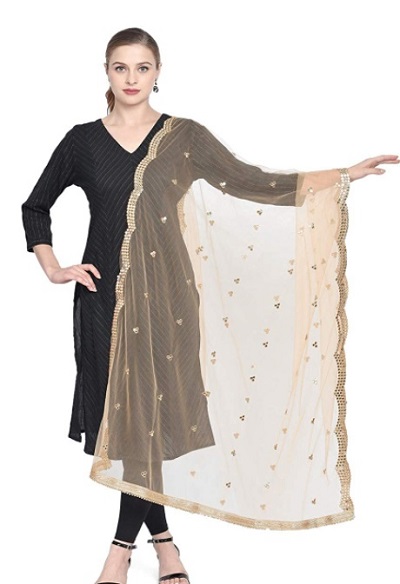 These designer dupattas that you can try which are available online as well. This will certainly make the outfit look really beautiful.