Patanjali Amla Hair Oil Review
I will review amla hair oil from Patanjali. These are Ayurvedic products by the Baba Ramdev. Amla hair oil is considered highly beneficial for the hair as amla has enormous vitamin C and some great nutrients which makes the hair stronger, longer and darker. Amla also prevents the whitening of hair.  Amla oil is one of the best oils to boost the hair growth. I have used amla hair oil earlier and this Patanjali amla oil is my recent purchase, I got this as I wanted to try Patanjali amla hair oil from quite a long time but availability was an issue for me earlier. These days, Patanjali products are very easily available online and those numerous Patanjali stores that have cropped up everywhere. So, let's check out the reviews and if this amla oil has any side effects or not.
Price of Patanjali Amla oil:
It is for 40 rupees for 100ml,
Ingredients:
This Patanjali amla hair oil contains sunflower oil, olive oil, sesame oil and amla oil. Hence, it is not pure amla oil but is a mixture of some other yet good oils.
How to use and apply this Amla oil 
Take some of this oil on the palms and lightly massage all over the scalp. Once, you are done massaging the  scalp, you can then apply on the hair. this way, it helps to make the hair coated with the oils.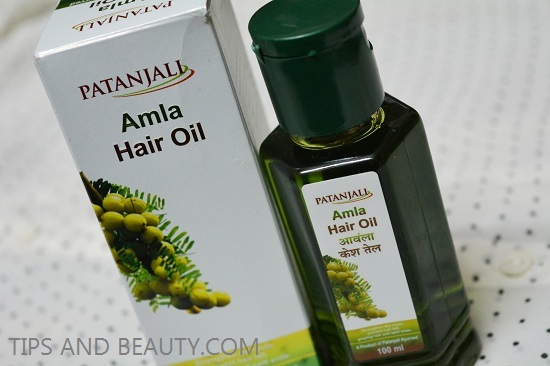 Experience with Patanjali Amla Herbal Hair Oil
This patanjali amla hair oil comes in a small hexagonal bottle which is quite small and has 100 ml of the oil in it. Amla hair oil prevents the hair fall, strengthens the roots of the weak hair. Amla hair oil also cures the dandruff and grey hair. Patanjali coconut oil is also good as it was pure but if you will see the ingredients list of this hair oil, you will see that it has 3 other oils as well though those oils too are great for the proper nourishment and care for the hair.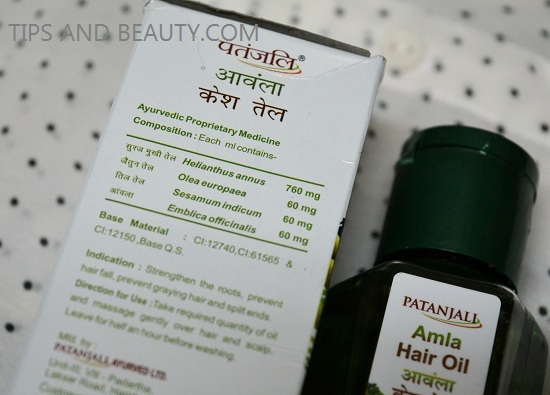 I am using this for 1 month now and have felt that this oil has given me back the lost shine to my hair. Earlier my hair was very lustrous and shiny. But due to excessive sun exposure and spending time in the sun my hair got dry and I lost the natural shine. After using this oil for the past 3-4 weeks, I have seen this positive change in the shine and strength of my hair due to this patanjali amla hair oil. I will not say that the oil is miraculous but benefits the hair. It is decent hair oil to be used every couple of days to massage the hair. I also used this for hot oil massaging at night. For that, I will mix this amla oil with the patanjali coconut hair oil to boost the efficiency of the treatment.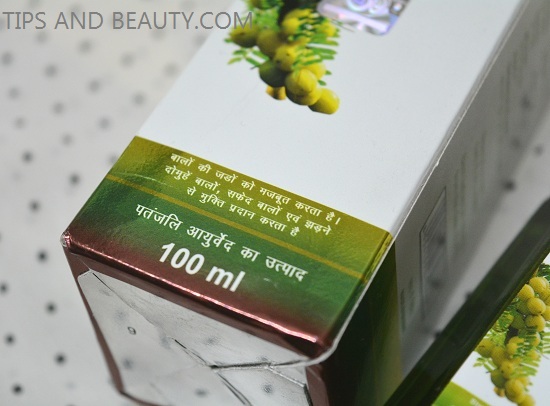 As it has couple of different oils in it, it is greasy and while washing you will need some extra shampoo to remove this completely from the scalp. My cousin who has got thin and dry hair she too have used this patanjali amla hair oil. She liked it too and said that this oil has cured the slight dandruff in her hair when she used this by mixing with some lemon juice in it. This hair has made her hair bouncy and also cured the splits ends to certain extent though not completely but for 40 rupees this oil is really good.
Pros of Patanjali Amla Oil
Packaging is good
Price is very affordable
It has some other oils too
Completely herbal hair oil
Nourishes the hair
Helps in giving the hair deep conditioning
Good for dry damaged hair and for dandruff also
Cons of Patanjali Amla Hair oil
Smell is a bit too much
It is not pure amla oil
Rating: 4 out of 5
Patanjali amla hair oil is very inexpensive oil with a couple of other oils which are beneficial for the hair health. This gets absorbed and nourished the dry scalp. I will recommend this oil for its usability and good price.
Recommended Articles