Patanjali Coconut Oil Review: Coconut oil is a multipurpose oil that can be ingested or used for so many of the beauty purposes. I will review Patanjali coconut oil. This oil is said to be the pure coconut oil and is edible. I checked it by smelling and the smell of coconut oil was unaltered it was pure and there wasn't any hints. I love using coconut oil as it serves so many purpose other than the cooking but I have only used this Patanjali coconut oil for skin and hair. By the way, it may not be the cold pressed oil but is pretty safe to be used on your body skin. Though I won't apply it on my face.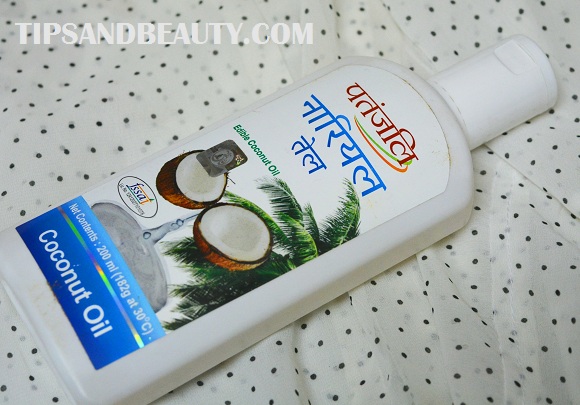 Price of Patanjali coconut oil: This coconut oil is for 65 Rupees for 200 ml. Yes, this is very inexpensive oil.
Claims of Patanjali coconut oil: This oil claims that It is made from the fresh and mature coconuts. Patanjali coconut oil is a double filtered coconut oil which is without any preservatives. Hence, good for cooking purpose as well.
Experience with Patanjali coconut oil
Patanjali coconut oil comes in a wide flattened bottle with a flip top cap. The packaging is decent and looks okay. Pure coconut oil can be used for skin, hair and so many purposes. I like using this to massage my skin every day an hour before going for shower to soften my skin and to make it glowing. Coconut oil improves the skin texture and uneven skin tone and it also removes any marks and blemishes from the skin.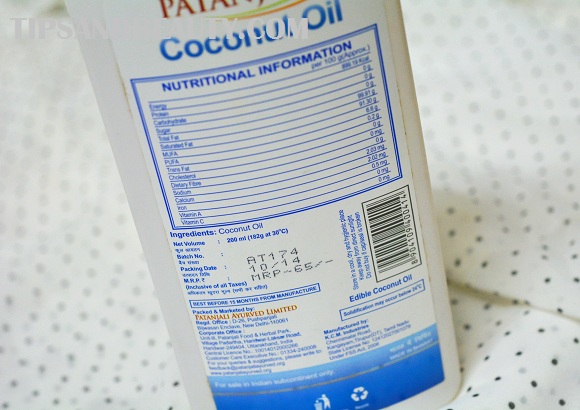 Uses and benefits
I have also used this oil along with some other oils to give myself a hot oil massage. Hot oil massage with coconut oil is very good for deep conditioning the hair. After that massage my hair will get softer and lustrous. I like that I am using pure coconut oil and not something that has vegetable oils mixed like we see in some brand of amla hair oils in India, which contains vegetable oil along with amla or even along with almond oil. I have done a post on the uses of coconut oil for beauty, which you can read by clicking the link.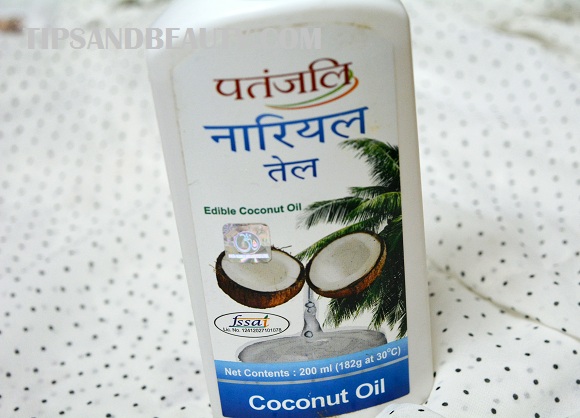 At night I use this oil to massage my very dry feet and hands. It deeply nourished the hands and feet. In the morning, I feel that they are moisturized and are smoother. It also acts as a great cuticle moisturiser.
For the hair, I use this Patanjali coconut oil twice in a week. Apply this before going to bed and then wash my hair the next morning. This Patanjali coconut oil has really made my hair smoother and also reduced the sun damage that I had on the frizzy hair ends. I will really suggest you to try this for your skin and hair. I don't use this for my oily acne prone skin but if you have very dry skin, that is peeling and have excessive dry rashes then you may uses this for your face as well.
This Patanjali coconut oil is every cheap in price and lasts longer even if I use it every day to enhance the beauty of my skin and hair. Coconut oil can also be used under the eyes to get rid of the under eye dark circles in natural way. I think this Patanjali coconut oil will be excellent to cure the dandruff and dryness on the scalp in winters. In anyways, coconut oil is good for hair.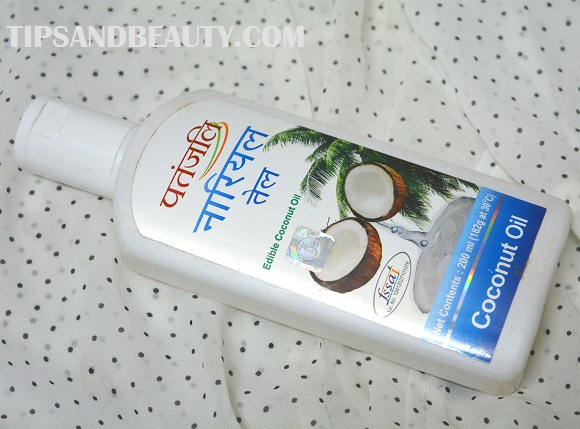 Overall, I love using this Patanjali coconut oil in my beauty regimen for skin and hair as it is 100 % pure and natural.
Pros of Patanjali coconut oil
Decent packaging

Pure coconut oil

Free from RDB and bleaching

Good for dry skin as moisturiser

Acts as a good body oil

Good for smoother stronger hair

Great for hot oil massaging

Can be used for making homemade hair oils by mixing with other herbs
Cons of Patanjali coconut oil
Not for the face for oily skin

It is edible but I have not used for that so can't say but it is pure so you can try.
Rating: 4.5 out of 5
Patanjali coconut oil is a great multipurpose pure coconut oil which serves so many beauty purpose for you. It acts as a skin moisturiser, hair oil, cuticle nourisher, dry skin healers and so much more. It is very inexpensive in price and last longer as we are getting 200 ml of this Patanjali coconut oil for just 50 rupees. I will say that you should buy this.