Patanjali Dant Kanti Dental Cream Tooth Paste Review, Price, How to Use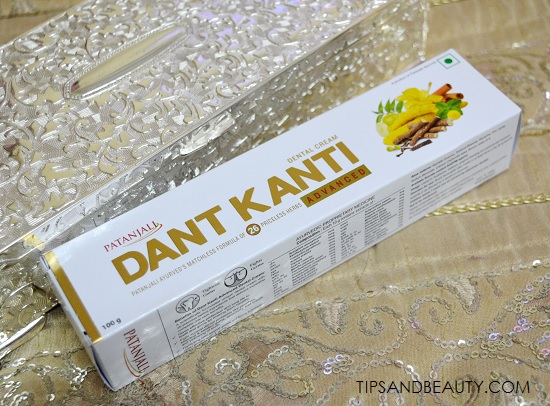 Hi everyone!! Today's review post is not on a beauty care product but for an oral care product. This is the Patanjali Dental Kanti Tooth Paste which is my latest and most favorite when it comes to bathing and hygiene products. You know oral hygiene and care is very important else we can face mouth odour (bad breath), cavities, germ infection, gum bleeding etc, so choosing a right tooth paste is very important. Earlier I had used the Patanjali Dental Kanti tooth powder but in today's world tooth powders can be a little messy to use but the same dental Kanti powder is in the tooth paste form hence, I had to try it. So, let's see how this Patanjali Dental Kanti Tooth Paste fared and what it actually does for you.
Price of Patanjali Dant Kanti Dental Cream Tooth Paste:
40 rupees for 100 g.
Ingredients of Patanjali Dental Kanti Tooth Paste: The ingredients of this tooth paste are like that of, long, neem, pipli, nimbu, haldi etc. see the image to check more.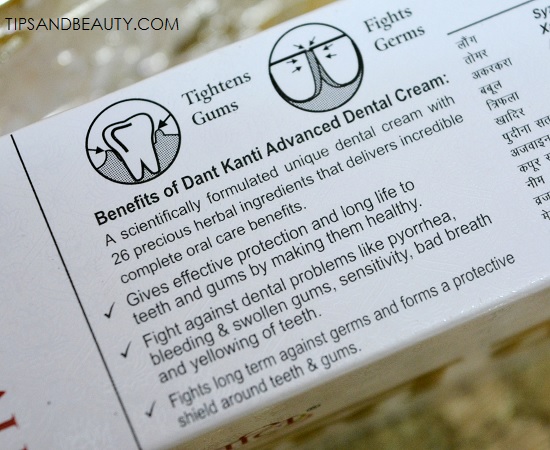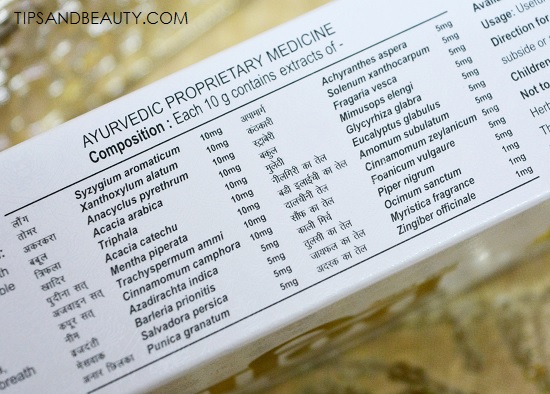 Experience with Patanjali Dant Kanti Dental Cream Tooth Paste

The tooth paste comes in a plastic squeezable tube which is same as that of the many tooth pastes brand. First let me tell you something that I have been using this tooth paste for the past 7-8 months and I bought just one for the review purpose. Earlier, I had the Patanjali Dental Kanti powder which was amazing but very spicy and strong so I got this. Now, I have used 7-8 tubes of this so far, I mean me and my family. This is because I have not seen such a great tooth paste and that too at such an affordable price. This is one of the best patanjali product.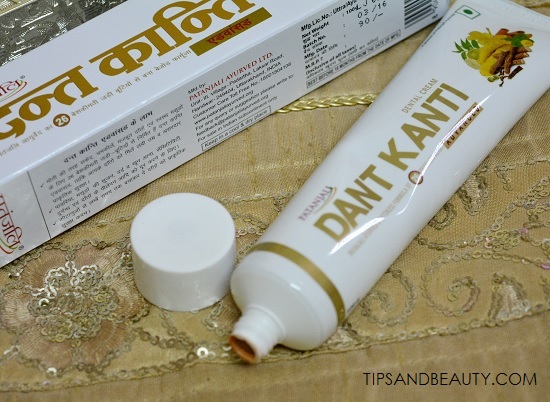 The tooth paste is light brownish in color due to all the herbs and jadi butis in it. Moreover, the smell is also of the herbs in it. This lathers just like any other toothpaste, a little less though but that is good in a way. Moreover, this creates brownish foam that cleans the teeth really well. I so like to touch my teeth with my tongue post using this as it feel so clean.
Also see: Patanjali aloe vera shampoo
Now let me tell you friends why I am saying that this is my most favorite tooth paste. I have some oral problems like we all do at some point. I had this problem where my teeth have become light yellowish for drinking too much coffee 2 years ago and there was some odour since due to my work schedule, I was so tired at night that I use to eat and go to sleep straight. That has also caused few small cavities. This is true and I am honestly pointing out these problems that most of us would have one or the other. So, after using this Patanjali Dental Kanti Tooth Paste, I have started to use this paste and seen very good changes.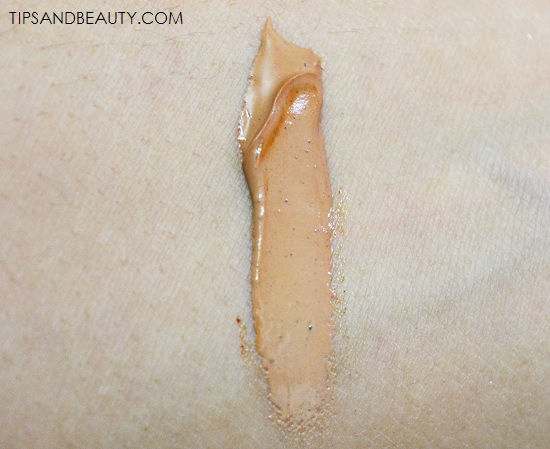 First of all, Dant Kanti is a blend of some very beneficial herbs so, when I started to use this my gums bleeding was topped at all, now it has been so many months there has not been a drop of gum bleeding. The bad breath that I faced at times has reduced drastically and now I am not even concerned about that. This is because, bad breath is a cause of cavities or germs so in my case the tooth paste has removed all the traces of small cavities and the germs. I would also use it at night so that I can be sure that it's protecting my teeth against all the harmful germs etc. Moreover, I also started using a tongue cleaner. A lot of us would think that tongue cleansers are not that important and they can be ignored safely but this is totally Wrong.  
Also see: Best Patanjali hair care products
Final thoughts:
So, now that my oral hygiene is back to normal I am happy. I did not had any problems but due to lifestyle I suffered from those and now I am back with healthy gums and teeth, so I am happy with this tooth paste. My husband does not have any of these problems but still I told him to try this so that in future such problems can be avoided. Furthermore, I was concerned that he drinks milk etc at night and goes straight to sleep. These little things matter friends and I have started to take care of them now.
One more thing, my teeth have also become whitier. My husband would compliment me for that. Yaay! Feels good! As at times we think, God, I won't be able to get my natural white color of teeth now, but then a product like this comes and relieves you from everything. I am satisfied with this and would also advice you to try it as well.
Rating: 5 out of 5