Patanjali Divya Dhara Review. I will review Patanjali Divya dhara roll on. Patanajali is a brand by Baba Ramdev. I got this liquid around 2-3 weeks ago and I am very satisfied with the product. Do you know why? There are lots of things that this Patanjali Divya Dhara has done for me. Read on to know more.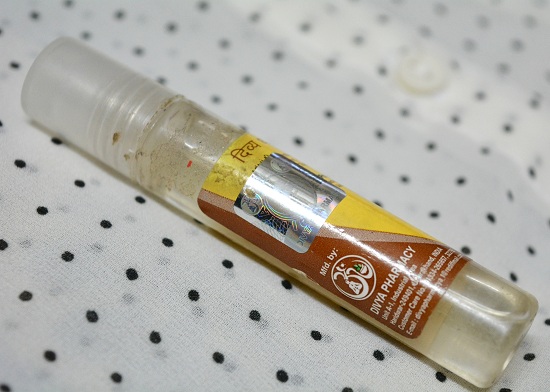 Price of Patanjali Divya Dhara: This is for just 20 Rupees.
Claims: Divya Dhara is an herbal liquid which is developed by swami Baba Ramdev. This liquid provides instant relief from headache, cough, toothache etc. Divya Dhara roll on your forehead or any affected area to get instance relief from pain. It is very effective when inhaled and rubbed over the chest in cases of asthma and any other breathing problems.
Benefits Of Patanjali Divya Dhara Roll On
Divya Dhara is useful for relieving headache, muscular spasms and insomnia.
It can be used over the rashes on the skin and insect bites as well.
Divya Dhara is useful in nasal, chest congestion and ear pain, toothache, coughing etc
It controls cough and cold conditions.
Divya Dhara is good for controlling running nose problem and burning sensation in eyes.
It is helpful in reducing the throat infections and other problems caused due to virus and bacterial intervention.
Divya Dhara helps in reliving stress and tension of facial muscles.
Ingredients of Divya Dhara: Peppermint, Camphor, Clove Oil, Eucalyptus oil, Ajwain or Bishop's weed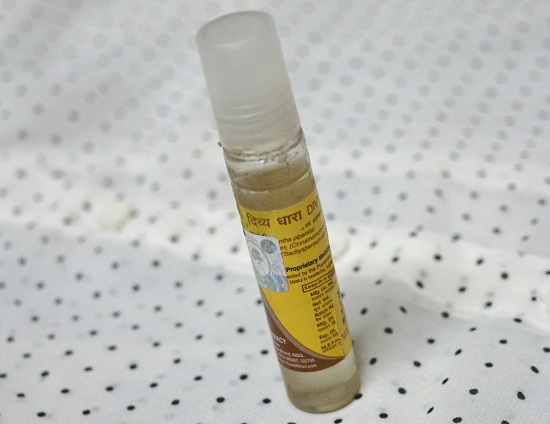 How to use Patanjali Divya Dhara:
Just rub the Divya dhara on the area you want to get relieve like forehead, nose, chest etc

Use it on the head to get relieve from headaches.

Apply it over the temple to get quick relief from sneezing and running nose.
Experience with Patanjali Divya Dhara
This Patanjali Divya Dhara is actually a liquid which is filled in a small bottle with a roll on at the top. The bottle is made up of plastic which is good as it can be easily carried and even if you drop it, It will not I got this break.
I got this Patanjali Divya Dhara primarily to cure the frequent headaches that I have. Many times while working on the laptop, I used to suffer from headache and I used to apply balm instead of taking medicines. I avoid taking medicines when they are not needed. So, when I got this roll on, I only took it as headache relieving product. But after using it I think it worth a lot of other things as well. I like that a roll on has been given on the top. I will just rub it over my forehead and within couple of minutes it gives relief from the headache. It has all the natural herbal things like Pipermint (Mentha piperita oil) Desi kapur (Cinnamomum camphora), Ajwain (Trachyspermum ammi), Laung (Syzgium aromaticum) and Eucalyptus oil.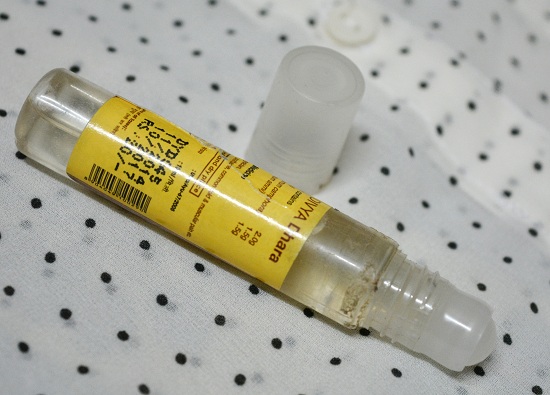 Other than the headache this also gives relief from nasal congestion and chest congestion. During stress as well this Patanjali Divya Dhara is effective. I have also used this to get rid of the toothache pain. I swiped my finger over the roll on and took some on my finger then apply over the aching tooth.
I have used this on insect bites too and some rashes that we get in summers. I am using this lot for most of the minor problems that we all have. It is just for 20 rupees and I am getting 2 more of these roll ons. I have noticed that even after using this a lot, It is still full, just ½ ml would have been used.
See: Patanjali Tejas tailam body oil
Rating: 5 on 5
I will recommend this to all of you.