Patanjali Divya Gulab Jal Rose water Review
Hi all!! How many of you store rose water at home so that it can be used whenever needed? I do. It is because rose water or gulab jal has so many benefits. I will share Patanjali Divya Gulab Jal review and how I use this product. I will also let you know the benefits of rosewater and what all recipes for beauty purpose that can be made with Patanjali Divya Gulab Jal. I got this Patanjali Divya Gulab Jal around an year ago and so far have used so many of these bottles. Another good rose water is from dabur gulabarai that I used to have before this Patanjali rose water and both are very same and is not much difference. Anyways, so let us know more about this product.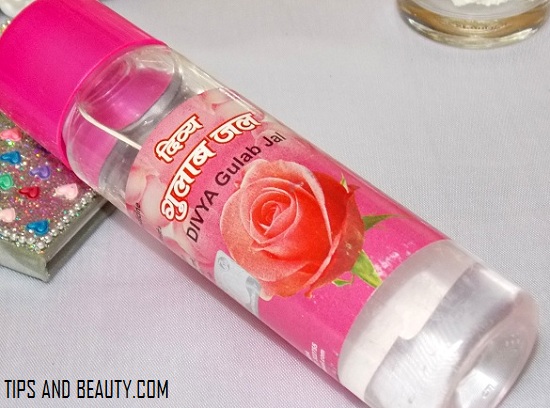 Price of Patanjali Rose water or Gulab jal: This rose water costs 25 rupees for 120 ml bottle.
Experience with Patanjali Divya Gulab Jal
This rose water comes in a transparent bottle which is nice as I can see when it is about to get finished. The packaging is very much similar to that of the dabur gulabari rose water. It smells like roses. The mouth of the bottle has a plastic stopper so you can either take it out or then pour the rose water or the best way is to make a hole in the stopper with something and then just invert it and take the rose water out. I use this for various things like after washing my face as a skin toner or for mixing the face packs. Okay so let me know tell you how we can use this rose water for beauty recipes.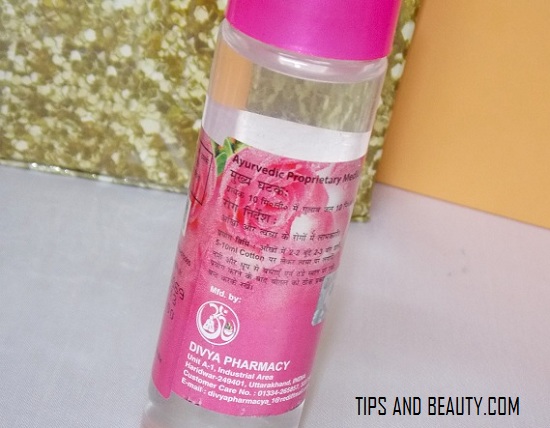 How I use this Patanjali Divya Gulab Jal Rose water (Beauty Recipes)

Face toner: Just take some of this Patanjali Divya Gulab Jal on a cotton and wipe the face when your face looks oily or dull. It will take off the oils and face looks fresh. Read: Some natural face toners for oily skin.

Face cleanser: You can also use this to cleanse your face by mixing some of this rose water with some besan or gram flour. Then using that paste to apply on the face. Then rub the past on the face and rinse with clear water.
For puffy eye: You can also use Patanjali Divya Gulab Jal for treating puffiness of eyes. Take two cotton pads and pour some rose water on them now. Put those cotton pads in the freezer then after 20 minutes. Take them out and put on the eyes. This gives coolness to the eyes and eyes get brighter.
Face pack mixing: People with oily skin can mix their face pack with this Patanjali Divya Gulab Jal. You can either mix the readymade powder face packs with this or the packs that I share on my blog. Most of us use water to mix the packs but rose water is better as it will give additional benefits in making the skin glow.
Facials: When we do facials at home, the massaging cream that we use has to be diluted with water. Right? So, instead of water take some rose water and then massage the cream on the face. This will give the benefits of massaging, cream and the rose water. Isn't it?
Oily skin: If your skin is very oily then take some multani mitti powder or Fuller's earth powder and make a paste with this Patanjali Divya Gulab Jal . Apply on the face and wash when it gets dry. This will make the skin glow and multani will absorb all the excess sebum and oils from the face. Read: 10 Multani Mitti Face Packs.

Dry skin: If you have very dry skin then mix some vegetable glycerin with some rose water and apply that on the face and body at night. Your skin will become glowing and beautiful with no dryness.
Blemishes: If you have marks on the face then take half teaspoonful of lemon juice and half teaspoonful of rose water. Mix them and apply on the clean face at night. Wash in the morning this will lighten the marks.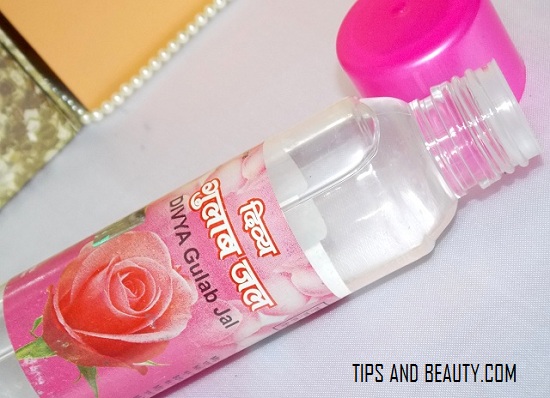 So, these are the beauty treatment that I can do with this Patanjali Divya Gulab Jal or any other good rose water for that matter.
Rating: 5 out of 5
Take: Patanjali Rose water can do a lot of things and can be used for making homemade beauty recipes. I will recommend it. Try this. It is very inexpensive.