Patanjali Honey Honey Orange Face Wash Review, Price, How to Use: Hi everyone!! How are you all doing. I like using Patanjali products since they are good in quality and suits me. Moreover, the price of Patanjali products is very affordable. In fact, their products are much cheaper than a lot of the other popular brands out there. So, in this post, I will be posting this review on the Patanjali honey orange face wash. I picked this face wash because I like using orange and honey based products for my oily to combination skin. So, who does this face wash fared for me let's check in this review.
Price of Patanjali Honey orange Face Wash:
This is for 45 rupees only for 60g. The face wash is available in Patanjali stores all across the country and moreover, you can get these face wash from online stores. There is only one size there is no bigger or smaller size out there.
Experience with Patanjali Honey Orange Face Wash
The face wash is packed in a tube pack and it looks nice in this orange colored packaging. This is very user friendly and travel friendly because the pack is good and the lid is tight hence, I can also keep this with me in my bag without worrying about the leakage. But still I will advice friends that whenever you keep skin care products in your bag then keep them in a plastic bag first then keep in your bag. Anyways, The face wash has a gel like texture and the color is orange. The face wash has a shelf life of 18 months which is another plus point.
How to use this Patanjali honey orange face wash:
I will tie my hair first of all and will splash some water on the face so that the face wash can be used. I will take a drop of this face wash like a small coin sized amount. I will directly apply that with my fingers on my face. Then, I will apply this Patanjali face wash on my cheeks, nose etc and then rub it all over the face then the lathers are created that cleanses the face. After running this for 20-30 second I will splash my face with clear water and pat dry with a face towel.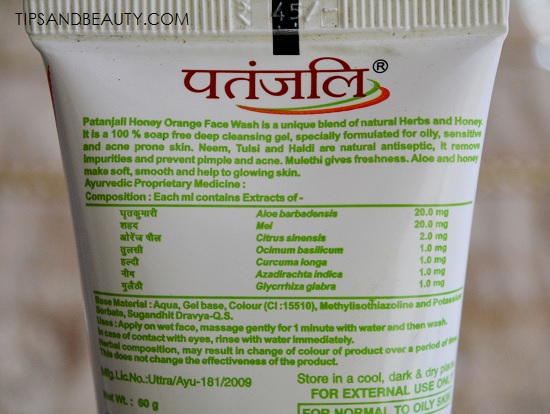 Results: As I said the face wash has a gel like texture which is smooth and satiny. The face wash will lather nicely and rich. This will cleanse the impurities in a gentle manner and I do not realize that this face wash will make the skin dry or stretchy after using this. I do not like face washes that makes my oily skin dry after the usage. This face wash does not have any sulphates or chemicals like that though they do have some chemicals. I like the fresh smell that this Patanjali facial cleanser has the smell is orangey and very refreshing. This has removed the oils and dirt thoroughly and I also noticed that the oils very controlled for up to 2-3 hours. This is a good Patanjali face wash for oily skin
I also felt that this face wash has made the skin brighter and glowing but not dry at all. So, I will say that this is good for everyday usage. This is a good face wash for all the skin types as this will not make the skin dry hence is ideal for dry skin too. But on the other hand, I will also say that for acne prone skin this facial cleanser will not do much since there is no acne controlling feature. I am saying this as I had few acne on my chin and this has not removed them. They got healed on their own. This is a decent Patanjali face wash which can be tried by everyone with normal, dry, oily skin.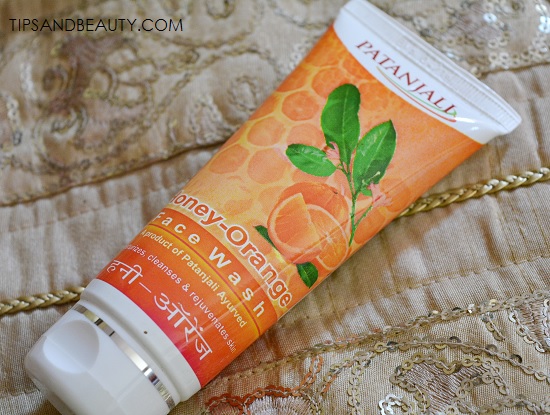 Pros of Patanjali Honey Orange Face Wash
It is very affordable face wash and last for around one month which is really wonderful

This Patanjali face wash can be tried by all the skin types and men too can try it

This lathers well and cleanses the skin well

The impurities and deep seated dirt etc will be removed gently

This will not dry the skin

There is no SLS in this face wash but full list of ingredients is not shared.

The honey and orange will make the skin bright and glowing.
Cons of Patanjali Honey Orange Face Wash
This face wash has parabens

This may not be very good for acne prone skin

It controls the oils but not for much time
Rating of Patanjali Honey Orange Face Wash: 3.5 out of 5
Patanjali Honey Orange Face Wash is a decent face wash that can be used every day and by men and women. This face wash is good for oily to normal skin. Moreover, the dry skin will not feel dry after using this. This Patanjali honey orange face wash is affordable hence good for budget options.
Also check out these other face washes too.
Fair and Lovely Pimples off fairness Face wash
Best Himalaya Herbals Face wash in India
10 Best Face wash for oily skin in india
Do check out the best face wash for Oily and Acne Prone Skin and please subscribe to my channel friends. :)