Patanjali Milk Protein Shampoo Review, Price and How to use
Hi everyone!! I am back friends with one more Patanjali shampoo review. This time it is the Patanjali milk protein shampoo that I have got few days ago, By the way, I already used up this shampoo but forgot to review it so again I bought this and now, My review of this Patanjali kesh kanti milk protein shampoo is ready friends. I am happy that these days, Patanjali stores are cropped up like everywhere, this will help the more and more people to try their products, else earlier there were hardly any stores and the online too there was no alternate to but the Patanjali Ayurveda products. Anyways dearies, let's get started with this one of the best Patanjali hair care products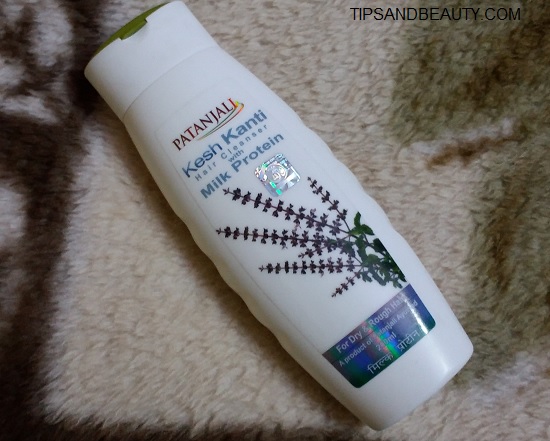 Price of Patanjali Milk Protein Shampoo:
95 Rupees for 200ml and the shelf life of this product is 24 months or 2 years. Also see: 3 Patanjali Beauty soap, Haldi chandan, Neem and Aloe Vera soap
Ingredients of Patanjali Milk Protein Shampoo:
On the bottle it says that each 100 ml contains:
Bhringaraj ( Eclipta alba) 5mg
Neem ( Azadirachta indica) 5mg
Tulsi ( Ocimum sanctum) 5mg
Mehendi ( Lawsonia innermis) .5mg
Ghritakumari (Aloe vera) 5mg along with the base material and sugandhit dravya which is also found in the other Patanjali shampoo out there.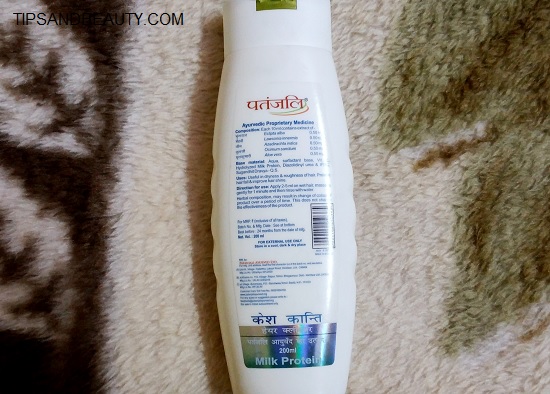 Experience with Patanjali Milk Protein Herbal Shampoo
This milk protein shampoo is enclosed in a 200 ml white bottle and the shampoo itself is white in color. This is not very thick or thin in the consistency but has a medium consistency which is good and easy to take this out of the bottle. This is the only shampoo that I have bought twice not that I forgot to review this earlier but because I liked this so much amongst the other variants. Well that also depends from person to person friends but I like this Patanjali milk protein shampoo because of its texture, smell, and the way this makes the hair look shinier and manageable softer. Moreover, this is also good for the dandruff hair care product.
Earlier I got this shampoo as my hair ends were getting really dry and that was in summers, so I thought I should try this too and would also review this on my blog tips and beauty but I was not aware that it would turn out to be so good. It has a very soothing, milky and nice smell which is amazing. Even after washing the hair with this, I can feel that the smell is still there. It lathers nicely and creates good forma that helps to get rid of the oils, dirt, dust etc that gets on the hair all the day long. Moreover, the shampoo also creates these satiny lathers that you will like washing the hair with this. I would not need too much of the quantity of this Patanjali milk protein shampoo but around a scoop will do unless my hair is oily or too dirty. It is also good to remove the residue of the hair styling products like the hair sprays, hair gels, mousse that we use to style out hair. After the washing, I like the feel of my hair as this makes the hair look shinier and so silkier. My hair is smooth naturally as well but due to heat, cold, dust etc, they get damaged or rough this helps to recover that. Furthermore, the price is also awesome.I also liked the Patnajlai aloe vera shampoo.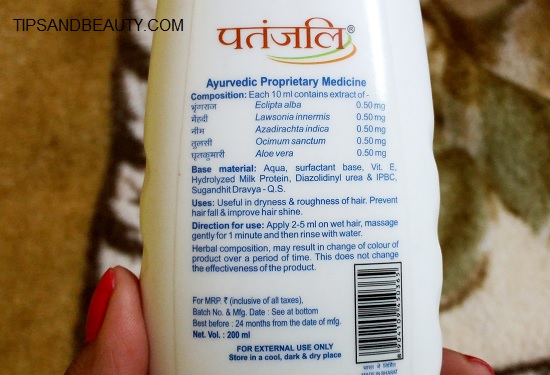 In short friends, I have liked this shampoo and will try it again, but this is also true that being a blogger I get to try new products so that I can review then for you. Else if given a choice I am happy using this shampoo. Those of you who have got dry rough frizzy hair can also try it but use a deep hydrating conditioner so that this works even better to curb the roughness and dryness. Even for the limpy and low on volume thin hair this shampoo can be useful. You can try it once and as the price is not very high you won't waste the money like we do on buying expensive shampoos out there.
Pros of Patanjali Milk Protein Hair Shampoo
Affordable and easy to procure product From Patanjali Ayurveda
This is ideal for all the hair types and makes the hair softer
The shampoo is milky white and lathers well to get rid of the pollutants, dirt etc from the hair
This also cleanses the scalp very well without over drying the scalp.
This is parabens and SLEs free which is good but I still think there would be some chemicals in the base material
This is for men and women and can be used on kids
It is good for frizzy hair, oily hair, combination hair etc
Cons of Patanjali Milk Protein Shampoo
Packaging is good but the lid is not very tight hence cannot be travel with.
Rating: 4.75 out of 5
Patanjali Milk Protein Shampoo is a great shampoo that is not only very affordable but also cleanses the hair thoroughly without over dry the scalp or the hair. For the dry hair use conditioners to treat the dryness else for majority of hair type this is an excellent shampoo that works well. The price is also not very much hence many of us can try this.
So, this was the Patanjali milk protein shampoo review. Have you used this yet? Do check out out other Patanjali shampoo reviews:
Patanjali Kesh kanti Natural Hair Cleanser