Patanjali Neem and Aloe vera Face Wash Review, Price and Details on how to Use
I will review Patanjali neem and aloe vera face wash. Patanjali products are from Baba Ramdev and they are mostly natural products with herbal ingredients usage. This brand has so many face washes like neem, Tulsi, rose etc. I have picked up a couple for me and today its Patanjali neem and aloe vera face wash review. Neem is extremely good for acne and pimple prone oily skin while aloe vera soothes the skin takes sun tan, skin darkening, dryness etc, this is why I got this face wash.
Price for Patanjali neem and aloe vera face wash:
It if just for rupees 45 only.
Product claims:
Patanjali wash regulates the oil secretion for oily acne prone skin. It keeps skin softer and nourished.
Experience with Patanjali neem and aloe vera face wash
With neem in it you can very well understand that this is a face wash more suitable for the oily skin types. Patanjali oily skin face wash has regular tube like packaging with a white cap. The flip cap is tight and will not allow the product to come out even if you take it with you in a bag while travelling. The packaging overall is okay and do not have much of the problem.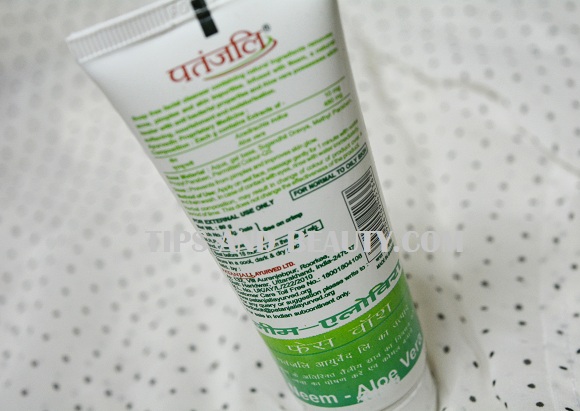 I have used Patanjali aloe vera gel earlier and that was very good for everyday sue for dry skin, insect bite, heat rashes etc. Due to that I got this face pack along with several other products from Patanjali Ayurveda by Baba Ramdev. It has a rather strong smell which is due to the sughandit drivya they have used in it. The face wash is a clear gel as you can see in the pictures. But I thought it would be light greenish as it also has Neem in it.
How I use this:
I need only a little bit of this Patanjali face wash and it works very to produce good lathers to clean the skin. I find it drying in nature as if I rub it even for some extra few seconds, it will make some skin dry after the wash. So, I am sure that they have high sodium lauryl sulphate content which makes this face wash drying in nature. If it is drying for the oily skin then I do not think that it will do any good to the dry skin at all.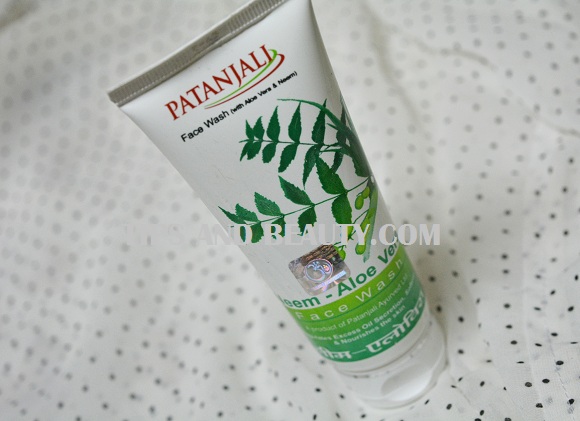 I do not use products that are drying like foaming face washes. They will dry out the facial skin as a results of which the skin secretes more oils and sebum, thus gets oilier. So, I will not use Patanjali neem and aloe vera face wash for my skin. Very oily skinned people can still try this face wash like men who have very oily skin; they can try it but do not rub it for too long. Just 10 seconds will be enough for it to clean the face effectively.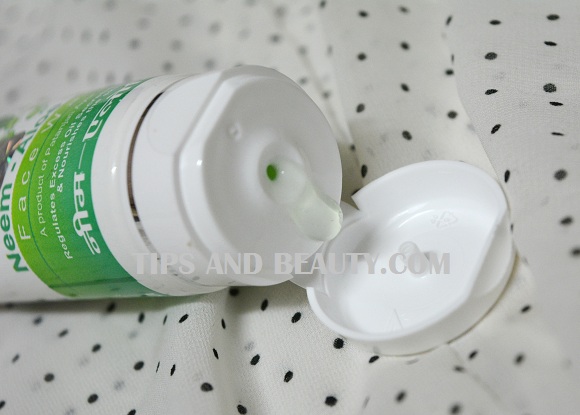 Pros 
Decent packaging with flip top cap.

Price of the face wash is affordable and even the people on budget and college students can try this facial cleanser. 

May suit very oily skin as this is a bit drying in nature and takes off all the oils that are there on the face.

It has the goodness of neem and aloe vera which helps to prevent the acne and pimple. While aloe vera will make the skin scars lesser in appearance.

Lathers well and cleanses the skin impurities, sebum, oils and dirt effectively well on the face.
Cons 
Drying in nature and strips too much natural oils from the skin.

Not for most of the skin types like for normal to dry skin they should not even think about it, very oily skinned one may still try it.

It has neem and aloe vera but as it is drying , t is of no use to me.

Fragrance is a bit strong, may be due to that scented liquid that it has got.
Rating for Patanjali Neem and Aloe vera face wash:
2.5 out of 5
Take: I will not  recommend Patanjali neem and aloe vera face wash to anyone except for very oily skin who can try this face wash but for rest of us, this face wash will dry the skin terribly. I have used it couple of times and the results were the same. It lathers well but doesn't keep the skin's natural pH balance.
This was the Patanjali neem and aloe vera face wash review. Have you tried it? How did you like it? Is it good for your skin type? Do share it? Do see more aloe vera related posts.
10 Best Aloe Vera gel Brands in India
Nature's Essence Aloe vera gel Review