Patanjali Rose Kanti Soap Body Cleanser Review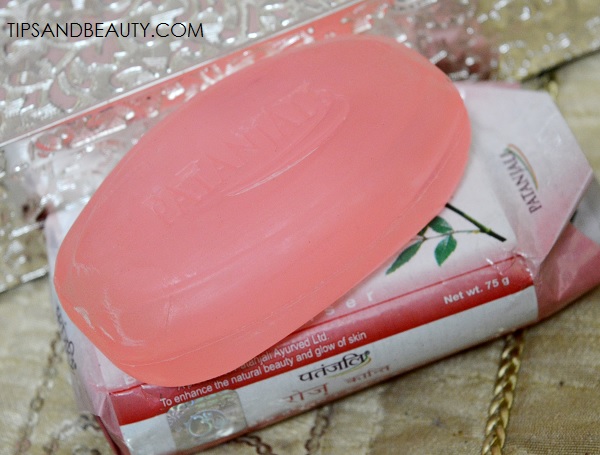 Hi everyone!! I am back with one more Patanjali Ayurveda product. I recently bought a lot of Patanjali products for myself, since these days a lot of my readers have asked me to review them. I got shampoos, body cleansers, soaps, face washes etc. Since Baba Ramdev does not send products for review, I have to buy them.. haha but no worries, the reviews will be honest even if Babaji would have sent them. Anyways, I will do a review on this Patanjali Rose Kanti Body Cleanser. This is actually a mild glycerin gel based soap which is made by the rose extracts. So, is this Patanjali Rose Kanti Body Cleanser worth purchasing, let's check out in my review.
Price of Patanjali Rose Kanti Body Cleanser: 19 rupees for 75 g
Experience with Patanjali Rose Kanti Body Cleanser

The soap is packaged in a regular white sheet of paper bearing the details. The soap has a beautiful color. I like the pale pinkish color which looks very refreshing. On the same note, it smells amazing too, I like the faint whiff of fresh rosey scent that comes from this. The soap is more like gel based soap since it is slightly transparent as you can see.
It lathers very satiny. It helps to get rid of the pollutants on the body and skin impurities. I always make sure to use a loofah so that the dirt, dust etc gets off the skin thoroughly. Since, it is summers and we tend to sweat a lot, a loofah body bath is a must have for me. Okay, so this soap smells very good as I said and lathers well. Once, I rinse my body off with water, I can feel that my skin does not feel greasy or slimy but fresh.I think this is also one of the best Patanjali beauty product.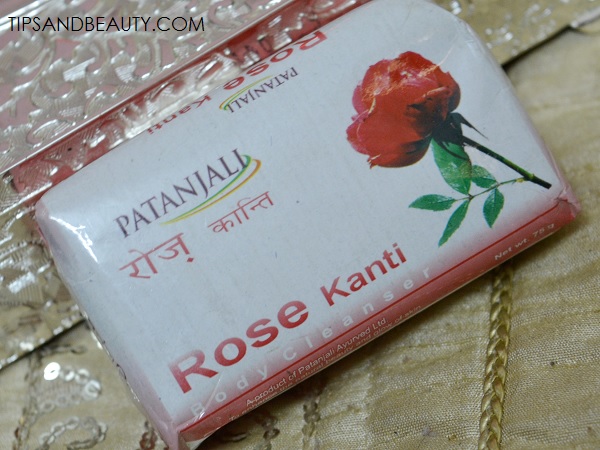 In short, the soap is better than the regular soaps that we use but there is one point here. Now what? That is, that this Patanjali Rose Kanti Body Cleanser will get melted with water easily, I mean the lasting time is not that much and honestly friends, this happens with a lot of products like the Pears, Fiama gel bars and so many others.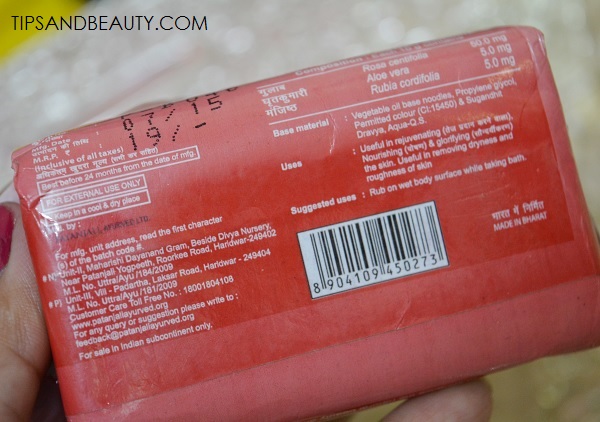 I have used this rose one and the lemon and honey soap at one time. I opened and kept both of them in the bathroom and would use the one that I felt like. Both of them feels very nice and exudes nice scent when kept in the shower. So, I would say that this soap for the price is okay and yes, I would like to repurchase it and the lemon honey soap as well. Let's move on to know what are the pros and cons of this soap.
Pros of Patanjali Rose Kanti Body Cleanser

Very affordable

Herbal soap

Produces good lathers which cleanse the body skin nicely

Gives a very fresh feel after the shower

Does not dry the skin hence is suitable for even the dry skin types.


This is for all the skin types.
Cons of Patanjali Rose Kanti Body Cleanser

Melt faster than the regular soap but that happens with almost every gel or glycerin based soap.
Rating: 4 out of 5
Patanjali Rose Kanti Body Cleanser is a good soap that is not very expensive as compared with some other glycerin or gel based body soaps out there. This feel good with wonderful refreshing rosey smell which keeps the skin feel dewy but not slimy unlike the shower gel. This can be used by all skin types and at time if you wish this can be used on the face too.