Patanjali Swarn Kanti Fairness Cream Review, Price and How to use: Hi everyone!! Recently, I had bought loads of Patanjali beauty products, My mother asked me to get her Patanjali Swarn Kanti Fairness Cream. So, at that time the cream was just launched hence, this was not available in the Patanjali Ayurveda store. So, a week ago, I saw this on their stores and bought that immediately as a lot of you have wanted to ask about this cream. And also my mum wanted this cream for her use. This is their Swarn Kanti fairness cream which is the recent launch from Patanjali in their beauty care section.These days getting the Patanjali products is not that difficult as the Patanjali stores are everywhere literally. Their products can also be bought from online. The product is not a cheap beauty cream but has the price tag that costs around 400 rupees. So, is this swarn kanti cream good for the fairness usage or just like the other fairness and skin lightening creams in India. Let's find out.
Even before starting the review I would like to say that, I have bought a lot of Patanjali products and they were quite affordable too but this cream is really expensive for Patanjali brand. This cream is for 399 rupees which is 400 rupees. I have no qualms of shelling 400 rupees on a skin cream but what bothers me is the weight of the cream. This Patanjali swarn Kanti fairness cream is only 15 g which makes it very expensive. Anyways friends, let's start the review to know more on this product. If this is a good product or just an over hyped one. :)
Price of Patanjali Swarn Kanti Fairness Cream:
This cream comes for 399 rupees for 15 g pack you can buy it online here:
Product claims:
Patanjali swarn Kanti fairness cream claims to give a visible fairness and an even skin tone. This has an advanced blend of purified gold along with natural oils, natural herbs, vital vitamins and fruit extracts. This cream provides visible fairness and also helps to reduce the blemishes and dark skin.
Experience with Patanjali Swarn Kanti Fairness Cream
Even though I will say that this Swarn Kanti Fairness Cream is expensive, I cannot deny  that the packaging is very cute and beautiful to look that. The tiny gold colored pack looks so cute. This isn't too big but just that much to accommodate 15g of the cream. The box is big but the cream container is small.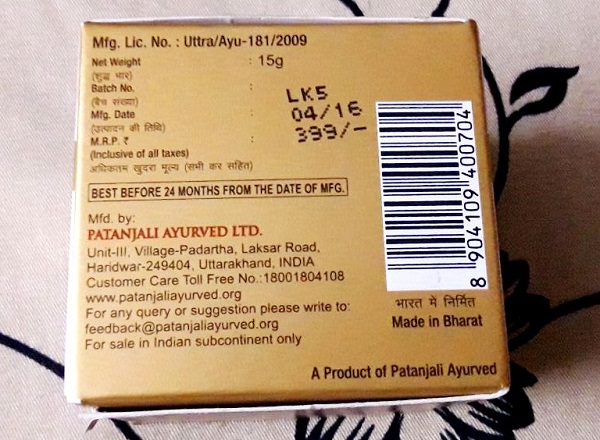 Ingredients:
This Patanjali cream has the following ingredients if you will look at it:
Aloe vera

Wheatgerm oil

Mulethi

Turmeric oil

Chironji

Manjistha

Jojoba oil

Purified gold along with fruit extracts, sugandhit draviya etc
Mulethi and manjistha in this Patanjali whitening cream, are the major ingredients which helps to lighten the skin while turmeric oil will help to cure the acne, skin problems etc. Moreover the jojoba oil and wheat germ oil and chironji oil will help to restore the moisture balance and helps the skin to stay radiant.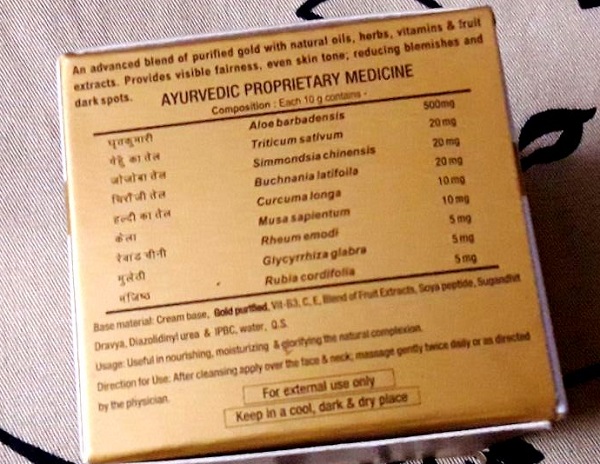 Texture:
The cream has a very smooth texture and when applied on the skin gives immense moisture. My mother has dry skin so when she applied, she said that the cream has made the skin feel nourished. This means that the cream is not thick or low on moisture level. I have combination oily skin and when I used this swarn kanti fairness cream, I did not feel as if the cream has made my skin oilier. In short, the cream will be suitable for all the skin type, this is because the major part of the cream is aloe Vera base. You may know that aloe Vera is a watery gel which is good for all the skin type. Read more about Patanjali aloe vera gel review
So, what about the texture of this skin whitening cream? Well, the cream has a light satiny texture. The formula contains so many of the beauty ingredients that it actually smoothens the skin. As I mentioned above, the cream is not just a cream that gives moisturization to the dry skin but when I applied it, It feels nice. I mean there was no greasiness or stickiness but the glow was there. The first instant of this skin cream was good for my oily and acne prone skin. Are you thinking that this is a sticky cream for oily face? Well, NO. Not exactly, the cream is an everyday usage cream. I feel that it can be an effective product when used daily. Like the college students who are looking for a good skin cream. But honestly, for mo of the students and teens the cream can be a bit expensive. And that for just 15 days.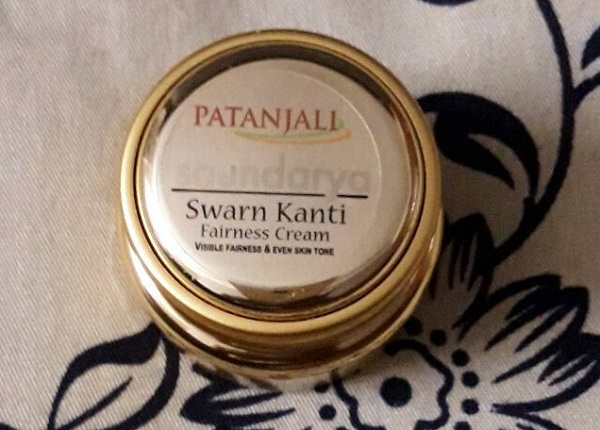 Results:
The ingredients are fine and this swarn kanti cream also does not feel heavy on the skin. Though when we take around a little pea sized amount, I feel that the tub will finish soon, may be in 2 weeks.  My mother said that the cream has made her skin glow and looks a lot better but have not done anything in reducing the marks, spots etc. For the other fairness creams, we can easily wait for around 2-3 weeks, before we can actually see the results. However, in this case, the cream will be over even before that and then we need to buy another one. So, I don't feel anything good about it? Since I have had good experience with the Patanjali products and this cream is no way near to those products. Even the Patanjali regular moisturizing cream works like magic for dry skin.The way the cream gives glowing skin, that makes it a try-worthy Patanjali beauty product.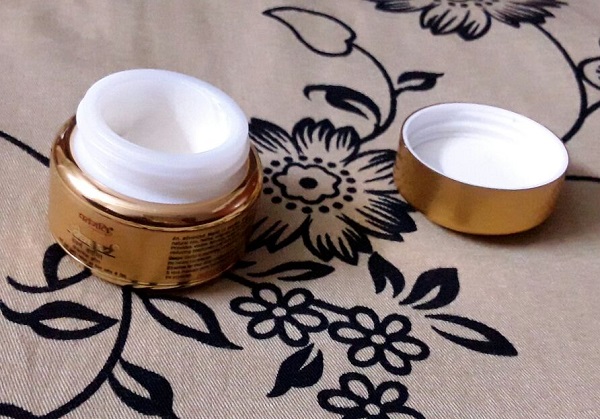 This Patanjali swarn kanti fairness cream surely looks good and feels good when used on the skin. Though honestly, this is very expensive and not that effective fairness cream. I will not buy it again and rest you can decide friends, if you wish to buy it or not. May be for some of you the cream will work but not in our case. If we think the other way then the ingredients like mulethi, chironji etc are good for the skin healing from dark spots but still there was not much help in that way. You can call it as a good Patanjali face cream for both oily and dry skin.
Pros of Patanjali Swarn Kanti Fairness Cream
Very beautiful gold colored packaging
The little pot is very easy to carry around while you are going out or travelling
the smell is really nice and sweet smell
There are no artificial scent in it
The texture is smooth and feels good
It is suitable to give moisture to the dry skin as well
When applied on the skin it gets blended real quick
There is no fake looking ashyness
Skin feels alive and glowing
Rich in herbal ingredients and elements
Good for everyone as it is a daily use cream
Suitable for all skin types and even the acne prone skin
Cons of Patanjali Swarn Kanti Fairness Cream
There was no dark spots reduction or things like that
NO fairness but yes gives a nice sheen and glow to the skin
Needs more time I guess for that fairness to show up
Price tag!! It is Expensive!
Recommended for:
All skin types
Rating:
3.5 out of 5
Patanjali swarn kanti fairness cream is a decent cream which tones the skin and also gives glow. It feels nice when this cream is applied and also the skin stays radiant but this does not work well on the dark spots, blemishes etc and there was no fairness at all. May be it needs more time but as the cream is expensive and very low quantity, this will get over even before we can see the results.
Recommended Articles:
Top Best Patanjali Products for Oily skin
Best Patanjali Products for Acne and pimples
Best Patanjali Products for Dry Skin
Best Fairness Creams for Dark Skin in India
Check Best Fairness Creams for oily skin in India and please subscribe to our channel. ?