Patanjali Tejas Tailam Review and how to use this for beautiful skin
Baba Ramdev's patanjali products are very good. I have got a lot of their products and most of them have been good for the price paid. I will review Patanjali Tejas Tailam which is a face, hair and body oil basically though my skin is oil and acne prone, hence, I do not use oils on my face. I have only used for the body. Using body oils on continuous basis can help you achieve a beautiful and flawless skin. Application of oils can keep the dry skin deeply moisturized and also aids in the slowing down of the skin aging. The oil is a versatile oil which is one of the most used Patanjali oil. So, is this Patanjali Tejas Tailam good to be used? Let's find out in this review.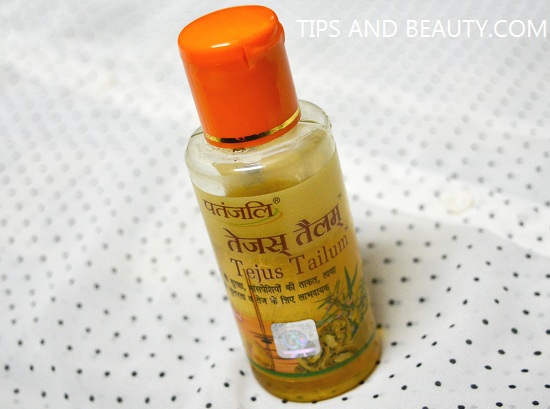 Price of Patanjali Tejas Tailam
This oil is priced at rupees 60 for a small bottle of 100 ml.
Claims: Patanjali Divya tejas tailam is a great mixture of herbal oil which is used for body and face massage. It can be used for the hair too for stronger hair and healthy skin.
Ingredients:
Patanjali Tejas Tailam contains badam oil, walnut oil, sunflower oil, sesame oil, peanut oil, mustard oil and couple of more. Here is the list of ingredients:
Sesame oil – 2.5 ml
Sunflower oil – 2.5 ml
Mustard oil – 1.5 ml
Soyabean oil – 1.0 ml
Olive oil – 0.6 ml
Peanut oil – 0.5 ml
Castor oil – 0.5 ml
Walnut oil – 0.5 ml
Almond oil – 0.2 ml
Frangrances or sughandhit Drivya
Experience with the Patanjali Tejas Tailam
This oil is a yellowish colored oil which is I think due to the sunflower and mustard oil. This Patanjali Tejas Tailam comes in a small tiny bottle with a flip top cap. The bottle doesn't leak but I will recommend that as it is a flip top cap, it may leak if the bottle gets upside down. Now the packaging has been changed a bit. In anyways, the packaging should be leak-proof so, that one can carry this while travelling.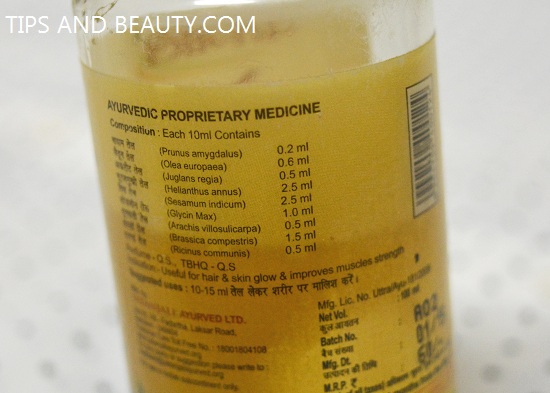 The oil smells a bit pleasant and sweet smelling. They have added sugandhit dravya in the Patanjali Tejas Tailam which means that perfumed liquid has been added in this oil for sweet smell. The oil is very light weight and isn't too thick. It is very easy to massage the body and face with this oil. I do not use this on the face but on the body and hair. For the skin, it will take some to get absorbed fully to give a soft and glowing skin. I like to use this for by dry feet and legs. I am very much liking this Patanjali Tejas Tailam as this oil makes my skin glowing and smoother. After using this oil for the past 3-4 weeks, I have seen positive changes in the texture of my skin. Skin is smoother and dryness is cured.
Now, that the weather is getting colder here, my skin tends to get dry.Yes, it happens with a lot of us that during summers the skin stays good and in winters it gets moisture thirsty. While we can not leave the skin like that, it gets really important to app the body lotions, body creams and oils. Therefore, for me, it served the purpose well. i used to apply this everyday after the bath. Just after the bath application is considered the best. You see when we apply this Patanjali Tejas Tailam as soon as we have finished the bath, then it gets absorbed really well.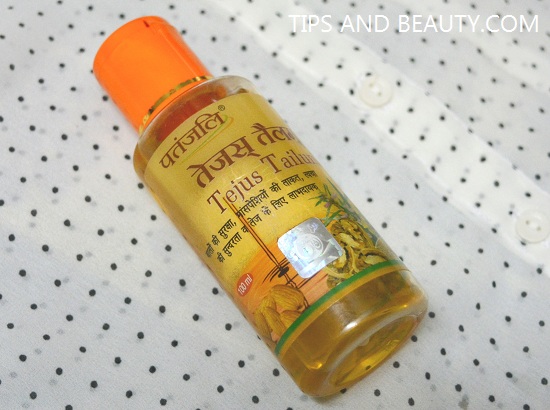 For the hair, this oil is light weight too and help to deep nourish the hair. I have used it a couple of times before washing my hair. I like that it makes the hair well moisturized. This oil can be used to massage the kids as well due to so many good oils in it. Price too is very reasonable. Just for 60 rupees this oil will last a lot longer. This oil can be used after the bath to make the skin moisturized. 
Recently, I got to know that my sister in lay has used this oil to massage her 6 month old baby. I asked her about this and she said for summers and winters she can use this to give baby proper massaging. In summers she uses Dabur Lal tail and this during winters. 
Indulekha Bringha oil for hair fall
Pros of Patanjali Tejas Tailam
Nice smell which is not very strong but good

It isn't thick so easily spreads on the skin and hair

Multipurpose oil that can be used for skin and hair

Good for dry skin and hair

It is great body oil

Kids massaging can also be done with this oil

Enriched with so many powerful oils

Oil massaging gives skin a beautiful texture

Can also be used for dry skin massaging
Cons of  Patanjali Tejas Tailam
Not for the face for oily acne prone skin

Packaging is not travel friendly and leak proof due to the flip top cap
Rating: 4.5 out of 5
Take: Patanjali Tejas Tailam is a multipurpose oil which is suitable for all the skin types for the body and hair though for the oily skin, do not use this on the face. This oil is great for hydrating the skin. It is good massaging oil which deeply nourishes the skin and makes the skin glowing. I will recommend you to get this oil.
Recommended Articles:
Patanjali Kesh kanti Amla Hair Oil Review
Patanjali coconut Hair oil Review
Best Patanjali for Hair Growth and Hair fall