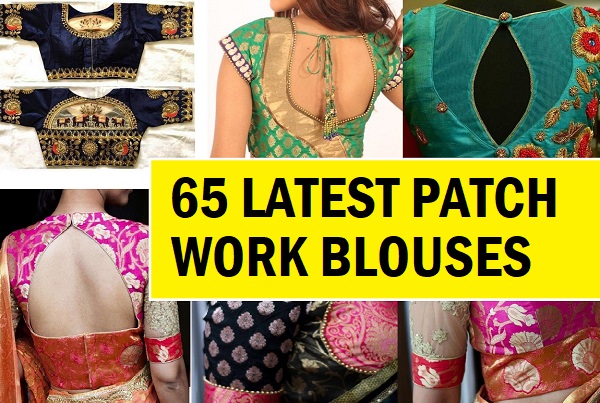 Patchwork blouse designs are really popular. Currently, a lot of designs in the blouses are used which are inspired by the patch work patterns. Patch work designs means that patches of two or three fabrics or some different fabric is used. Patches of different fabric makes your blouse look really innovative unique and designer.
Patch work saree blouse designs have gained immense popularity in recent years for their ability to infuse creativity, color, and texture into traditional Indian outfits. These intricate designs, crafted from various fabric patches, offer a unique blend of artistry and elegance that can transform any saree ensemble. From vibrant and eclectic patterns to subtle and sophisticated arrangements, patch work blouse designs have revolutionized the way we approach ethnic fashion.
Patch work saree blouse designs are a contemporary take on traditional Indian fashion. These designs offer a canvas for artisans to showcase their creativity and craftmanship, resulting in stunning and unique pieces.
Types of Patch Work Saree Blouse Designs
Patch work involves sewing together small pieces of fabric to create a larger design. This technique dates back centuries and is celebrated for its ability to create visually captivating patterns.
Applique Patch Work
Applique patch work involves attaching cut-out fabric shapes onto a base fabric, creating a multi-dimensional effect that adds depth to the blouse.
Embroidered Patch Work
Embroidered patch work combines patching techniques with intricate embroidery. This fusion results in designs that seamlessly blend fabric and thread.
Patchwork with Mirror Embellishments
Mirrors are often incorporated into patch work, reflecting light and adding a captivating allure to the blouse design.
Quilted Patch Work
Quilted patch work involves stitching layers of fabric together, creating a textured effect that adds sophistication and elegance.
Combination Patch Work
Combination patch work brings together various patching techniques, fabric types, and embellishments to create visually striking and unique designs.
Styling Patch Work Saree Blouses
Pairing with Traditional Sarees
Patch work blouses can be paired with a wide range of sarees, from silk to cotton, enhancing the overall aesthetic of the outfit.
Contrasting vs. Coordinating Blouse Colors
Choosing between contrasting or coordinating blouse colors depends on the desired look. Contrasting colors create a bold statement, while coordinating colors offer a harmonious blend.
Accessorizing Patch Work Blouses
Accessorizing plays a crucial role in completing the ensemble. Consider statement jewelry and appropriate footwear to complement the patch work blouse.
Patch Work Blouses for Different Occasions
Casual Daytime Events
Go for subtle patch work designs with light fabrics for a comfortable and chic daytime look.
Formal Evening Gatherings
Choose elaborate patch work blouses with intricate detailing for a touch of sophistication at formal events.
Festive Celebrations
During festivals, embrace the vibrancy of patch work with bold colors and patterns that resonate with the celebratory spirit.
Trending Patch Work Blouse Designs For Sarees And Lehengas (2023)
Let's take a look at the latest patch work blouse designs available.
1. Blue Floral Patchwork Blouse Design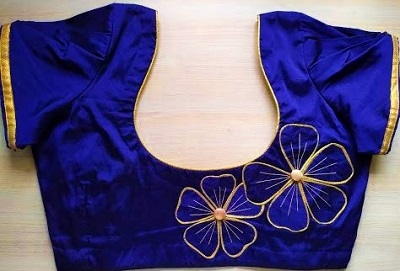 The beautiful royal blue colored Satin fabric blouse is stunning. It has flower patches with buttons. It is surely a party wear blouse that can be worn with heavy sarees. For small get togethers or for functions, one can wear simple sarees with designer blouse.
2. Blue Patch Work Silk Blouse Pattern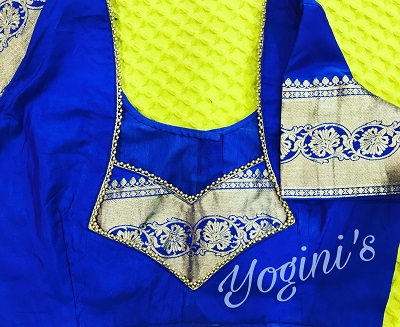 This blouse has Silk fabric used at the back as a patch. Beaded lace trim is also used to make this blouse more beautiful. It is a blouse made with the front opening hook pattern. The blouse is really beautiful and is perfect to be worn with the silk and Pattu silk sarees.
3. Bridal designer Patchwork blouse pattern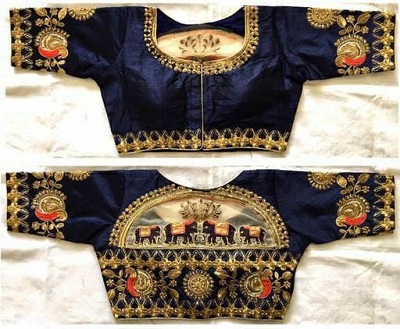 This is truly a beautiful art Silk blouse patch work blouse design. There in the beautiful net fabric is used that has a nice innovative design. The embroidery and sequin work is very exclusively done and it is a stunning blouse with beautiful back neck work.
4. Satin and net Patchwork blouse design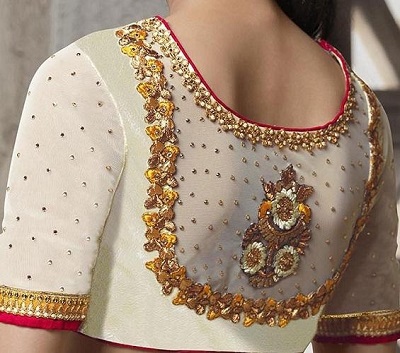 In this blouse, a beautiful U shaped pattern is made from the satin fabric and the patches are used with the sequined net fabric. It is surely a party wear blouse design that can be worn with the different types of sarees. The designer blouse in cream color is further accentuated by the use of red colored piping.
5. Thread work maroon patch work blouse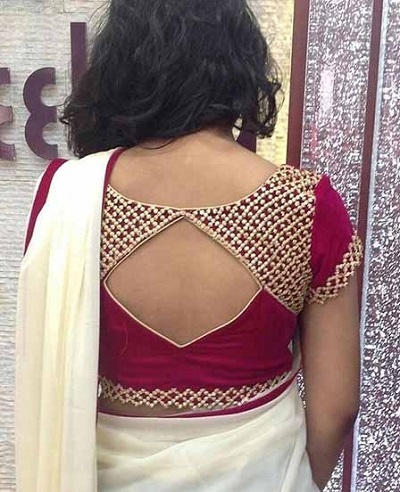 6. Black brocade patch blouse design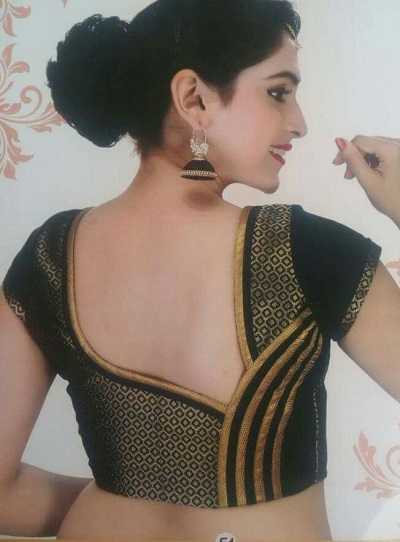 7. Chanderi Brocade patch blouse pattern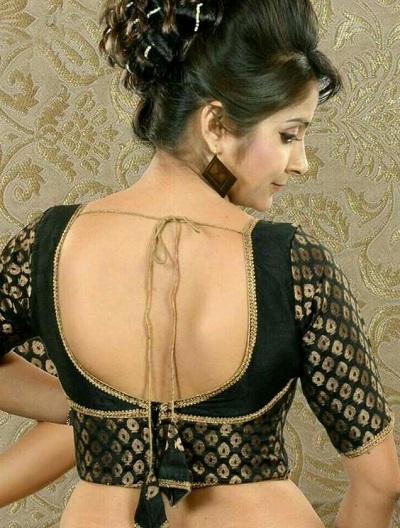 8. Pink patch work blouse design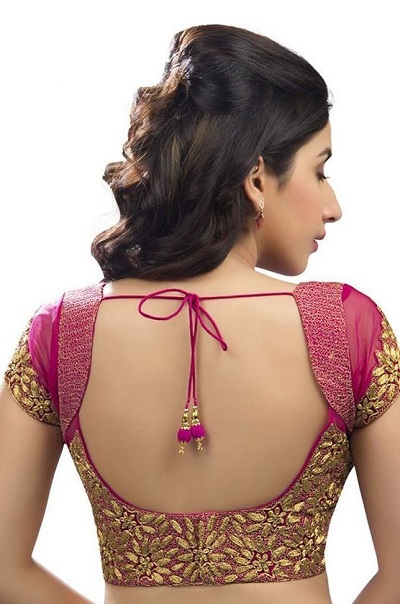 9. Designer Pink patch blouse design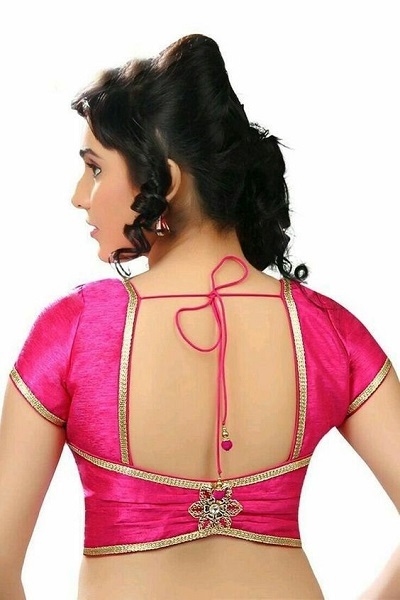 10. Golden And Blue Silk Patch Work Blouse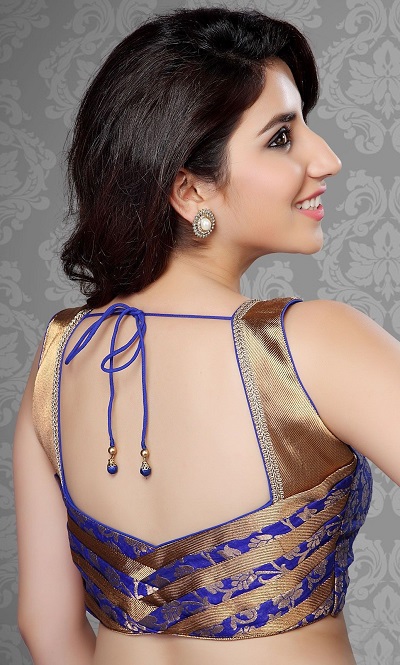 11. Cream And Blue Patchwork At The Back Blouse Design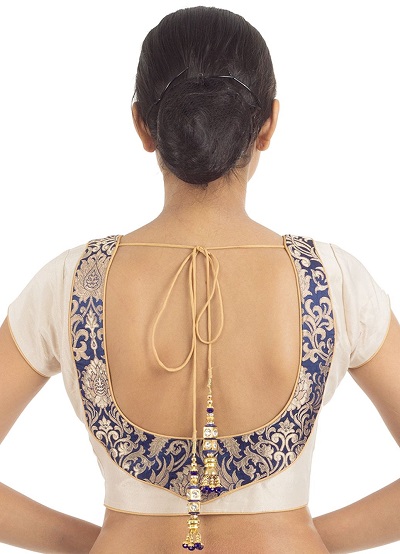 12. Stylish Green And Gold Patch Work Blouse Pattern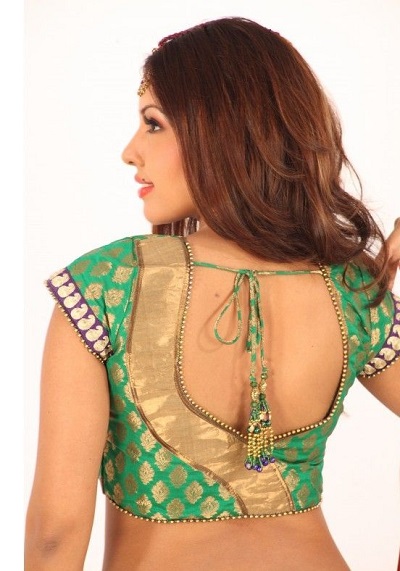 13. Designer Patch Work Blouse With Back Pattern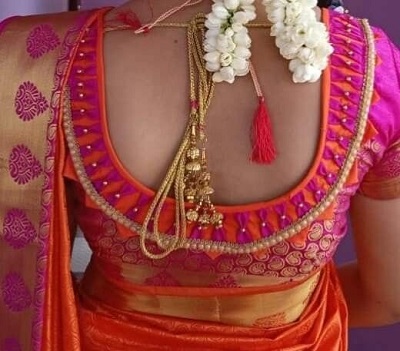 14. Beautiful Floral Back Neckline Blouse Design
15. Net And Embroidery Patch Work Blouse For Brides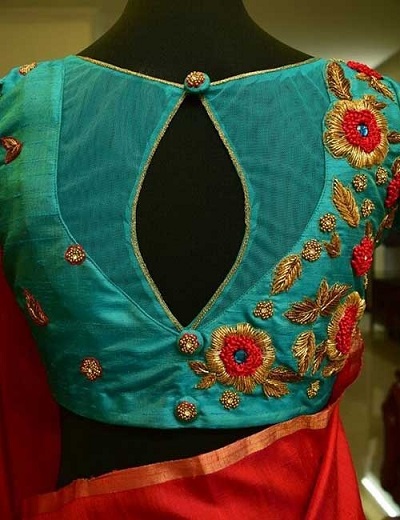 16. Cotton Patchwork Blouse For Daily Wear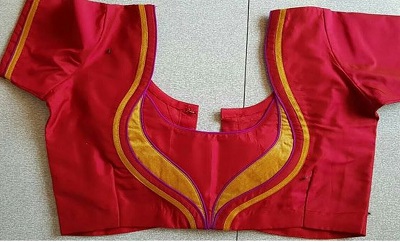 17. Chanderi Silk Blouse With Patch Work Design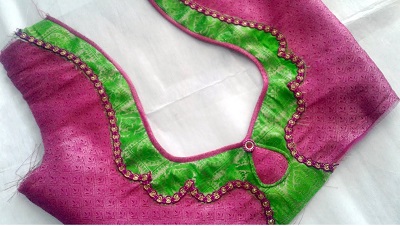 18. Stylish Purple And Green Patch Work Blouse For Festival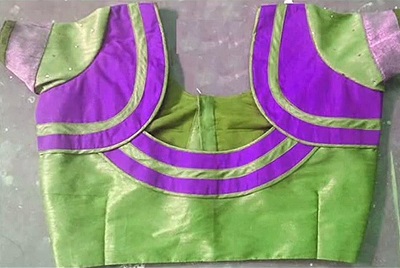 19. Festive Blouse With Green Brocade Fabric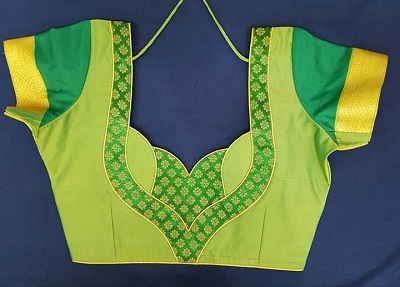 20. Designer Stylish Blouse With Double Patchwork Style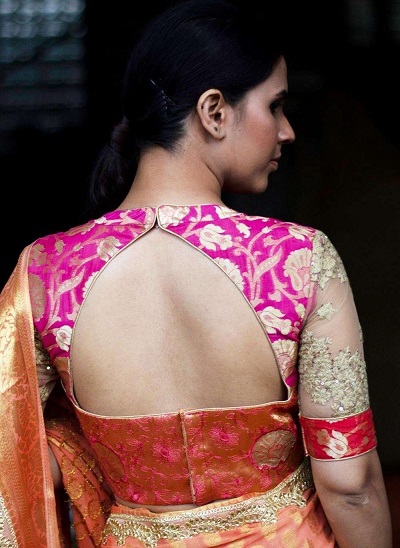 21. Party Wear Blouse With Deep Back Neckline
22. Patch Work Blouse With Choli Cut Pattern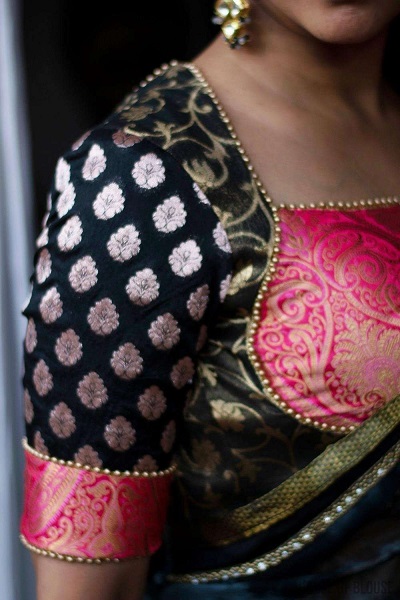 23. Stylish Patch Work Bridal Blouse Design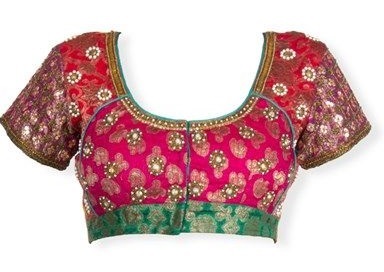 24. Double Brocade Fabric Patchwork Blouse Pattern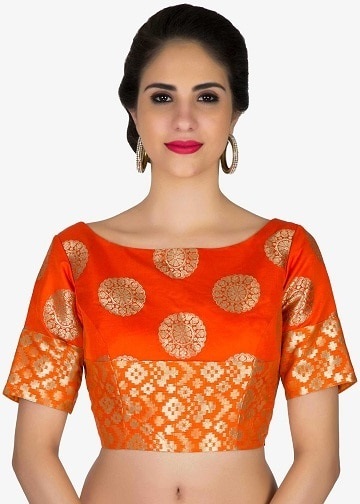 25. Stylish Patch At The Back Neckline Blouse Design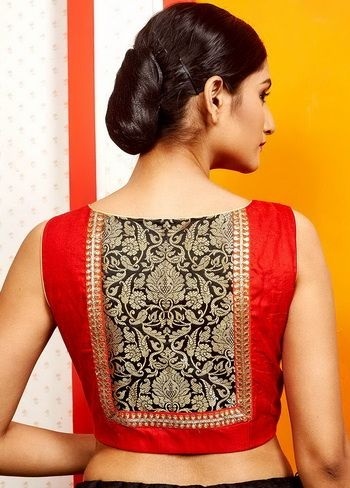 26. Designer Net And Silk Patch Blouse Pattern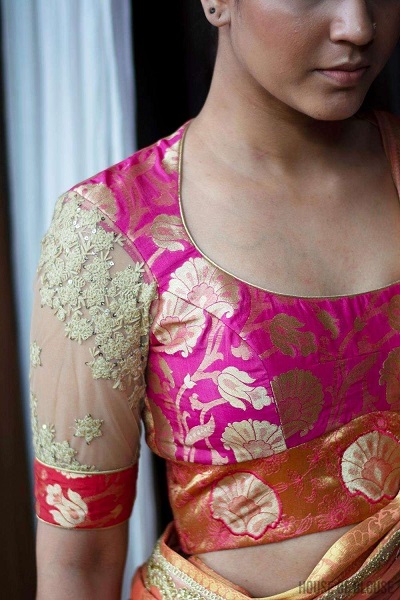 27. Stylish Patch Work Blouse With Printed Fabric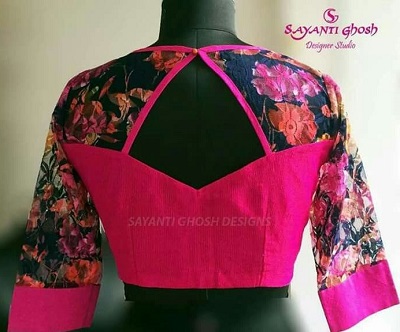 28. Silk Purple Beautiful Patch At Back Blouse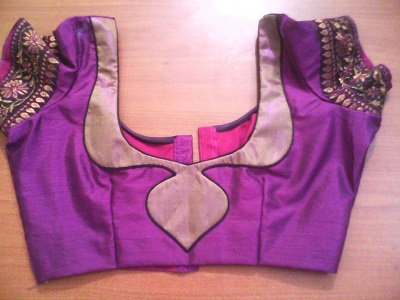 29. Maroon Velvet And Gold Patch Work Blouse For Brides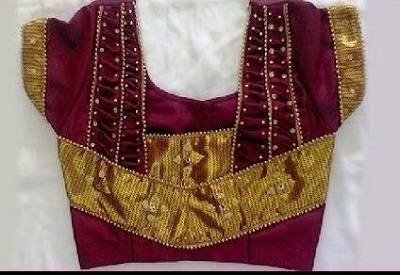 30. Stylish Silk Maroon Blouse For Brides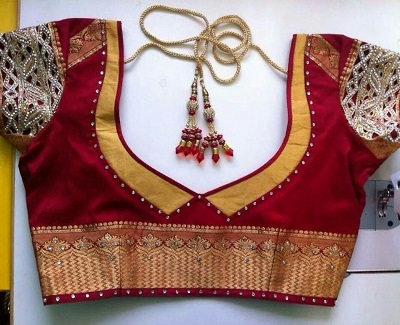 31. Bridal Patch Work Blouse Pattern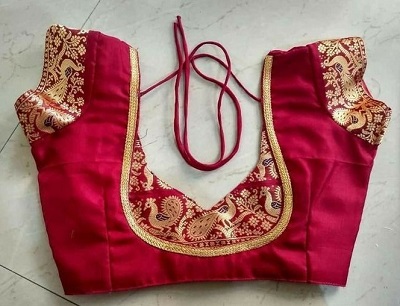 32. Aari And Maggam Work Patch Work Blouse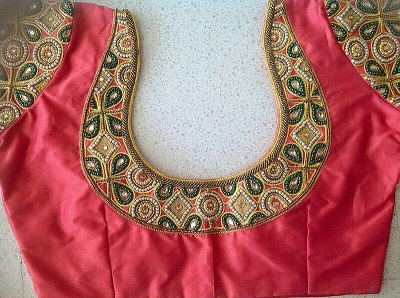 33. Pleated Sleeves Patchwork Blouse Pattern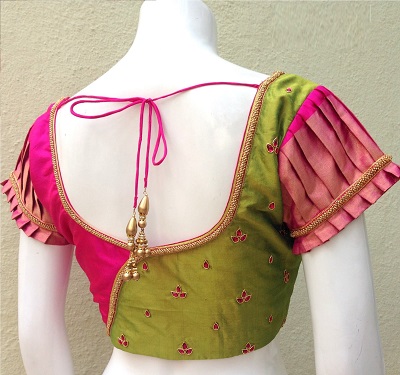 34. Silk Patch Style Blouse For Brides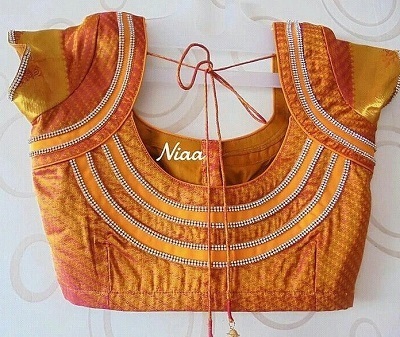 35. Designer Patch Work Blouse With Embellished Sleeves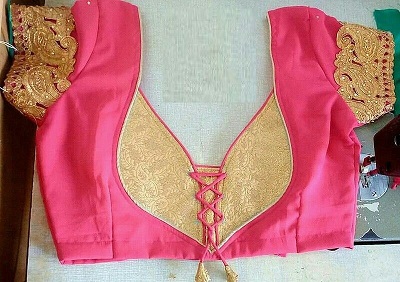 36. Net and Cut Work At Back Neckline Blouse Design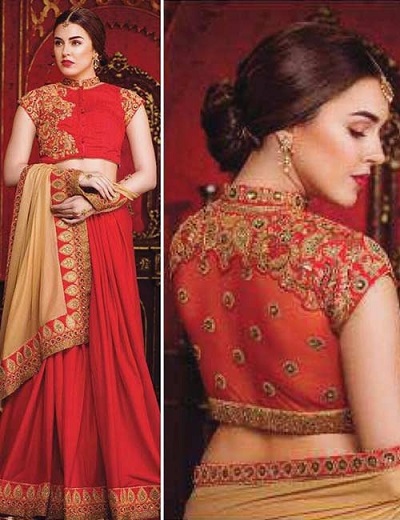 37. Stylish Cotton And Brocade Blouse Pattern
38. Floral Pattern Printed Cotton Fabric Blouse Design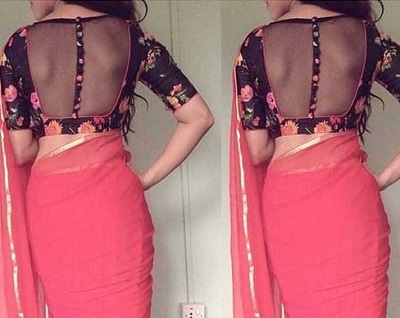 39. Designer Back Neckline For Festive Wear Sarees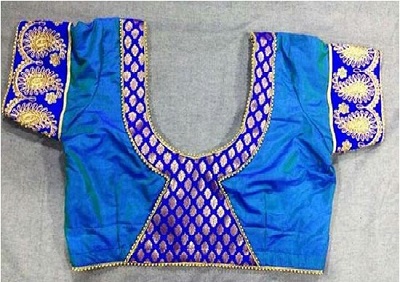 40. Net And Cotton Fabric Patch Style Blouse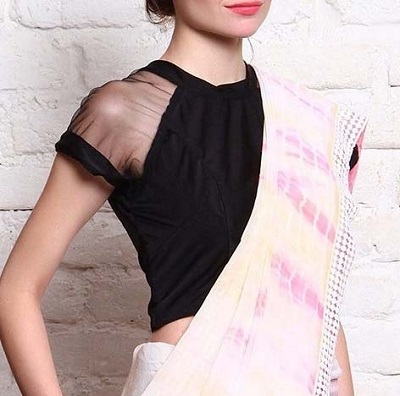 41. Embroidered Net stylish Blouse Design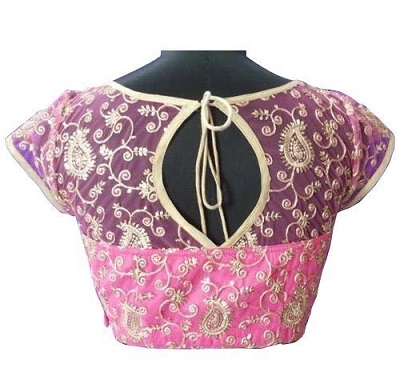 42. Designer Bridal Patch Work Blouse Pattern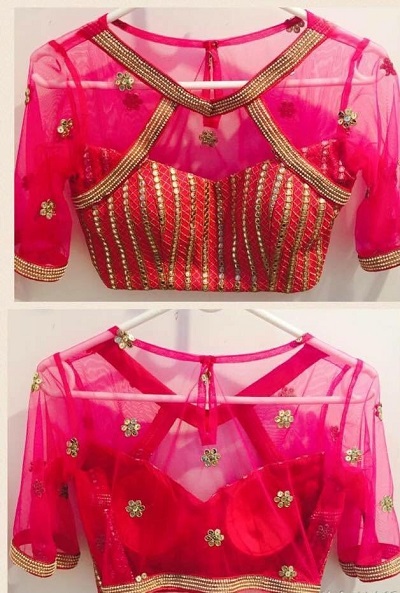 43. Net Elegant Back Neckline Blouse Design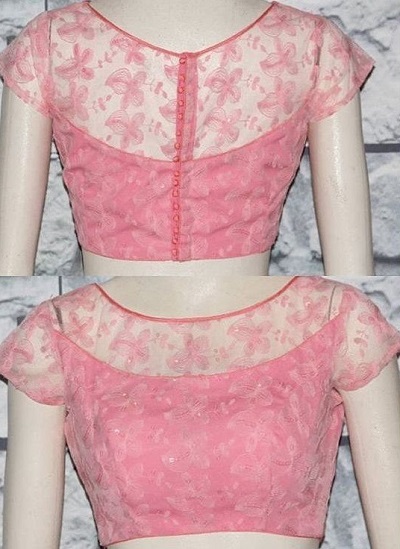 44. Stylish Pink Brocade Bridal Blouse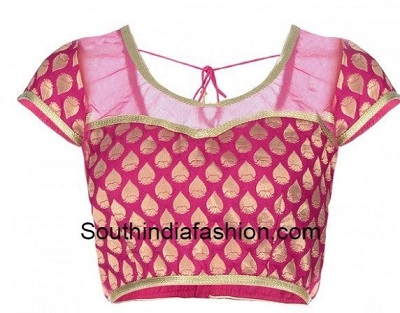 45. White And Gold Beautiful Back Patch Work Blouse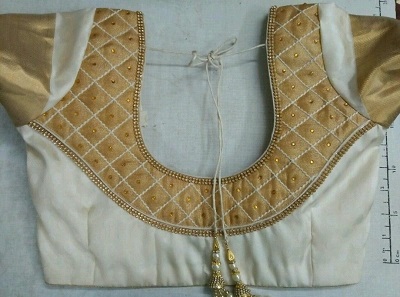 46. Stylish Yellow And Grey Patch Blouse Pattern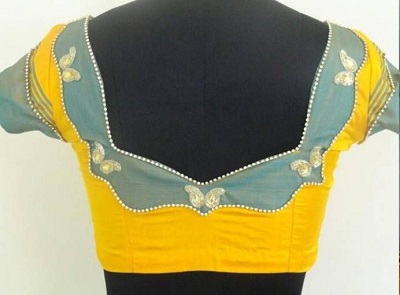 47. Black And Red Silk Blouse For Silk Sarees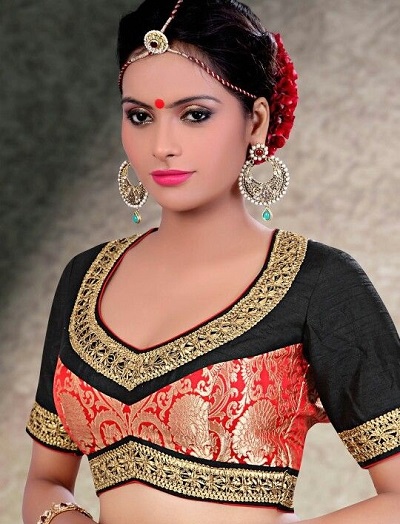 48. Stylish Printed Cotton Patchwork Blouse For Daily Sarees
49. Chanderi And Net Pack Style Blouse Pattern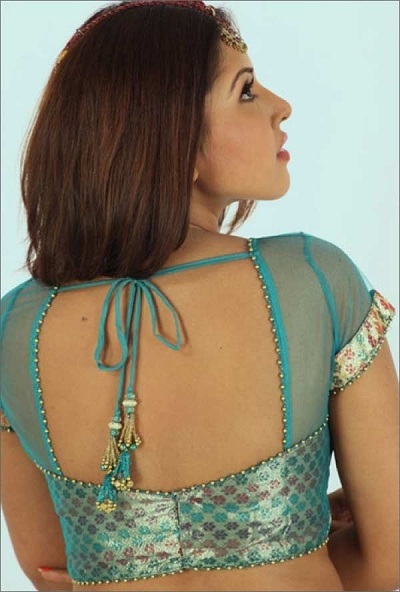 50. Mustard Yellow Blouse Pattern For Weddings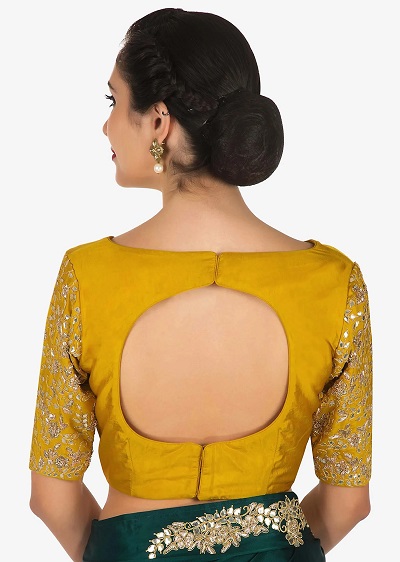 51. Attractive Gold Blouse With Patch Work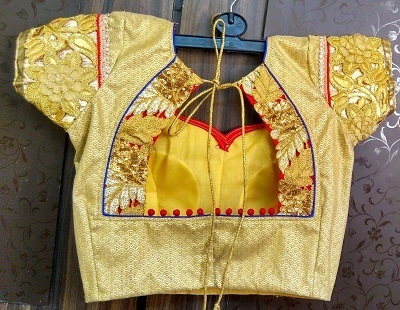 52. Golden And Silver Blouse Design With Patch Work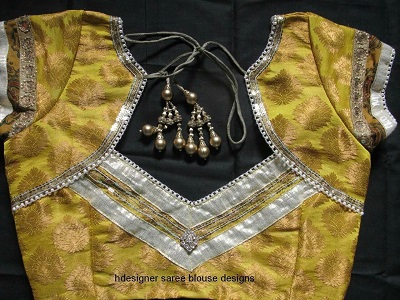 53. Boat Neckline Sleeveless Printed Blouse Design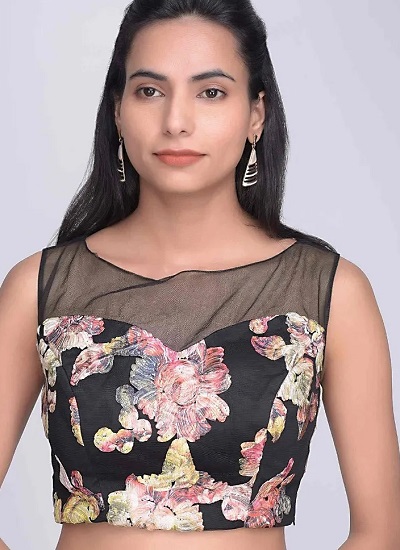 54. Stylish Brocade Grey Blouse Pattern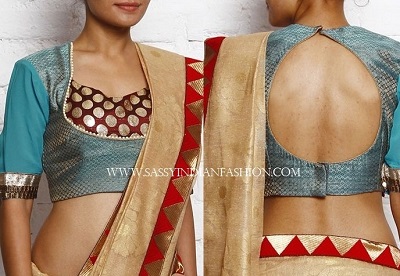 55. Latest Trendy Back Neckline Purple Blouse Design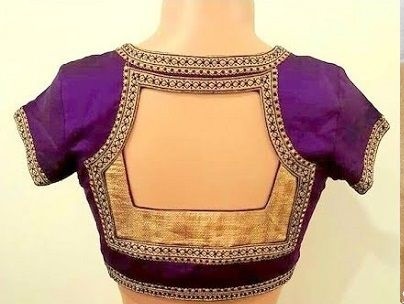 56. Lace Fabric Designer Blouse With Patch style pattern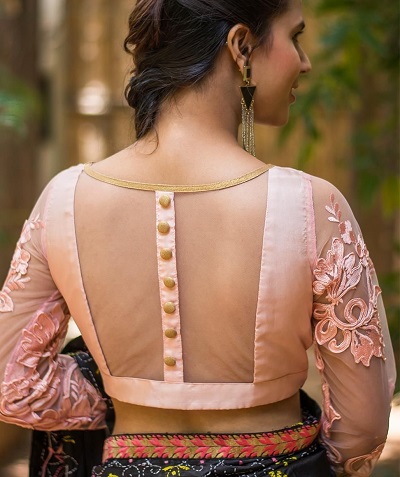 57. Lace And Silk Fabric Patch Designer Blouse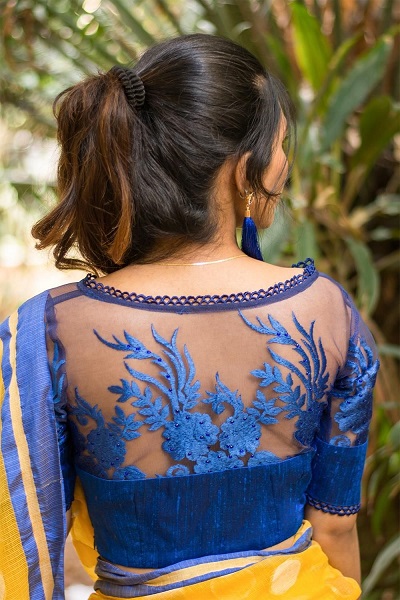 58. Stylish Thread Work And Patch Work Blouse Pattern
59. Printed Blouse With Designer Back Neckline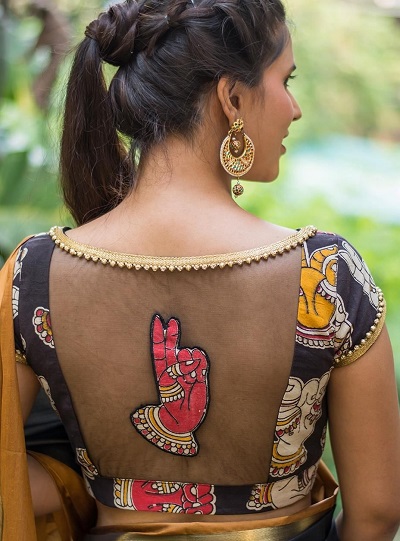 60. Attractive And Designer Back Neckline Blouse Pattern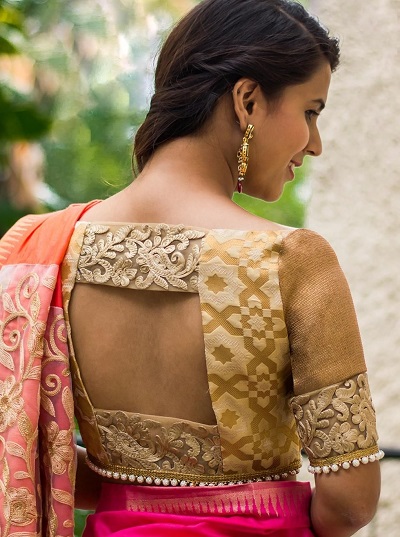 61. Bridal Maggam Work Blouse Pattern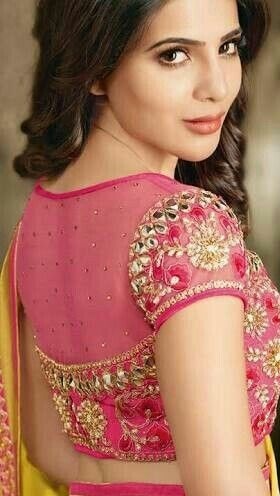 62. Black Sequin Work Sleeveless Blouse Design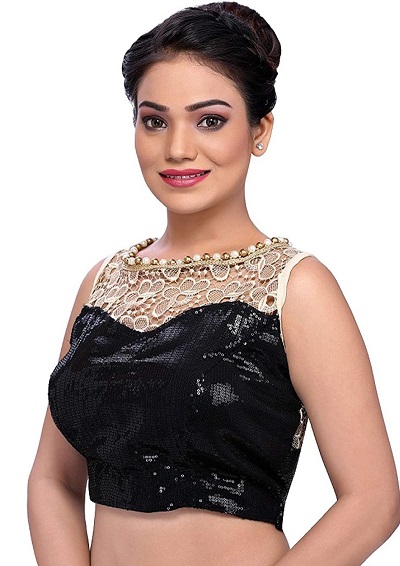 63. Trendy Lace Fabric Blouse Pattern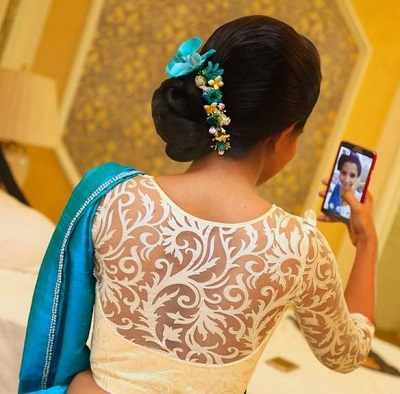 64. Stylish Festive Wear Patch Work Blouse Design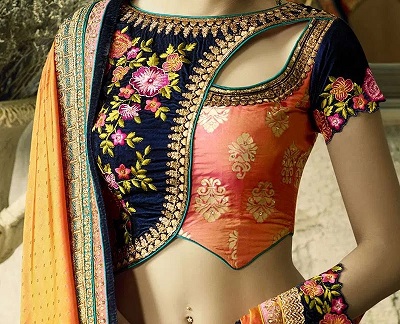 65. Festive Wear Designer Back Neckline Pattern
These are the latest patch style blouse designs for sarees and lehengas. Now a days, these designs are giving your blouse a new look. The combination of silk with net fabric is very popular and this is what a lot of designers are using.
Engage in DIY patch work projects to personalize your blouse designs. Experiment with different fabrics, colors, and patterns to create a truly one-of-a-kind piece. To ensure the longevity of your patch work blouse, handle it with care. Dry cleaning is often recommended to preserve the delicate fabric and embellishments.
Patch work saree blouse designs have redefined ethnic fashion, offering a creative outlet for both designers and wearers. Whether you prefer intricate embroidery or reflective mirrors, these designs allow you to express your style uniquely.
Frequently Asked Questions (FAQs)
Can patch work blouses be worn with non-Indian outfits?
While patch work blouses are traditionally paired with sarees, fashion knows no boundaries. You can experiment with fusion looks by pairing them with other outfits.
Is DIY patch work difficult for beginners?
DIY patch work can be both fun and challenging. Start with simple projects and gradually explore more complex designs as your skills improve.
Can I mix and match different patch work designs?
Mixing different patch work designs can result in unique and eclectic looks. However, ensure that the combinations complement each other harmoniously.
Are patch work blouses suitable for all body types?
Yes, the versatility of patch work designs allows for customization that suits various body types and preferences.