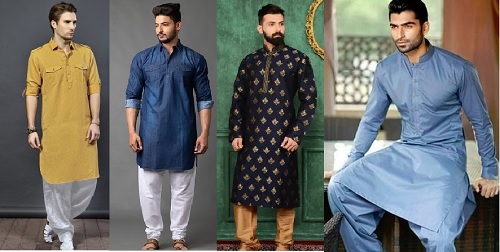 Pathani for men is a very popular men's ethnic wear clothing that is suitable for traditional affairs. Basically it has origins in the Afghanistan, Baluchistan and Pakistan. Currently, these have evolved a lot and you can see multiple styles and designs for the same. Here, we have compiled the different Pathani kurtas for gents with various colors and styling.
Pathani kurta for men are highly popular amongst Indian men for many years. The traditional and ethnic wear garment for men is available online at most of the popular online shopping sites. The Classic Pathani kurta for men has a kurta and pyjama or salwar. However, you can also team up your Pathani kurta for men with any of the Indian or Western bottom wear like jeans, trousers, linen pants and more.
Pathani kurtas are inevitably one of the best looking Kurta styles for men. However the basic types of Pathani kurta are suitable for different occasions like weddings, parties, friend's wedding, family functions, festivals, rituals and other traditional occasions. Pathani kurtas are available in different patterns and styles like a long kurta, Short Pathani or even their modern Indo Western type of designs. You can also pair your Pathani kurta with Nehru jacket, or even the waistcoats. Also you can team up with jackets or Blazers.
The fusion wear Pathani kurta for men are ideal. You can wear jeans with a Short Pathani kurta. Side slit or side open Pathani style kurta for men are also getting in trend.
40 Latest Pathani Kurta for Men Collection Images (2022)      
Here are the designer pathani kurta pajama for men and the different styles.
1. Black Pathani Kurta for Men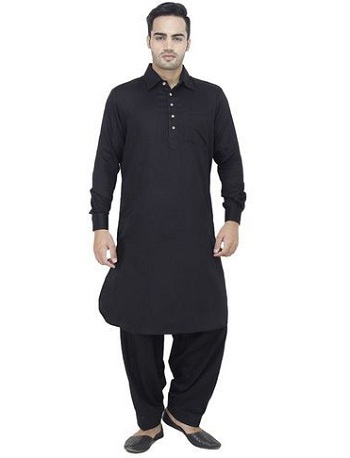 This traditional black Kurta in Pathani style has collar and contrasting color white buttons. The shirt like cuffs gives it nice look. Here, it's paired with black salwar, however, you can also team up the same style with jeans, trousers and other types of bottom wear for men. It's suitable for Eid and other traditional festivals.
2. Pathani Kurta Shirt Style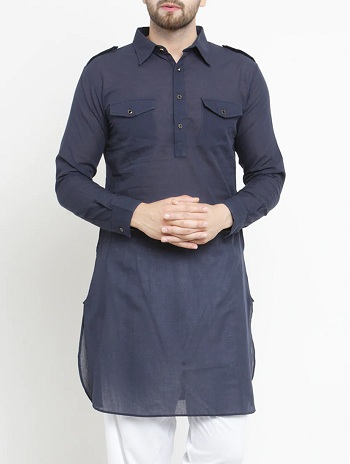 The shirt style men's pathani style kurta has two flap pockets on either sides and a collar with a button placket containing four buttons. It's a medium length Pathani kurta that looks like a shirt but is slightly longer than that. A lot of man would pair this design with white Pajama, chudidars, jeans and even the trousers.
3. White Pathani Gents Kurta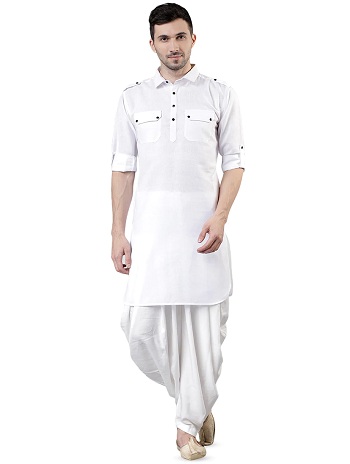 This is one of the most popular white kurta designs for men because it has a very short like feel design. It's a medium length kurta that you can pair with a white salwar as shown in the image or even with a pair of blue jeans.
4. Punjabi Pathani Style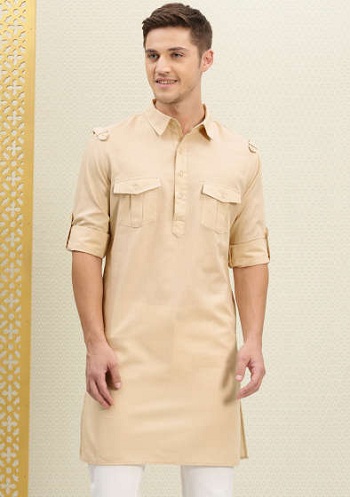 Punjabi style kurtas are also very popular currently and thanks to all the Bollywood celebrities who have sported them time and again. It has a shirt style collar with button placket which ends halfway. The flap pocket on either side gives it a more modern look. With button tab sleeves you can keep it folded or as full sleeves. It's a medium to short kurta which would look good on men with all body stature and height.
5. Pathani Suit For Men With Jacket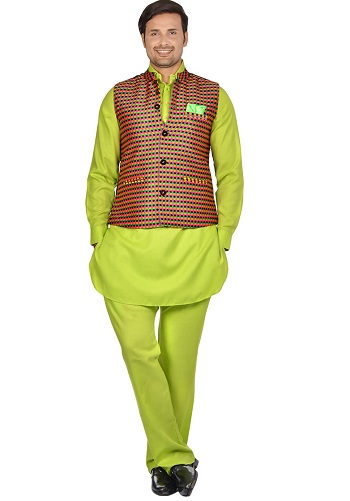 When we say kurta with jacket, this can be an amazing combination. If you don't like a bright color like this then try a pastel color. However the design is truly enticing. It would surely make you the centre of attention at any event. The bright colored kurta has a contrasting color jacket. It's very apt for weddings and Eid festival.
6. Linen Pathani Kurta for Men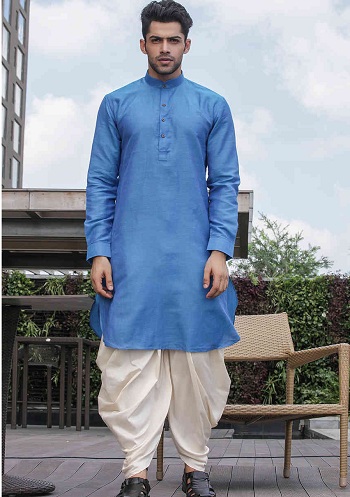 Linen Kurta would look really attractive and cool when you pair it with a dhoti pant. These days you don't have to wear a dhoti like the traditional way from a piece of cloth. However, for ease of usage Doti is available in readymade form as well. The nice blue Pathani kurta has dhoti pants.
7. Bollywood Style Pathani Kurta
One can never go out of style when they wear a Bollywood style kurta. The kurta is in rich Silk fabric material. This design is highly suitable for festival like Eid. Even for your close friend's roka or ring ceremony, you can try a style like this in different colors maybe.
8. Designer Pathani For Men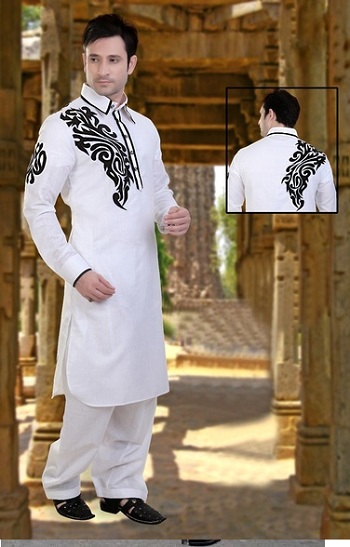 If you would like to experiment with your kurta then a design like this can be tried. There is an embroidery patch at the back and on the front, on one of the sides. The placket and the collar has contrasting taping. It makes this a designer gents kurta for parties. It can be teamed up with different bottom wears and footwear.
9. Pathani Kurta with Jacket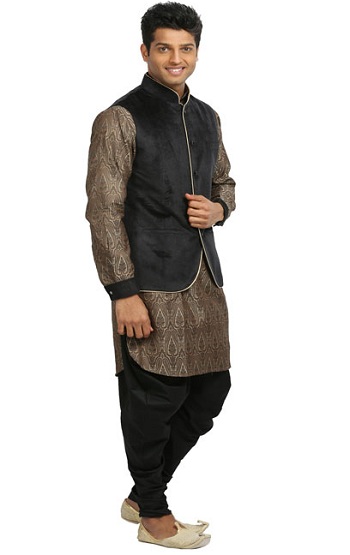 To take up your style game a notch up, you can surely pair your Pathani style kurta with a jacket. Here you will see a coffee colored printed kurta is paired with black churidar pants and black jacket. This overall attire gives a very festive and wedding like feel. Surely you can pair this with mojris, kolhapuri chappals or the strapped sandals and more. It can be worn for a friend's wedding or Indian festivals. Try this style in different colors and you would look surely fashionable and trendy.
10. Stylish White Pathani Kurta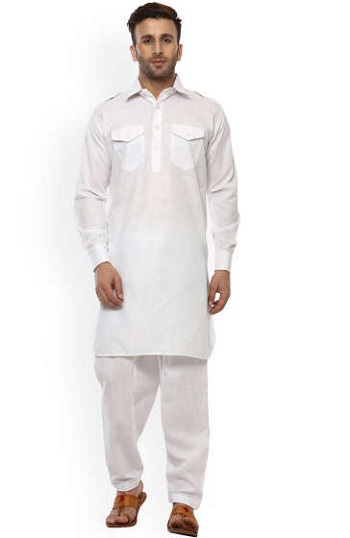 Nothing can beat the beauty of a crisp white kurta for men. Yes, the kurta has shirt like collar, button placket and two pockets on the sides. It the full sleeves kurta that can be worn for summers.  As during hot season you would like to stay cool yet protected from the UV damage. Pair it with your jeans and you can even wear it for your college.
11. Pakistani Pathani Kurta Pajama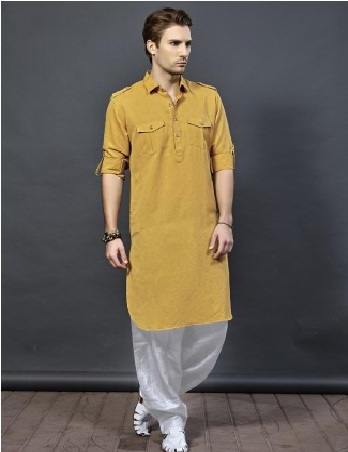 Pakistani style kurtas are very much in trend in India as well. This very stylish looking button tab foldable sleeves kurta has shirt collar with pockets on sides. It's a long kurta that you can team up with other white salwar or the basic Pajama. The color is very attractive and something which is not seen regularly. It's a dull yellowish tan color which looks good on Indian complexion.
12. Designer Pathani Suits For Eid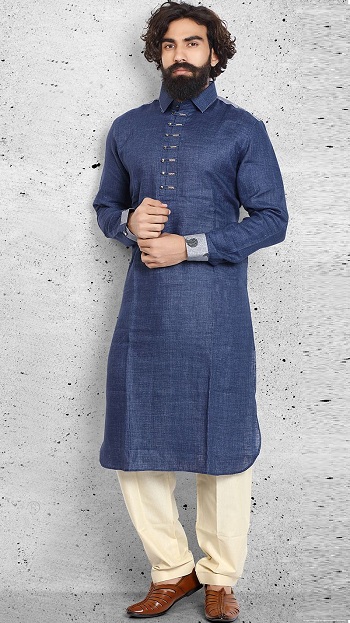 It's a blue Denim look like kurta which is highly fashionable and designer in appeal. The black it's not like usual but has a designer touch to it. The contrasting color also gives it elegant feel. It's a long kurta which is breathable fabric, making it also suitable for summer weddings, festivals and occasions. Pairing this with most of the bottom wear will work perfectly.
13. Blue Pathani Kurta Pajama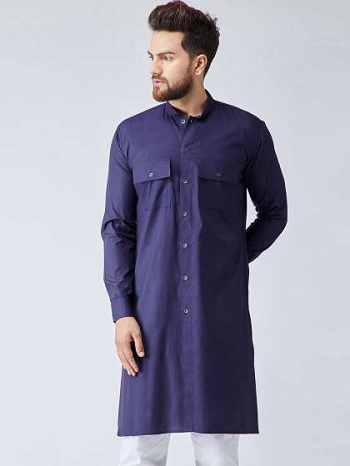 This simple blue Pathani style kurta with square cut pockets and quite long button placket is enticing. Men of all complexions can try a blue kurta. In fact blue is a color that suits majority of Indian men. The color of the kurta and the design is like that it can be worn for your traditional festivals and rituals as well.
14. Pathani Kurta Salwar Set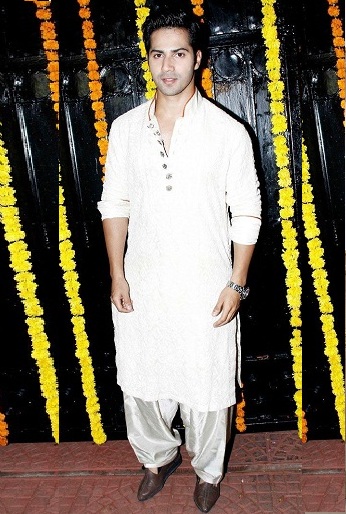 A lot of men would go for the regular Pathani kurta with basic salwar. You can either have the same color salwar and kurta or and contrasting or different colors. Here the model has worn the same colored and fabric salwar with his kurta. It's a very easy festival type of look.
15. Pathani Suit with Jacket
Jackets are here to stay when it comes to your regular Pathani suits and style. The jacket in contrasting Shade is the highlight of this peace. It has embroidery on the collar and on the hemline. This is a grand looking attire that can be worn for a friend's wedding or other weddings in the family.
16. Trendy Maroon Pathani Kurta
One can never look bad in Maroon colored shirt or kurta. This deep Maroon brown color kurta is very stylish and has foldable sleeves with the regular Punjabi Pathani style pattern. You can team it up with the white Pajama or even jeans would work with this design. It's a very casual kind of feel therefore you can flaunt it for the traditional ceremonies, festivals and functions that you have in your family, office or elsewhere.
17. Manyavar Black Pathani Kurta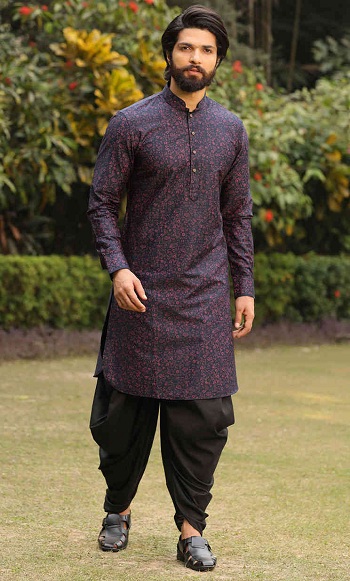 Manyavar kurtas are really popular in India and all thanks to Virat Kohli for adding a feather in the brand's popularity. This printed kurta with readymade black dhoti pants is appropriate for any traditional event that you will be attending. It's suitable for men with all complexions because of the color and shade of the fabric.
18. Yellow Pathani Kurta For Males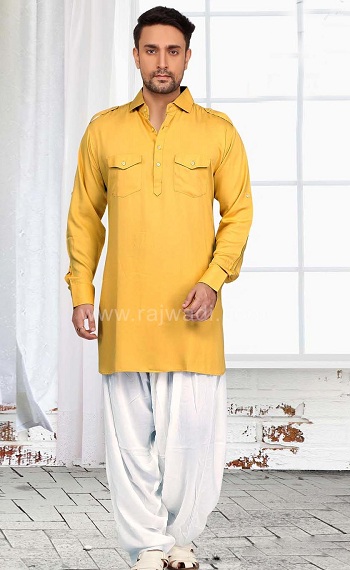 How about a yellow attire with a white bottom wear? Yellow is a summer and spring specific color even for the ethnic wear. You can wear such bright and cheerful colors for summer season or hot weather. They have a breathable fabric and material that allows your skin to breathe and does not feel as hot.
19. Stylish Short Pathani Kurta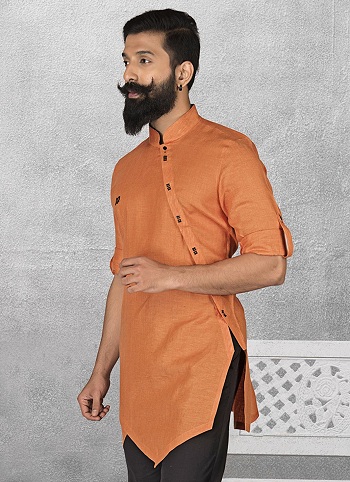 The short kurta is highly designer and modern in its cut and fabric. The Indo Western type of designing is appealing. It button placket goes from the centre to one of the sides. It has foldable sleeves and the color is also very soothing. It is one of the best pathani kurtas for men that we have seen. You can also get it stitched from your local tailor as the pattern is not very hard to replicate.
20. Designer Men's Pathani Kurta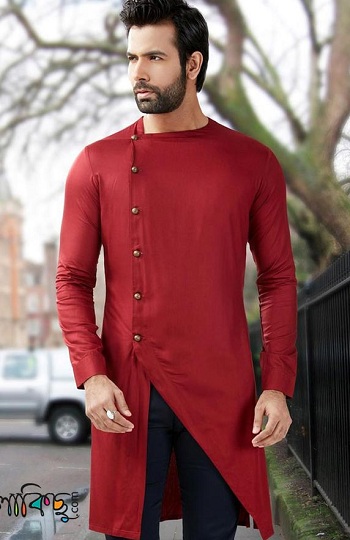 When you love designer clothes, a look like this for your latest kurta, will surely up your style game. It has side open button placket with no collar. The full sleeves and the fabric is also classy. Instead of the regular button placket, it has a diagonal cut. This can be paired with a black trousers like shown in the image or can also be teamed up with men's salwar.
21. Designer Red Pathani Kurta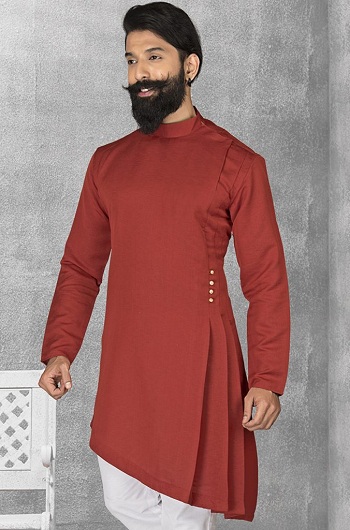 This red Pathani style suit has side pleats. It has a very Royal feel and is classy and elegant. Such designs are appropriate for weddings and other Grand events where you have to look your best.  Pairing a style like this with dhoti or churidar would be the best.
22. Pathani Kurta Pajama For Wedding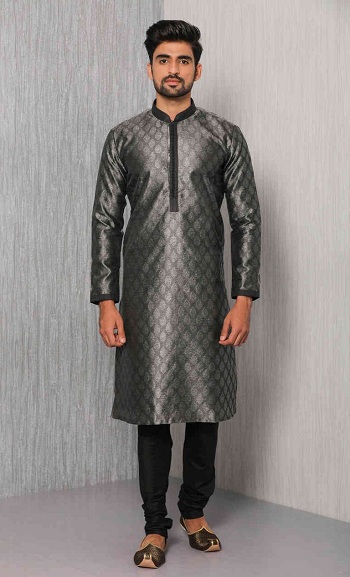 If you would like to rock gents pathani kurta pajama style for a wedding, then trying design like this. Paired with white black churidar, this grey shiny brocade kurta, is one of the best looking Kurta Pajama that we have seen. It's simple yet has the classiness and elegance. Man of all age groups, skin complexion and body type would be able to carry it well.
23. Latest Pathani Kurta Style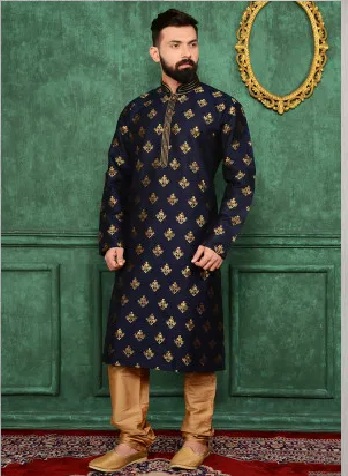 The heavy embroidered latest designer kurta style is in velvet. It's paired with golden beige colored churidar but dhoti pants would also look better with this design. It's very rich and opulent looking therefore, is suitable for weddings and other big events.
24. Latest Half Sleeve Pathani Kurta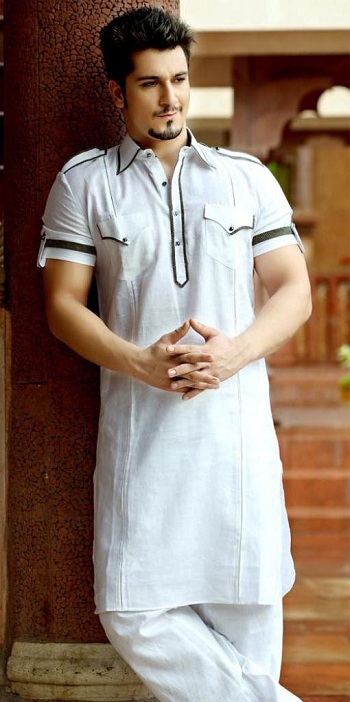 Made for the young boys, who would like to look smart and dashing in a white kurta, shall try this half sleeve Pathani style kurta for males. The collar and the button placket have contrasting colored border and a very stylish design. It's a long kurta that you can pair with your salwar, jeans, trousers and other Indian or western bottom wear. It's a very good piece of clothing that can be styled in different ways that you feel like.
25. Stylish Men's Pathani Kurta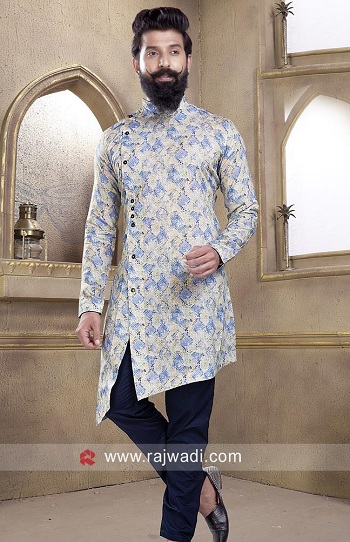 The printed side open design is surely attractive. Its diagonal hemline is perfect to be paired with trousers or jeans. As it looks very designer and stylish, it's appropriate pathani kurta for Eid and events where you would have to dress up smartly and elegantly.
26. Pathani Kurta Salwar For Men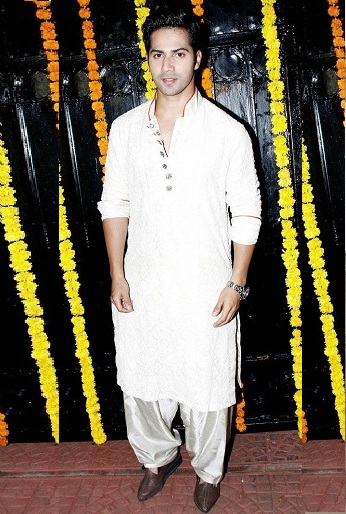 The Bollywood style embroidered white chikankari kurta is something that is perfect for the festive season. Paired with silk bottoms, this looks very classy and sophisticated.
27. Fashionable Pathani Kurta with Jeans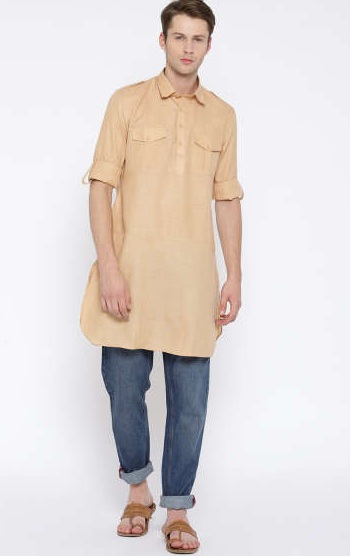 The dark beige color like this is not seen commonly and is royal in appearance. The basic Pathani dress is appropriate to be paired up with a pair of nicely fitted jeans. It gives a very casual and cool look without trying very hard to look smart.
28. Pathani Kurta Pajama with Jacket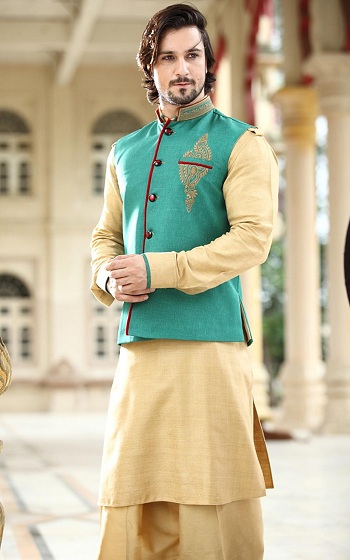 For all those big events where everyone would dress up taking extra time, a pair of red kurta with jacket is a good combination. The dark beige kurta is paired with a Turquoise colored waist coat. The waist jacket is the main highlight of this designer piece of clothing. The jacket has embroidery Patch on the side pocket. The collar is also embroidered and has detailing.
29. Short Pathani Kurta For Mens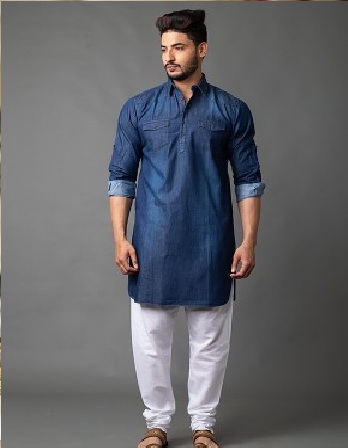 Who says you can only have men shirts in Denim, you can even have a Pathani suit Kurta in Denim fabric. The kurta looks really modern and gives Indo-Western appeal. You may team it up with a white churidar salwar or pyjama. It's very casual looking attire for boys and even the older men.
30. Pathani Dhoti Kurta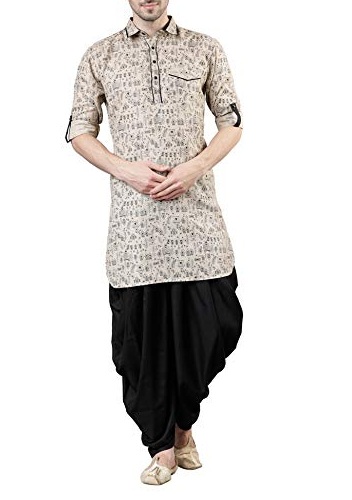 The printed kurta is paired with a nicely textured dhoti. The prints are all over and surely one of the best types of fabrics to have. It's casual and cool and appropriate for hot weather. It will give you that perfect casual look.
31. Punjabi Pathani Kurta Pajama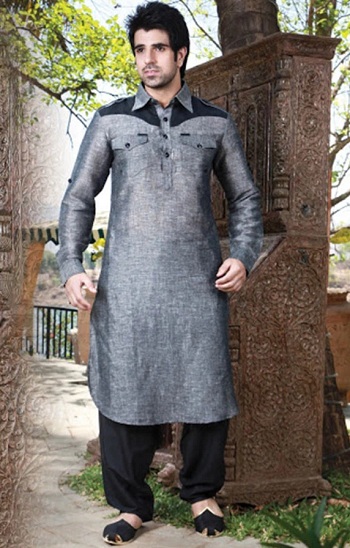 The kurta pajama in grey and black color is a favourite combination for many men. You can wear it with any bottoms and Kolhapuri chappals.
32. Pathani Pattern Kurta Churidar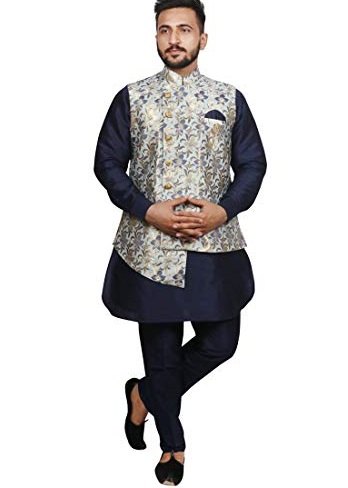 How about wearing a jacket with a black pathani style kurta? The kurta is teamed up with churidar and the jacket is the key highlight which is very fashionable with high low pattern.
33. Orange Pathani Style Kurta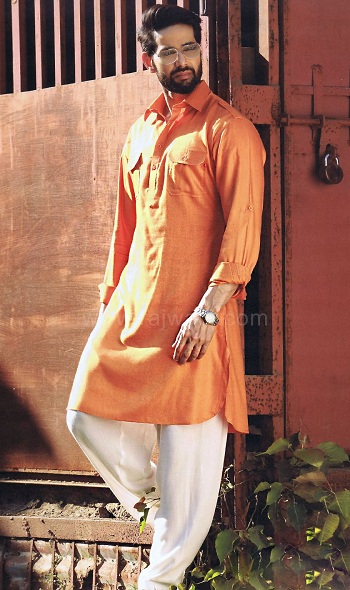 Orange kurta with white salwar definitely reminds about us of the movie Raees where Shahrukh Khan has sported different kurta styles. This is very cool and casual look which has this perfect festive kind of look. Orange is a color that suits almost all the skin complexion and age group in India.
34. Grey Pathani Kurta for Men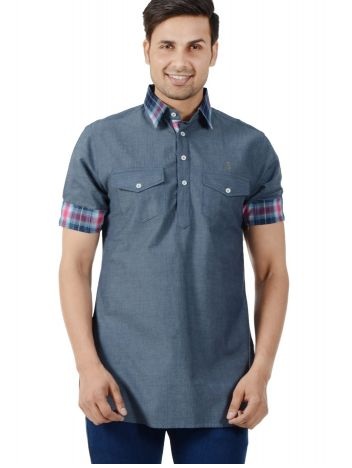 Cool and casual shirt style looking short kurta is enticing. Men who like shorter kurtas shall try such a design. It's best to be worn with your jeans.
35. Men's Cotton Pathani Kurta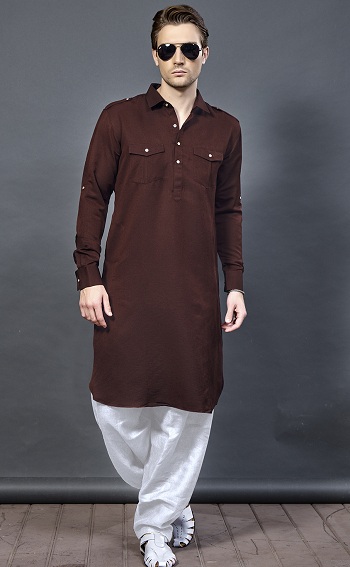 Cotton is a very breathable fabric and summer appropriate. When you pair your cotton kurtas with jeans or any type of bottom where you not only look good you feel good as well. Fabrics like Silk, polyesters, bends can be a bit heavy on the skin, as they do not leave room for skin to breathe properly. Therefore when the season gets hot, you must use cotton kurtas.
36. Gents Trendy Silk Pathani Kurta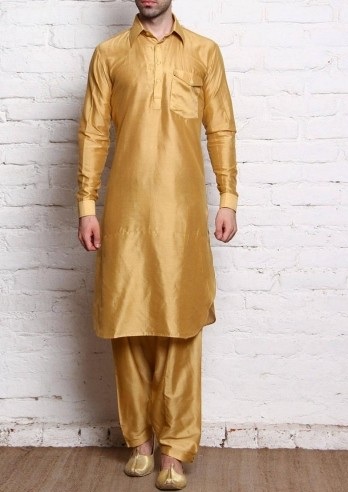 Silk is a very classy and luxurious looking fabric. Even for men, Silk has been exclusively used for different types of attires. The Silk Golden kurta is appropriate for weddings and festivals like Eid. A lot of men like to wear Golden kurtas with their black Pants or the trousers.
37. Modern Green Pathani Kurta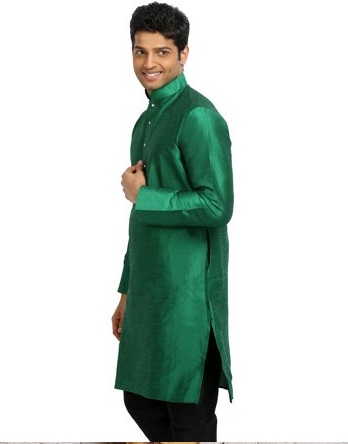 A model looking green kurta would look good on all the skin colors. It matters what shade of green it is, though dark green is a color that compliments Indian skin tone brilliantly. Therefore, you can wear a silk dark green kurta like this with black and possibly dark colored bottoms. It will surely make heads turn at the wedding or event that you will be a part of.
38. Fancy Pathani Kurta for Men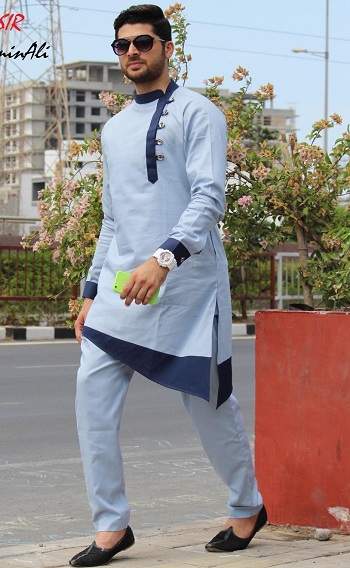 Fancy and fashionable kurtas are here to stay. A kurta is traditional and ethnic attire, yet designers do not shy away from experimenting. This design has very Indo-Western kind of feel to it. The side button placket with Chinese collar looks really attractive. The diagonal hemline with contrasting color dark blue horizontal panel, gives it more stylish look. This is suitable for younger men and boys.
39. Navy Blue Pathani Kurta Pajama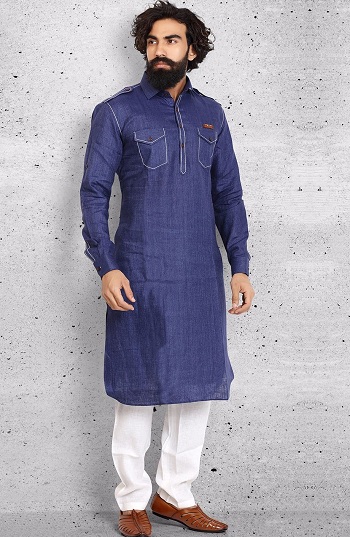 Navy blue is a color which is loved by men of all age groups. In Fact, men across the globe loves navy blue as a color. This is a long kurta which has Denim like look. It's both casual and festive wear attire.
40. Pink Pathani Kurta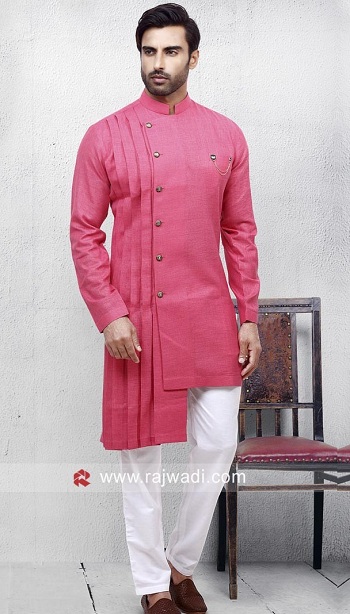 Pink is a beautiful color, which is not just for girls but boys, can also carry this color quite confidently. It's a medium pink color with pleats on the sides. Very fashionable and Indo-Western modern looking Kurta has high low pleats. It's perfect for wedding and grand festivals like Eid, Diwali and festivals.
So these were the ethnic and different types of Pathani kurtas for men. We are certain that after taking inspiration from these images, you would surely pick the right type of kurta pajama set for yourself.