When it comes to silk sarees, Pattu sarees are staples in the southern part of India. They are indeed are quite liked by the other parts of Indian as well. There are special occasions where the pattu sarees chosen over the other city of silk sarees. The silk sarees has this elegance and Royal charm, which is why silk sarees are seen in Indian weddings a lot. To wear the gorgeous styles for the pattu sarees, you would like to have different types of blouse . Here, we have put together this catalog which will certainly let you choose the best looking blouse for your pattu sarees especially for the wedding ceremonies and for the big events where you have to look your best.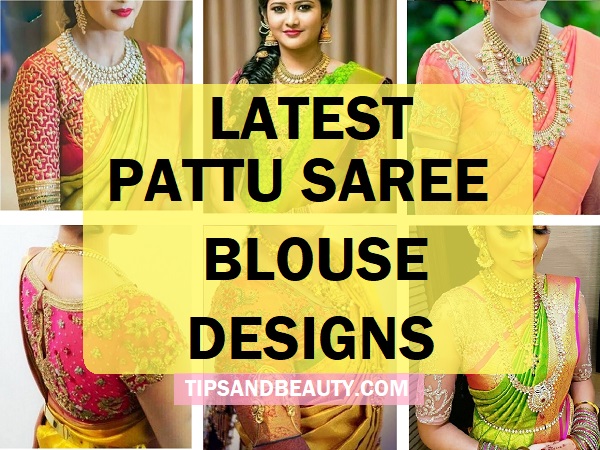 Trendy and Fashionable Pattu Silk Blouse Designs For Ladies
Let's take a look at the pattu silk blouse designs that you must try.
1. Heavy Stone Work Pattu Saree Blouse Pattern For Weddings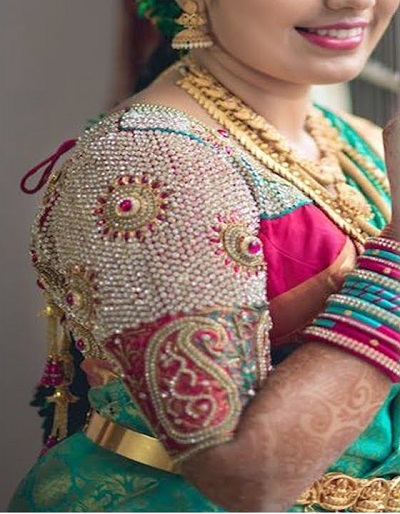 This blouse is indeed so luxurious yet elegant that it will certainly steal the heart of the onlookers. It is indeed a beautiful bridal blouse which is extra ordinary. The craftsmanship and the work done using the zari, sequin and stones is just exclusive. The neatly done embroidery and the work makes this blouse quite luxurious. Indeed, a bride would look like a million bucks, when she will wear such a gorgeous blouse.
2. Wedding Pink pattu saree blouse design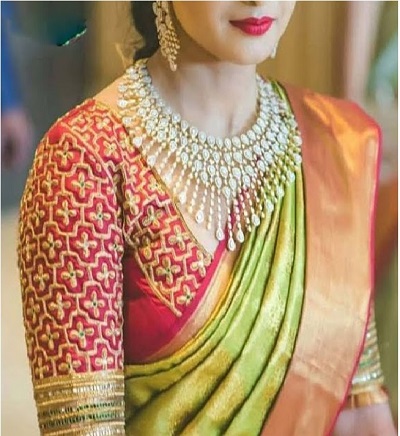 It is not a plain saree blouse but has this gorgeous embroidery which is done beautifully. The extent to which the embroidery is done is quite neat and clean. As a matter of fact, the crisp design and pattern of this blouse is amazing and that actually makes this blouse best looking silk saree blouses for women.
3. Zardosi Heavy Work Pattu Silk Wedding Blouse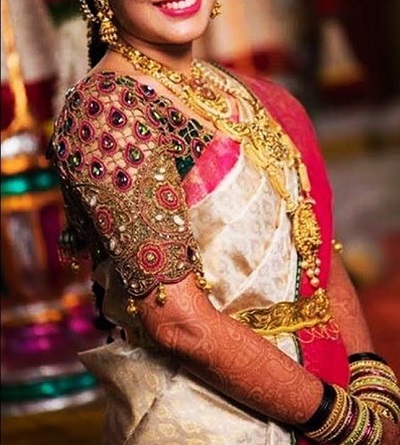 Talk about this blouse and you have so much to say! The praiseworthy blouse is perfect for the Pattu green silk sarees and other combination of sarees. The heavy embroidery loaded with the stones and other embellishments actually makes it quite heavy and rich looking. But that isn't the matter, the matter is  since it is quite unique and luxurious, it looks quite expensive and exorbitant. The extravagant blouse will make bride smile more and elude a natural blush. Such blouses like these are suitable for Pattu silk, Kanjivaram sarees and other kinds of sarees. Even the silk sarees with borders can also go really well with such lavish looking blouses. You must try one!
4. Heavy Zari Maggam Work Boat Neck Silk Saree Blouse Design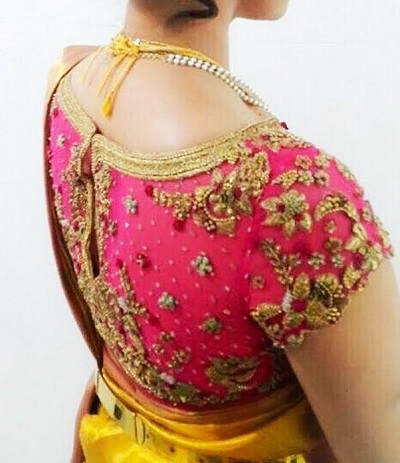 The hand embroidered aari and maggam work blended blouse is undoubtedly expensive and lavish. Such a treat to the eyes, this adorable and attractive saree blouse is!
5. Green Silk Pattu Blouse Design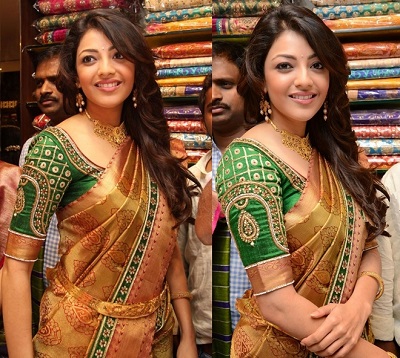 The blouse looks gorgeous and elegant simultaneously. You can certainly pair up your contemporary silk sarees with this lavish and graceful silk saree blouse. The silk saree blouse with border is definitely eye catching and attractive. In fact, it also carries a jewelry inspired embroidery on the sleeves. It has a deep scoop neck in the front and back.
6. Green Silk Saree Blouse Design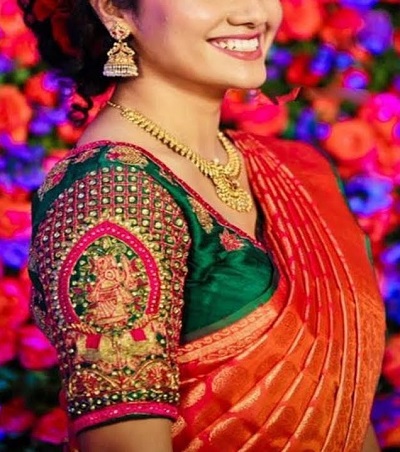 The bewitching green silk blouse is popular because of the fact that green, red, orange and pink are the colors which can be paired up with different colored silk, Kanjivaram silk and Pattu silk sarees. This is why, without an ounce of doubt, such colors are very popular. Women can style this charismatic and the trendy blouse with different types of cotton silk and silk sarees.
7. Silk Peach Embroidered Blouse With Border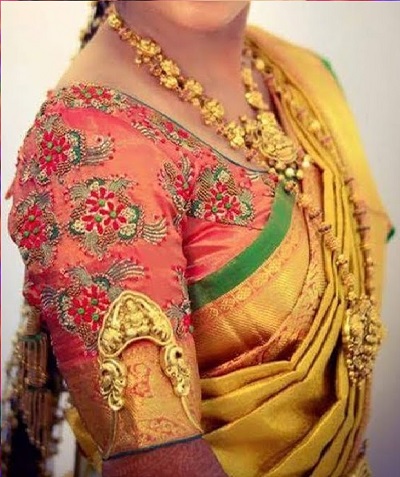 One can look enchanting and hypnotic at the same time wearing this raw exquisite silk blouse. The embroidery is done proportionately and impeccably to impart an alluring look to this time less piece. The jewelery patch added on the sleeves can actually make it quite traditional but no short of fashionable. It without any doubt has a contemporary look with an extravagant style. The silk saree blouse design has a scoop neck on the front and back which is why it is ideal for the multiple styles of sarees.
8. Embroidered Orange Silk Pattu Blouse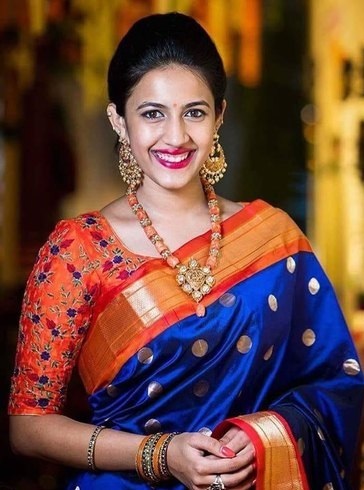 Such opulent looking silk blouse is suitable for the revisiting and expensive Kanjivaram sarees. For the weddings, and ceremonies such blouses will make the style level of any women up by simply adding elegance and charm. This priceless and timeless classy blouse can be used for different types of sarees. Generally sarees would have the matching blouse that comes along with the saree itself, however at times, the bride or the women may not like it, which is why these gorgeous saree blouses can be kept with you. They really deserve a place in your wardrobe as when needed they can be mixed  the different sarees.
9. Pearl Embroidered Saree Blouse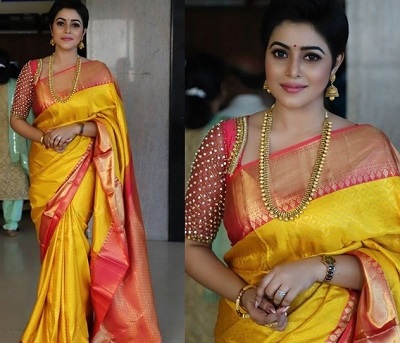 Pearl and stone work is generally seen in Georgette fabric however currently silk and other embellished blouses. Generally, you will see stones used in the silk saree blouses which are heavy and mostly they are made for the weddings.
10. Green Back Blouse Neckline Sarees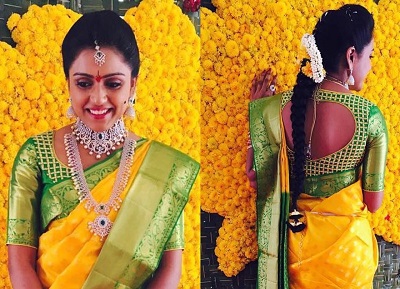 Other than the regular type of saree blouses, there are some blouses which are quite heavy. The blouse is suitable for the exquisite and elegance loaded silk sarees. Try this lavish blouse with the Banarasi, Pattu Silk, Uppada silk and other varieties of silk sarees.
11. Cotton Silk boat neckline simple saree blouse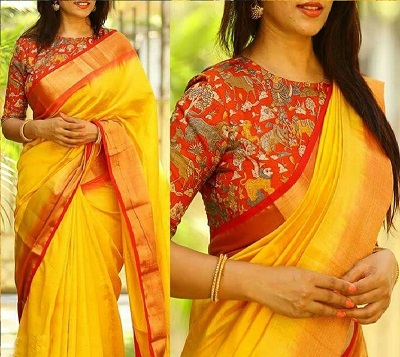 The blouse in silk is pretty simplistic in its make ad design. Clearly, it doesn't have too much of pomp and show, rather it is made for the Cotton silk light or even those heavy sarees. Simple blouses can also be teamed up with the heavy sarees when you do not want to go over the top. It has classy yet subtle print on it.
12. Zari Embroidery Pink Silk Blouse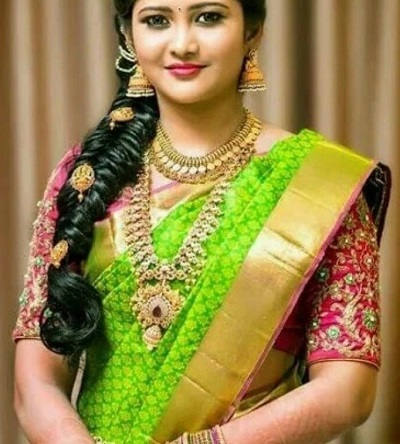 A combination of sequin and kundan is immaculate which aids in making this silk blouse charming look. The ethnic wear saree blouse is quite simple, however the embroidery and heavy Stone is indeed falls under the category of the party wear blouse designs.
13. Embellished Silk Saree Blouse Design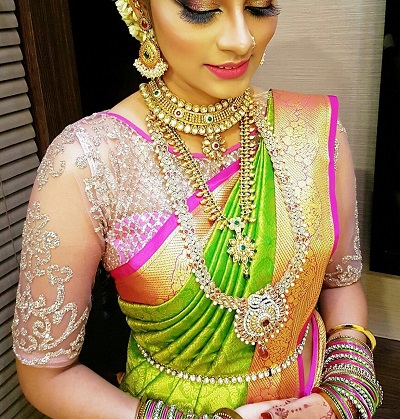 Pattu silk sarees blouse and a waist belt can really give your magnificent look. The beautiful jewelery on the neck makes this irresistible.
14. Beaded silk saree blouse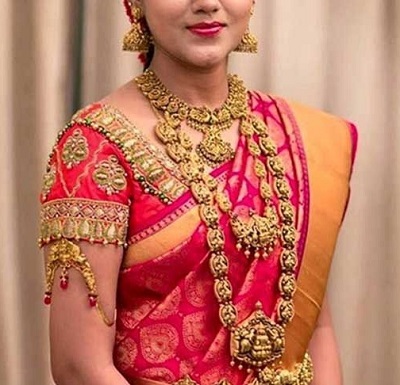 This silk blouse pattern is indeed amazing and is needless to say is quite trendy looking blouse. The design and the cut is so alluring and has all the ingredients of a great looking blouse.
15. Simple Embroidered Silk Blouse Pattern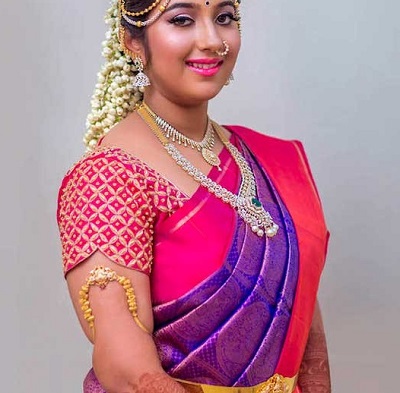 This simple blouse in silk fabric has beautiful embroidery which has a noteworthy finish to it. The blouse is indeed on the simpler side and nothing over the top. Yet, it will define you and will certainly suit your style. It is a great design for the cotton sarees as well as for the silk sarees. You can it with a sleeveless pattern as well to explore the inner style of yours!
16. Brocade Silk Saree Blouse Design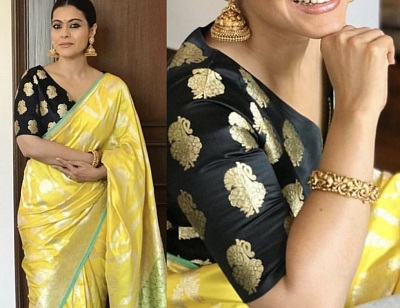 The blouse is simple yet has so much of charm that it can never go unnoticed. Paired with a gorgeous lemon yellow colored saree with a border, this blouse is indeed the best thing about this entire look. As the blouse has quite contrasting color, it paves a way to let the saree shine.
17. Gorgeous blue heavy embroidered back blouse design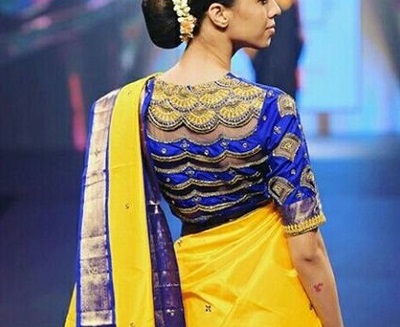 When it comes to back design for the saree blouses, this blouse can indeed be chosen over. It has cut work which has been patched with a net fabric. The embellishment done on this blouse is also extraordinary considering that it is quite heavy. It can be indeed your wedding or for the silk sarees.
18. Short sleeve Kanjeevaram silk saree blouse design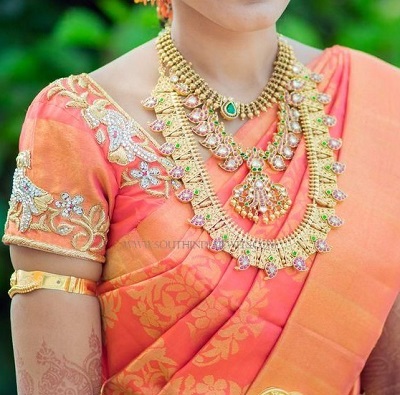 The embroidery on this blouse is truly amazing and which is in fact is the key highlight. If you can have any beautiful embroidery like this, then definitely you should go for it. The blouse and the sari both are in the matching color however,  this particular blouse can also be tried with the different colored silk sarees. We will highly recommend you to go for this beautiful looking blouse with Zari and stone work and short sleeves.
19. Designer Sleeves Silk Blouse For Pattu Sarees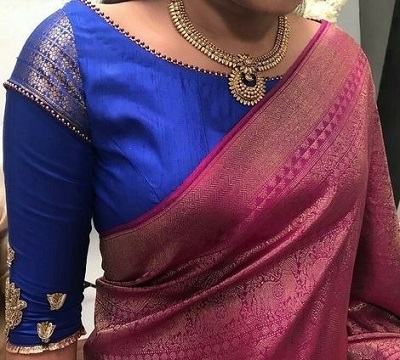 Who says you cannot experiment a lot with the silk sarees. This blouse has a designer pattern and studded neckline and sleeves. If you will notice, the design on the sleeves, it has elbow length sleeves and the shortest leaves on top of it. So it is actually a layered saree blouse design which has got two different fabrics and two different types of patterns used. Sequin work is used on the sleeves, evolving the blouse to become eye catching. The blouse does not have a regular boat neckline but the neckline is embellished with a beaded lace trim. The blouse is made in a princess cut which is suitable for women who would like to use such Silk designer blouses for their lehengas and Maxi skirts as well.
20. Back Neckline Silk Saree Blouse With Border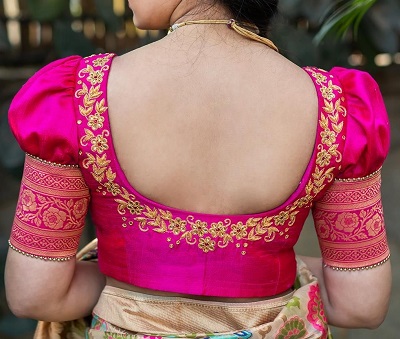 The neckline of this blouse is the highlight. The major key oto this blouse is the beautiful back neckline pattern. It scoop shaped at the back and princess cut in the front. You can never get enough of such styles because of the charm and style. Over all, it is certainly a feast for the eyes.
You have a gorgeous collection of the saree blouse designs for the Pattu and other kinds of silk sarees. If you are draping a pattu saree, then keep in mind that the blouse should be comfortable depending on the season. And most importantly the blouse of your saree should be quite comfortable. The combination of a pattu saree blouse design with other saree styles is also quite fashionable, you can try a Silk pattu saree blouse with a net saree or a sequin studded chiffon or Georgette saree as well. Therefore, while choosing a suitable blouse for your saree, the appropriate blouses can match the saree.