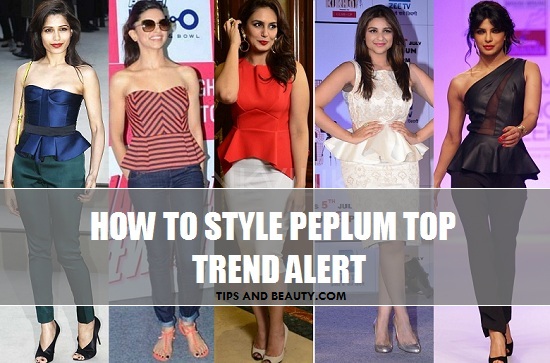 Peplum Tops Trend as seen on celebrities
Peplum is amongst the latest fashion trend. We have spotted so many of our Bollywood actresses flaunting peplum in their outfits. One can have peplum dress, peplum tops, peplum skirts etc. Peplum is cool, chin and peplum is in! Here, we have compiled some peplum top ideas that you could get by having a look at the celebrities who sported peplum with style. The best part about this piece of clothing is that this helps to give a slimmer waist look and also gives a slender figure illusion. Have you tried these yet? If not then, after checking out these inspirations from the celebrity fashion files, you will definitely wish to grab one as soon as possible.
1. Peplum Dress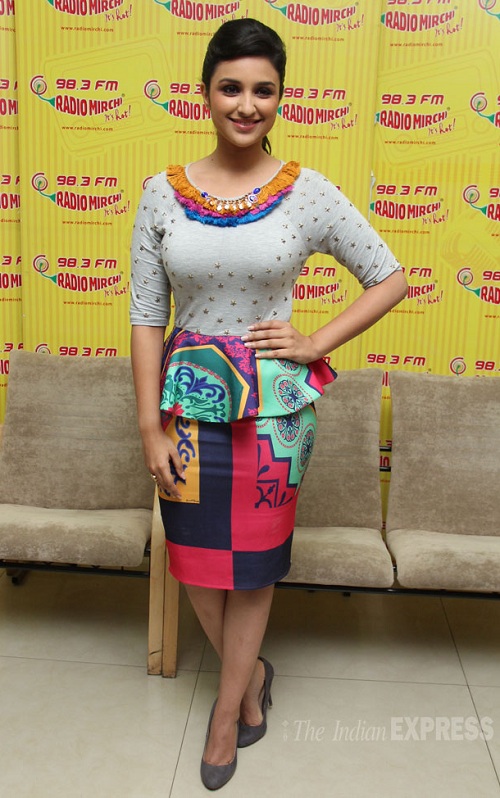 Image courtesy:  Theindianexpress.com
Parineeti Chopra sported this colorful but a bit strangely color coordinated outfit with peplum top. Peplum tops looks the best with pencil skirts and there the peplum's flare and the narrowness of the pencil skirt complements each other. This is not the best out the outfits but the style or the cut is nice. No, we are not talking about the designs and all.
Also see: How to style pencil skirt
2. Corset style Peplum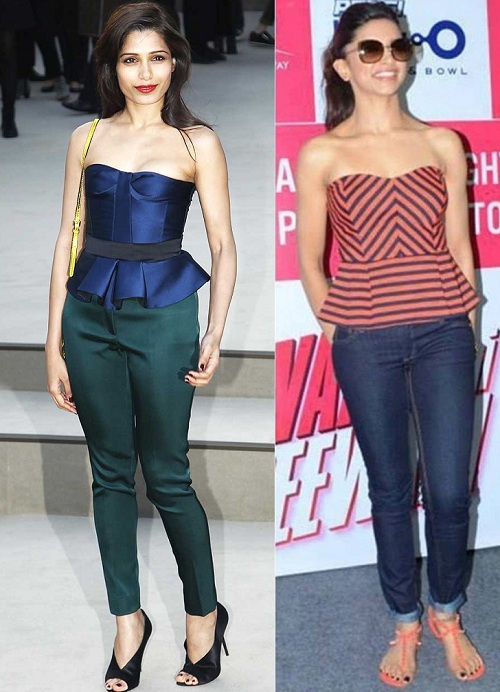 Image courtesy:  Pinterest.com
This sought of combination is our favorite where a Bustier or corset style peplum top is styled with pants. The same style can be very dressy like we see sported by Frieda Pinto where this Peacock blue gorgeous colored peplum top has been styled with olive green pants and black heels. On the other hand, Deepika kept this quite casual with her similar style of peplum top with chevron print. The color of the top is rather dull but still nice for the casual affair like when paired with a pair of jeans. It looks glamorous yet casual and effortless. By the way, we loved Frieda's Shoes. Such a marvelous pair!!
3. Structured Peplum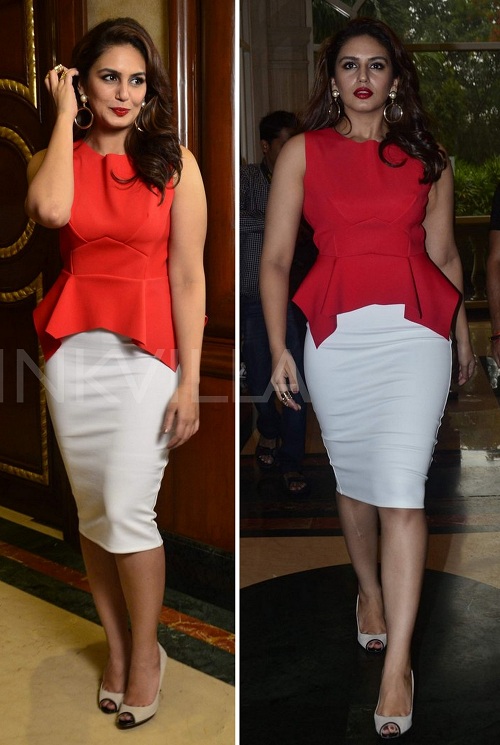 Image courtesy:  Pinterest.com
Huma look nice in this red asymmetrical peplum top or rather the edge is square-ish which goes well with the white fitted skirt. She looks slimmer in this outfit. The boat neck and without sleeved top is beautiful for girls with heavy upper body. The asymmetrical hemline of the top draws the attention towards her heavy upper body. The white pencil skirt goes extremely well with this beautiful red coral top. 
Also see: Ways to style a classic white shirt
4. Color Block Peplum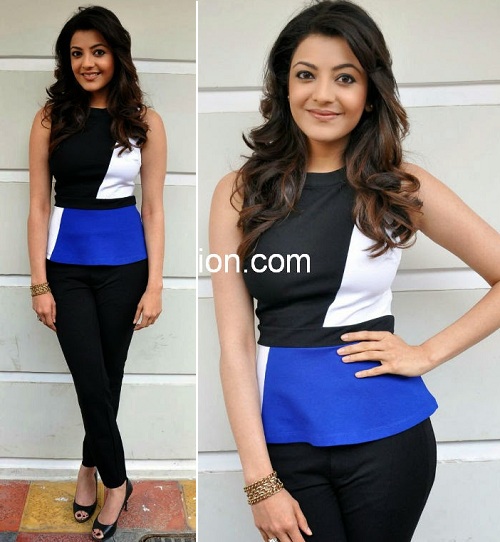 Image courtesy:  SouthIndiafashion.com
Kajal Aggarwal's Peplum tops has a subtle peplum which isn't too flare out but we loved the color blocking shown in the top. This is a very girly and girl next door kind of outfit. She paired this with black pants and looks great! The top is suitable for young girls and the color block element makes it stylish.
5. Printed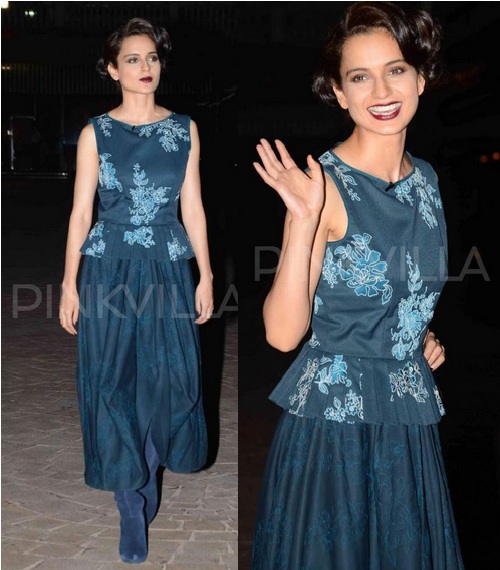 Image courtesy:  Pinkvilla.com
Kangana look fantastic in whatever she wears and here too she looks great with the floral printed navy blue peplum top. This is quite an edgy dress where she looks rebelious and very strong. The color too is a nice grey-ish blue which suits her complexion very well.
See: Styling Crop tops like Celebrities
6. Ruffled Peplum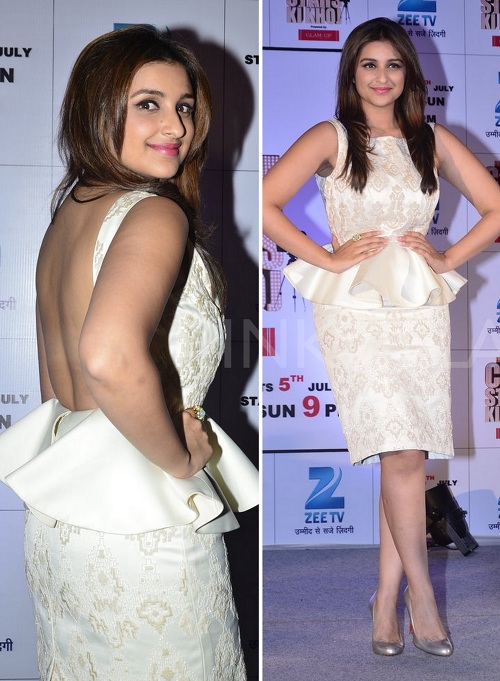 It's Parineeti again here peplum dress has a huge flared out peplum which look lovely but then it also reminds us of some decoration that is done on kid's parties. It gives a feminine and delicate appeal. Moreover, this will be great for proms and evening night outs, first time dates as well. The lacey white skirt looks good with this ivory white dress. 
7. Pee-ka-boo Peplum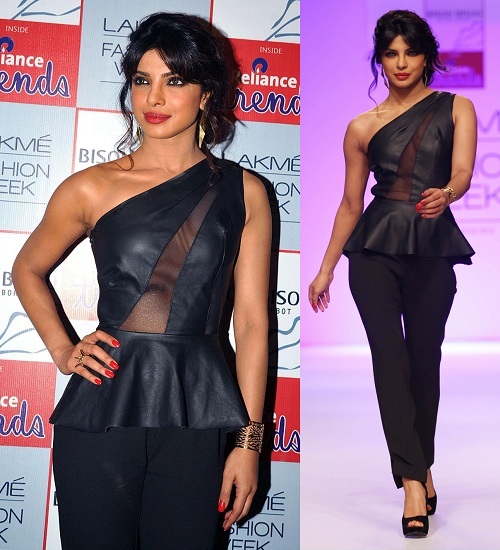 We are sure that you all have seen this outfit when Priyanka walked the ramp for Lakme fashion Week. Here, peplum top is styled with pants. It isn't a stunning piece but Priyanka surely look great. The peek-a-boo effect which exposes the center part which is of sheer fabric.The fabric is leather or leather like which gives her an edgy look, not feminine but a little more like a confident women.
So, do you like peplums and if yes, how do you like to pair them? If you are confused about the makeup with particular dress color, then do read these:
How to do Makeup for Green Dress