Philips Satinelle Epilator Review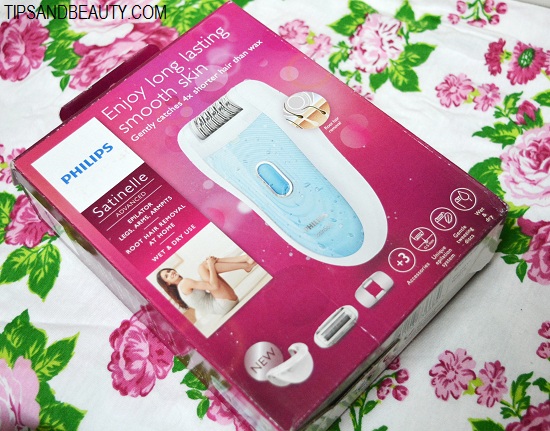 Hi girls!! Smooth and hair free skin is required my almost all the women. Unwanted hair can be a beauty concern for many girls like when we wear short dresses or would wear anything which shows a lot of skin. None of us would want unwanted hair showing on the body parts. Hair free skin also gives us confidence.  I will share this Philips satinelle epilator review today. I have used epilators in the past as well and this is the new epilator that I recently got. This Philips satinelle epilator is model no BRE210/00. Let's start the Philips satinelle epilator review friends.
Price: Philips satinelle epilator BRE 210/00 is for rupees 5995 though you can get discount on this epilator when you shop online. There are huge discounts on epilators on shopping sites.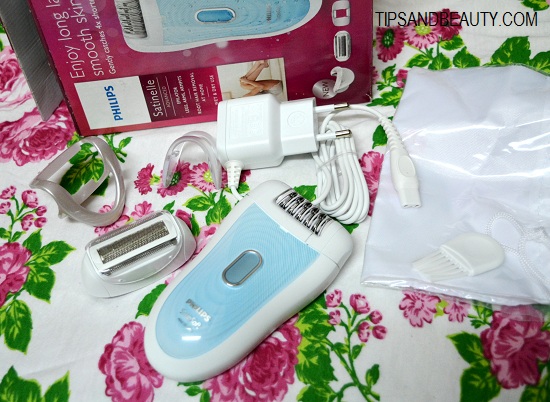 Product details: Philips Satinelle epilator is a portable and compact epilator that is really easy to travel with. The blue colored cute looking epilator is around 4 inches tall and 2.5 inches tall approximately. The design of this epilator is very handy that makes you hold this product easily and securely while you are using it. Philips Satinelle epilator can even pull up hair sands that are 4 times shorter than the hair strands that waxing can uproot. This means that this epilator is efficient enough to get rid of unwanted hair effectively. This can also be used to remove the unwanted hair on the face.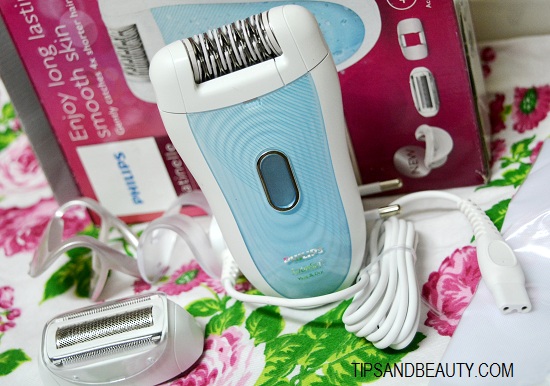 Experience with Philips Satinelle Epilator BRE210/00
The epilator has 2 main attachments i.e. one tweezer head had that will uproot the hair strands and the other is the shaver head in case you wish to get only the shaving like hair removal. Shaver head will cut the hair from the skin surface like the way shaving blades do so this shaver head attachment can also be used by your brother, husband as well. This Philips satinelle epilator also comes with a sensitive area cap which will give ease to work on the underarms, bikini line and other delicate body parts. It is a cordless epilator so that you can just charge it fully and then take that with you. The portable epilator gives you the freedom to use it anywhere. Read: Best Epilators in India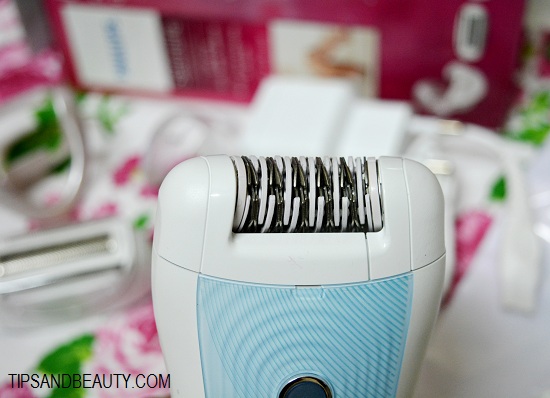 How to use Philips satinelle epilator: To use this epilator, I will first start the epilator by pressing the button on the front side. By the way this Philips satinelle epilator looks really cute and pretty. I will then keep the epilator perpendicular to the skin surface and would start tweezing in the opposite direction of the hair strands. This way the epilator would take off even the shortest hair and will give a smooth hair free skin. At first you may feel a little pain and redness but that will go away. Or if you wish you can apply some ice cubes on the skin so that the skin becomes little numb and then start tweezing. This works like the waxing as this too will uproot the hair strands from the roots so that the new hair strands grown around 3-4 weeks or so depending on your hair growth cycle. Read: Hair Removal creams in India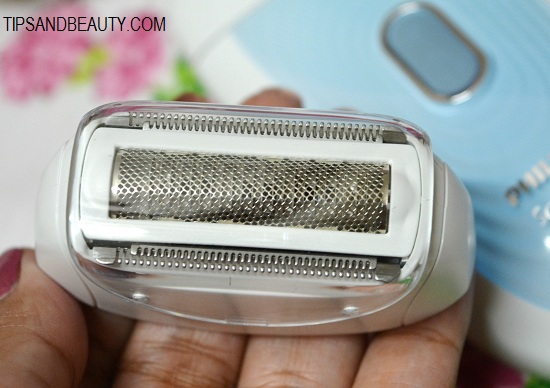 PROS of Philips Satinelle Epilator BRE210/00:
This is very easy to use and to carry in a pouch or bag while we travel.
This can be used in the bathroom safely as this is battery operated which you need to charge once.
The quality is good and sturdy and this comes with 2 years warranty.
The battery can be charged with charging cord like mobile phones so there is no need to change the batteries.
The tweezer head will get rid of the minutest of hair easily.
2 safety caps are given, out of which the sensitive area cap is very perfect to sue this product on the bikini line. I have not used this on the intimate parts but this would have been ideal if used with the cap.
There is a brush which comes along that helps to clean up the tweezer and razor head afterwards.
Extra attachment in the form of razor head is given that will give experience of shaving and will also smoothen the skin by cutting the surface level hair stands.
This is very easy and safe to be used at home.
This hair removal method is just like waxing but without shelling money in the parlour and experiencing the hot wax.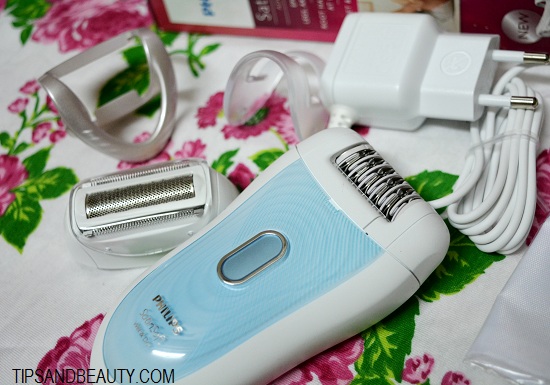 CONS of Philips Satinelle Epilator BRE210/00:
Pain is what makes epilators unpopular amongst the girls who have less pain threshold but honestly the pain is just for one time then there is no such pain. For that you can try the ice trick that I suggested above.
Take: Philips Satinelle Epilator is very easy to use and affordable epilator though Philips make some cheaper options as well where you will only get the tweezer head. If you can bear the pain then epilators are the best thing to get rid of the unwanted hairs within minutes.