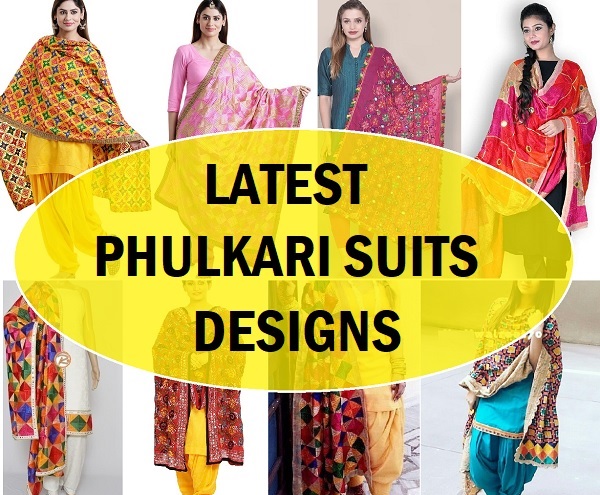 Phulkari suits and dupatta designs are quite popular in Punjab. Phulkari suits include a beautiful Phulkari Dupatta with generally a plain cotton or silk salwar kameez. Punjabi suits are also very much in demand especially in the Northern India. Punjabi suits looks really beautiful and the best thing about the Punjabi suits is the salwar and the shorter kurti. 
Trending designs of Phulkari Dupatta and Suits for Ladies 2022
So, here let's take a look at the latest designs of Phulkari suits and dupattas for women.
1. White cotton suit with multicolor Phulkari dupatta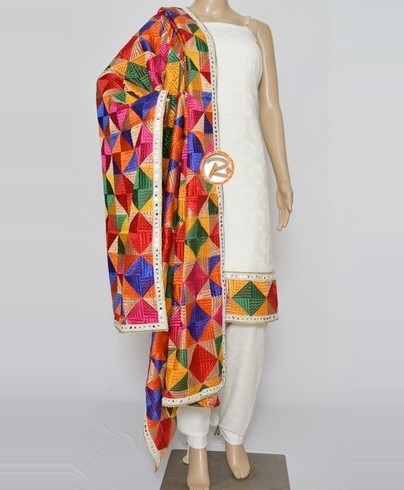 The gorgeous suit is made in a white cotton fabric. The border of Phulkari Dupatta is also added on the suit. It is a very beautiful so that women would love to wear for different occasions. The multi colors used in the Phulkari Dupatta makes it really pretty to look at. One can pair a beautiful Juti with this entire dress and it looks lovely.
2. Pink cotton Punjabi suit with Phulkari dupatta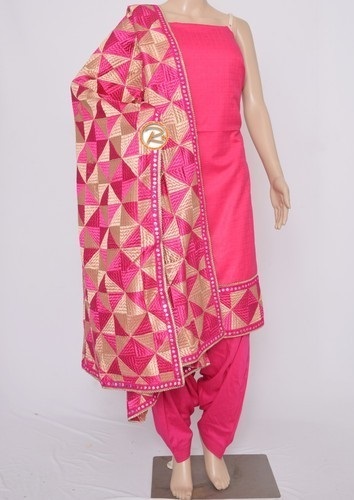 In this dress, a carrot pink colored cotton Phulkari suit is paired with a Phulkari Dupatta. The Dupatta has the shades of pink family only, which is why the dupatta goes really well with this. It's also a very party wear kind of suit that women would love to try.
3. Blue printed suit with Phulkari dupatta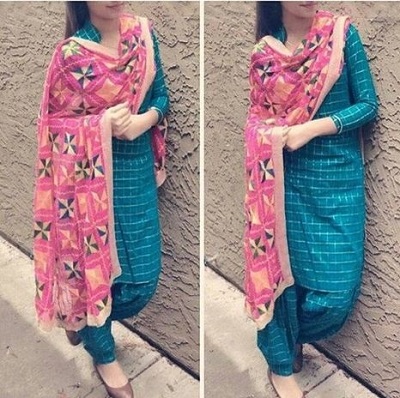 The gorgeous Phulkari thread work Dupatta is paired with a blue suit. The suit is printed and has full sleeves. It is suitable during the autumn and winter season as well. The salwar is made in a semi patiala pattern and looks really pretty.
4. Yellow cotton Punjabi suit with multicolor Phulkari dupatta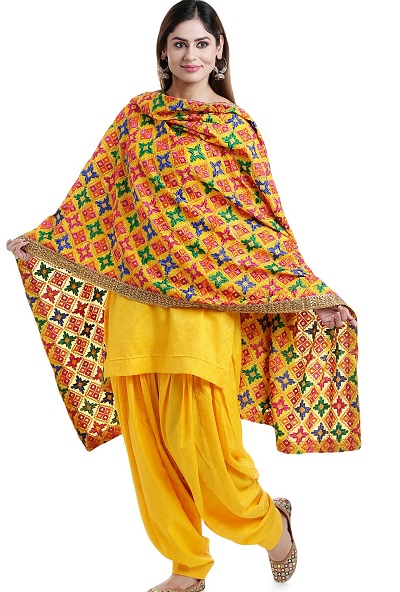 In this dress, the yellow color short kurti Punjabi suit is paired with a multi color Phulkari thread work Dupatta. The dupatta is really pretty and it has border in golden color as well. It is a very beautiful combination, since the suit is in yellow color and even the base of the Dupatta is yellow.
5. Sleeveless black Phulkari suit with orange dupatta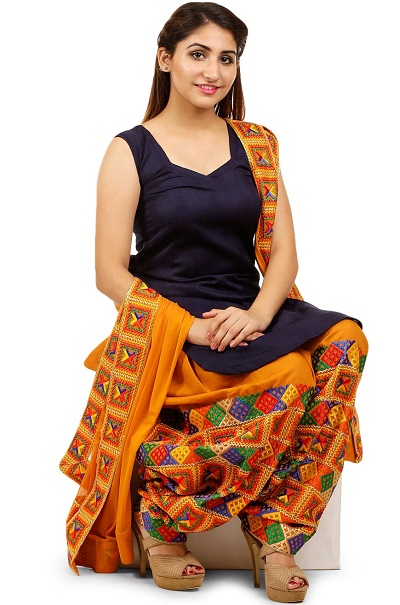 The gorgeous dress has a combination of black and orange. A sleeveless black suit is teamed up with an orange Phulkari salwar and orange dupatta. It is a very contrasting color combination that is eye catching and attractive.
6. Stylish pink cotton suit with Phulkari pink dupatta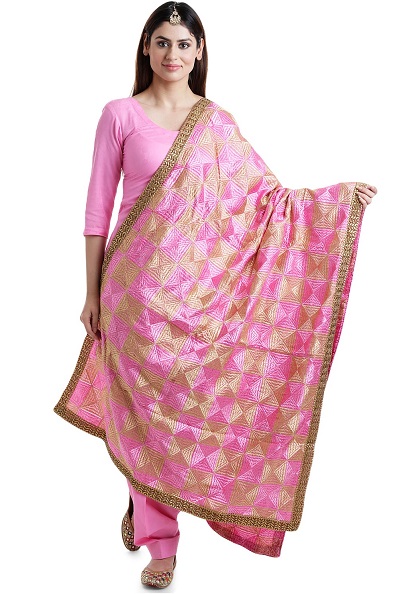 This is a really gorgeous that gives that festive kind of vibe. The kurti has 3/4 sleeves and is paired with the same colored semi patiala salwar. Even the Phulkari Dupatta has only the pink and gold color. It is a festive wear kind of Punjabi suit with Phulkari Dupatta which girls would love to try.
7. Black suit with pink Phulkari dupatta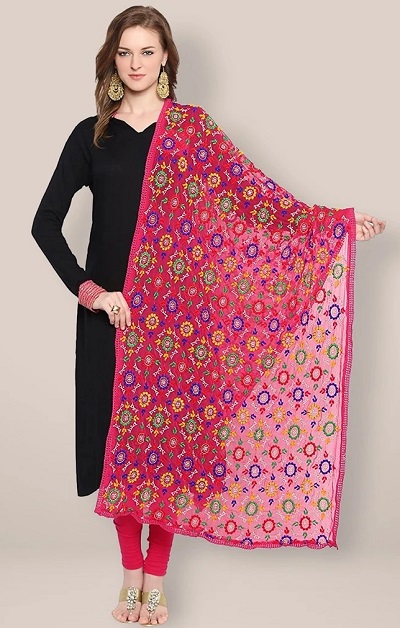 The black suit is not the regular Punjabi suit but it has a churidar salwar with long length kurta. The black kurta is paired with pink silver colored Phulkari Dupatta which goes really well with this.
8. Stylish blue and pink salwar suit with pink dupatta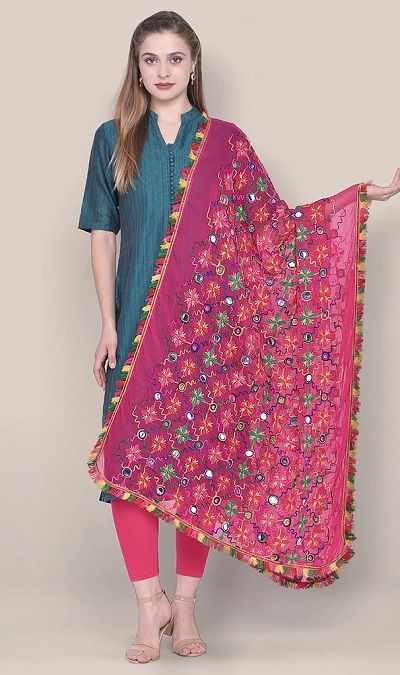 The beautiful and elegant combination of blue and pink is utilized to create this nice Punjabi dress. The blue colored kurta has with Phulkari work. It is also a good combination and women can go for it.
9. Black Punjabi suit with red Phulkari dupatta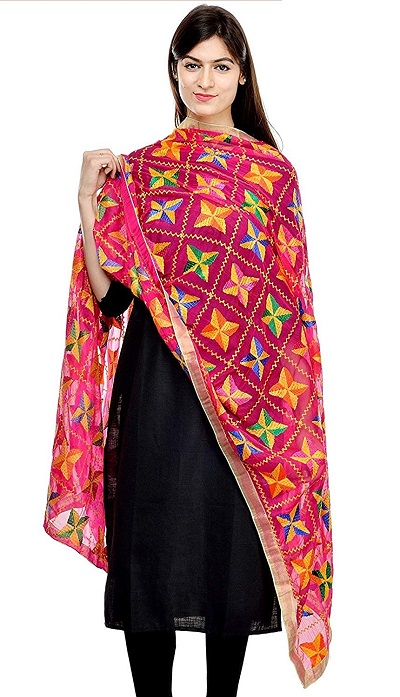 The black simple short Punjabi suits are very common and looks really pretty. Here, the black long length suit is paired with black leggings or chudidar pajami and the Phulkari Dupatta in pink color base is used. A golden border is also added on all the four sides. One can clearly see the beautiful multi coloured thread work of Phulkari on this dupatta.
10. Multi colored Phulkari Dupatta with black pant suit
The black cotton suit is not just a regular Punjabi style suit but, it has a longer kurta with a trouser. The Dupatta has shades of gold, pink and orange. The dupatta is really pretty and is suitable for this dress.
11. Yellow cotton Punjabi suit with multi colored Phulkari dupatta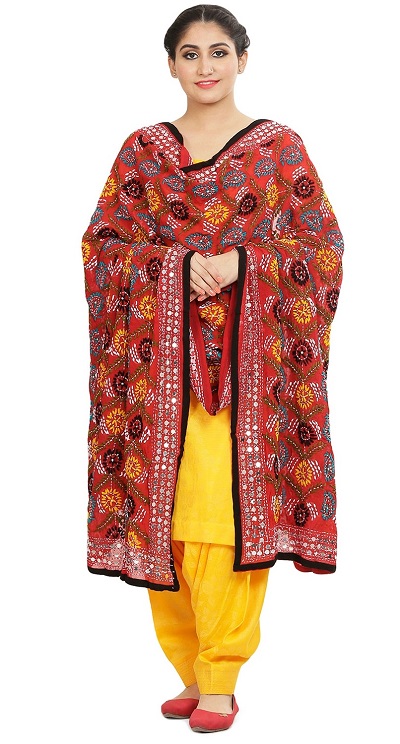 12. Gold suit with pink salwar and orange Phulkari dupatta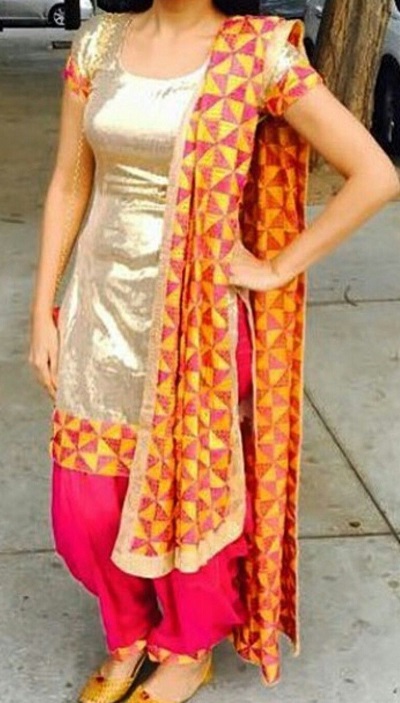 13. Pale yellow Punjabi short suit with multicolor Phulkari style dupatta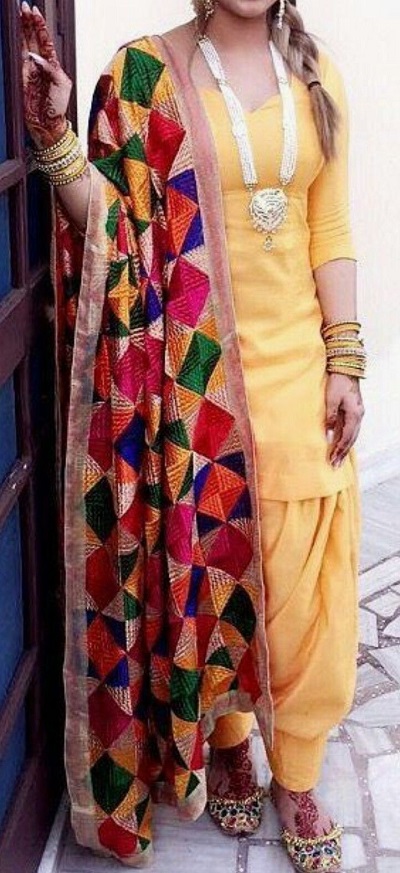 14. Anarkali suit with multicolor Phulkari dupatta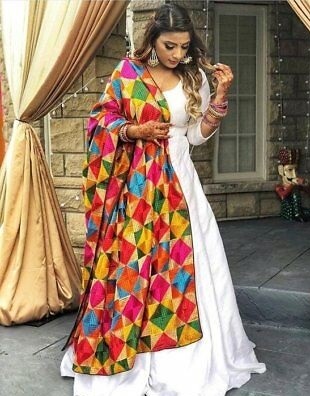 15. Partywear stylish Steel grey silk Punjabi Phulkari suit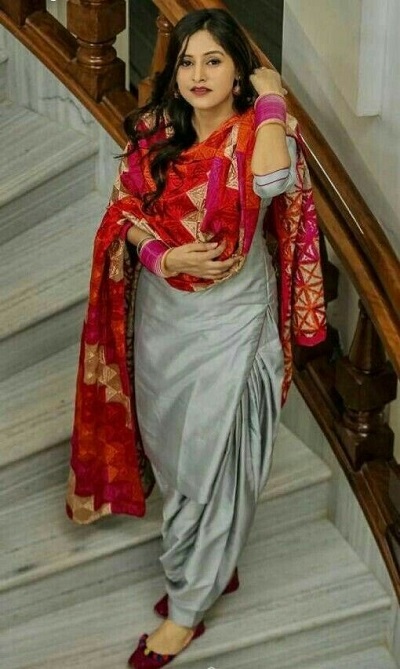 16. Party wear brocade blue suit with pink Phulkari dupatta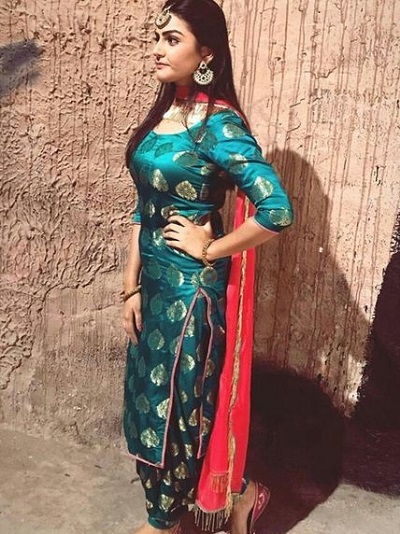 17. Orange Phulkari Dupatta with pink Silk Punjabi suit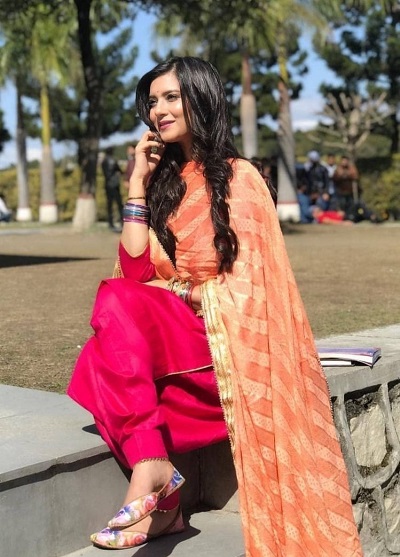 18. Stylish Gota work Phulkari suit with green short Punjabi style suit
19. Red multicolor Phulkari Dupatta with golden beige short suit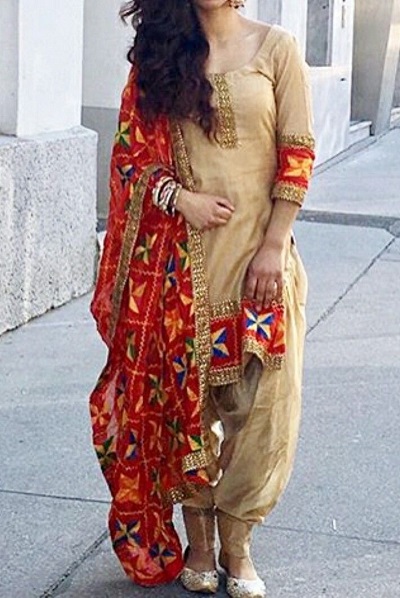 20. Cotton casual suit with Phulkari dupatta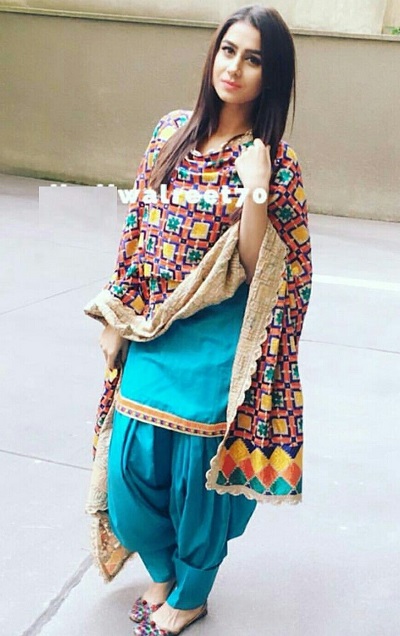 21. Blue cotton short suit with blue Phulkari style chiffon dupatta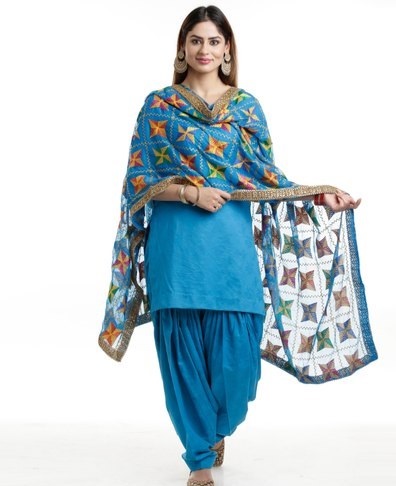 22. Orange Silk short Punjabi suit with heavy Phulkari dupatta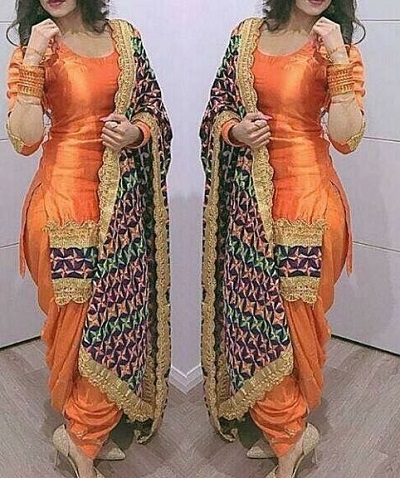 23. Cotton embroidered orange suit with orange Phulkari dupatta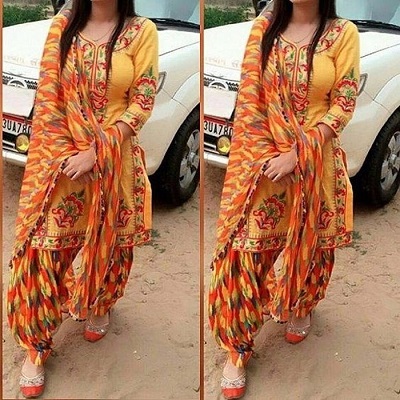 24. Phulkari Dupatta with short Punjabi suit
25. Yellow cotton suit with multi coloured party wear Phulkari dupatta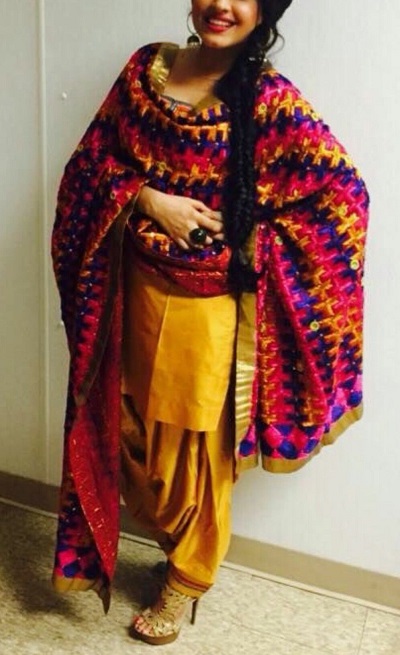 26. Simple Maroon art Silk suit with yellow Phulkari dupatta
27. Multicolor Phulkari Dupatta with black kameez and Golden salwar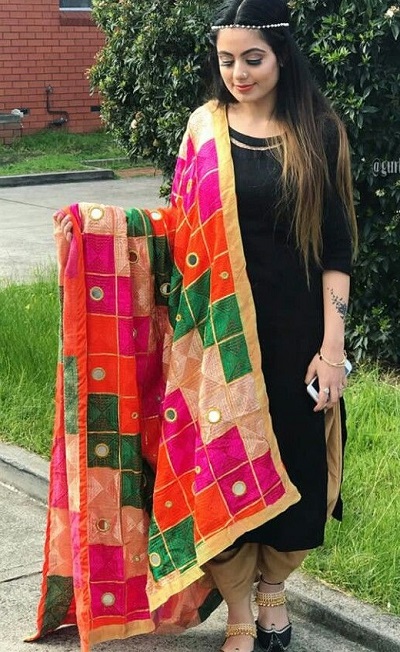 28. Stylish printed Phulkari Dupatta with Maroon salwar suit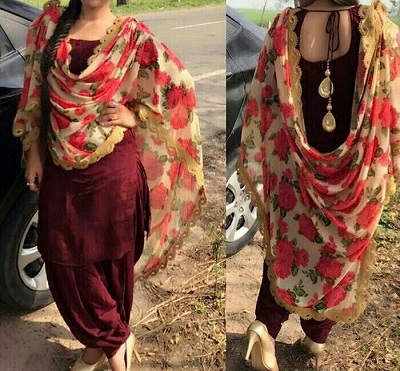 29. Yellow silk suit with yellow heavy Phulkari work dupatta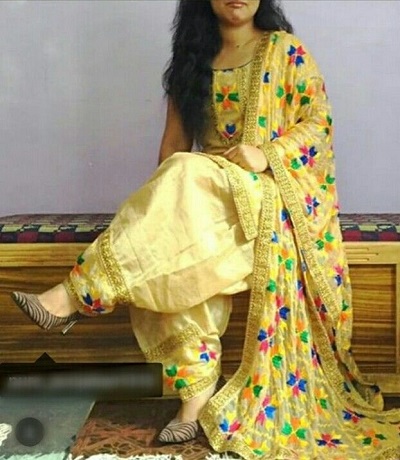 30. Phulkari work Dupatta with yellow Punjabi suit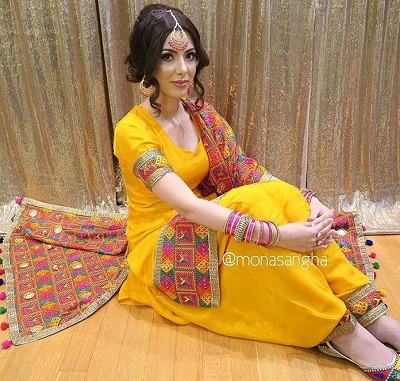 31. Black Phulkari Dupatta with yellow Punjabi style salwar kameez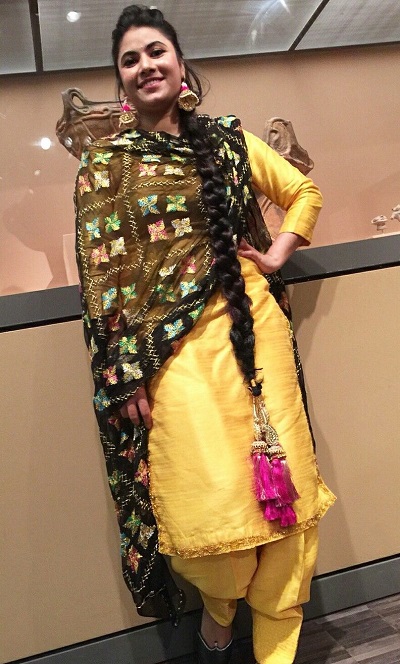 32. Orange Phulkari Dupatta with black suit and white salwar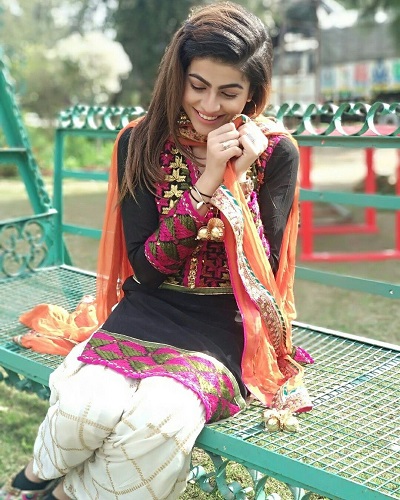 33. Multi colour black Phulkari Dupatta with Silk full sleeves yellow suit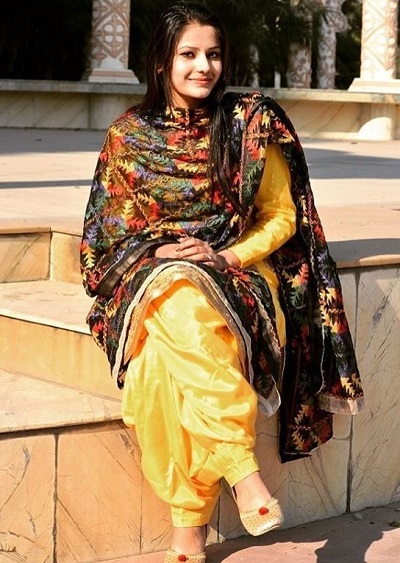 34. Stylish Orange embroidered suit with Phulkari salwar and dupatta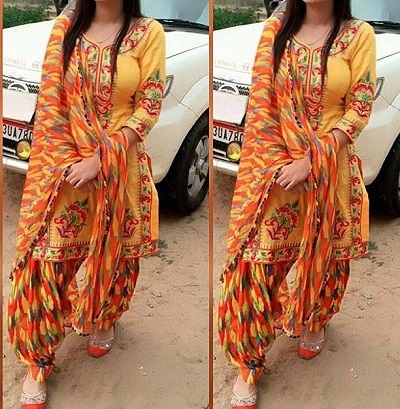 35. Heavy Dupatta with peach suit and green salwar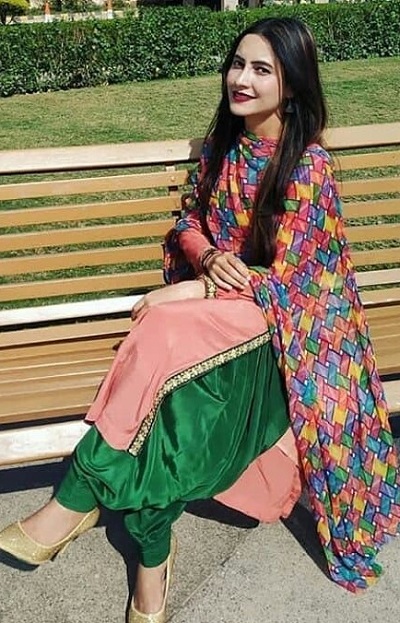 36. Partywear short yellow embroidered Punjabi suit for parties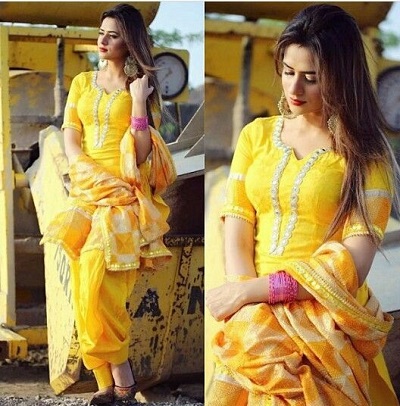 37. Simple cotton Phulkari salwar with yellow suit and green dupatta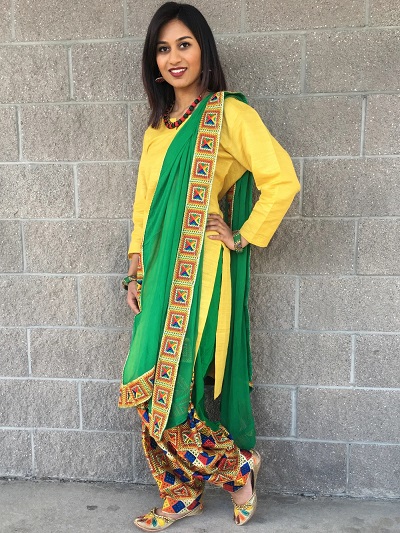 38. Very heavy green Phulkari Dupatta with simple plain black salwar suit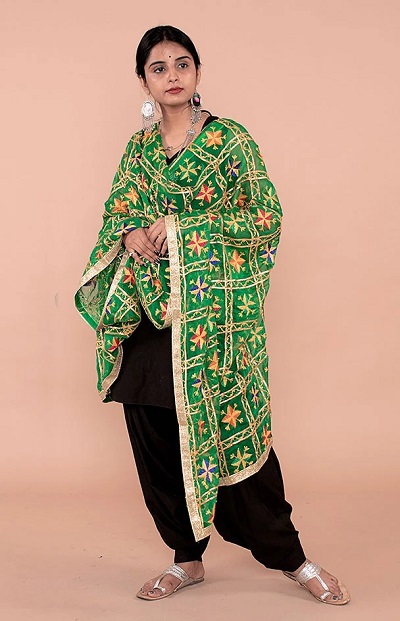 39. Stylish Phulkari Dupatta with Jacquard green salwar suit
40. Blue salwar suit with green Georgette Phulkari dupatta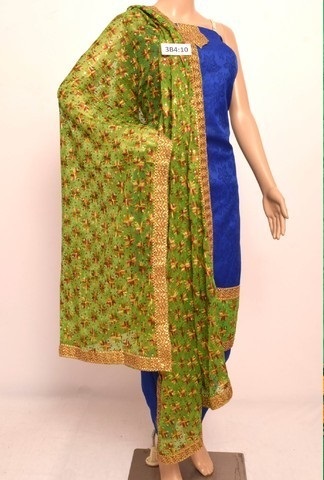 41. Yellow Phulkari Dupatta with blue cotton suit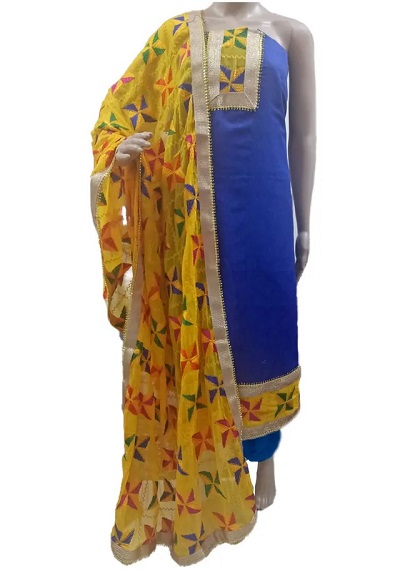 42. Golden suit with multicolor Phulkari chiffon dupatta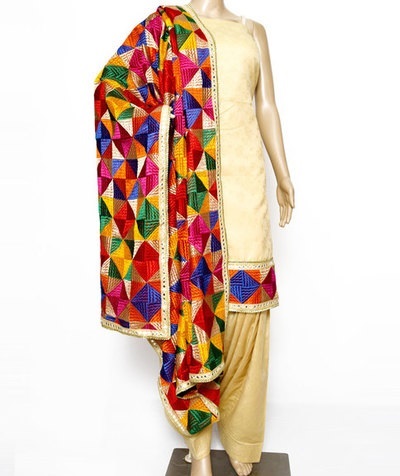 43. Silk Phulkari blue Dupatta with blue suit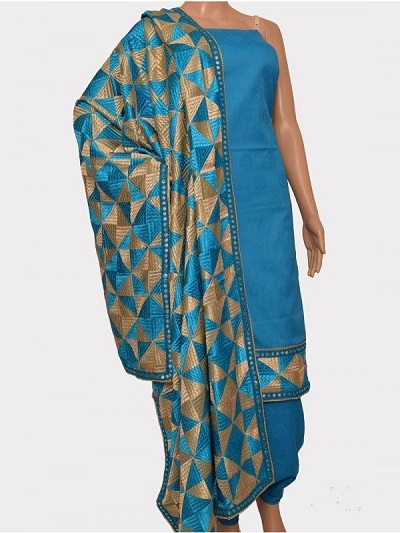 44. Green Georgette Phulkari Dupatta with white Palazzo suit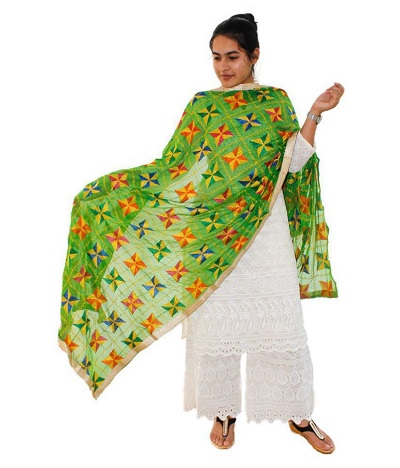 45. Green Phulkari work Dupatta paired with red suit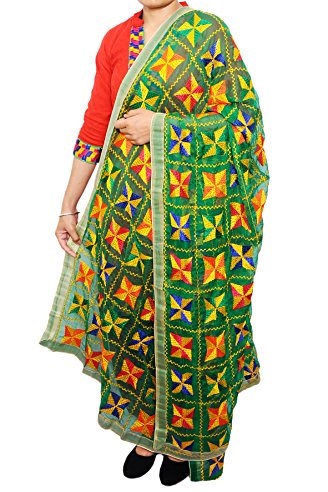 46. Dark green full sleeve suit with yellow red Phulkari dupatta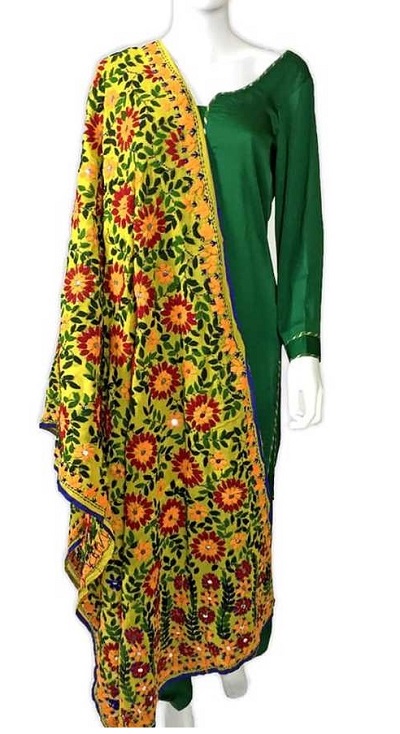 47. Beautiful simple yellow suit with yellow Phulkari mirror work dupatta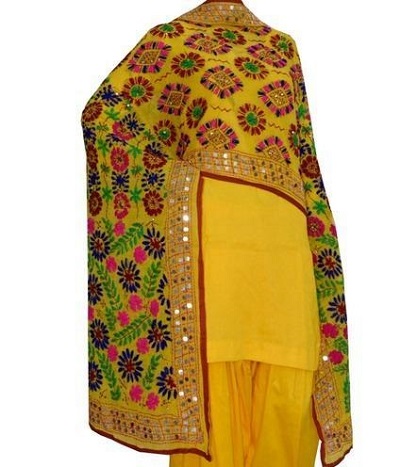 48. Black stylish Phulkari Dupatta for party with lightweight yellow suit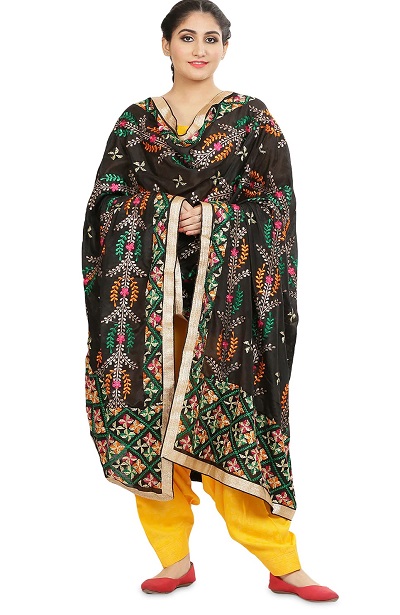 49. White simple cotton salwar suit with multicolor Phulkari dupatta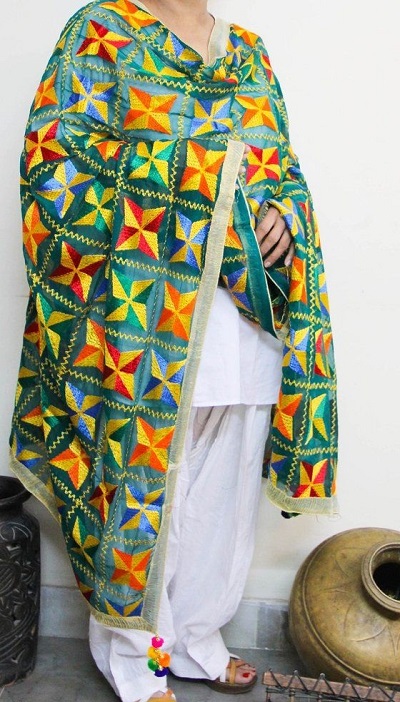 The beautiful Phulkari suits and dupattas available in the market and is in current trend. Phulkari dupattas and Suites are here to stay and they have been here since ages. The make a women look really feminine and Stylish. Right from where in the Phulkari suits and dupattas in your casual wear for day-to-day affairs to using them during parties and weddings is one of the best choices. These two patterns can be light weight with the light work and can be really heavy with the use of mirrors, Gota and even the multicolor Silk threads.