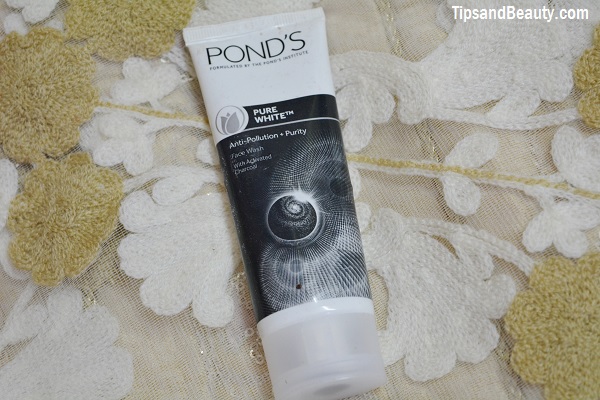 Pond's Pure White Anti Pollution + Purity Face Wash Review
I have this new Pond's face wash with me that I am going to review today. This is the Pond's Pure White Anti Pollution + Purity Face Wash. My relation with the Ponds products is very old. It way back in the times, when I was a kid and would use their cold creams. I use to purchase those tiny tubs of the cold cream and would keep that with me. Now these days, there are so many of Ponds products that we all have used at some point in our lives. Pond's Pure White Anti Pollution + Purity Face Wash as the name suggests, is a facial cleanser that is meant to cure the impacts of the pollution and damaging pollutants on the skin. The product has the activated charcoal in it. So, let me tell you what it does? And how to use this face wash in this review today.
Price of Pond's Pure White Anti Pollution + Purity Face Wash: 104 Rupees for 50g and 185 Rupees for 200g
What makes Activated Carbon Work?
Activated carbon has the capability to absorb excellently. The absorbing power is so much that it can absorb or lift the impurities that are there on the facial skin.
Product description: Pond's Pure White Anti Pollution + Purity Face Wash gives a radiant and glowing skin that is free of the impurities and pollutants.
Experience with Pond's Pure White Anti Pollution + Purity Face Wash
Packaging: Pond's Pure White Anti Pollution + Purity Face Wash comes in a regular Pond's tube packaging that has the grey and black colored lettering and graphics. The packaging of the face wash is really good as I can easily carry this around in my bag. Like there are times when you know you are going out may be on a trip, sports activity etc where you would have to cleanse the face so, this compact tube can be convenient to carry with you.
Texture and Color: This is deep cleansing facial foam which is of grayish color. The grayish color is like a mix of activated carbon along with the regular Pond's White Beauty face wash. The cleanser has a very thick texture which I feel is the trademark of the Pond's face washes. Except for the Pond's Pearl Gel Cleansing face wash which was of gel texture, all the ponds facial cleansers are thick and have the same texture. There might be some changes in the formula of different variants but the base is kept the same. Anyways, Ponds Face washes are more suitable for oily- combination skin.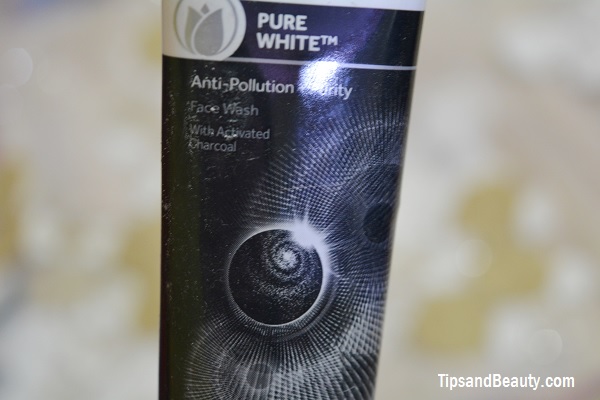 If you are thinking how does this smell? Then, the face wash has a decent smell. It is refreshing! It is mild! There are no bad chemically smell but just the pure herbal subtle aqua kind of scent that comes when you use this face wash.
How I use this Pond's Anti Pollution face wash
To use this face wash, I tie my hair off my face. Well, this has to be informed as when you are washing, scrubbing or doing facial then hair should be tied back especially when you have bangs, short hair etc. As the face wash is really thick and foaming in nature, you need only a tiny pea sized amount. Using more can dry the face. This is something that you do not want. When the skin gets dry it becomes rough and more sebum is produced, so do watch out.
After taking the blob of the face wash, I rub that between my palms and then I rub or massage the face wash on my face. The areas where I am more likely to secrete sebum like my nose, forehead, chin etc, I tend to rub or massage more. After massage ever part of my face, I wash the face. As the face wash is not a gel or satiny silky lather type, it gets washed off very easily. Yes, as soon as I splash the water on the face, it easily gets rinsed off.
Performance: After washing the face wash off my face, I feel that the cleanser has removed the dirt, dust, pollutants that our pile upon our skin during the day. Skin feels alive and fresh. Besides the matte look on the sin, it also makes the skin feel bright. Obviously, when all those darkening sebum are removed then, skin is bound to look brighter. There are no dry areas or stretchiness. But I still feel that this is not a product for dry skin. Skin appear clean and fresh hence it is a good everyday or daily use face wash for the teenagers with oily to combination skin.
Who will like this face wash?
The face wash is for the people who have oily skin and combination skin during summer time. In winters, too this is suitable or the men and women with oily skin but dry skinned people can try it in summers when the weather is hot and sebum is releasing like crazy.
Does it control blackheads and acne?
While the face wash is good for oily skin, it may not treat the acne and pimples on our skin but the way it cleanses, it can prevent the occurrence of acne. For blackheads cure, always, cleanse the face thoroughly and use a scrub once in a week, then blackheads can be certainly prevented.
Pros of Pond's Pure White Anti-Pollution + Purity Face Wash:
Price is affordable

Easily available in shops and online

Activated carbon helps lifting off the deep seated impurities

Skin looks clear and matte

Brightens the dull skin effectively

Smells good and subtle

No breakouts

Gives blackheads control

Foaming lathers that cleanse the dirty face well
Cons of Pond's Pure White Anti-Pollution + Purity Face Wash:
Not good for the dry skinned boys and girls

Skin looks matte and not glowing enough
Recommended For: Oily skin, Normal skim and combination skin
Pond's Pure White Anti Pollution + Purity Face Wash is an everyday use face wash for medium to oily skin combination. It lathers well and skin appears brighter and matte. It is not for the dry skin.