Printed kurtas for men are very summer specific clothing that looks stylish and trendy. You can wear your printed kurtas for different casual and formal events.  Styling a printed kurta is not very difficult as there are multiple ways in which you can wear kurtas with different bottom wears and footwear. Considering that we have compiled this collection of images of the latest floral print kurta for men available online and in shops near you. 
Latest Printed Kurta Pajama For Men: Collection and Images (2023)
Let's check these modern and stylish printed kurta designs for men.
1. Floral Style Printed Kurta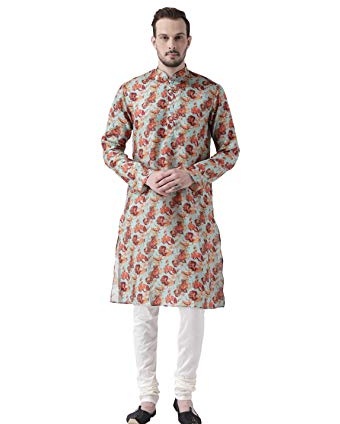 The floral pastel coloured kurta has dark brown floral print over it. When worn with white pajama or churidars, it's a perfect summer attire. The Mandarin collar design gives that extra dressiness to it. You can wear it for semi formal and casual events.
2. Printed Short Kurta For Men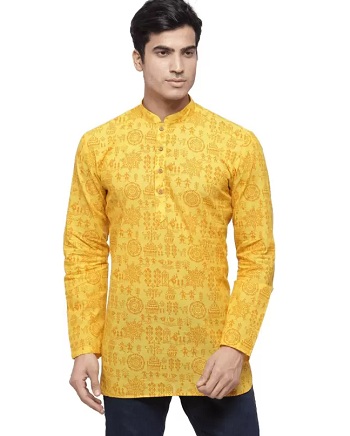 Short kurtas are for men, who would like to keep casual. In fact short kurta are perfect for men who are short in height. This bright yellow print all over it is alluring. It's perfect to be paired with your denims. It's very some appropriate clothing for men which can be worn for different casual and semi formal occasions. When paired with a nice pants and trousers it can become your formal event attire too. 
3. Black Floral Print Kurta For Man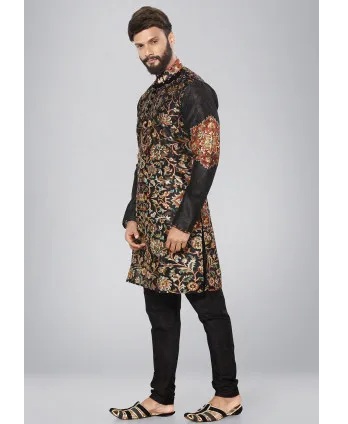 The all black kurta has floral prints on the front and on the sleeves. It gives a very formal kind of look. Paired with strap juties, this is one of the best looking Kurta that we have seen which is appropriate for weddings, rituals, Indian ceremonies and otherwise. You can also team it up with pants for formal events, you participate in.
4. Beige Printed Kurta Design
A beige coloured kurta with floral prints all over is a nice decision to your ethnic functions. If you like light colours, than this can be tried. The beauty of this garment is that the light kurta is paired with white bottom wear and sandals. You can wear it for festivals and ceremonies. In fact, it's also suitable for going at a friend's Eid party or small functions at your home.
5. Men's Printed Kurta Pajama Design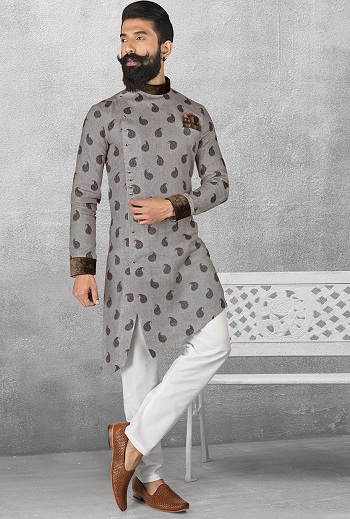 Having a very Indo-Western kind of design, this Paisley printed grey kurta is surely enticing and smart looking.  You can wear it with Oxford shoes, it will surely make you look stylish and well dressed. It can be paired with light and dark colours both. Side open asymmetric hemline kurtas are currently in trend and various Bollywood celebrities have supported them. The key highlight is the hemline and side open button placket. It has a royal Pathani style of feel and would be comfortable to wear all day long.
6. Punjabi Printed Kurta Pajama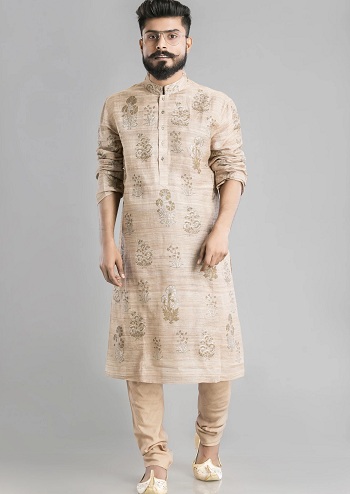 Punjabi style kurta make you look smart and dashing. It's a perfect kurta for Eid, Raksha Bandhan, Diwali and other such festivals. As the colour is not dark, it's a very soothing pastel color. The comfortable fabric makes it easier to wear this garment all day long. It's paired with the regular bottom wear and you can carry it with your regular peshawari and Kolhapuri style chappals.
7. Black Printed Kurta For Men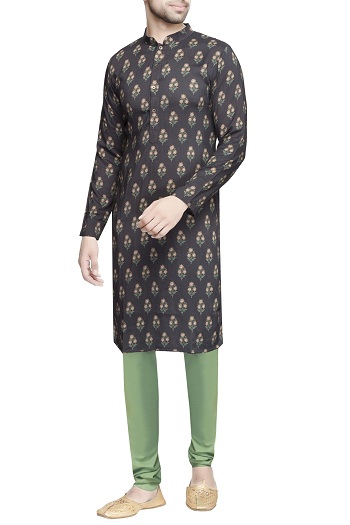 Nothing can beat the attractiveness of a black floral printed kurta. It's paired with pista green coloured churidar. This festive kind of attire has this look that you can wear it for ceremonies related to weddings and other type of parties.
8. White Printed Kurta
White with floral print is a very classy and elegant combination. The pink and orange flowers on a white base make the fabric appear more attractive and fresh for the summer season. It's a very unique and trendy pattern for men's kurta. The white printed kurta pajama can be worn for multiple small and grand occasions. You can style it as whatever you want when it comes to the bottom wear and footwear. Pairing it with the jacket is also one of the things that you can do with such a nicely printed kurta. A lot of male actors have worn such designs of stylish printed kurtas for Eid party and Bollywood parties.
9. Blue Printed Kurta for Men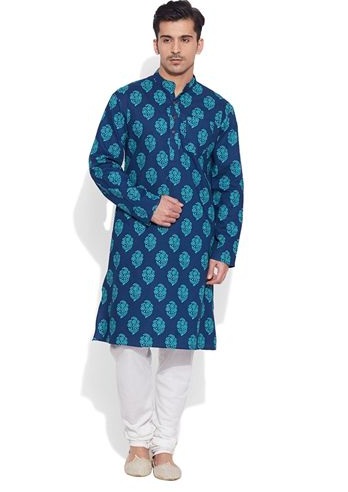 Printed kurtas are very comfortable to wear as compared with the Silk brocade and otherwise heavy fabrics. It's summer appropriate and suitable fabric for events in summers, where you have to mark your presence. It can also be paired with dark coloured like black bottom wear.
10. Flower Print Kurta For Men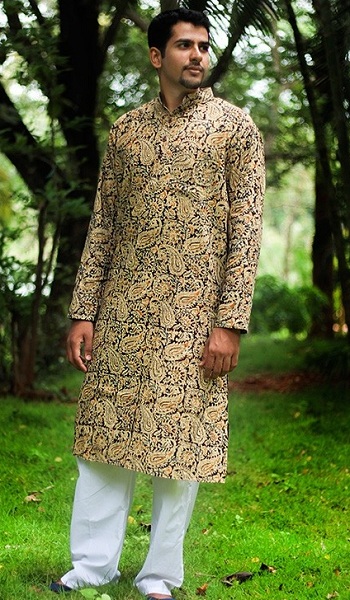 It's a unique design of kurta print for men. The long kurta is below the knees and can be paired with black and white pyjamas. It's for men who are tall and with fit body. The Paisley print gives it a nice casual feel.
11. Printed Jacket With Kurta Pajama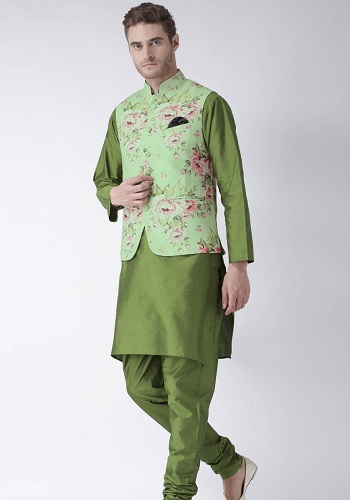 Floral print jacket is the highlight of this olive green kurta pajama. The churidar salwar is paired with a medium length kurta. The refreshing pista green coloured jacket has pink floral print over it. The entire attire is perfect for most of the ceremonies related to wedding rituals and even the festivals like Raksha Bandhan, Eid and many more.
12. Printed Designer Kurta For Men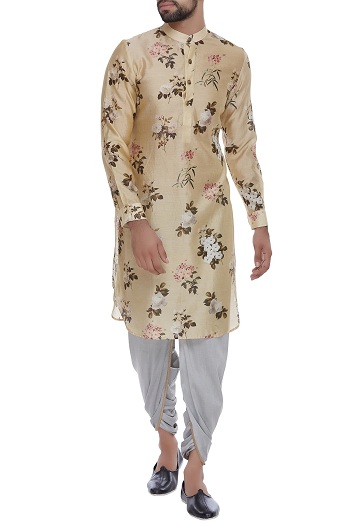 The digitally printed kurta has beautiful floral white print. The colour and the print is very unique refreshing and light. It's paired with dhoti pants however you can wear it with your jeans, trouser line in pants and pyjamas. Clearly this is one of the best floral printed kurta that we have seen considering the season comfort that it's going to give you.
13. White Kurta Pajama With Floral Jacket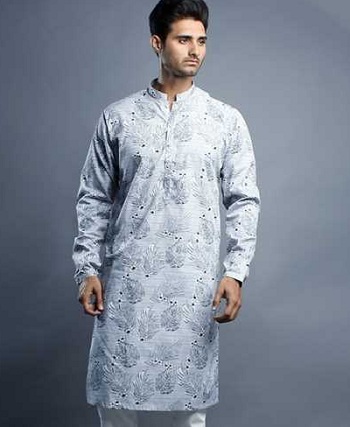 The feather print is all over this white kurta making it luxe. It's suitable for daytime affairs and events feel comfortable and Stylish. Pair this with your jeans and you are good to go for most of the daytime occasions. For ethnic festivals as well this would work.
14. Green Punjabi Printed Kurta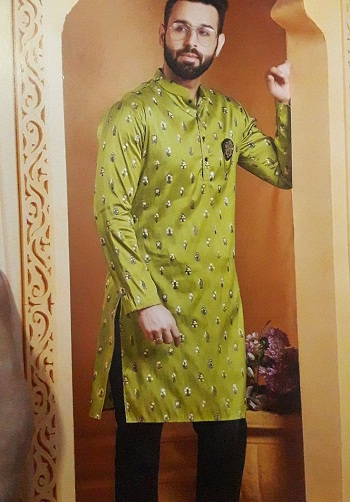 Refreshing green coloured printed kurta with white bottoms. It's a Punjabi and Pathani style of kurta which is very popular in Punjab and Pakistan. Men of all skin complexion shall try a colour like this as it does not make their complexion look dull and dark. It's a medium length kurta, therefore is suitable for men of different types of body stature.
15. Manyavar Printed Kurta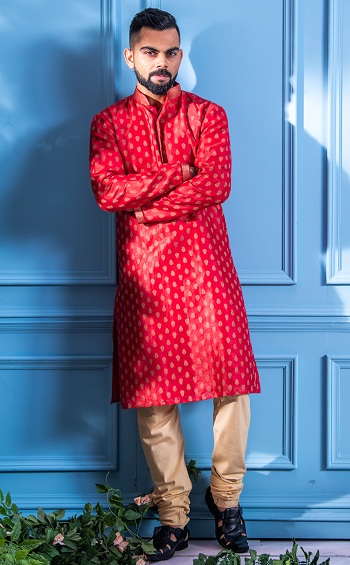 The printed red kurta is from Manyavar. The white print on the red base is looking smart. This is also a color that is meant for all skin complexions. Surely, wearing such an attire will fetch you loads of compliments.
16. Digital Print Kurta For Men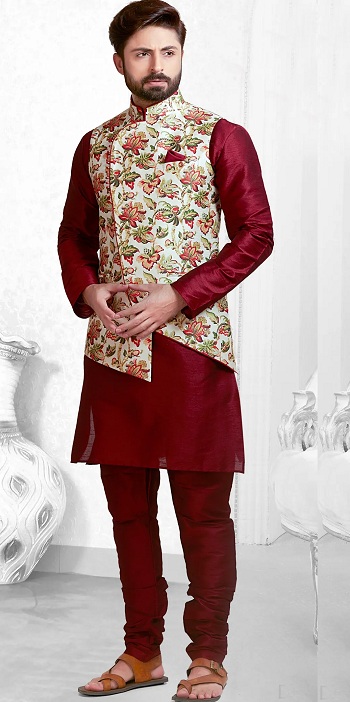 The waistcoat with floral print is the major highlights of this maroon kurta. It's a Maroon kurta with churidar salwar. However, the jacket is Indo Western and modern looking. It's paired with regular sandals but you can also pair it with juties for a friend's wedding or any wedding at your family. Even for your own roka or engagement ceremony this is really nice attire.
17. Kurta With Floral Jacket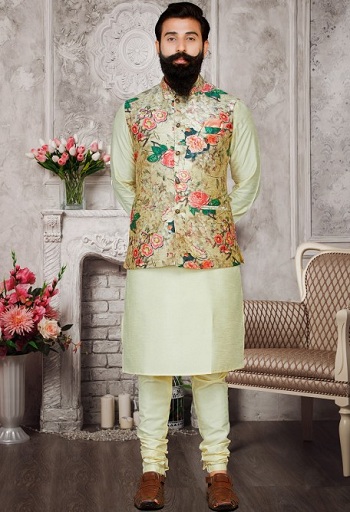 We are simply bowled over by this extremely royal and classy looking kurta attire for men. The light coloured long kurta churidar salwar is paired with floral printed. All friends are not just refreshing and soothing but also give you that extra fashion. They are easy to wear and carry. Even if you have darker skin complexion floral prints woodwork. It can be worn for summers, autumn and winters as well. 
18. Green Floral Kurta Print For Men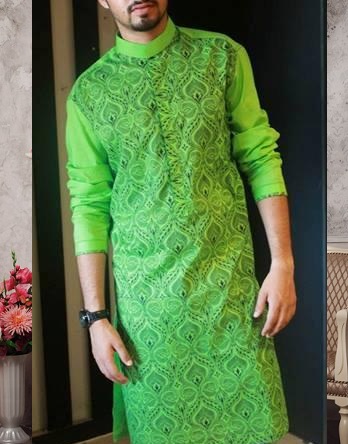 Floral prints on all over this green parrot green colour are for men who like to wear bold colours. It's perfect for Eid festival, Raksha Bandhan, Diwali, Janmashtami and other such events where you have to wear ethnic wear. 
19. White Printed Jacket For Kurta Pajama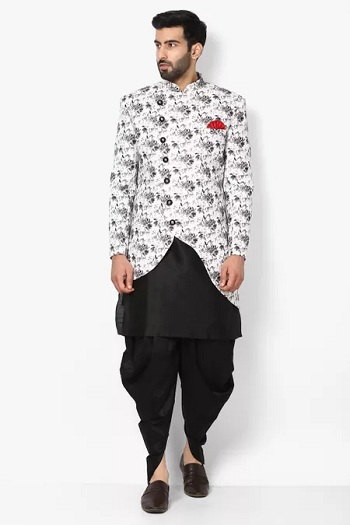 You can definitely pair your plain black kurta with full sleeves jacket like this. The beauty of this attire is the full sleeves white printed jacket. The side open placket with asymmetric hemline is definitely making this piece Indo-Western yet ethnic. It's very fashionable and something that will catch attention of most of the people. If you wear such an attire for a party, you are bound to get lots of compliments for your dressing sense.
20. Stylish Printed Nehru Jacket Kurta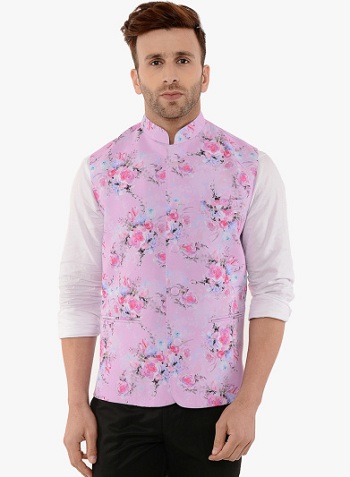 One must have a nice floral printed Nehru jacket in their wardrobe. The reason is that this piece of clothing can be added on top of your kurtas and regular T-shirts and otherwise. The nice soothing prints is making it a perfect add-on clothing for your multiple types of governments.
Hope you get enough of the inspirations from these styles of printed kurtas. One can pair the kurtas with jackets, shawls, scarves and other types of add-on accessories. However, make sure that the color and style of the kurta should be season appropriate. This means that during summer season, if you will wear heavy brocade, chanderi or Silk kurtas for the daytime, then it will not look appropriate however, the same can be worn for the night or evening time festivals and functions where you would definitely look fashionable. Men's printed kurta online is not difficult as they have lots of different varieties and prices.