Printed blouse designs looks interesting and quite refreshing when paired with the printed chiffon or even plain sarees. In fact, these days printed blouse patterns are also paired with the embellished and heavy sarees. So, let's have a look at the latest collection of printed saree blouse patterns that we have compiled in this article today.
Latest Printed Saree Blouse Designs
1. Refreshing Printed Saree Blouse Design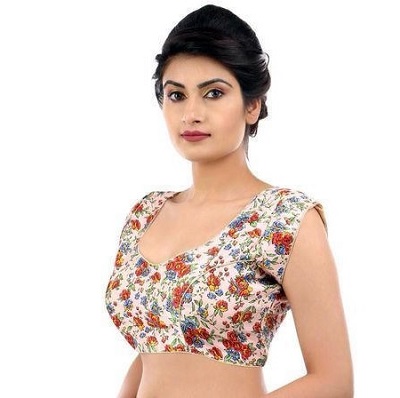 The beautiful white blouse has floral print all over. It's made with a regular princess cut pattern and is a readymade blouse piece with print. This can be used for regular wear or even for office meetings.
2. Ethnic Inspired Saree Blouse Design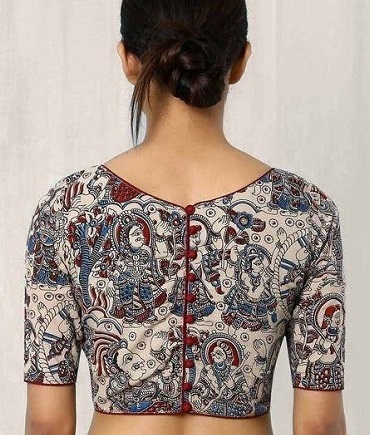 This blouse has back buttons in maroon color and a folklore inspired print all over the blouse with a cream base on which Navy blue print is there. It has medium length sleeves and scoop back neck line. The front boat shaped front neck line makes it really good for khadi sarees or cotton sarees.
3. Beige Printed Saree Blouse Pattern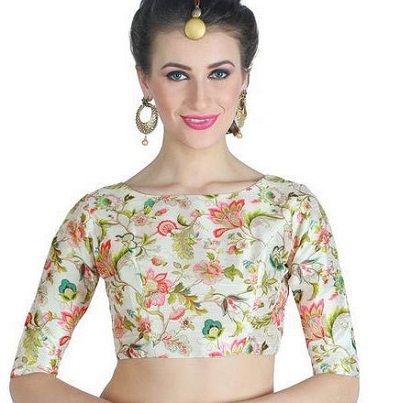 This spring appropriate beige cream printed blouse is a multi colored blouse with princess cut pattern. It has medium length sleeves and boat shaped neckline. It would be perfect when you pair this with a printed saree or simple chiffon saree.
4. Multicolored Saree Blouse Pattern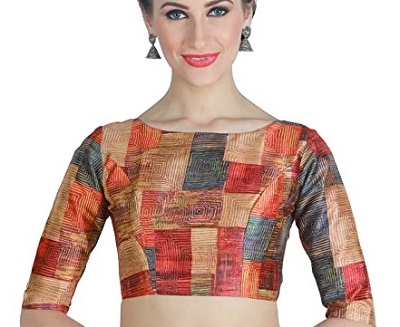 The pattern of this beautiful multicolored blouse is stunning and is quite eye catching. It is also a readymade blouse pattern. Such dark colored blouses look complimenting with lighter sarees for Autumn and spring.
5. Cotton Blue Printed Blouse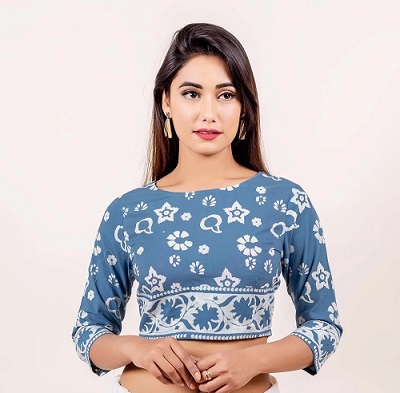 The medium look blouse has three fourth sleeves over which white print is given. This blouse is perfect for any simple saree or Khadi sarees.
6. Ethnic Printed Blouse for Festivals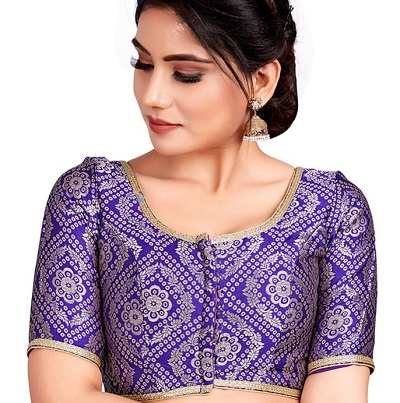 Talk about print, this ethnic print cotton blouse has front opening hooks. It looks good with the simple chiffon sarees, this is a blouse that you can wear for small get together or Puja ceremony.
7. Collared Saree Blouse for Festivals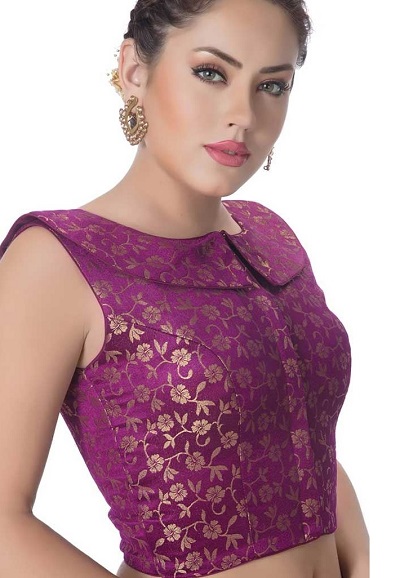 The printed blouse has front collar and is made with sleeveless pattern. It's given front hooks and has a long length as compared with the regular pattern of short blouses.
8. Bold Striped Saree Blouse Design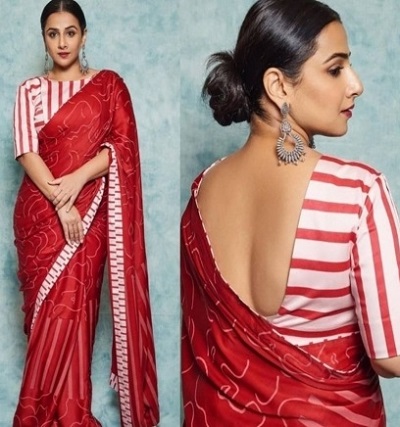 This beautiful blouse has backless pattern and the front part has bold stripes of red color on a white base that makes it really enticing. As it is paired with a printed saree, it appears even more suave.
9. Bell sleeves Printed Blouse Design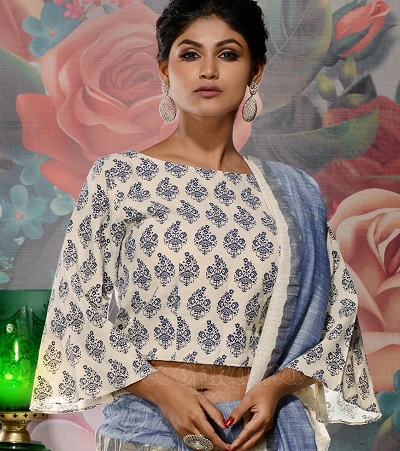 With Bell sleeves, the blouse is a beautiful thing that can also work up as a top. It has princess cut and bell sleeves pattern which is good for summer time.
10. Butterfly Sleeves Saree Blouse Pattern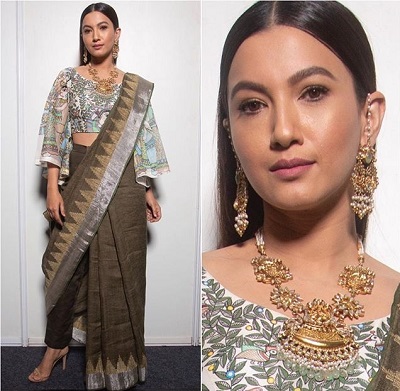 The butterfly sleeves in the sheer printed fabric is the highlight of this beautiful blouse piece. One can try pairing it up with the Khadi cotton sarees or even the tissue silk sarees.
11. Boat Shaped Printed Blouse with Sleeveless Pattern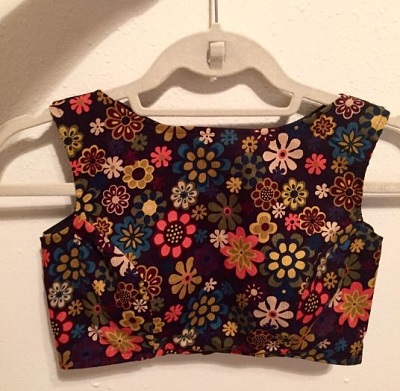 This printed blouse has a boat shape neckline and is sleeveless. This beautiful blouse has princess cut pattern. The best thing that you can do it is to pair it with dhoti pants or dhoti style sarees.
12. Fresh Printed Floral Blouse pattern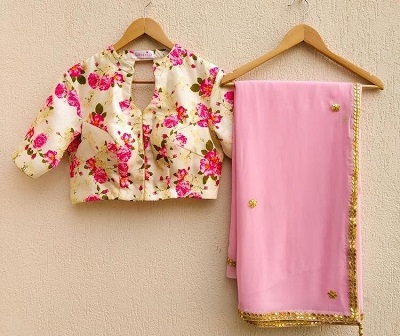 This blouse has high neckline with scoop in the middle part. The blouse has medium length sleeves and princess cut along with the print that's also seen. The best thing is the color as it is a light cream color base over which bold pink colored flowers are printed. This would be perfect to team up with a light pink chiffon saree with golden border with stones as shown in this image.
13. Flared sleeves Blouse pattern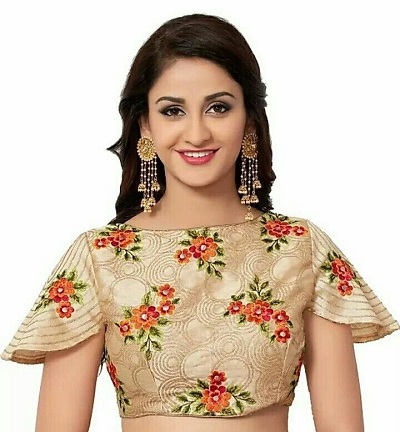 This printed blouse has a bit of embroidery with cap flared sleeves. The best thing is the boat shaped neckline that makes it quite comfortable and easy to wear even when you are not quite wearing sleeveless for deep neckline blouses.
14. Cotton Printed Blouse Design for Daily Wear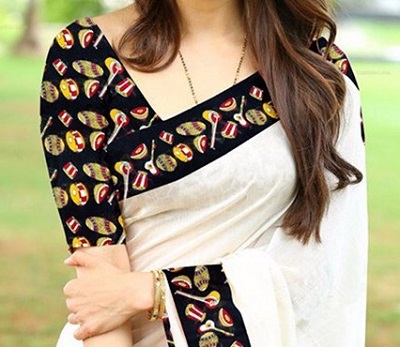 The Cotton blouse with print is a beautiful thing that is paired with a white saree with the similar border. One can never look less classy while dressed up in such an attire.
15. Side Keyhole Design Saree Blouse Pattern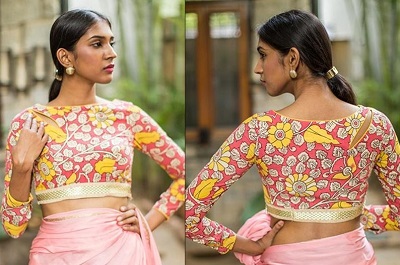 The beauty of this cotton printed blouse is the side keyhole neckline pattern as shown on one of the shoulders in front and back part. Pair it up with any cotton or printed saree and you are good to go.
16. Printed Peach Colored Full Sleeves Blouse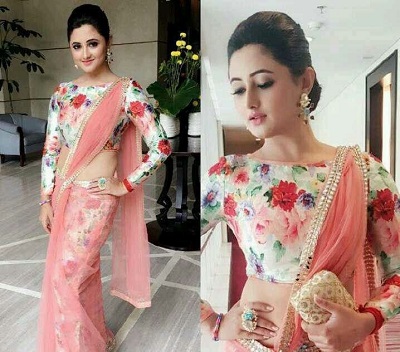 The peach colored transparent chiffon net saree is paired with a full sleeves floral printed blouse. This blouse is given boat shaped neckline and full sleeves.
17. White Saree With Dark Floral Printed Blouse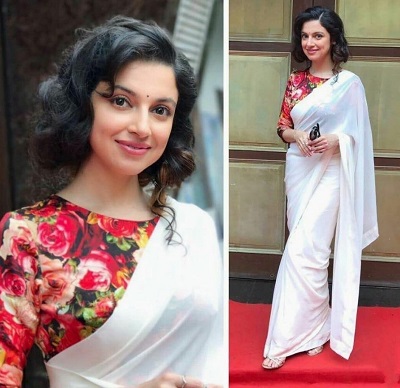 Boat Shaped neckline is quite a hot favourite for such printed blouses. Very deep and dark colors used over a black base. It's base and the blouse is so colorful then the sari is kept white. The pristine white saree looks amazing with that bold and colorful blouse.
18. High Neck Saree Blouse For Summers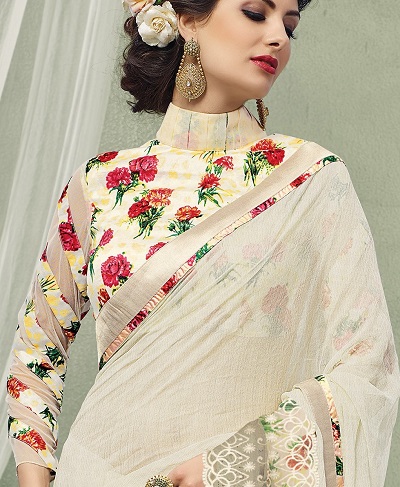 High neck printed blouse that has beautiful sleeves that has combination of sheer chiffon fabric used. The same fabric is given for the saree. The blouse material is also seen to be used as a border for the saree.
19. Stylish saree blouse combination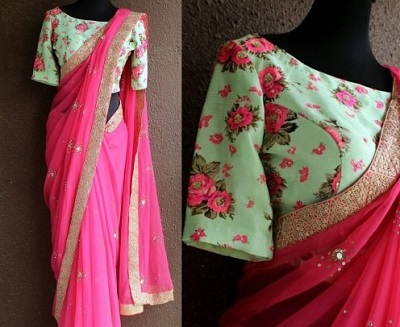 This idea is really amazing to pair a medium pink saree with a mint green printed blouse with on it. Truly it's a mesmerizing and so refreshingly beautiful combination that it would never make you go unnoticed in any party.
20. Classy combination of Saree Blouse Design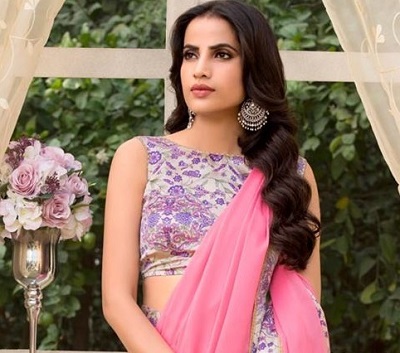 Printed blouse with cream base and lavender color flower is yet another classy thing that a lot of women can go for.
Out of this beautiful printed saree blouse design compilation you will surely find the one that suits your preference the best.