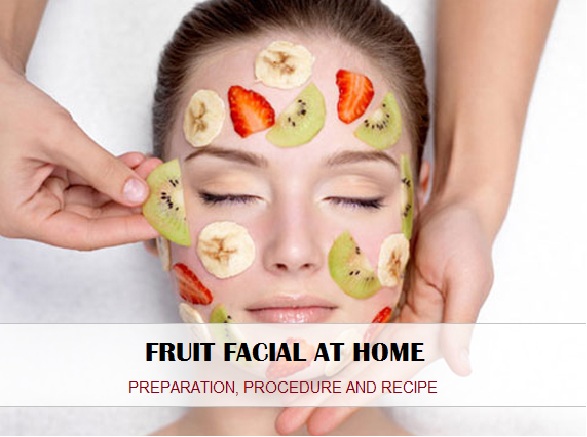 Fruit facial at home Procedure, Recipe and Preparation
Facials are excellent way to improve the blood circulation, tighten the sagging skin and to make the skin glow. Whenever you have to go for a family function or a party, the first thing you think of is to go for a fruit facial. Home facial are very good way to save money and time. Salon facial can be quite expensive so, are you thinking how do to a fruit facial at home with some very easily available products. Fruits are enriched with Alpha Hydroxy Acids, Malic acids, Glycolic acids and vitamin, minerals etc which makes the skin nourished and more polished with these fruit enzymes. Fruits also have natural bleaching properties and makes skin fairer. Here we will share the procedure to do fruit facial yourself. Also read: Papya facial at home

Ingredients Needed for Fruit Facial At Home:
Banana

Strawberry

Orange

Papaya

Or Any of the three seasonal fruits that you can find.
Procedure for Homemade Fruit Facial
Cleaning of the skin: Start with the clean skin. Wash the face with a cleanser to remove any impurities, dust and dirt off the face. A clean surface is important to do any facial.
Scrubbing: Scrub the face to remove the dead skin cells so that the fruit juices, enzymes and vitamins can penetrate the skin better. Use a ready made apricot walnut scrub or just some sugar and honey mixture, if you want to use all the natural stuff for the facial.
Face Massage: Mash all the fruits like banana, apple, papaya, strawberries or any three fruits that you can find to make a pulpy puree. You can use the blender to make the puree of all the fruits. Use this fruit massage pulp to massage the face. Massage with gentle circular exerting light pressure on the face. Light pressure boosts the circulation and relives the facial stress. Massage relaxes the skin and skin glows. The vitamins and enzymes soak in the face to lighten the skin, eliminate dark spots for a spotless skin.
Fruit face pack: Face pack or mask application is the last step of any facial. After the massaging, it is crucial to apply a face pack which further tones and tightens the skin. Make a face pack with the fruit pulp that you have used to massage the face, Mix some multani mitti powder in it to make a pack. Apply the pack evenly on the face. Let it dry for 20 minutes and wash with normal water. Pat dry the skin.
Your fruit facial is completed.
Benefits of Doing Fruit Facial:
Fruits are high on enzymes which make the skin lighter and reduces the dark spots.
The malic acids, glycolic acids in the fruits also exfoliates the skin mildly giving a mild chemical peeling to expose a new and smoother looking radiant and beaming skin
Massaging with the fruits in fruit facial gives the skin glow instantly and revives the dull tired looking face.
Fruit facial is good for mature skin since the acids and enzymes give chemical peeling benefits at home.
Massaging also tightens the sagging loose skin naturally.