Purple is not a very new color when it comes to Indian ethnic lehengas. Purple is a color that signifies the grace and beauty. In this article, we've compiled the list of beautiful images of purple Lehenga Choli designs.
The beauty about a purple lehenga is that it compliments all the skin colors. It doesn't matter, if you have very fair skin tone or dark skin women. This color would surely compliment you. Take a look at different styles of purple lehenga and different shades of purple color that you can also take some inspiration from.
Latest Purple Lehenga Choli Designs
1. Dark Purple lehenga choli pattern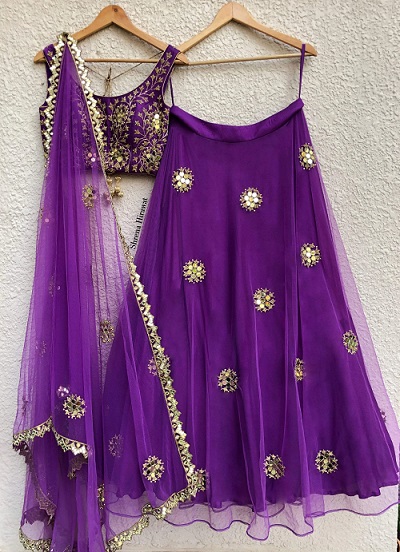 This is a gorgeous net purple lehenga with beautiful sequin buties. The dupatta is also made in the same fabric. The brocade Silk choli or blouse is made in a sleeveless strappy pattern.  The choli has full red gold thread embroidery all over.
2. Cream Dupatta and Purple Lehenga Design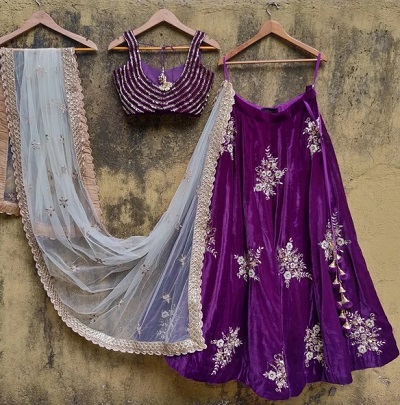 It's made in a silk fabric with gold thread embroidery patches. It has been given strappy blouse with a cream colored dupatta. The dupatta has golden border all across and it is a beautiful combination.
3. Box Pleated Purple Lehenga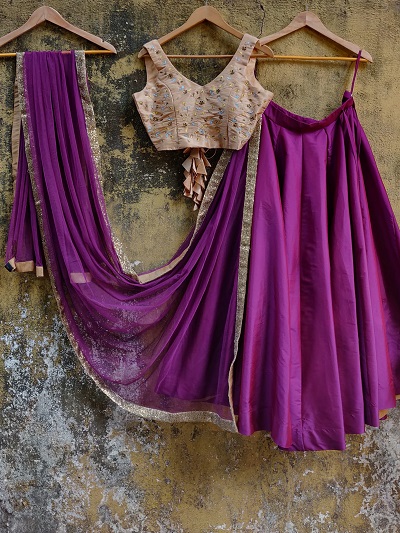 This gorgeous silk lehenga is made in a box pleated style. The silk lehenga is really plain and so does the dupatta. This design is made in Nazneen chiffon fabric and the beauty and highlight of this entire dress is princess cut pattern. It is really smart and good looking blouse.
4. Heavily Embroidered Lehenga for Weddings
The stylish lehenga choli is heavy embroidered and the beautiful light purple or lavender color lehenga is a sure shot winner. The lehenga is made in an A line cut with embroidered net fabric with a satin fabric used as a lining. This feeling is sure a party perfect dress for anyone.
5. Velvet Lehenga Choli Designs In Purple Color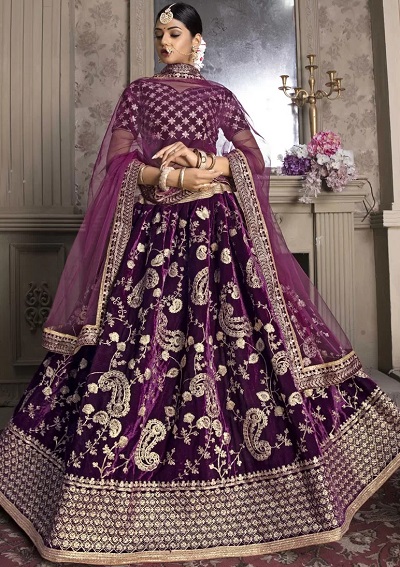 The velvet lehenga has rich embroidery work and abroad border at the bottom. The purple net dupatta is given along with this and a blouse with heavy embroidery is also paired.
6.  Light Grey Purple Lehenga For Parties
The light grey color lehenga has a medium length sleeves. This beautiful blouse is heavy embroidered and so does the lehenga. It's given a plain and light a dupatta. Definitely, it's a wedding appropriate lehenga that women can go for.
7. Party Wear Purple Lehenga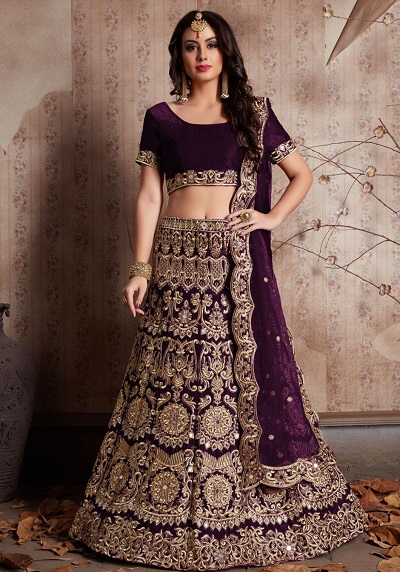 The very deep dark purple color lehenga in velvet fabric is a beautiful design and pattern. It's made in a fish cut pattern with a beautiful dupatta  in the same color. The overall same color is used for the entire dress year. Such colors look really good on fair skin complexion.
8. Layered Silk Purple Lehenga Pattern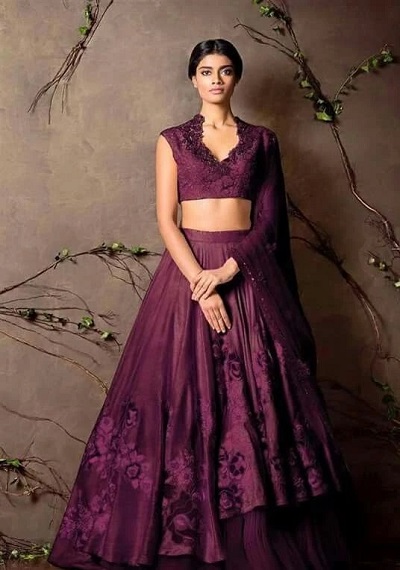 The beautiful lehenga is made in a silk fabric with layered pattern. Even the lace blouse is also made in a high neck pattern and very short sleeves. Light-weight and very simple dupatta is given along with this dress. It is not like the regular lehenga choli dress is but it's more like a dress that is perfect for someone who would like to look different from the rest.
9. Simple Silk Purple gold dress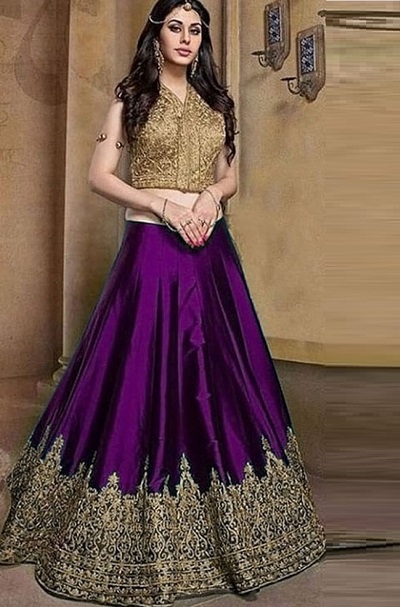 This amazingly pretty dress is made in silk fabric with heavy gold embroidery work in the bottom. It is paired with a gold dupatta.
10. Silk Embroidered Lehenga For Festivals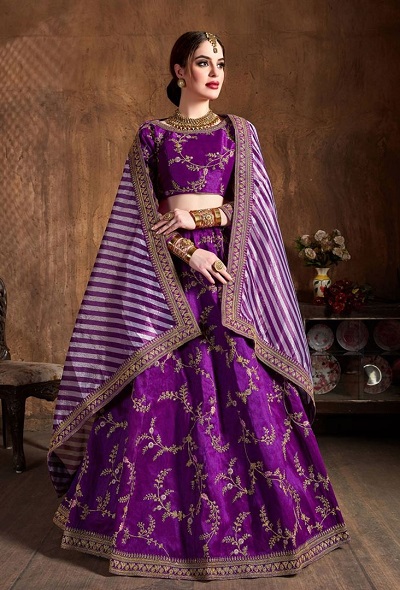 This silk embroidered lehenga and choli are made in the same fabric, while the dupatta is paired with the lehariya print dupatta. This dress is filled with heavy gold jewellery and it actually compliments the look.
11. Peach and purple lehenga choli designs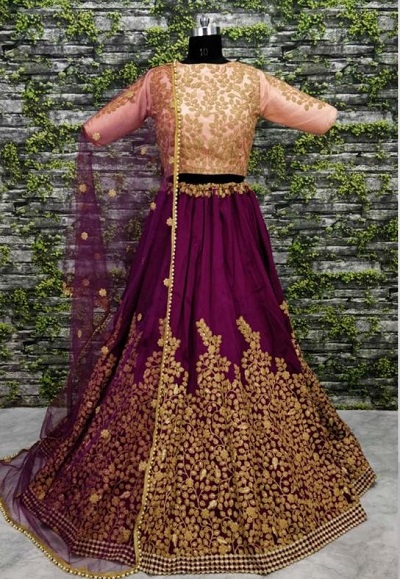 Purple and peach with gold embroidery work is also a nice combination that women can go for a. Like shown in this image. A beautiful gold and peach choli is complemented with a dark purple lehenga with beautiful Golden delicate embroidery work.
12. Gold and Silver Thread work Designs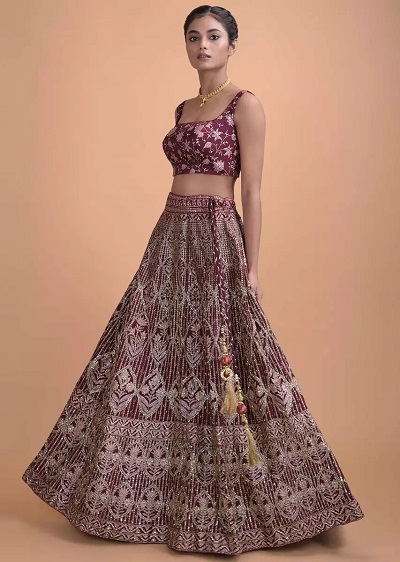 Gold and silver thread work is very evident in this gold and purple color lehenga. The full flared lehenga has the beautiful embroidery that is taking the overall look to next level and the choli is yet another thing that is pretty.
13. Long Blouse Design with Purple Lehenga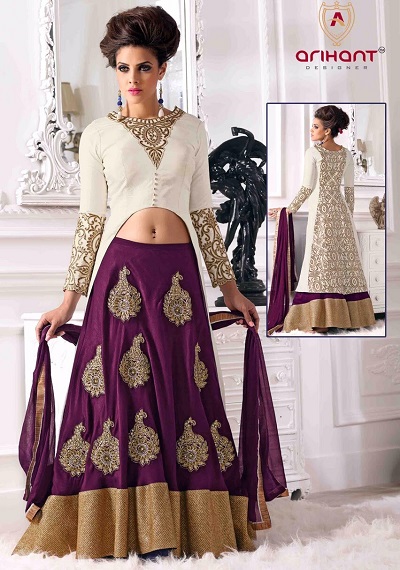 This beautifully made dress is a lehenga with long blouse dress, where blouse has a deep cut that is above the waist. This style is also very popular and it more like a long blouse pattern.
14. Purple Velvet Lehenga Design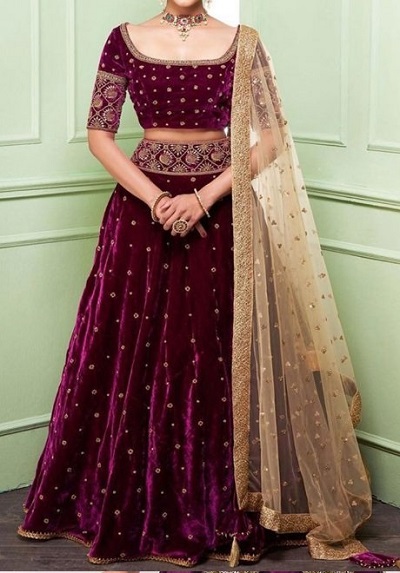 It's a color that looks very good for Indian girl. The velvet lehenga is very simplistic in the embroidery work, but it looks really royal and gorgeous. The dupatta is the thing that is complimenting the entire look and taking away all the attention. The light dupatta is blending the look together.
15. Thread Embroidey Designer lehenga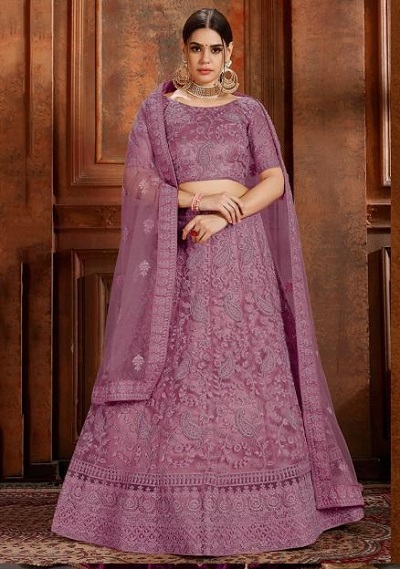 Thread work in the same color, as that of the fabric this is a delicate lead an embroidery work and detailing all this net lehenga. The choli is equally started with thread work.
16. Sequin Work Trendy Lehenga Design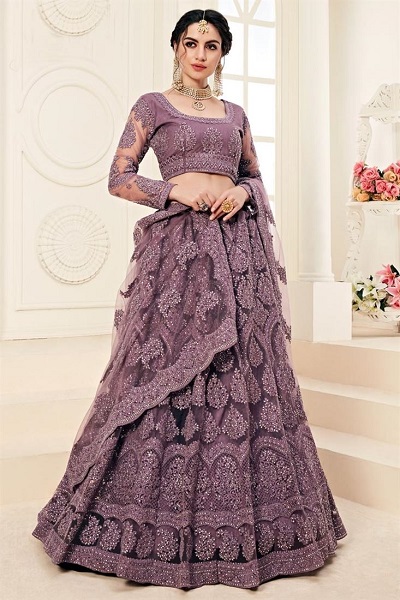 The gorgeous lehenga has sequins work and thread work done in such a thing that impact ability to way that it makes the stress extremely royal and luxurious. The same thread work is seen in for the blouse. The sleeves are left without the lining in the sheer net fabric. It is one of the most gorgeous purple lehenga choli that we have seen in this catalogue.
17. Pale Purple Designer Lehenga Pattern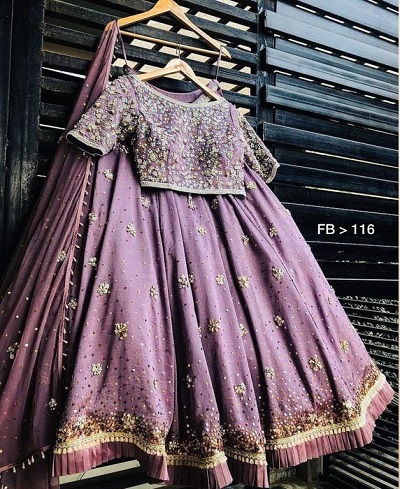 This pretty purple lehenga has got sequins and stone work while the frill and pleated border is seen at the bottom. This blouse has full fledged embroidery with short sleeves and boat shaped neck line. It is also a good dress for wedding season.
18. Plain Purple lehenga with embroidery and peach dupatta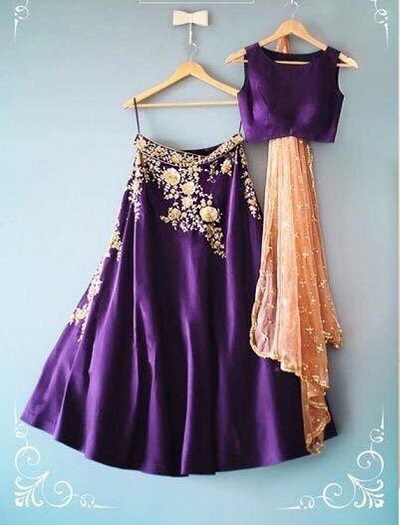 This Silk Lehenga in purple has embroidery near the waist and the bottom part is left plain. The plain choli in sleeveless pattern and princes cut pattern is also paired with this. With overall the look here is a peach colored dupatta with golden work on it.
19. Bridal Purple Design with heavy work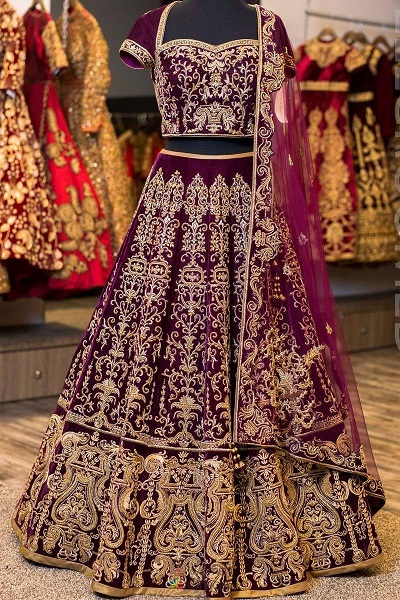 Dress in gold and purple is a dress for brides. A bride can also go for the purple lehenga, when not too sure about the red, orange and pink lehenga choli. This is a royal looking dress that it will make the bride look amazing.
20. Purple Pink silk lehenga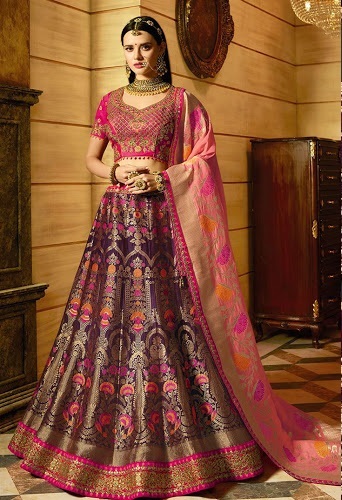 This dress in pink and purple color is made with the silk fabric. A banarasi chanderi silk dupattas is also given along with this dress. This is one of the most gorgeous looking dresses in purple in silk fabric.