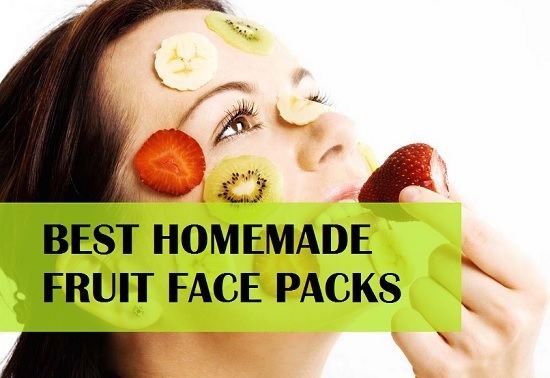 Quick fruit Packs for glowing skin and smoother face: Our skin is the most important organ of the body which protects all other internal and external organs as well. Hence, it should be taken care well. Fruits are so beneficial for the health and skin. Fruits are rich in vitamins, minerals and essential enzymes that will make the skin glow with beauty. When the question comes in a healthy and young looking skin, fruits are the key to attain skin goals. Face packs are important for a beautiful flawless and blemish free skin. And when the face packs are loaded with fruits, then such fruit face packs will be highly beneficial for the health of the skin. Not only that fruit packs and masks will tighten and tone the skin. Let see the recipes friends.

Best Homemade Fruit Facial Packs and Masks Recipes
They will enhance the brightness and natural glow. Now skip those fruit facials, cleanups, and other skin treatments that need long time and involve high cost. They give you temporary results which are of no advantage to your skin. Try our homemade quick fruit packs that give long lasting results and are very effortless.
1. Orange Fruit and Curd face pack
Orange is a super fruit that is rich in anti-oxidants which are great for the skin aging and fairness. It is a good source of vitamin-C and vitamin K, Vitamin B complex etc. Yoghurt is rich in fatty acids and proteins that maintain the skin elasticity and its radiance. In fact, this combination is good for the skin that has pimple marks, acne spots etc. This fruit pack will boot the cell rate of renewal and thereby will make the skin smoother. This is one of the best fruit face pack for acne, dark spots and marks for oily face.
Recipe: Take 3 full spoons of orange juice and mix it with 2 full spoons of curd. Mix these ingredients and apply it onto the face. Keep it for 20 minutes and wash it off with chilled water.
2. Apple and milk cream face pack
Apple is a sweet fruit that has multiple benefits to the skin. It is rich in vitamin-A, vitamin-B complex that are cofactors in boosting metabolism. Milk combined with apple retains moisture to the skin and gives smoothness to it. It is rich in lactose acid and proteins and fatty acids that give naturally fairer skin. This is a beneficial fruit face pack for fairness and skin brightening.
Recipe: Take a ripe apple and cut it into small pieces. Now blend it in a blender and separate its paste in a bowl. Add 2 spoons of milk cream in it. Mix this fruit facial pack instantly and apply to the face. Massage it gently onto the face in upward and circular motion. Keep it for 25 minutes and then wash it thoroughly.
3. Honey and Avocado fruit face pack
This avocado fruit is miraculous for the skin. It adds shine and increase the elasticity of the peel. It is rich in anti-oxidants that keep wrinkles and acne at bay. Honey is a best skin whitener and smoother agent. It really softens the face and increases its natural glow. Honey and avocado combination is considered highly effective for people who wish to lighten the skin tone, fairness and to get rid of the sun tanning on face, feet etc.
Recipe:  Ripe an avocado and take out its pulp in a small bowl. Mash it properly and add a full spoon of honey in it. Now it's time to massage it onto the skin and then keep it for 20 minutes. Be gentle and rub it off from the face using cold water.
4. Banana and rose water Fruit face mask
A perfect combination of fruit pack that can inject new life to the dry and dull skin. It improves skin complexion and its radiance, now get spotless, clear and shiny face easily at home. Banana consist essential vitamins like vitamin-A, vitamin-E and good fats. Rose water is very effective on the face, it cleans the skin pores and dust from it. The aroma of roses sooth the face and make it look beautiful and fresh all day long.  This is great pack for dry skin glow.
Recipe: Take one banana and mash it in a bowl, add 2 full spoons of rose water and a pinch of turmeric powder (optional). Mix all the ingredients well and apply it onto your face using a face pack brush or fingers. Let it sit for 25 minutes and lastly rinse it off with cold water.
Benefits of Homemade Fruit Face Packs and Masks For Skin
Such fruit packs will rejuvenate the skin which is dry and tired.
Skin that is dry, peeling and flaky that too is treated well suing such facial packs with fruit extracts.
Fruits will increases the rate at which the skin revives and regenerate, hence the wrinkles, lines are faded and skin becomes smoother.
Moreover, the enzymes in fruit masks will also aid in fading the dark spots, pimple spots and acne scars on the skin for oily skin.
By Ratna Balani