Rakshabandhan Eye Makeup Look tutorial with Step and Pictures

Hi girls!! After 10 days, Rakshabandhan is about to come and this is the day when we love to flaunt our ethnic wear and get gifts from our brothers. Most of the girls would wear salwar kameez and married ladies will wear sarees and visit their brother's place to tie Rakhis. When we get ready with beautiful dress, then makeup is very important. I will share this easy pink eye makeup which is very soft and subtle to be tried for the day time. So, let's check out girls how I did this eye makeup look for Rakshabandhan. I will also be posting a makeup look after Rakshabandhan that I will be donning up. :)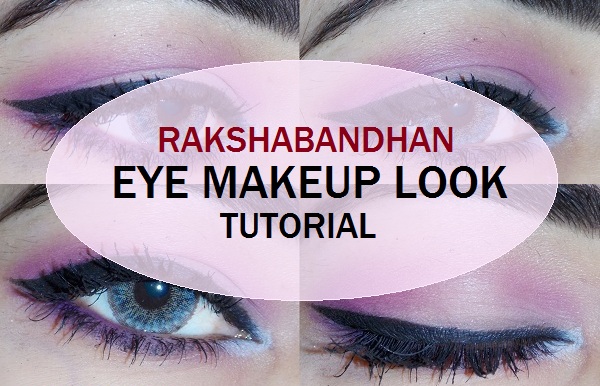 Products needs for this eye makeup look
Light pink eye shadow
Dark pink eye shadow
Purple eye shadow
Mascara
Eyeliner
Black eyes shadow powder
Steps to do this Simple easy Rakshabandhan Eye Makeup look: Tutorial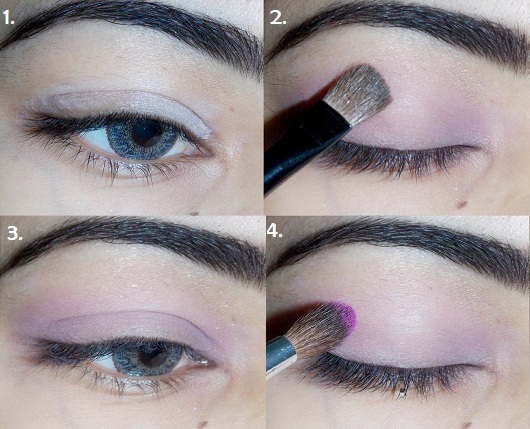 1. In the first step I filled up with eyebrows. If you have full thick eyebrows girls, then you need not to touch upon that. Then in this step I have applied a light eye shadow primer. You can try applying a tinted moisturizer or even BB cream.
2. Then I dipped my eye shadow brush in a light pink eye shadow and applied that on the eyelids.
3. In this step you can see that the eyelids now have a faint pale pink color all over.
4. Then I took a tapered brush and took some dark pink eye shadow. I applied this on the crease of my eyes.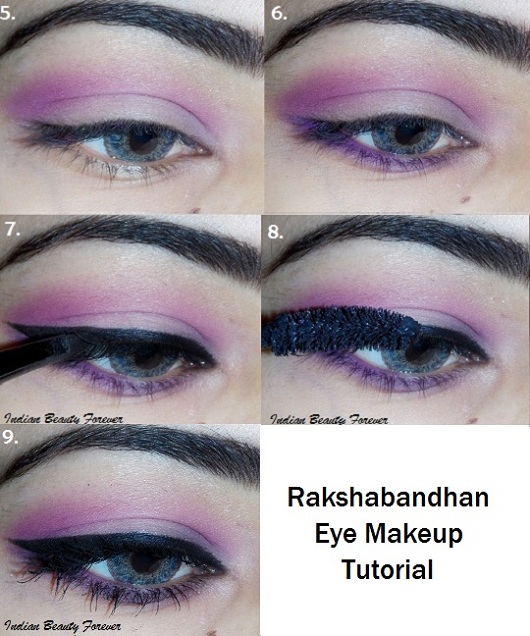 5. Then I blended this dark pink eye shadow on the crease like you can see in the picture no 5.
6. After this I took a purple eye shadow on a flat thin brush and applied that under the water, have a look at the picture no 6.
7. In the next step I applied my gel eyeliner. That is not necessary as you can apply any eyeliner like pencil eyeliner, gel, liquid anything that you are comfortable with. Pen eyeliners are easier to apply so you can even use that.

8. At this point, I was done applying the eyeliner, I like to flick out a little wing. This totally depends on your liking dearies whether you like to wing it out or keep that till the outer corner of the eyes. Then I applied mascara as you can see in the picture and I am almost done just a little thing left.
9. In this step, I again took the same thin brush that I used to apply the purple eye shadow below my waterline. This time I lightly took a black eye shadow on that brush and gently smudged that over the purple eye shadow. I did this step to create a slight smokiness to the look, it now looks dark-ish purple. Here is the final finished look. :)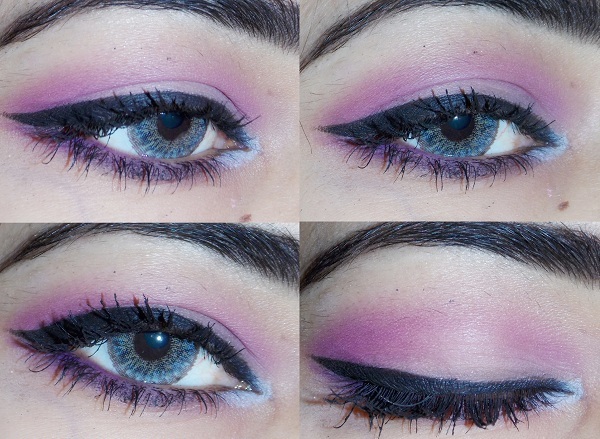 So, girls, this is how I have done this look. Now time for some extra tips. :)

Extra tips for this Rakshabandhan Eye Makeup look

With such soft pink eye makeup, you can try a pink or peachy lip gloss. If you like wearing mauvy pinks or purple then also this will look good with this eye makeup.
For such an eye makeup, you don't need a lot of makeup products as I have mentioned in the list. In fact dearies, you can try this with any eye shadow combination like a light blue, dark blue and the navy blue for the lower lid. Or you can even try this with brown for the crease and dark brown on the waterline. You just have to learn the basic technique.
So, that was it. Have a great day!!