Revlon Colorstay Foundation for Oily Combination Skin Natural Tan:
Hi everyone! Foundations are basic makeup product that gives a great looking flawless skin easily. So, today's post is about  Revlon Colorstay Foundation for Oily combination skin review in the shade Natural Tan. I decided to buy this foundation when I wanted to get a foundation with medium to high coverage. This Revlon foundation is available in India in 2 different variations. Like there is a variation which is for oily to combination skin and the other one is for dry to normal skin.
This Revlon colorstay foundation is being launched in 5-6 different shades and I have got this natural tan shade. Do you know that getting foundations that matches the skin color is extremely difficult at times when the skin is not even toned? But I got lucky as even though I bought this online, I was able to get the correct shade that matches with my skin complexion. So, let's start the Revlon colorstay foundation review.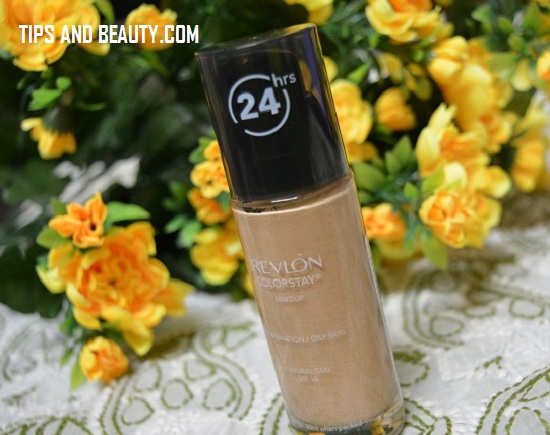 Price of Revlon Colorstay Foundation
This foundation is priced at 875 Rupees for 30 ml in India. You can get this foundation for a little less online.

Review Revlon Colorstay Foundation for Oily/combination skin Natural Tan
I like foundations that has a pump as this makes the application and usage of the product very convenient and hygienic. I mean when the mouth of the foundation is wide, chances are that you will take more product an then put it back inside. So, this Revlon colorstay foundation is packaged in nice pump pack. The bottle is of glass so, one has to be extra careful while traveling with this. I always keep my makeup products in a separate pouch in my bag so that if any of the makeup product leaks then the entire bag/purse will not be spoiled or get soiled with the product leakage. The only problem I have is the very loose cap. The cap will not shut tight but rather is a bit loose.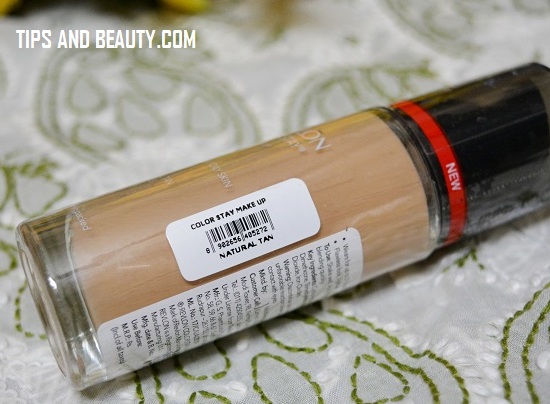 Revlon Colorstay foundation in the shade Natural tan is a wheat like color which will match the wheatish skin perfectly. Girls who have got skin complexion which falls between fair to medium can easily match this with their skin tone. It goes perfectly with my skin. I have a skin complexion that looks fair in sunlight or outdoor while in shade my skin  appears wheatish fair therefore this is a color for fair to wheatish skin complexions.
While I swatched this Revlon Colorstay foundation on my arm I saw that even though this matches my skin color, the foundation has very subtle pink tones to it. As I already mentioned in my streetwear foundation review that I literally hate the foundations with Pink undertones because they look so, unnatural and made up. But even though this has slight pink tones I am glad that they are not too much. When I will blend the foundation on my face, the pinkness is not visible thankfully. By the way do you apply your foundation with fingers? I like using flat top foundation brush as they give a very even and natural looking finish.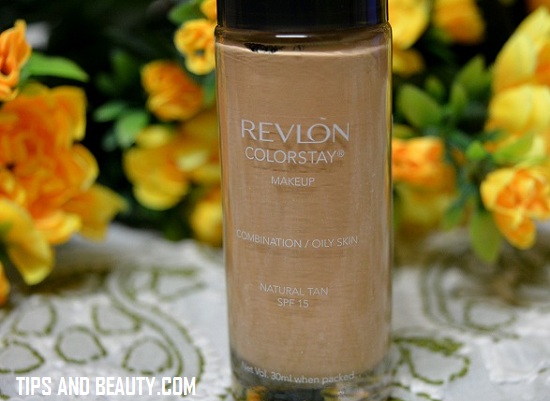 The texture of this foundation is thick. It is not medium or thinner in consistency. Just a pea sized amount of this Revlon colorstay foundation is enough for the entire face and the neck. This is a foundation to get medium to heavy coverage this is why I will only use this for evening or party makeup because I like sheer finish base for the day time. I like the new Za perfect fit liquid foundation for the day time for my oily skin which is just amazing.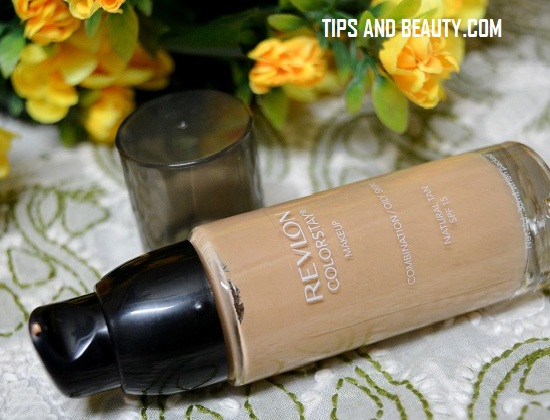 Even though this foundation is thick in consistency, it is easier to blend this. I like the air brush finish that this Revlon foundation gives. The only thing I am concerned is that, this is sold as a foundation for the oily to combination skin, but the formula is slightly greasy and after sometime my skin will look oily. Even immediately after using this foundation, skin will not look matte but dewy. So, during the day time when oils come on my T zone, I will have to use either the blotting sheets or compact powder to give the skin a matte look.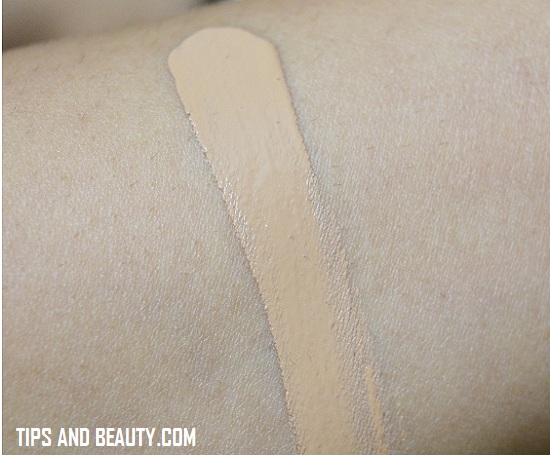 This Revlon colorstay foundation doesn't feel heavy on the skin is a plus point. This is also waterproof as even when water is splashed on the face the foundation will stay there. Just a little bit will wash off with water which I think is perfectly fine. This is good for combination skin but for very oily skin, I think this foundation will be slightly greasy so, if you have oily skin choose a water based foundation to feel oil free for a lot longer. One more thing, a tiny blob is enough, so this will last really longer hence, I can say that this is not very expensive. Even if you use it everyday it will last really long. But check the color first at the Revlon counter before buying else you may end by getting the wrong shade for your complexion and your money will be wasted.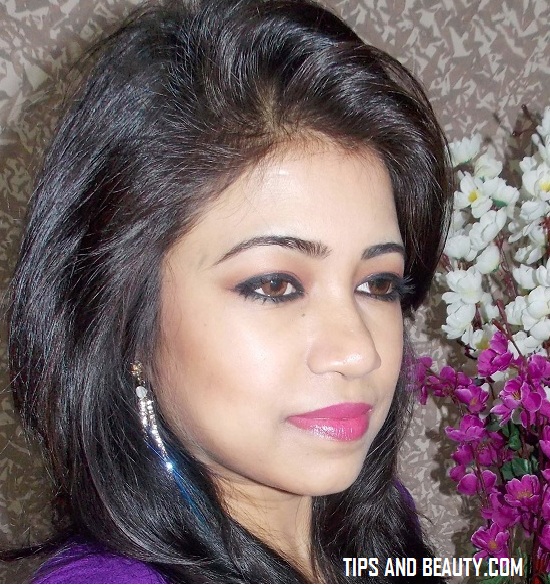 Pros of Revlon colorstay foundation
Price is affordable

A little bit is enough for the entire face

Pump packaging makes it easy to use

Blending is easy and seamless

Has SPF 15

Good for normal to combination skin

Gives an air brushed finish

waterproof and sweat proof

Stays the entire day without getting patchy
Cons of Revlon colorstay foundation
Not for very oily skin

Gives dewy skin but not completely matte. This can be a good point for some of you who wants dewy finish

Feels heavy when I layer it to get full coverage.
Rating 3.75 out of 5
Revlon Colorstay Foundation for Oily to combination skin is good for those who needs some extra coverage for their daily use. The coverage can be enhanced by layering the foundation again but that will cause a bit of heavy feeling. This foundation will not give a matte look but a dewy finish. Blending is very easy as the texture us quite creamy thus easy to blend whether you apply with the finger or with a brush. Staying span is very good as it is rub proof and waterproof. Thus can be easily sported for summers when one is likely to sweat and the foundation will not get very patchy looking.