Should we use Sunscreen even in Monsoon or Cloudy days? Reader's Query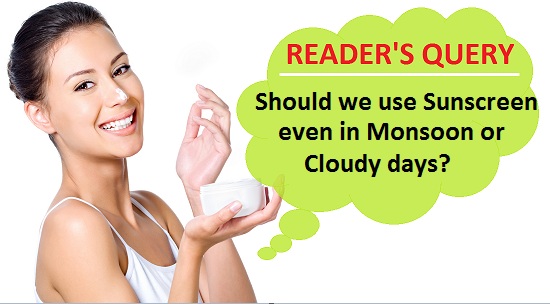 Hi everyone!! Today's reader's query is that whether we should apply sunscreen even when the days are cloudy or during monsoons?  I have always stressed on how important sunscreens can be to protect the delicate skin from the sun damage. The sun damage on the skin can be seen as in the form of sun burn, redness, rashes on the skin, fine lines and premature aging of the skin along with the skin darkening. So, with all that things that you can safely prevent just by using sunscreens, why take chances.

Should we use Sunscreen even in Monsoon or Cloudy days?
When the sun is not shining bright and the days are gloomy. We tend to think that there is practically no sunlight hence, we can take chances and go without the sunscreen. So, is that right? Actually No, Even when the weather is gloomy and there is no sun, the UV rays are still present in the atmosphere, sun is the major source of light so, the UV rays will always be there which can harm your skin.
The UVA and UVB rays are major skin damage causing rays of the sun which can lead to skin discoloration, rashes, redness, sun burns, skin color darkening and increase in levels of melanin. In India, most of us wish to stay fair and desire to get a fair skin color thus using sunscreen will not only protect the skin from sun damage but will also prevent the skin complexion from getting darker any further. Read: Easy ways to get rid of sun tan this summer effectively

So, now would you skip the sunscreen? I hope not!!

Just one more piece of information related to this, I think a lot of youngsters who have got oily skin, do not like to use the sunscreens as they can make them sweat and feel greasy on the skin. In that case a very easy solution is there. You can try a gel based sunscreen or matte formula sunscreen. Trust me, gel based sunscreen will not make you sweat or get oily on the face rather they keep the skin matte looking for a lot longer.

So, now I don't think you should have any excuse not to use sunscreens my friends!!