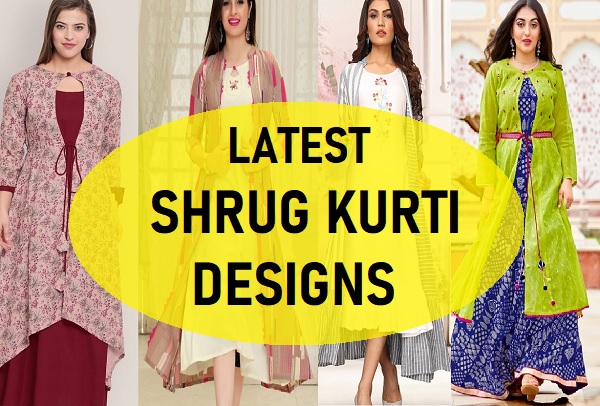 Shrug style kurta are really popular. They are the basic kurtis and kurtas with the shrug over them. This also gives a jacket like resemblance. The long shrug over the kurta combination gives a lovely layered look and makes the kurti appear quite stylish. These kurta designs are not only innovative but also make the kurta very pretty to look at. Many shrug style kurta as are available in the market and on the online shopping sites. Designers are coming up with the new styles of kurtas and shrug style kurtis are trending. Let's take a look at the latest catalogue of shrug kurta pattern for women. In fact, these shrug kurta can also be worn without the bottom wear like a dress, therefore these are suitable for the office and college as well.
Latest and Popular Shrug Kurti Designs For Women
1. Long shrug kurta with tie strings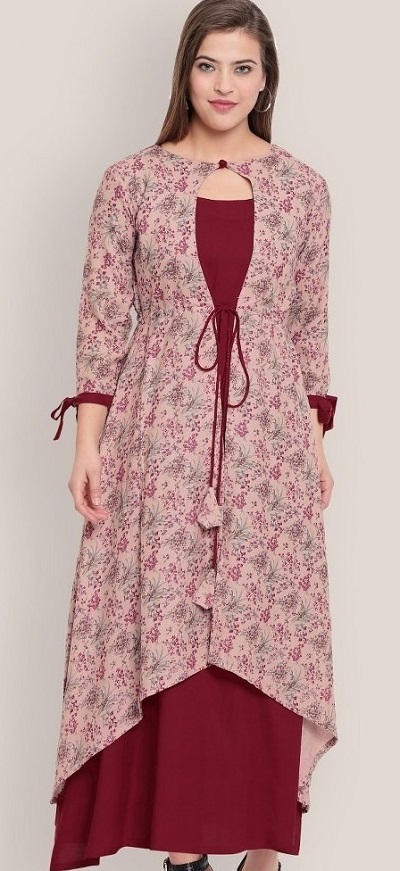 The beautiful Maroon kurta has a printed shrug with tie strings. It is a designer piece that can be tried for office and college as well. Even for the festivals such designs are appropriate.
2. Jacket Style Long Shrug Kurta For Parties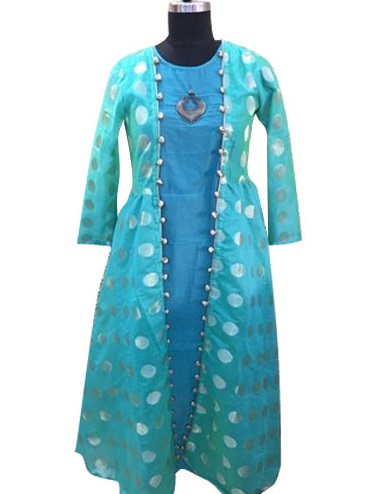 The Chanderi brocade jacket style shrug with bead work is added over a blue plain cotton kurta. It is a festive wear dress which is very easy to carry and comfortable as well. In fact, these kurta designs are also suitable when you do not have to wear any type of bottom wear.
3. Medium length shrug kurta dress
The plain kurta has a geometric pattern shrug. It is suitable for different occasions and is a very casual kind of dress. It is easy to wear even for the summer season. You can pair a churidar, palazzo pants, trousers and even the basic salwar with this stylish long kurta.
4. White kurta with printed long shrug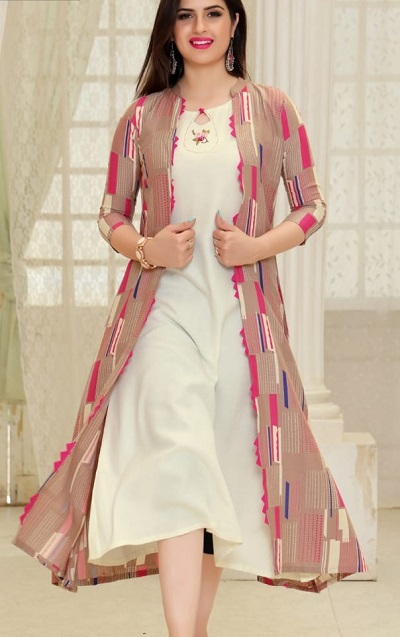 The long white sleeveless kurta has a sleeveless shrug. The kurta has a collar and three fourth sleeves are given. The shrug is really pretty and is made with cotton fabric that is quite a breathable and easy to carry. This dress is a perfect summer attire for different functions and festivals.
5. Stylish Ruffle shrug and kurta for women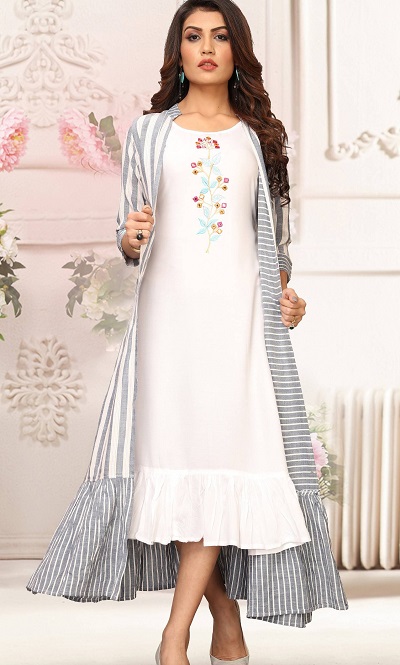 The stylish white embroidered kurta has vertical blue and white strips. Its shrug is really pretty and at the end a layered design has been used. It's suitable for summers as well as for other seasons like Autumn.  It can be worn as a dress and with the different bottom wear for college and office.
6. Short shrug with long kurta dress for women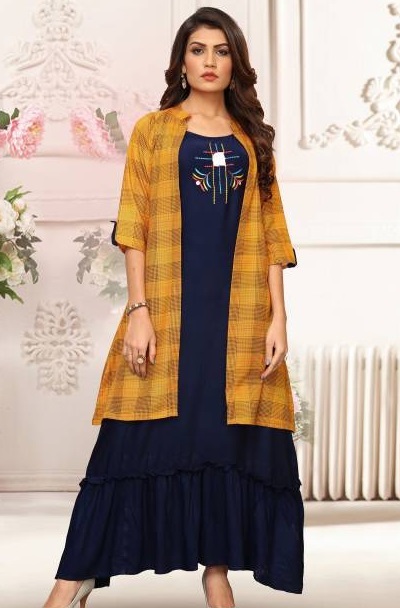 Unlike the regular pattern this long kurta with uneven pattern has a shorter shrug made in a printed fabric. The contrasting colour kurta and shrug makes a really beautiful combination that is ideal for different occasions.
7. A line kurta with short shrug and waist belt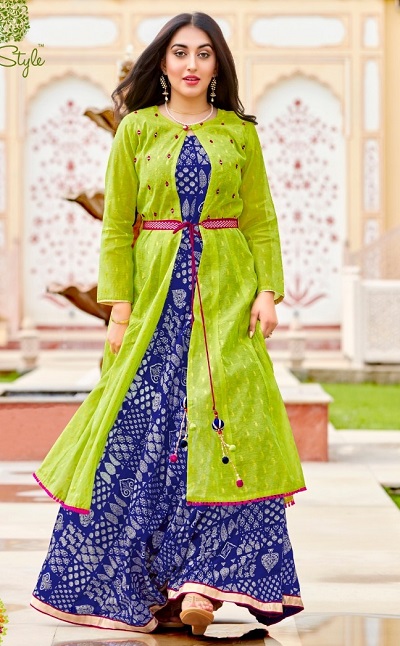 The beautiful A line printed kurta is a floor touching kurta. It has a shorter shrug that goes till the knees. A waist belt is also given to tie around the waist. The combination of blue and green is quite refreshing and makes this an appropriate festive wear a kind of dress. For festivals too, this dress is not only easy to carry but comfortable to wear as well.
8. Shrug with short kurti plazo style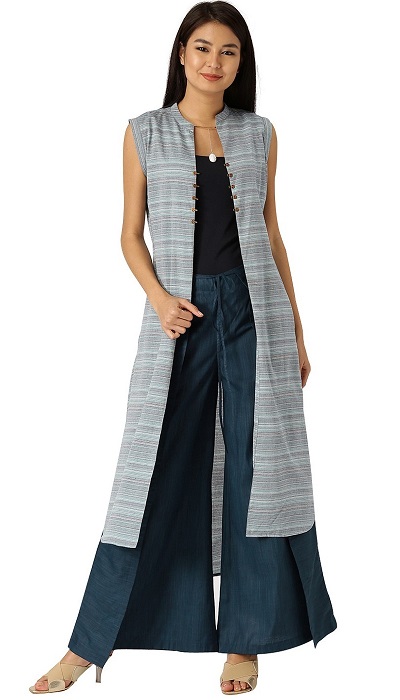 One can pair a shrug style sleeveless pattern with a plazo pant as well. It makes an entirely different dress which is very Indo ethnic kind of appearance.
9. Shrug with plain floor length kurta
The shrug here has belt which are really pretty and a tiered pattern is used to create the shrug. The shrug can be tied around the waist line and it's a plain A line long floor touching kurta, which is paired with this combination. Here the combination of olive green and green shrug has been utilised.
10. Designer shrug with plain long kurta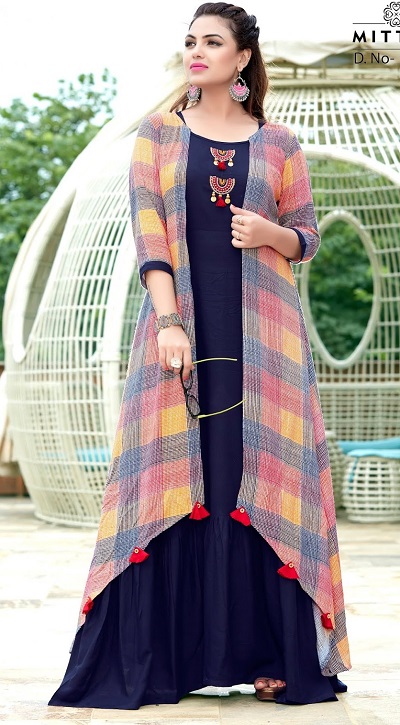 This shrug style kurta dress has a beautiful printed and uneven hemline shrug with a plain navy blue floor length kurta. There is no need to wear anything underneath this kurta because it is a floor touching pattern. It is a very festive wear kind of dress which is suitable for even the healthier body type women.
11. Floor length kurta with short black brocade shrug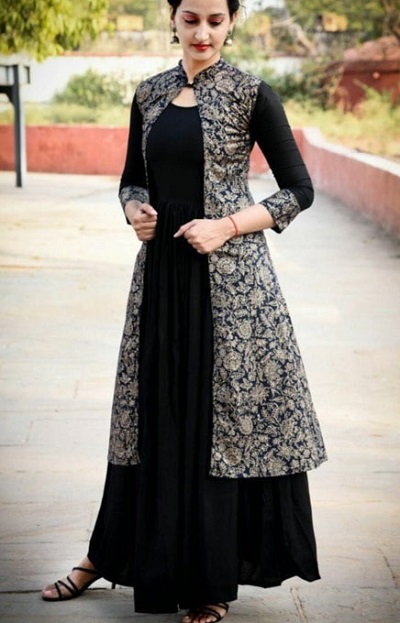 12. Designer long kurta shrug with full sleeves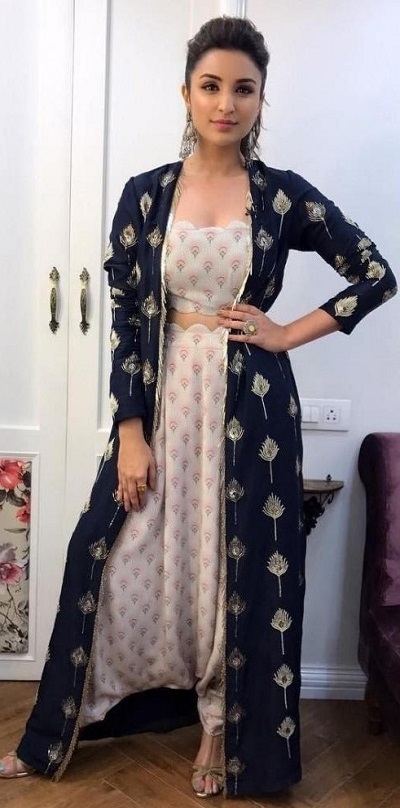 13. Short kurta with long silk shrug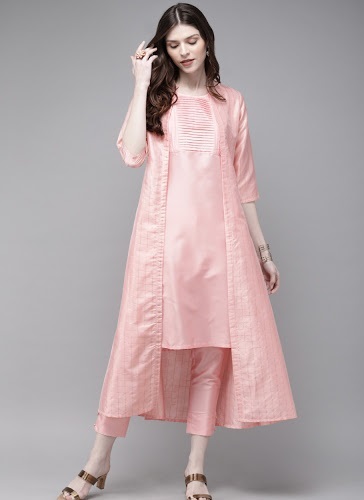 14. Net shrug kurta panel dress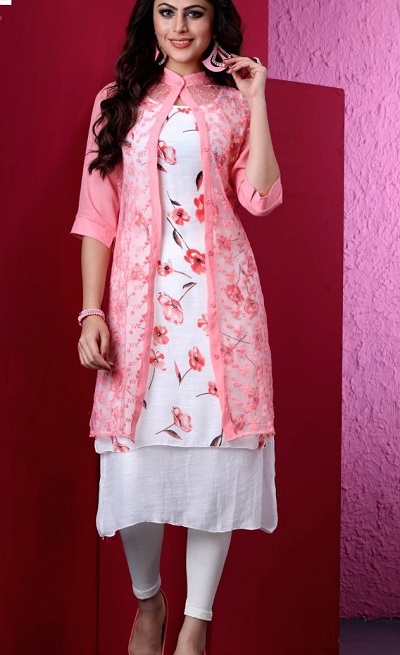 15. Sleeveless kurta with net green shrug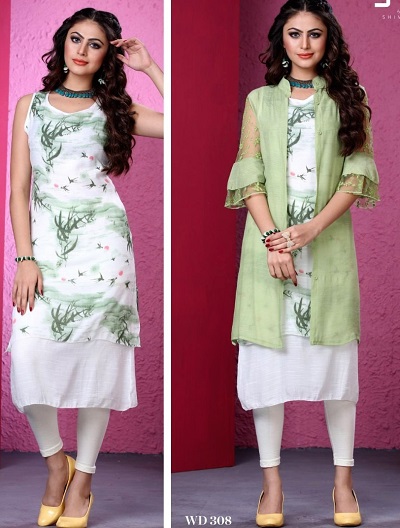 16. Shrug style kurta dress for women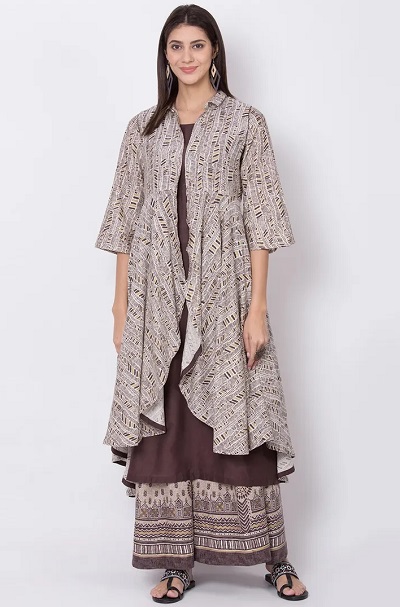 17. Long denim kurta with cascading sleeveless shrug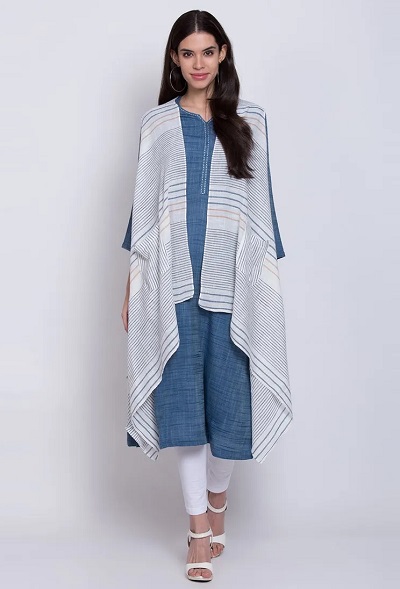 18. White chikankari kurta with long printed shrug
19. Shrug style short kurti with plazo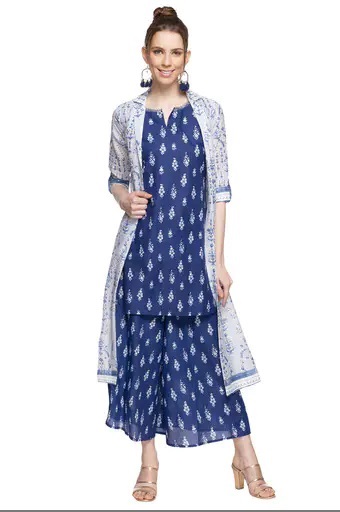 20. Short kurti with black cotton kurta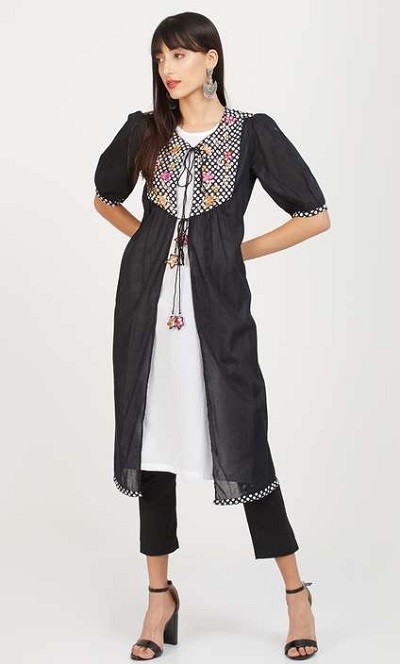 21. White shrug kurta with sleeveless pattern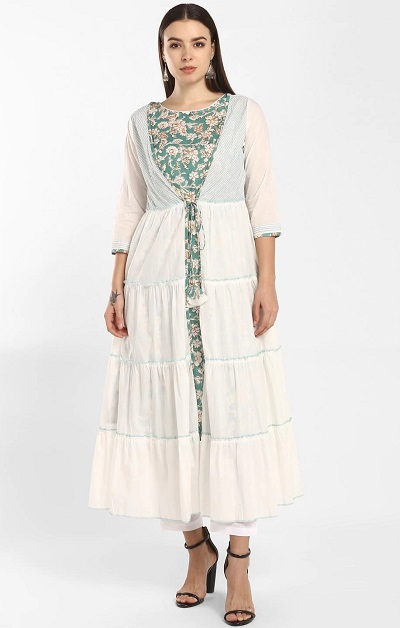 22. Short straight kurta with long length shrug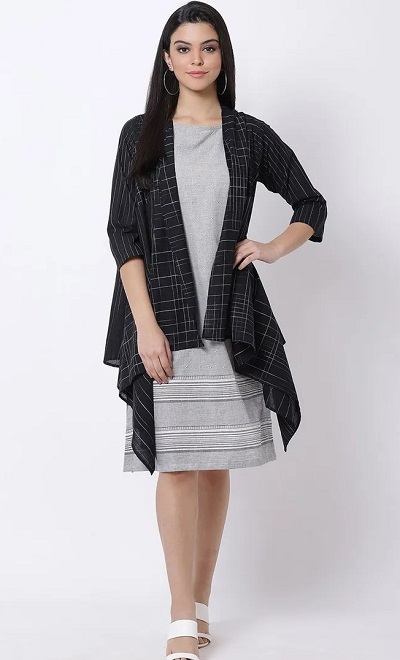 23. Designer shrug kurta dress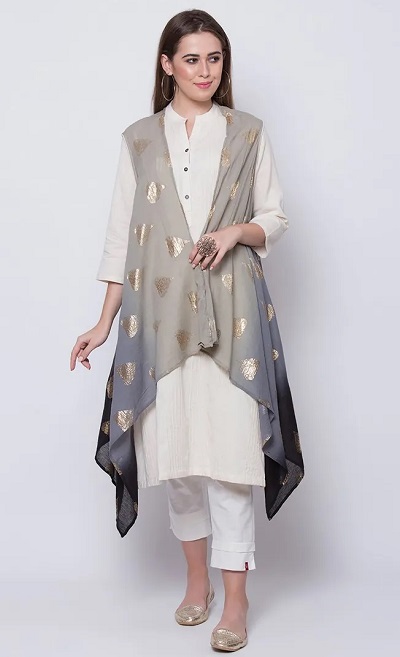 24. Silk violet kurta dress with trouser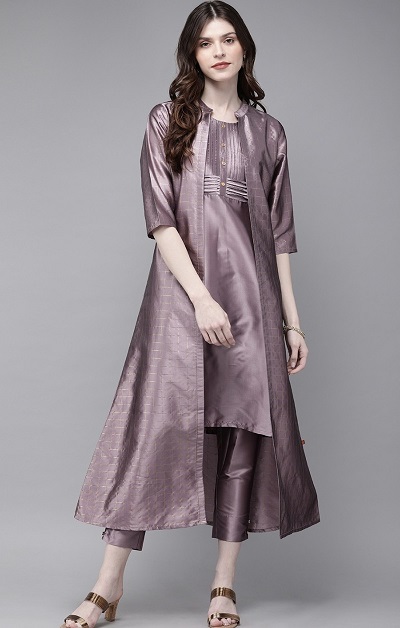 25. Chanderi silk sleeveless shrug kurti dress design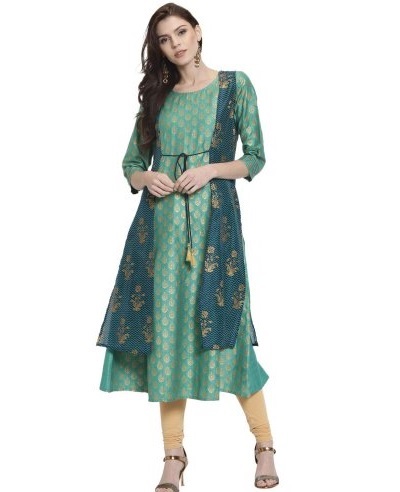 26. Sleeveless formal shrug kurta with trousers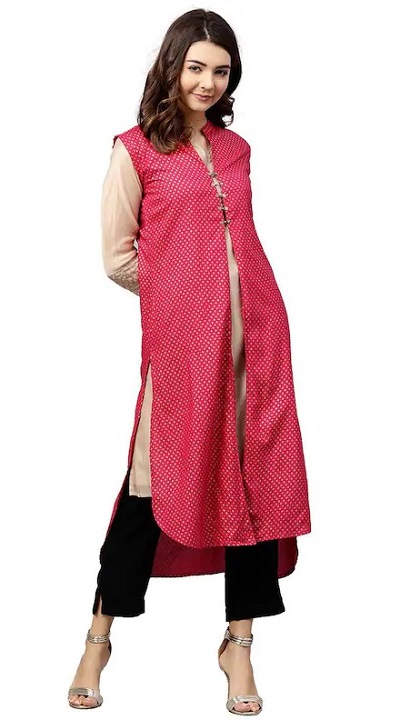 27. Designer party wear shrug kurta with gold foil print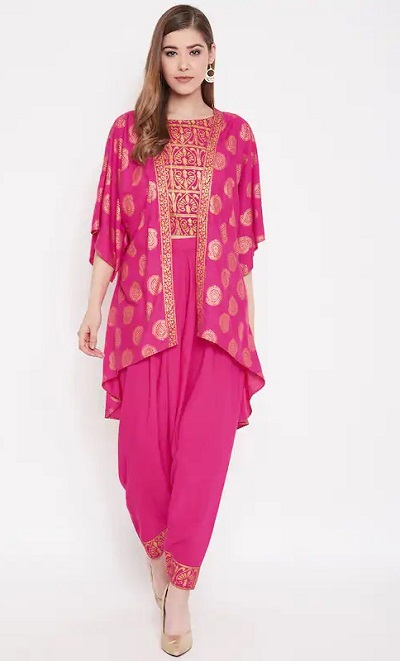 28. Silk chanderi contrasting shrug style kurta dress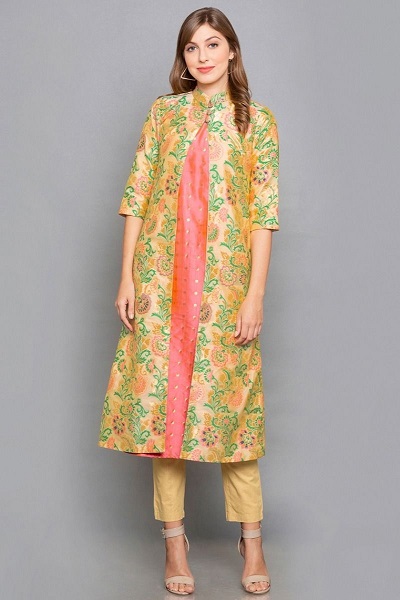 29. Short shrug with collared long kurta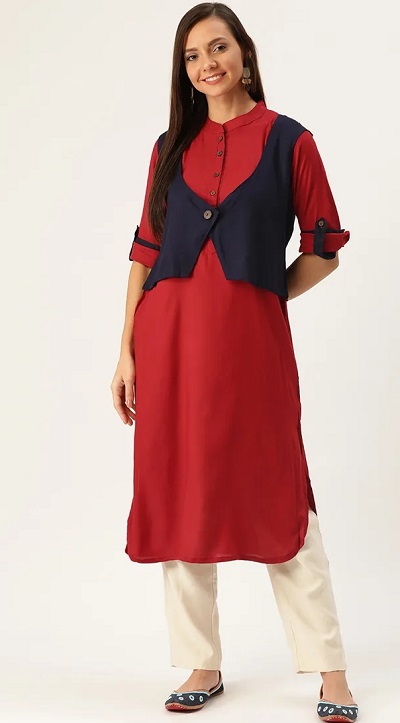 30. Georgette shrug with with printed short kurti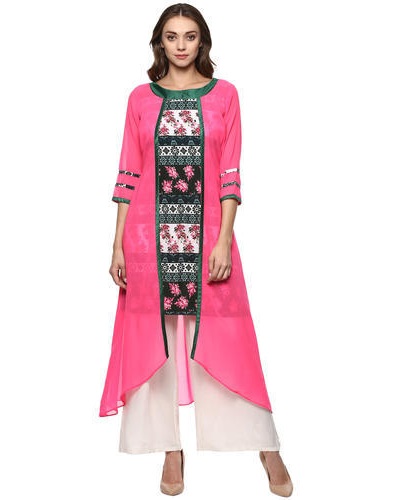 31. Net shrug with floor length black kurta dress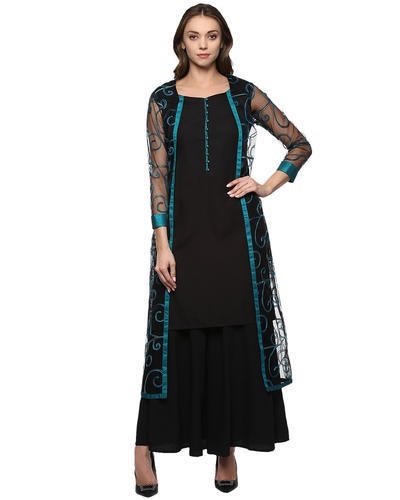 32. Stylish shrug kurta for women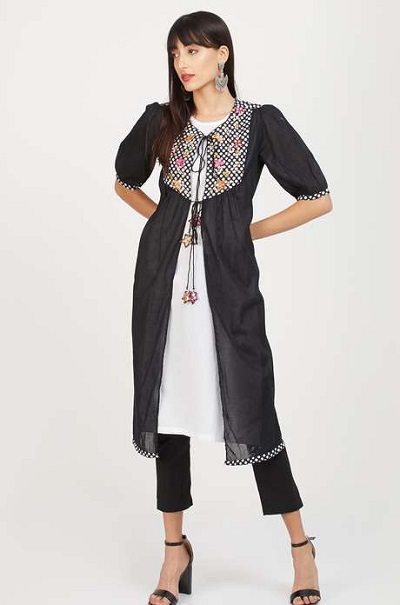 33. Plain black kurta with brocade gold printed long shrug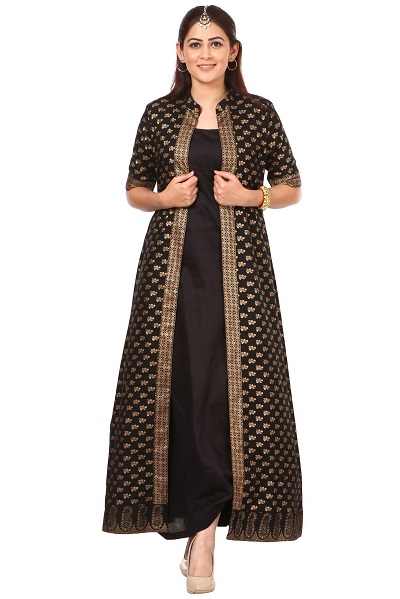 34. Party wear shrug kurta designer dress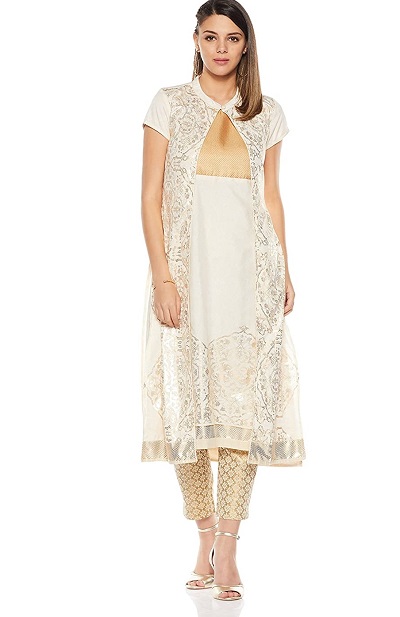 35. Long gold floor length kurta with brocade shrug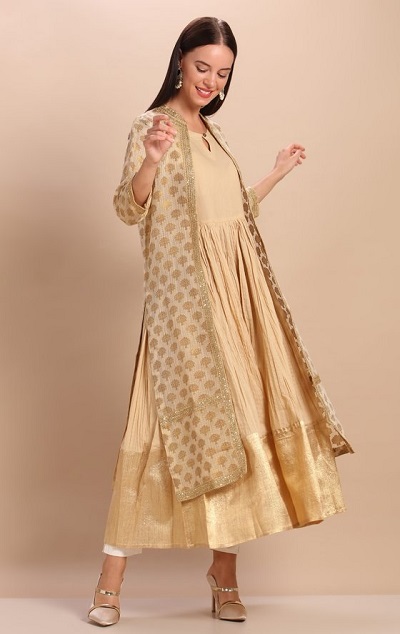 36. Stylish cascading shrug with shorter kurta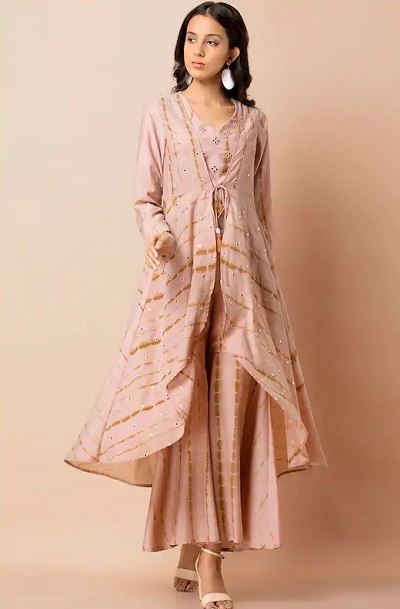 37. Anarkali shrug style party wear dress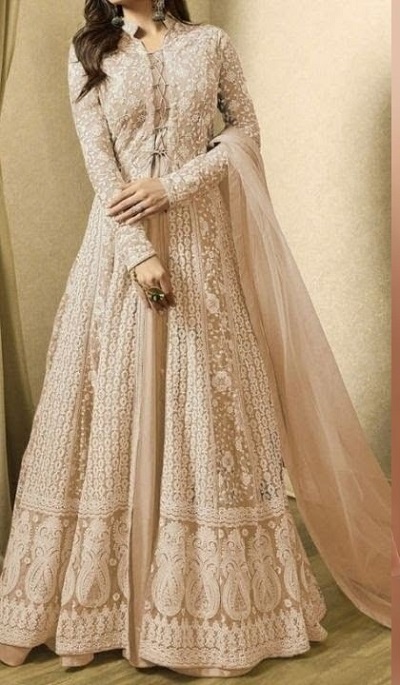 38. Shrug kurta festive wear designer dress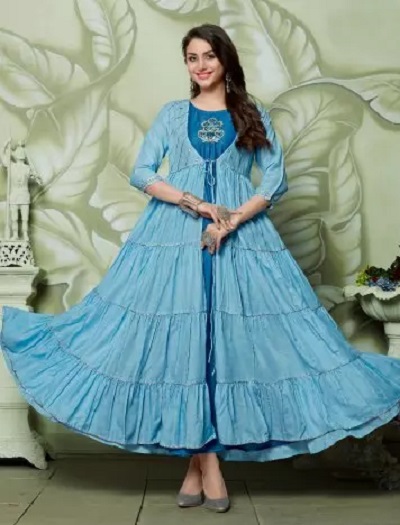 39. Casual vertical print shop kurta style dress
40. Cotton khadi kurta with sleeveless shrug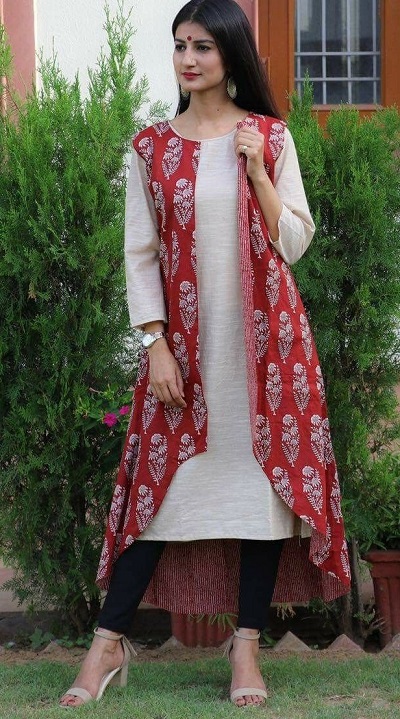 41. Red plain crepe kurti with printed georgette shrug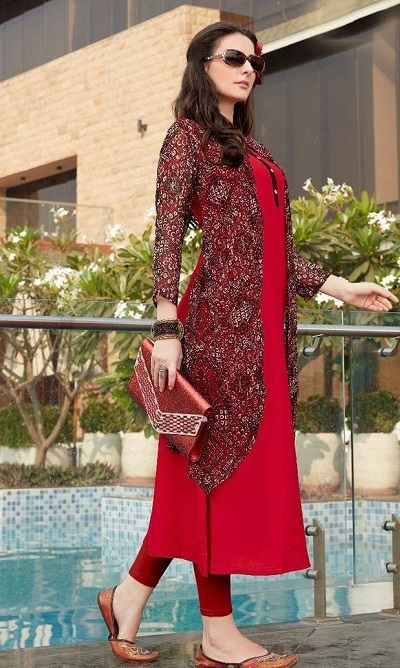 42. Kurti with pocket style shrug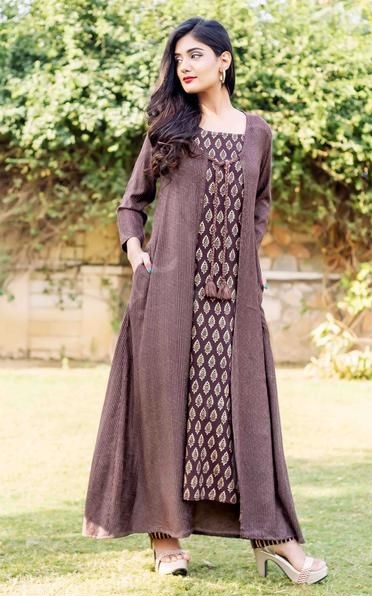 43. Cascading sleeveless shrug with short red kurta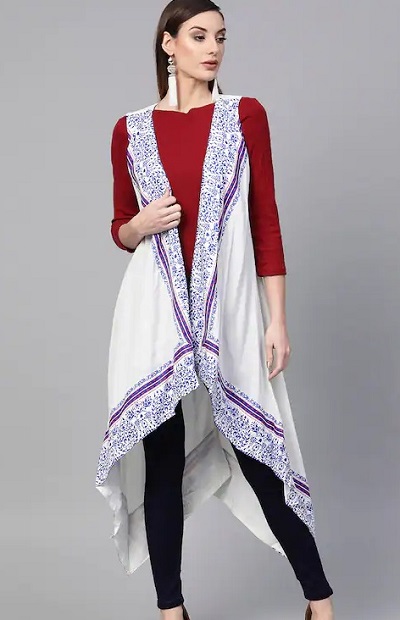 44. Long irregular hemline shrug with plain blue kurta
45. Designer kurta shrug dress for parties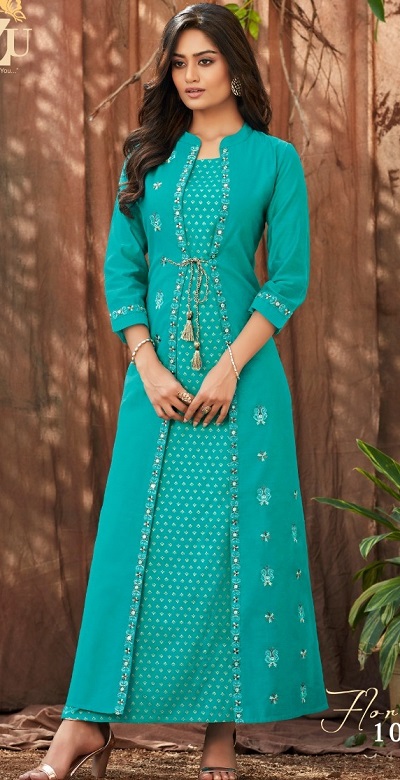 46. Embroidered net long shrug with short silk kurta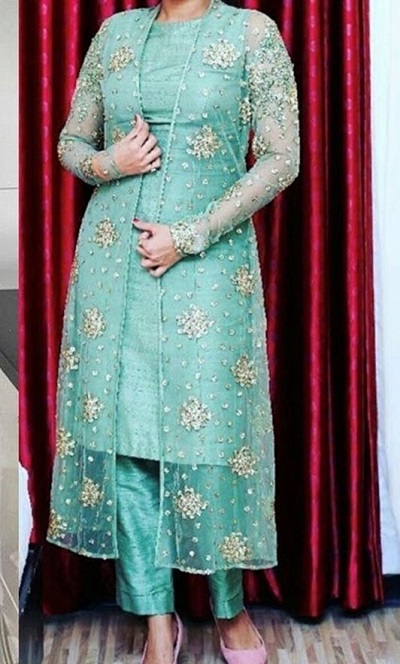 47. Stylish net shrug with short kurta in purple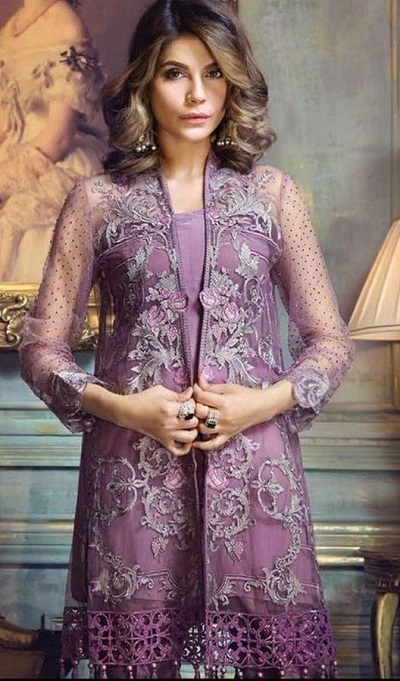 48. Wedding wear net shrug with short kurta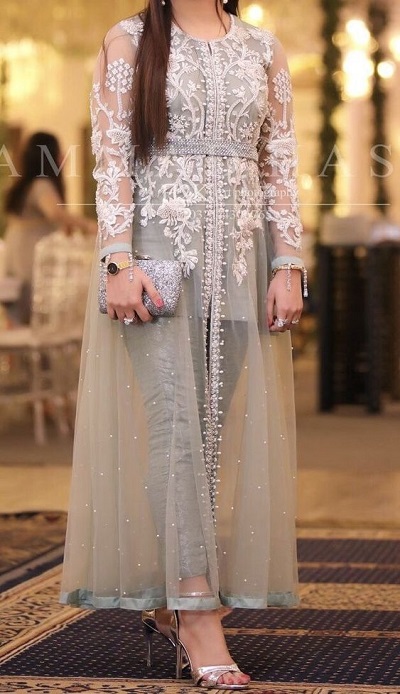 49. Cotton long shrug with plain kurta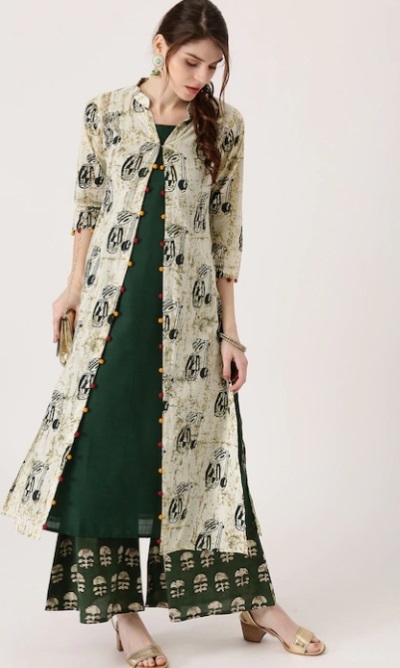 50. Chanderi silk long kurta with short shrug style dress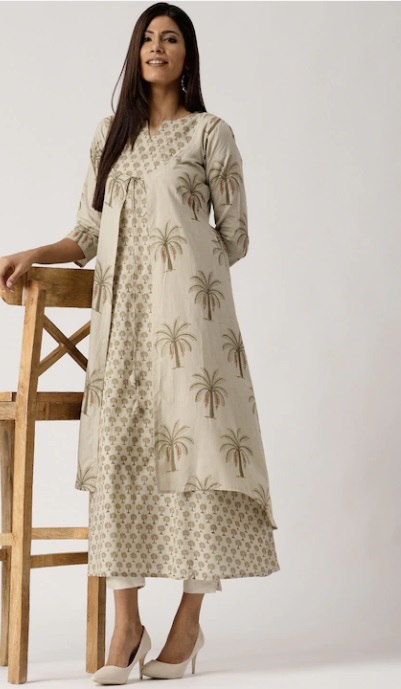 these are the latest shrug kurta dress which are suitable for different occasion.  Shrug kurta sets are quite popular and they are really very much in trend. One can drive a kurta plazo with shrug for kurta within net shrug. Even the a line kurta with shrugs are quite in trend. You can also style your kurti with shrug for the party wear and wedding wear dresses. Shrug kurti with plazo is a popular combination that girls are going for the college as well as for the office as well.
While going for a drug you must take a look at the body type that can make you look thinner. Drugs which are around the same length as that of the kurti inside makes you look taller and slimmer. While if you are slim you can try the drugs which are shorter than the kurtis or are irregular in the hemline.