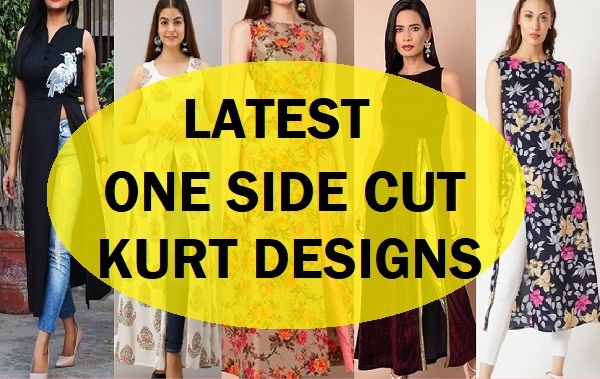 One side kurtis look really pretty because of the fact that the kurti would generally be slit-less and there is only a single slit on either of the sides. The slit can be really high that goes up to the waist-line or it can be small which reaches the only till the knees. The fact that these single cut kurti designs are really beautiful and they can be used for different occasions and for casual wear. There are so many good things that we have seen that has single cut or a side single slit on them, which are absolutely wonderful for festivals and weddings.
Casual wear one side cut kurtis are also seen a lot specially in the floral print. For summer season, such kurtis are beautiful because you can pair them with either a nice pair of fitted trousers, leggings or even a pair of jeans to create a nice office look for college Indo Western look. This is why out of the so many single side slit kurti designs, we have handpicked and chosen few of the patterns and design images to create this catalogue.
Latest One Side Cut Kurti Patterns And Designs (2022)
Hopefully, you would go to through this catalogue and really like few designs that would suit your personality and preference. Even though the pattern is pretty same the design and the way the kurtis have been crafted is pretty different.
1. Geometric Print A Line Single Slit Kurti Pattern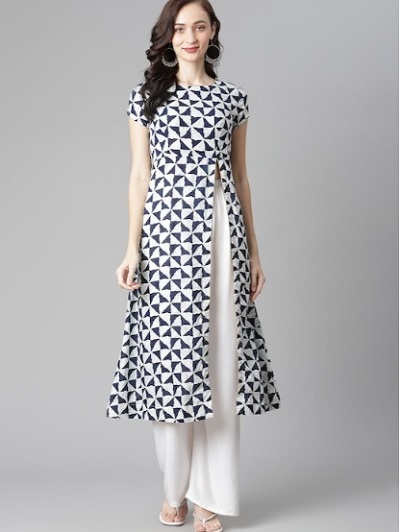 This kurti is properly a summer wear kurti which has short sleeves. With a round boat shaped like neckline, it is a good thing which is suitable of women of all age groups. As a kurti is quite simple and sober and decent, it looks amazing when you wear it for your office or college. Even though the slit in this summer kurta is pretty high that reaches all the way to the waistline that can be balanced or neutralized by wearing a nice flared palazzo pants. Interact with such kurtis you can wear skirts as well. Skirt also looks good with the straight card or a line kurti. It is not a very long kurti but it reaches below the knees.
2. Black Solid Side Single Cut Kurti Pattern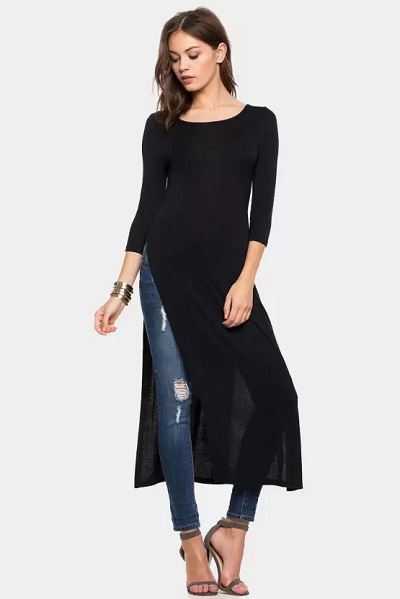 To create a sensual and Indo Western look younger girl must try a kurti like this. A pattern like this should be there in your wardrobe because it can be a versatile thing for you. Just imagine, you can try this kurti with the pair of nice wedges as shown in the image. One can try it with the skirt or full flared palazzo pants. With palazzo pants or the full fledged trouser, it would look amazing and will create an Illusion of height if you need that. Even though it is pretty simple it can also be worn for the different festivals with an appropriately embellished bottom wear.
3. White Printed Side Slit Kurta with Jeans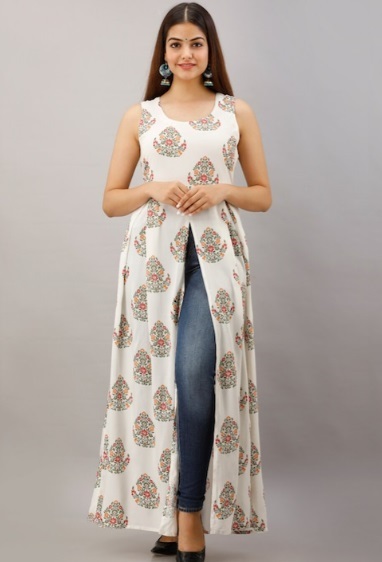 As mentioned earlier that when you want a printed nicely pattern kurta with your jeans, it creates that perfect Indo Western look which is comfortable yet looks amazing. The best thing about such combination is that they can be worn for the office and college and they are also quite semi-formal which is why, they can be also want for different events. It all depends on your styling and the accessories that you put in. To create your look even more formal, you can pair it up with a nice pair of pumps or wedges with appropriate statement jewelry.
4. A Line Full Flared Navy Printed Side Slit Kurta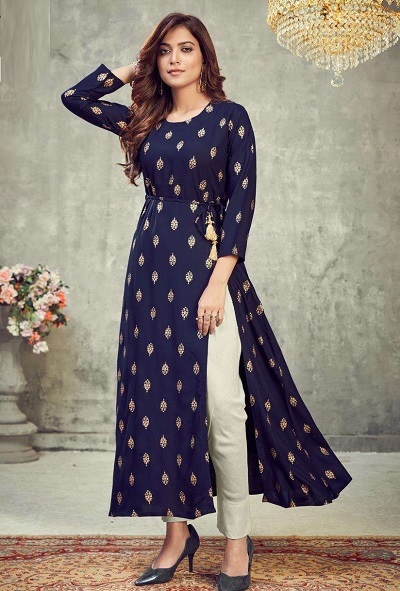 Isn't that kurta looks amazingly beautiful? Yes, that is a beautiful kurti that is pretty enchanting because of the fact that it has a full ghera in an a-line pattern. It is a long length kurta which is why trouser pants and straight fit cropped ankle trousers will look pretty wonderful. It is a festive wear kurta where there is a string around the Waist line with the tassels that can actually help the waistline to become modified. It is a three fourth sleeves kurta that has a round neckline. The print and the pattern and the design make it a perfect kurti.
5. Red Printed Side Cut Full Length Kurti Design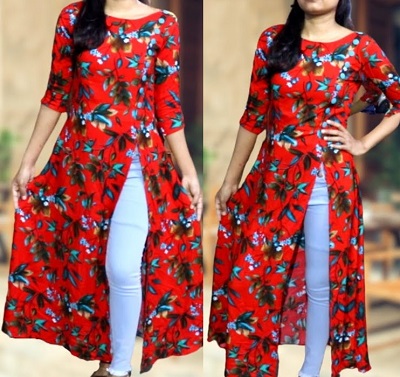 Such kurtas are excellent when you want to create the everlasting Indo Western look. Style it with a nice pair of jeans and your Indo Western look is ready. This is quite cool and comfortable and suitable for the college girls. Younger girls would definitely love this look. The kurti is an amazing summer kurti for girls as well as for women. The design and pattern is not over the top and it is pretty on the casual side yet so alluring, which is why it can also be used as a work wear kurti for professional women as well.
6. Sleeveless Boat Neck Full Length Side Cut Kurti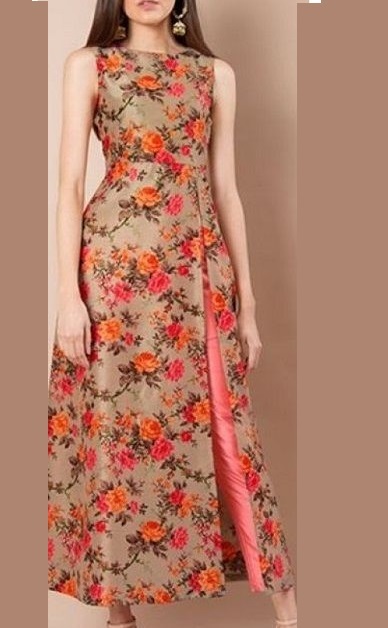 To appear classy yet chic, this is the kurti that we would love to recommend you for a festival or semi casual events. For such functions, this kurti would be appropriate. It is a floral printed kurti in a golden colored Silk fabric that shines but do not overpowers. There is a Peach silk cropped ankle pants paired with this dress. All in all, the combination is elegant and sober.
7. Georgette Sheer Side Cut Full Length Kurti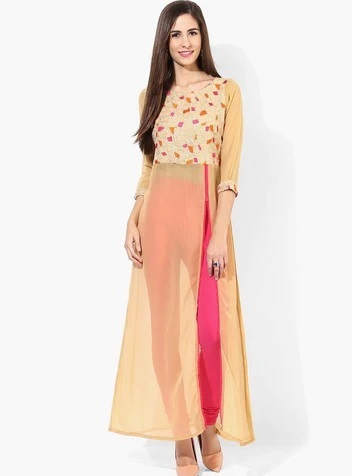 This kurti is made in a printed fabric while the rest of the kurti is kept in the sheer Georgette only without any lining. So it is a traditional kurti with has been made in such a way with such that it looks so Western. But we feel that leggings is not the best thing to go with this kurti however full flared palazzo pants, trousers, cropped pants or anything which has a little bit of flare would look much better to balance out the whole look.
8. Black Sheer Georgette Kurti For Festivals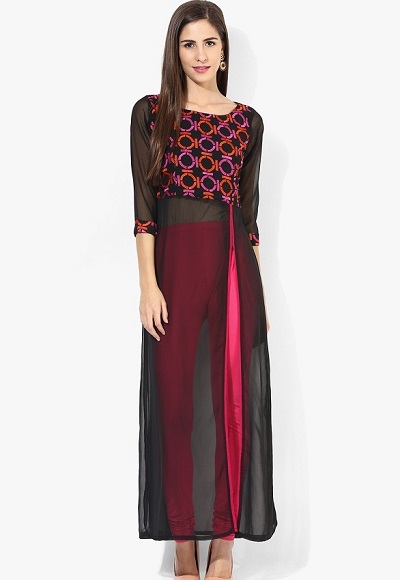 The variation that we were talking about, here it is. The kurti that we shared just above is similar to this one. It's just that this one is in black Georgette fabric and it is mixed with some Pink print on the black. It is also an equally brilliant looking women's kurti. The trendy kurti for women is ideal for festivals, if you can style It that way or it can also be a pretty attractive decent office wear kurti for working women.
9. Mirror work Side Cut Women kurti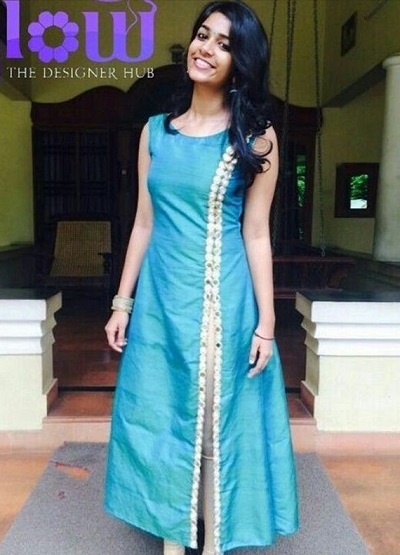 This kurti design for women is ideal for not only the festivals because of the mirror work on the slit itself but it is also true that can be used for the casual functions, get together, Puja ceremonies at home or even when you have to visit to someone's place casually. It is also a quite versatile kurti wherein there is a boat neckline pattern is chosen with sleeveless design. Even the Powder blue color is quite soothing and pleasing to the eyes considering it is suitable for the scorching hot summer season.
10. Side Button Panel Cut Cotton Kurti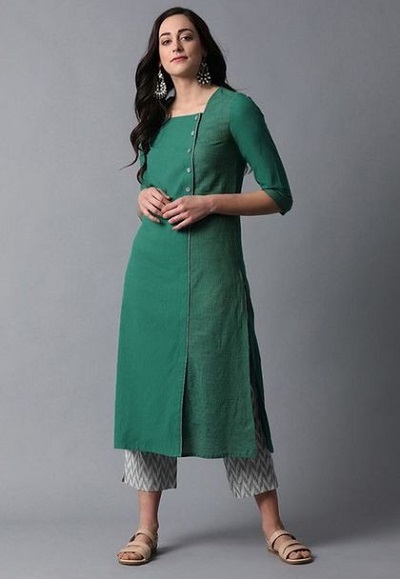 A cotton kurti is all, we can think of, when we see how comfortable such cotton kurtis and kurtas for women are, for the summer season. Summers are all about sweat, heat and humidity, other than the fact that summer also brings liveliness, cheerfulness and vibrancy to our lives. But because of the scorching heat and sweating, you would love to wear clothes which are comfortable, breathable and can also soak up the sweat to keep you cool and to prevent the uneasy feeling. This kurti comes with a square neckline in the front part and has a button click on one of the size that runs all the way down. It is basically an A line kurta where the there is not much but it is ideal for college and office.
11. Green High Low Cotton Side Cut Kurti Pattern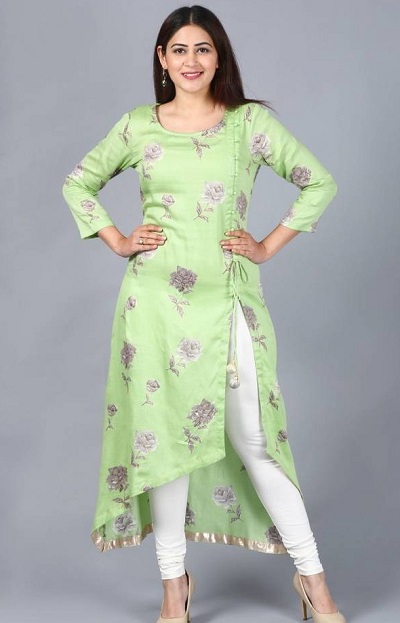 12. Blue Printed Long Side Slit Kurti Pattern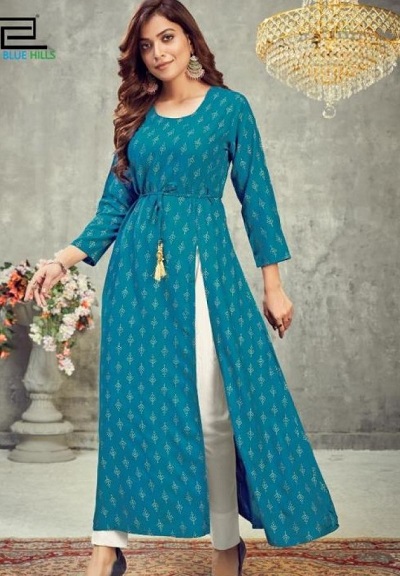 13. Sleeveless Side Button Placket Party Wear Kurti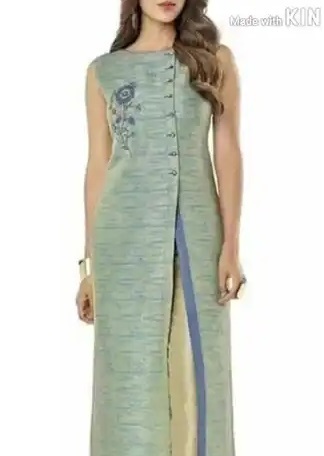 14. Side Cut Blue Long Simple Kurti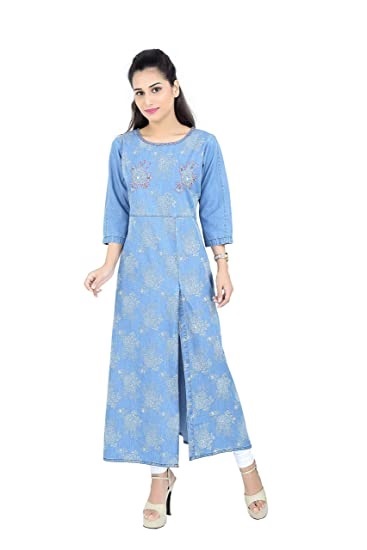 15. Maroon Silk Sleeveless Single Side Cut A Line Kurta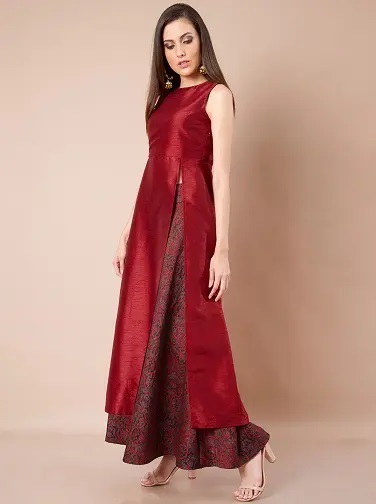 16. Embroidered Side Cut Kurti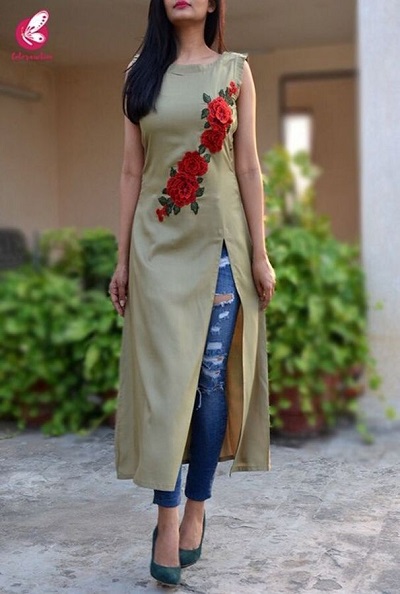 17. Polka Dotted Side Cut Kurti Pattern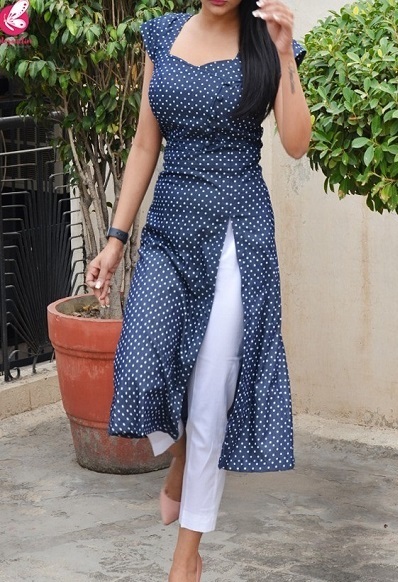 18. Sleeveless Solid Black Single Cut Kurti Pattern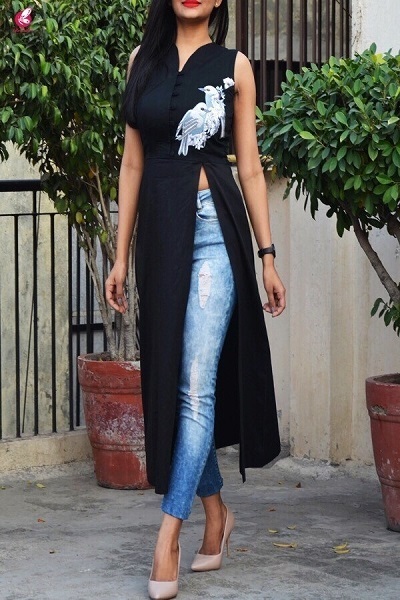 19. Georgette Kurti Design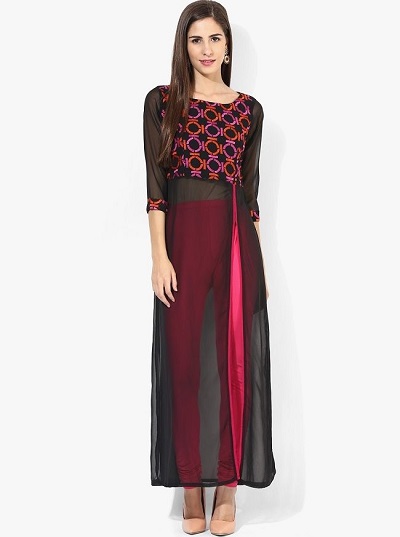 20. Side Button Placket Short Kurti
21. Single Side Slit Summer Printed Kurta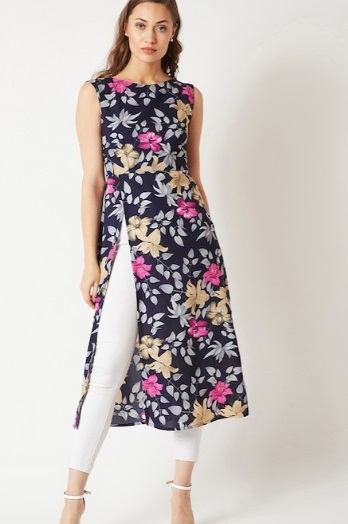 22. Single Side Cut And A Line Player Layered Kurta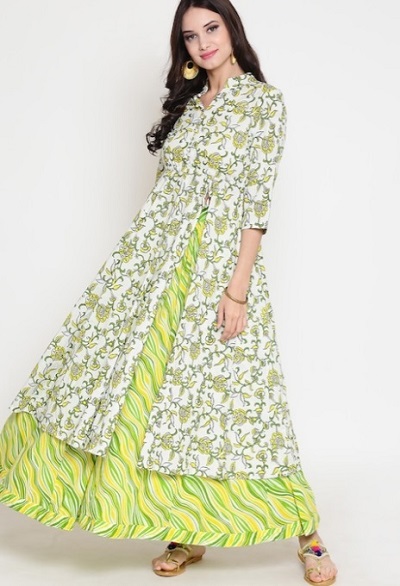 23. Mustard Yellow Georgette Polka Dotted Sleeveless Kurti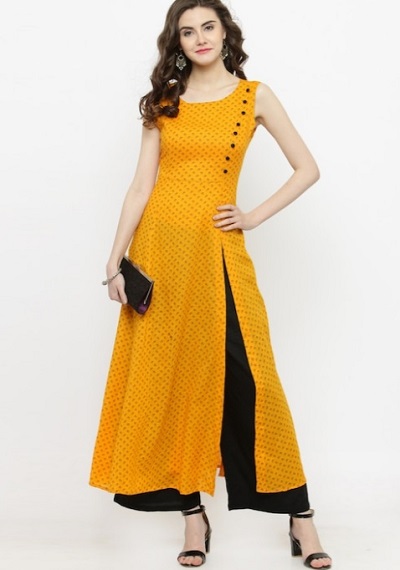 24. Lace Border Sleeveless Solid Blue Kurti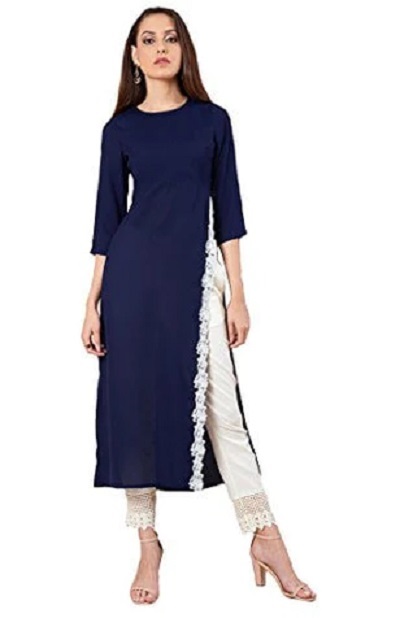 25. Rolled Up Sleeves Solid Black Kurta Design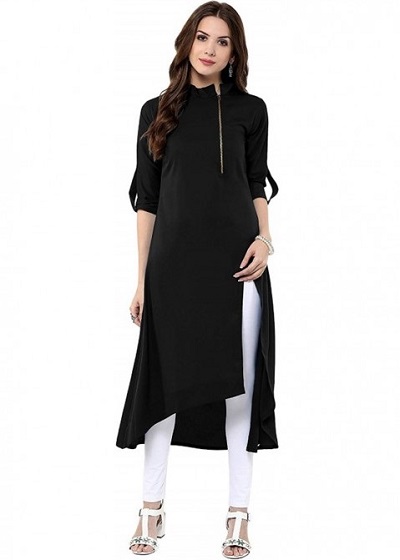 26. Party Wear Black Printed Kurti For Ladies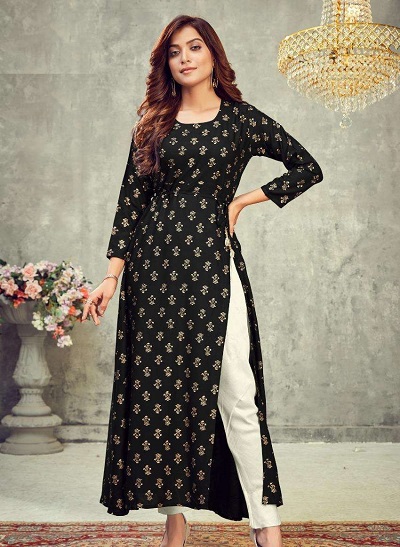 27. Velvet Embellished Side Cut Kurti For Festivals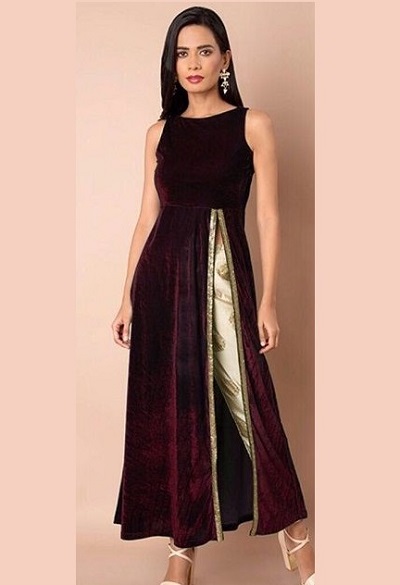 28. Peach Skin Side Cut Festive Kurti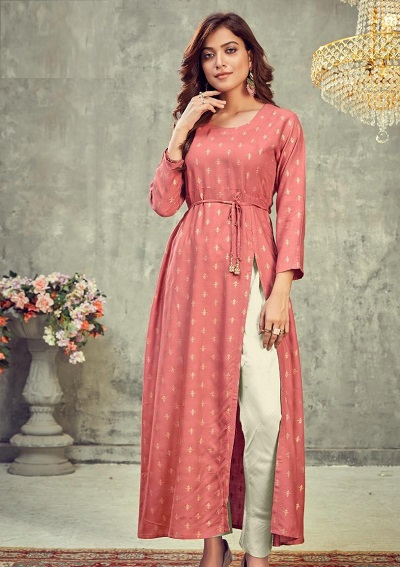 29. Long Embellished Party Wear Women's Kurti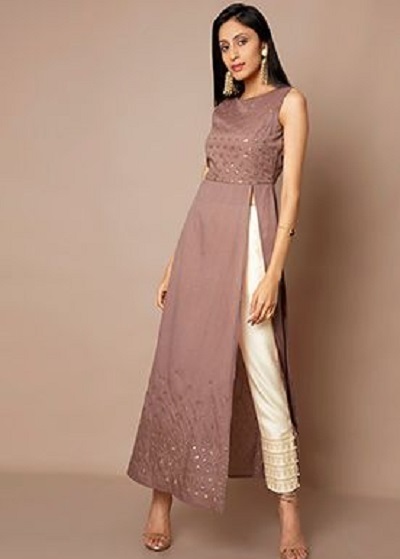 30. Embellished Side Cut Kurti Design