Mehndi is an integral part of Indian women. Not just in India even in Middle East, Pakistan and other countries the culture of applying Mehndi with the traditional dresses has its own place. Here we have paired the simple and easy mehndi designs that can be applied by even the beginners and people who are just learning to apply mehndi. Applying mehndi is not difficult but you just need some practice. Using mehndi on the hands or applying Henna is a sign of good thing. The designs of the mehndi have come a long way and currently we have got so many different designs that are regional and people specific. Like Punjabi Mehndi, Mughlai Mehndi, Arabic mehndi and even the single line or the bracelet, finger, ring style mehndi designs.
Simple and Easy Mehndi Designs for Karwa Chauth, Eid, Diwali and Weddings (2020)
So here are these simple and easy mehndi designs for beginners with images. Let's take a look at some of the most beautiful and easy mehndi designs that can be used by the learners and beginners.
1. Easy Mehndi For Eid And Festivals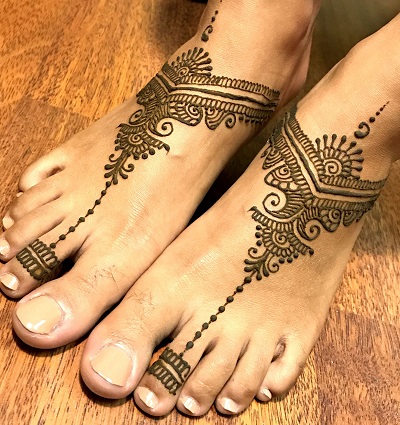 Resembling the feet jewellery this indicate and elaborate design is beautiful. It has to be applied neatly as the design gets round. For Indian weddings, generally girls would go for this jewellery feet mehndi design. You can apply this simple mehndi pattern for family functions, parties, weddings and otherwise where required.
2. Simple Jewellery Mehndi Design For Front Hand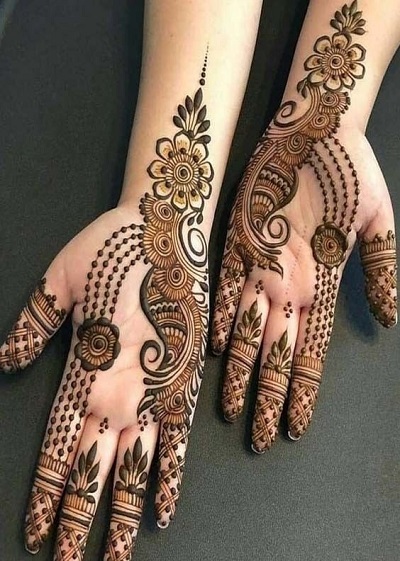 The jewellery and side swept resembling mehndi designs are suitable for occasions where women would like to take double heavily. Metals and circles that stands out of the wrist of the design. Made with dots and Tear drop shapes it is very even pattern and made in. It is suitable for gatherings, small functions where you would like to wear ethnic wear and outfits.
3. Arabic Asian Simple Mehndi Design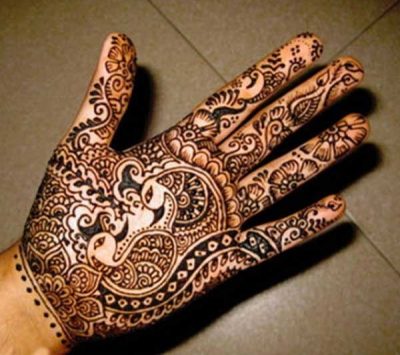 It's beautiful and simple Arabic mehndi design that has peacock like patterns. The entire palm is filled with the unique patterns that make it beautiful. It suitable for festivals and functions. Even for Karva Chauth you can apply a design this.
4. Easy Side Floral Mehndi Bail Style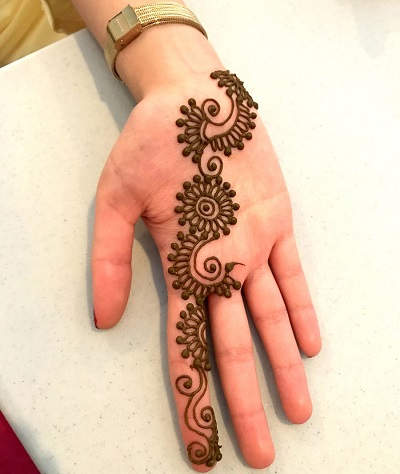 For working women, if they would like to have a clean and crisp mehndi design, then try this. With flowers and paisley design, it's kept quite clean and simple. It is just a line that goes from the index finger. It is suitable for the casual parties for occasions where are you go for anything elaborate or grand.
5. Simple Front Hand Mehndi Design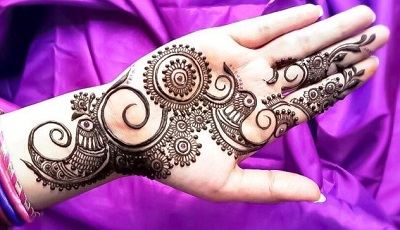 The simple circles inspired mehndi design has circles of different shapes. The layered mehndi design has smaller circles within every circle. And you need to be sure that you do it similar way. If you are not steady with the hand movement then go with the thick lines. It is suitable to be paired with traditional and Indo Western outfits for festivals and otherwise.
6. Gol tikki pakistani mehndi design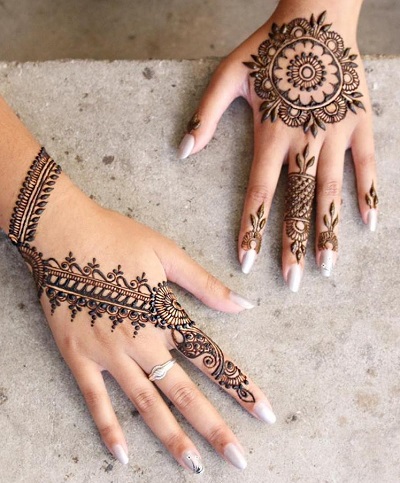 The gold Tikka Pakistani style Mehndi is on the back of the palm and the same can be replicated on the front palm. It comes with filled in structures and motifs that gives the vibrant and dark colour to the mehndi. The sweet and simple mehndi design is the best looking festival and party mehndi for women.
7. Simple Round Mehndi Design For Hands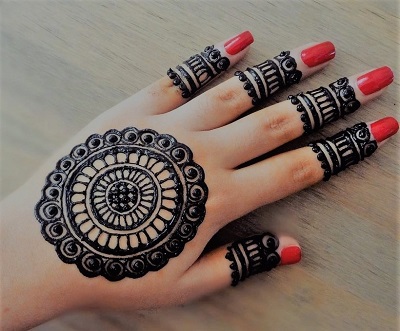 The round Gol Tikka mehndi design back of the hand is suitable to be tried on the front palm. It doesn't have to be too much of detailing in them. The ultimate goal is to make the design look neat and sweet. So try making the circles as round as possible. Otherwise the design can get merge.
8. Simple Shading Mehndi Design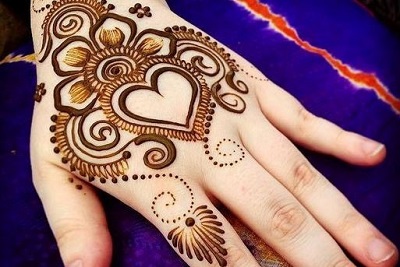 The heart shaped intricate designs is for those who like such patterns. It can be applied on the feet, on the back. If you are wearing a complete ethnic outfit then also it would look perfect. The design is extremely sophisticated and versatile and give that romantic look. It is suitable for ethnic festivals.
9. Heavy Anklet Pattern Mehndi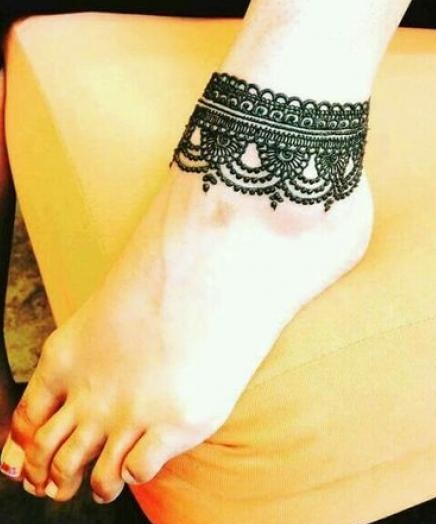 Like an anklet this is one of the best designs that beginners can go for. The easy mehndi design has parallel lines that create a band and small like structure. If you noticed it also reminds you of the choker or neck jewellery that is currently popular.
10. Arabic Mughlai Simple Mehndi Design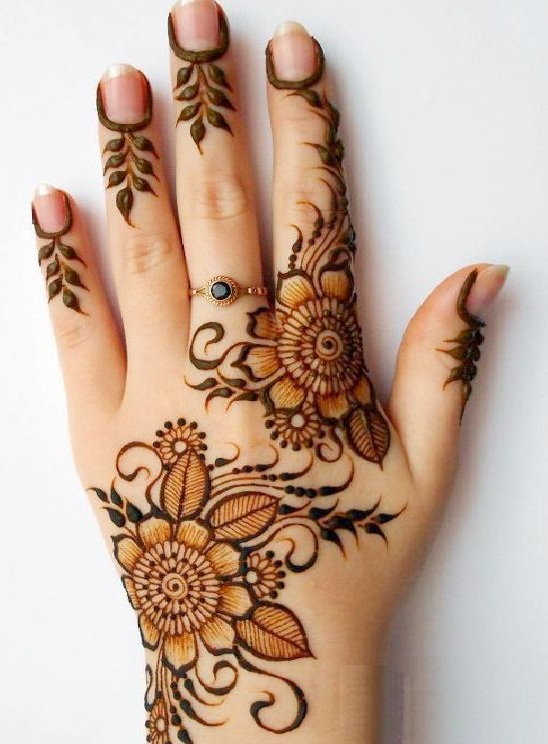 The Arabic inspired easy and simple mehndi design has shaded flowers and leaves pattern. The pattern on the fingertips is given a unique look. The entire design is very exclusive and rich looking. It is only one of the best simple mehndi designs that you can apply easily.
11. Back Hand Mehndi Design Simple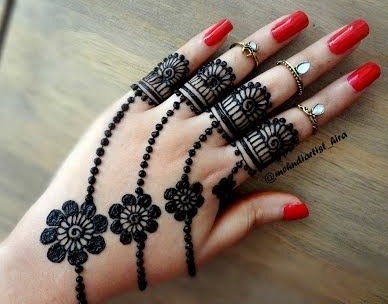 Which three chains going in floral patterns this is a very easy and attractive mehndi design. It is suitable for even the kids and for women who do not want to go overboard with their mehndi designs.
12. Arabic mehndi design for back side of hand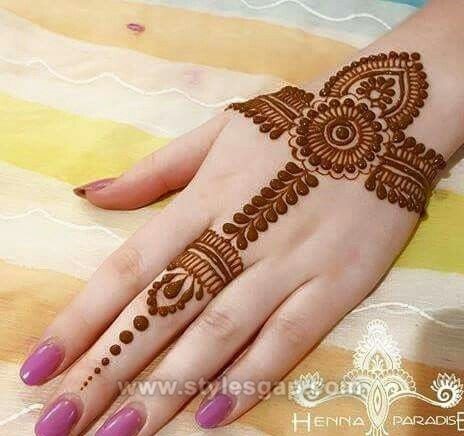 The extremely simple design has a bracelet like pattern. On the wrist there is a band that goes up till the middle finger. It chains at the end makes it ultimately gorgeous. You can get it more dark by keeping it for sometime and applying some mehndi oil over it.
13. Backhand Flower Gujarati Mehndi Design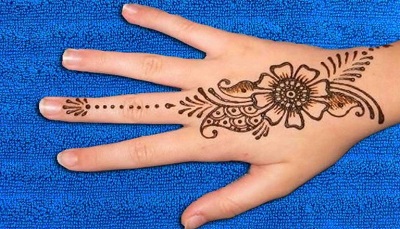 It is one of the simplest floral back hand mehndi design inspired by the Gujarati pattern.
14. Bail Mehndi Design Simple Style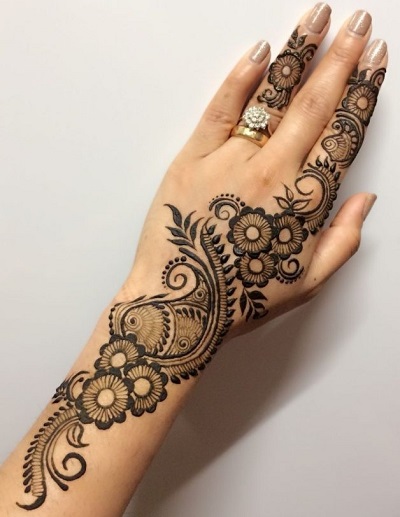 This mehndi design is a treat for the learners and people who want to apply mehndi. It is an elaborate design that goes from the index finger to the wrist. The circular flower patterns have been used with curved design. It is a sophisticated and design that may look difficult at first but on application it is quite easy.
15. Circles And Floral Mehndi Design
The mehndi design ideas circles, ovals and floral pattern. It is very simple and easy to apply and would not require a lot of practice. Even if you know how to use a cone this henna design quickly apply it.
16. Crochet Simple Mehndi Design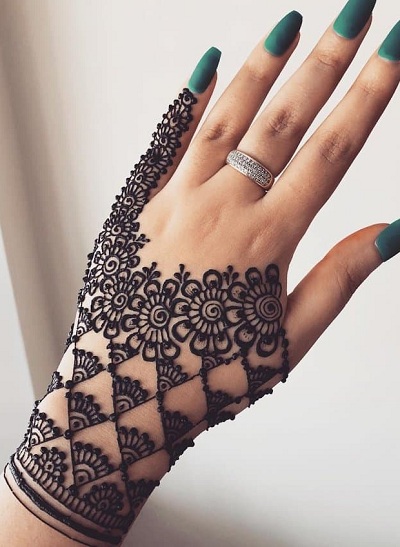 The crochet like design is a treat for the eyes. The very modern and western looking simple mehndi design is for beginners and professionals. It needs some practice as the parallel lines has to be clear and neat. It can be paired with Indo Western and other traditional outfits to complete.
17. Easy And Attractive Bail Mehndi Design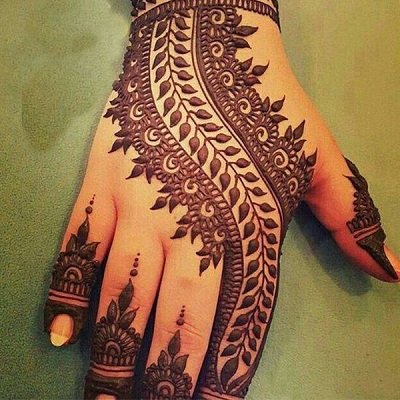 Attractive bail mehndi design simple but requires practice. It is done with thick lines therefore is it tend to get darker. On this design, you need to be careful that the borders need to be applied carefully as it can merge or spread.
18. Concentric Circles And Lines Simple Mehndi Design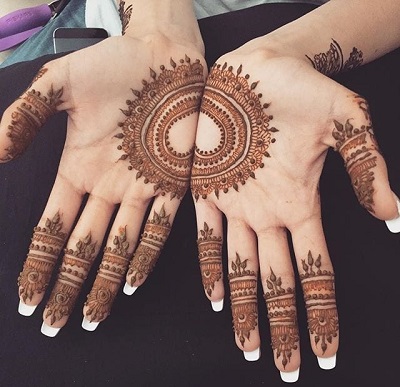 This henna pattern got a heart shape pattern. Half of the pattern is on each of the palms. It is very intricate that simple design. Therefore, to apply this mehndi design, you need a little bit of practice and after that you will be able to apply effortlessly and your henna would become dark. So if you know how to grab a cone with the steady hand, it makes the shapes fairly simple design.
19. Easy Bajuband Mehndi Design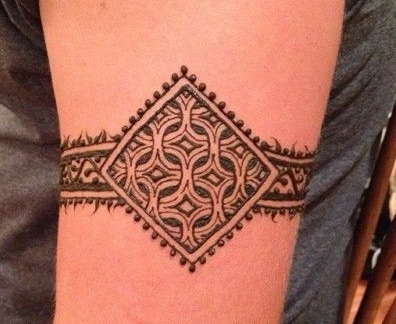 If you love band or bajuband style of mehndi, then to try it. This is uncomplicated in appearance however it's not. We are sure you would be able to apply, this easy mehndi design quickly. It is suitable for the brides and for other ethnic functions.
20. Easy Circular Party Mehndi Design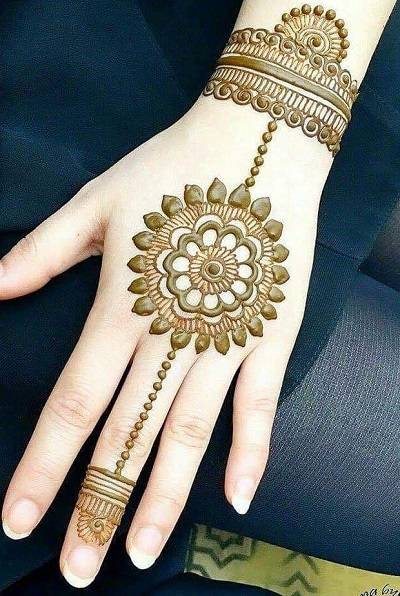 The party simple mehndi design has circle floral pattern on the back centre of the palm and ring that extends from the middle finger and goes till the wrist. Over the wrist there is a band which makes it a jewellery pattern. Jewellery mehndi designs are very popular currently and this is the main highlight of this beautiful pattern. Suitable for festivals, Karva Chauth, Eid and other parties you can surely apply this Mehendi on your palm.
21. Ring Pattern Simple Mehndi Art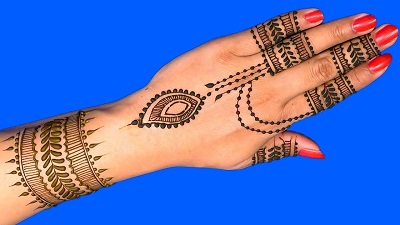 Ring like mehndi designs are currently in trend and they are very popular amongst younger girls. Such designs can be tried for Rakhi, Karva Chauth, Eid and other family functions and festivals. It can be applied for informal events too.
22. Easy Circular Pattern Of Mehndi For Feet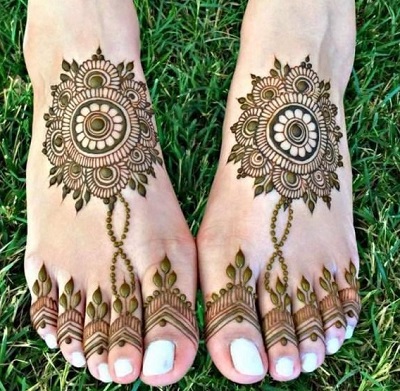 The circular mehndi is not just for your palms and back side of the palm but it can also be applied on the feet. The rich design is sure to give you compliment and you can apply it on the palms as well.
23. Backhand Easy Mehndi For Beginners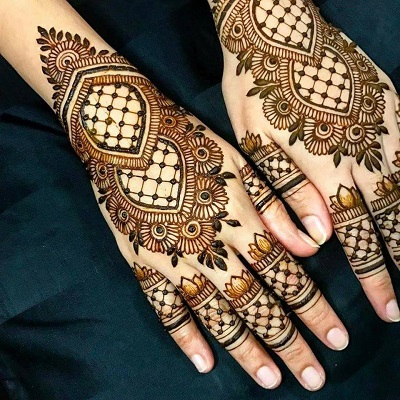 The beauty of this back hand simple mehndi design is the neatness it is done with. The simple pattern surely draws the attention and it would be easier for you to make it with some practice. It's suitable for festivals and other family gatherings.
24. Easy Gol Tikka Mehndi Design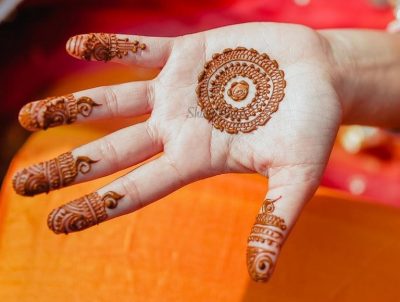 The easy Gol Tikka mehndi design is simple and even though the design is quite closely packed. Here you need to have a very thin cone and make sure that you are making the pattern with neatness else they would merge or spread ruining the design.
25. Easy Khafif Mehndi Design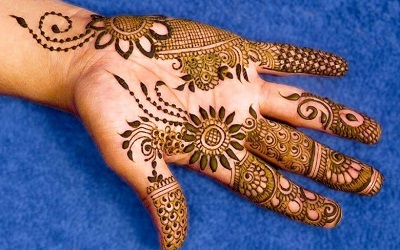 It's a very traditional mehndi design that bears everything that you need from a beautiful mehndi. From the flowers, Paisley, check pattern to filled in leaves and ball chain anything that you would like.
26. Easy Mehndi Design For Raksha Bandhan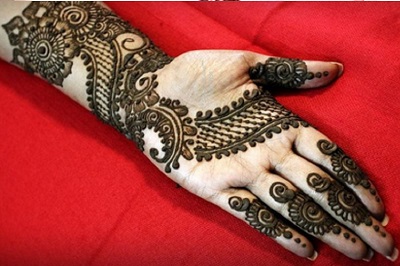 This extremely simple mehndi design is easy to make. It is done with Thick lines therefore you need to be careful that they do not more caustic together. They are filled with simple patterns therefore for family functions and other festivals. It is better to pair it with traditional outfits.
27. Easy Mehndi Design Step By Step For Beginners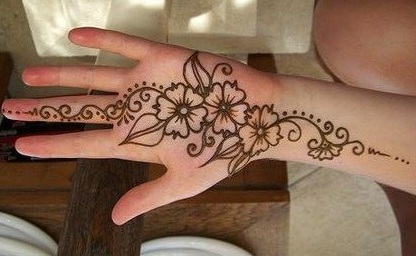 It's a very simple beginner's friendly mehndi design for kids. With three flowers on the palm it has. It is extremely simple and easy mehndi pattern that people who are learning would find it uncomplicated.
28. Easy Mehndi Flower Design For Hands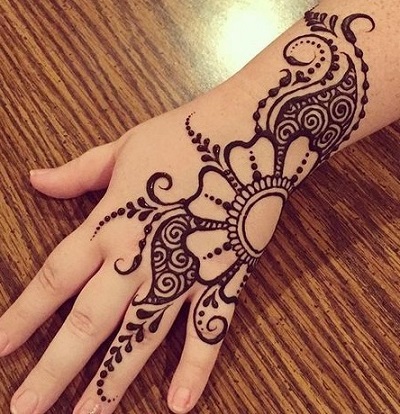 The floral simple mehndi is done using bold patterns. You won't find filled in shapes or structures it just the floral leaves and paste please. In fact it is also suitable to be paired with Western outfits.
29. Easy foot jewellery style mehndi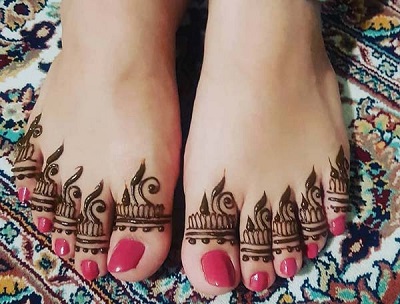 If you like easy mehndi design that quickly then try this. The mehndi here has two finger pattern. It is very easy to apply and you would surely enjoy putting it on your feet.
30. Easy Paisley Mehndi For Kids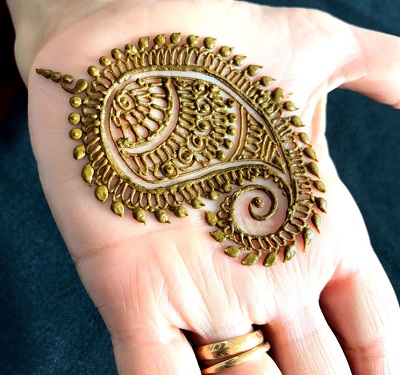 A simple paisley can do a lot when you love to have it on your palms. The easy and beginner's friendly mehndi design can be applied within few minutes. So, if you would like to practice then try design like this too more study applying Henna.
31. Cuff Bracelet Linear Simple Mehndi Design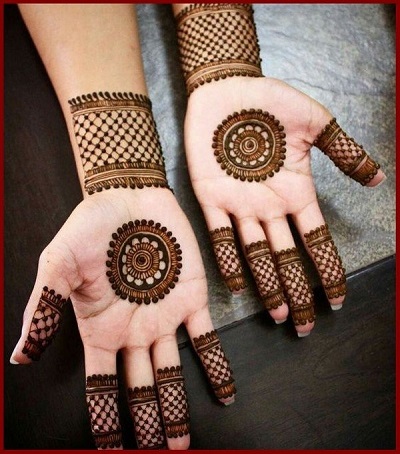 A circular mehandi design can never go out of fashion. This design has circles on palm and cuff like appearance of the wrist. The simple yet extremely beautiful design will be liked by anyone who love to apply mehndi. It is a perfection of simple mehndi design. The pattern is not grand yet has that attractiveness.
32. Foot Mehndi With Simple Chained Pattern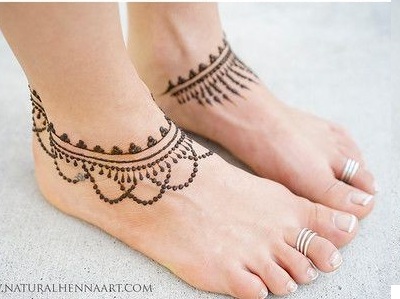 The simple chain mehndi is easy to apply with little bit of practice. It is perfect for beginners and people who would like to try some Indo Western Mehndi patterns on feet.
33. Front Finger Mehndi Design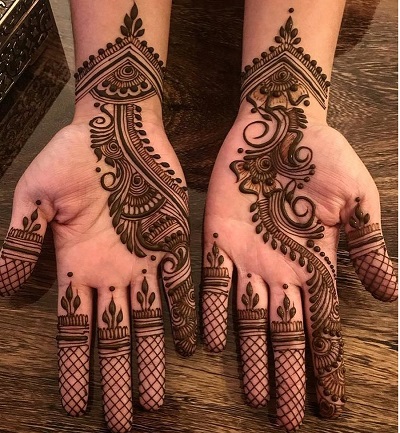 It's one of the best front finger mehndi pattern with fringe like structures. It is done so neatly and beautifully that you would surely love to apply it on your hands for weddings and parties. What makes it more traditional and beautiful is the pattern and shapes used. You can also apply it on the back of the hand.
34. Front Hand Floral Mehndi Design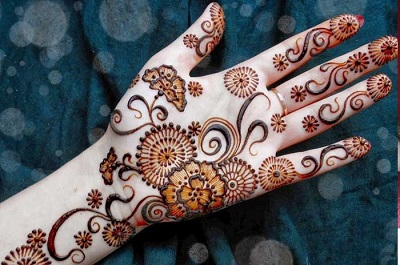 If you like circular flower shapes on the entire palm that brings a refreshing look to your design then try this one. The palm and simple mehndi design is used by putting dots and circular pattern. The shaded flowers are filled in that gives more dark and rich colour. You can apply this on the back of the palm and on the feet. It is perfect to paired with Indo Western outfits.
35. Full Hand Mehndi Design Simple And Easy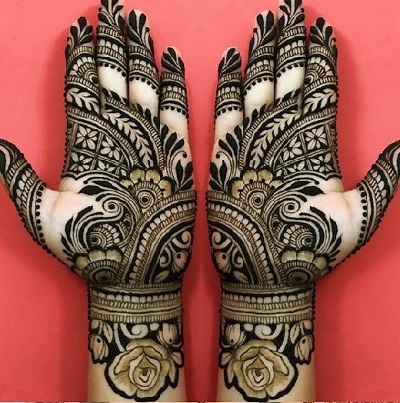 Mehndi design with rose flower shapes is a beautiful idea to go for the traditional ceremonies, other things, parties and festivals like Eid and Karva Chauth.
36. Flower And Shaded Mehndi Design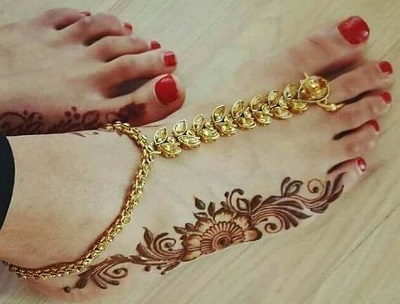 The intricate floral feet mehndi pattern is suitable for simple patterns. It has shaded flower and curvy lines. It can be paired with any outfit or parties and weddings. It is a best mehndi design for Eid and Karwa Chauth.
37. Geometric Pattern Mehndi For Weddings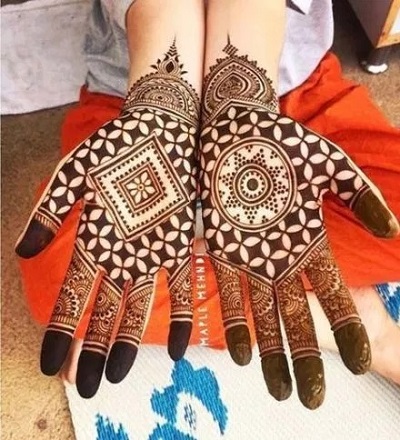 If you're wondering what mehndi design you should go for Diwali, Eid and Karva Chauth, then try this geometric pattern design. The other women would surely compliment your design. The dramatic pattern simple mehndi is easy to apply it's just that you need to be careful while filling in the shapes in the centre of the palm.
38. Quick Criss Cross Foot Design Mehndi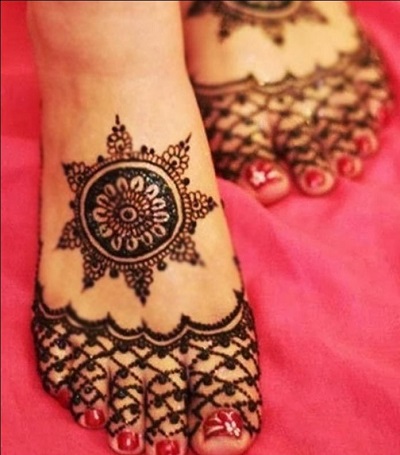 The feet mehndi bears a circular pattern in the centre palm and a beautiful design over the toes. It is a very bridal specific design. There is not much gap within the design but the feet are left there with just circles. It is suitable for wedding and engagement as well.
39. Jewelery Style Simple Foot Mehndi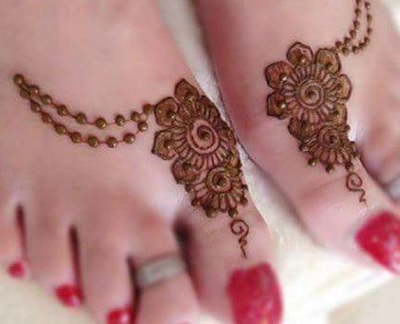 How about a beautiful Toran with ball chains? This is easy foot mehndi design that has two flowers and chains going on each side. We are sure you would love to enjoy this mehndi design.
40. Kids Easy Bracelet Style Mehndi Design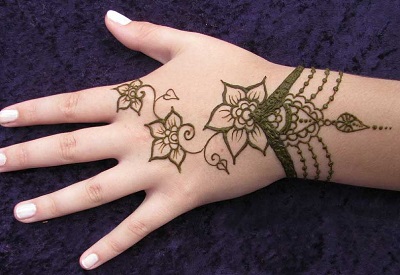 For kids this is a very and quick to apply Mehndi. With three flowers it has a band like shape. For a chains you can also tweak the design update and arrange the flowers in a line. Starting from the index finger small flowers can be made that extends and meets towards the wrist band.
41. Latest Easy Mehndi Design For Back Hand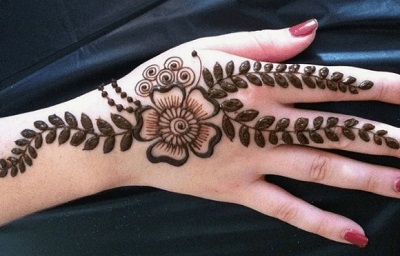 This refreshing back hand mehndi design is done step by step. The leaves and tendrils goes on the back of the fingers with the centre flower. The flower can differ in size and pattern that goes over the fingers and can also be extended a bit. The filled in leaf shapes gives more dark colour. If you like your Mehndi to be darker you should go for the filled in mehndi design.
42. Latest Indian Bridal Mehndi Design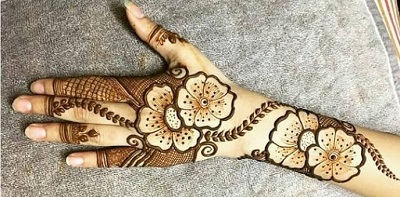 This is one of the best bridal simple full hand mehndi designs. The beauty of this design is the board flowers on back of the palm. The similar design can be done on the front end. This mehndi design would surely add your beauty to your look. It is suitable to be applied for family functions, Karva Chauth or after bridal occasions.
43. Latest Karwa Chauth Mehndi Design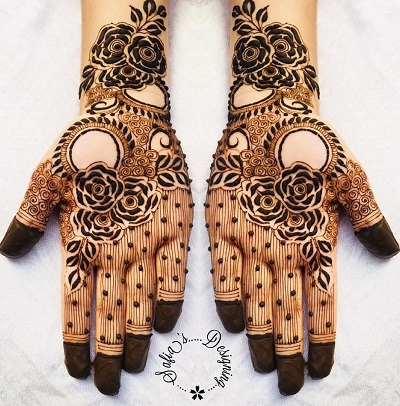 We would surely love to have a intricate yet simple Karva Chauth Mehandi pattern like this. The circle and flower pattern with filled in shapes gives the rich colour. The entire hand is filled with Mehndi and it is a grand opulent looking mehndi perfect for festivals and parties.
44. Leg Mehndi Design Simple And Easy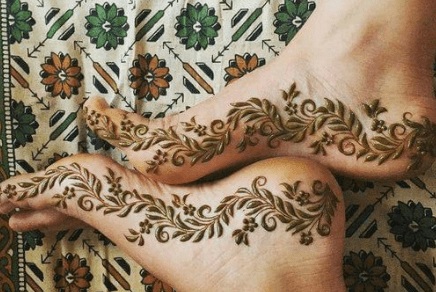 A simple design can also be that alluring. This design here is applied on the feet is one of the best feet simple mehndi patterns. It is applied step by step and the same shapes are used all across.
45. Long Cuff Style Mehndi Pattern For Brides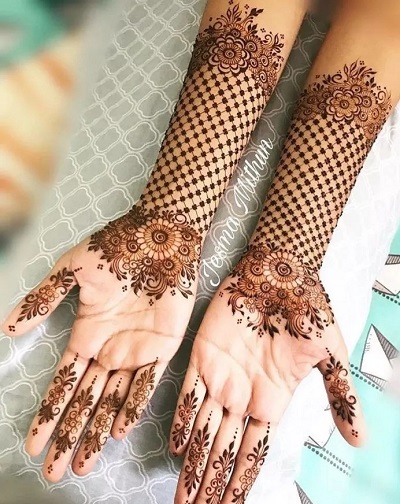 For women who like Grand cough style bold Mehndi should go for this. It is heavy design that needs to be done with care as the line can merge. And it's on your palm you need to keep the palm study and protected from getting smeared anywhere else. The outlines are done wonderfully and it's the best Mehandi that you would find for women who like it differently and lavishly.
46. Mehndi Design Cute And Romantic
A cute and romantic simple mehandi pattern takes your look another level. The heart and small flower shaped mehndi on the back of the palm can be used on the front and feet as well. You can apply a similar design on the arms. Perfect for the romantic get together, ethnic festivals and parties, this is the best traditional and Indo Western mehndi pattern that we have seen.
47. New Unique Simple Mehndi Design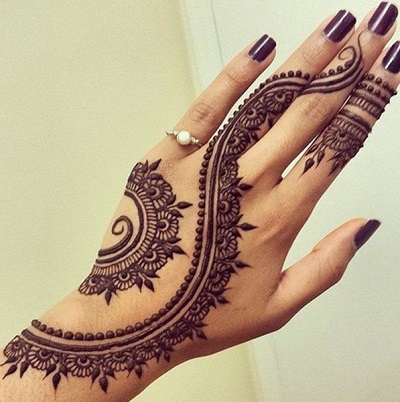 The uniquely shaped mehndi pattern is for all the events and festivals that you have. The semicircular patterns with flowers and beads adds charming beauty to this stunning design.
48. Pakistani Simple Mehndi Design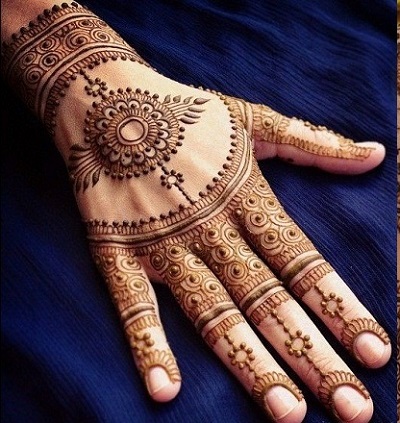 The intricate and simple mehndi pattern is for family functions and get together. It is done with and precise lines that you would need some practice and would be able to do it step by step. Designs like this are simple mehndi designs for beginners. With proper borders, the heavy design leaves a marking impression with little spaces in the middle so that the design can stand out.
49. Simple And Cute Finger Mehndi Design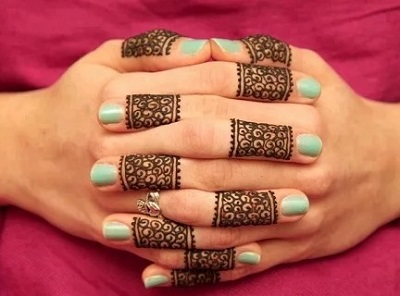 The finger mehndi design is surely cute enough to give you Western and traditional look. It is for women who like to apply mehndi but in a different way. Perfect to pair with the Indo Western outfits, it is suitable for office going women.
50. Quick And Easy Chain Mehndi Design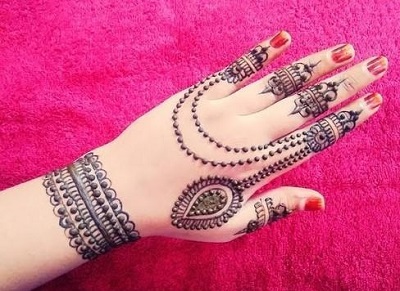 Simple and stunning mehndi pattern with jewellery affect. They look really trendy and if you would like to go for Indo Western clothing. It is also a roka and engagement mehndi design. When you are running late then such easy and simple mehndi would do.
51. Quick Intricate Mehndi Design For Learners
With paisleys and flowers, this simple Rajasthani inspired mehndi design can be applied on the back of the hand too. Such designs are especially for those who like to keep it clean and simple. On the top part of the hand you can apply some other design. The wrist and the fingers are left out  but you can also go with some minimalistic design over there.
52. Quick Mehndi Design Arabic Style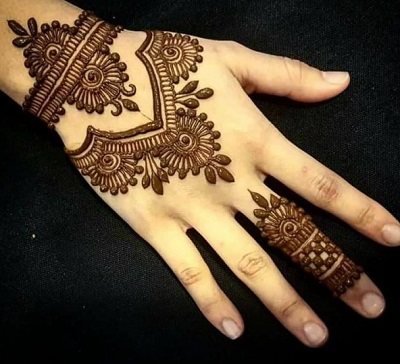 Arabic simple mehandi design has a very pretty pattern on the finger. The same design can be done on all the fingers and on the frontpalm. It bears the Mughal architecture inspired pattern and shapes. Wristband adds more dimension and beauty to this easy mehndi design for beginners and learners.
53. Heart Pattern Mehndi Simple Design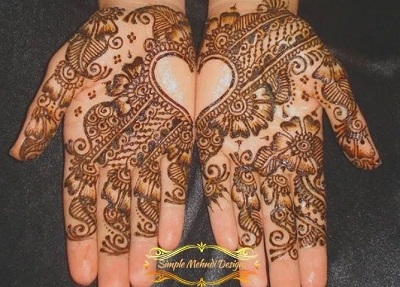 The beautiful is amongst the most and easy mehndi designs. The hand is done using different shapes that as pattern. The flower shapes have made it clearer. It can be applied on family functions.
54. Side Multiple Flower Design Mehndi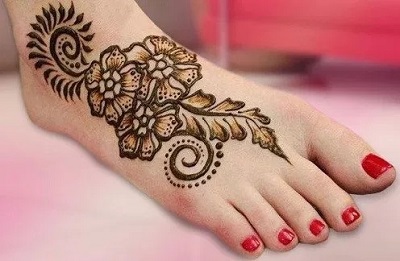 The feet mehndi has beautiful flower pattern. Rather than going overboard you can keep the design simple and precise. Even for kid's feet this is a really beautiful simple mehndi design.
55. Side Swept Easy Mehndi Design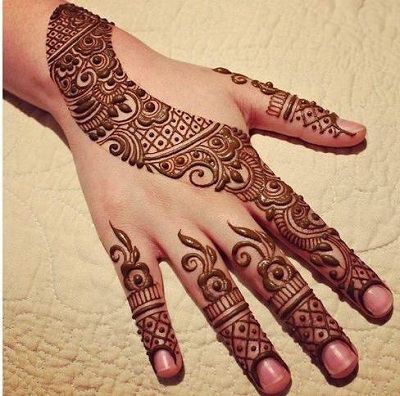 The side swept simple mehndi design is easy but intricate this is why need some practice. It has thick borders and filled in pattern in between. It will make the design get dark once the Mehndi gets dry. You must definitely try a such a design for the party and informal events where you can also wear western there with such pattern.
56. Simple Round Mehndi Design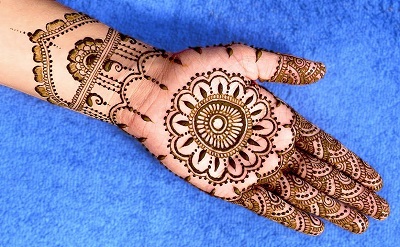 This round mehndi design is for women who like simple yet stunning designs. The beginner's friendly design would need practice to make the concentric circles. Then the job is easier as you have to fill in the shapes and outline with spiral strokes and curved leaves. It is suitable to be paired with ethnic outfits, Indo Western outfits and suitable for Grand events.
57. Simple And Cute Mehndi Design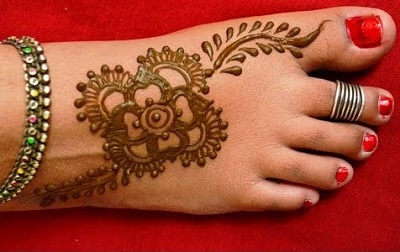 What can be as simple as this beautiful and extremely easily done feet mehndi design.
58. Simple And Cute Mehndi For Girls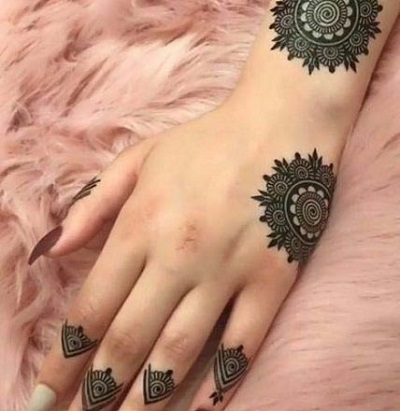 The spacious mehndi design has rangoli like round structures. The entire hand is left there with just two circular shapes used on the wrist and side of the back hand. The fingers are given very beautiful look by small geometric pattern.
59. Simple Eid Mehndi Design For Hands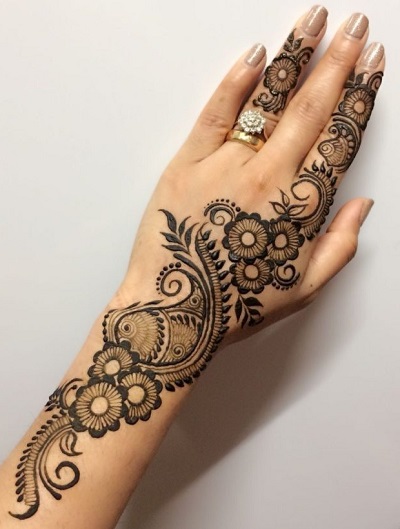 This nicely made easy mehndi design has filled in leaves and paisleys.  It can be dne for Indian festivals, functions, weddings and is perfect for women who like Indo Western kind of looking simple mehndi designs.
60. Simple Fancy Mehndi For Eid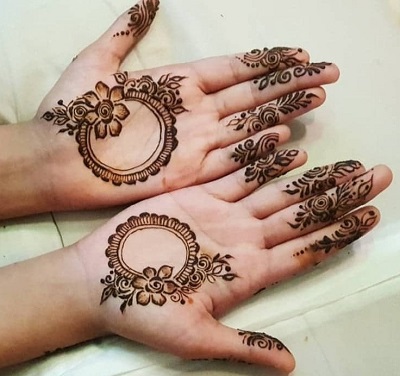 The fancy mehndi design is easy to apply and you won't face any difficulties applying this. The best part is a gorgeous mehndi design for beginners and you can see that how it comes. The floral pattern gives all the attention and the blank space in between adds more style to this design. It is suitable for occasions like eid, Karva Chauth, Diwali or even Rakhi.
61. Simple Flower Henna Design For Hands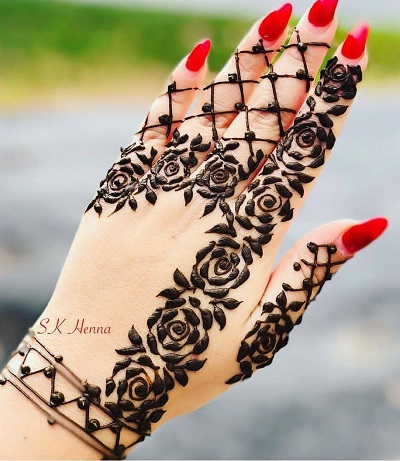 With Roses and intricately filled in design, this is one of those design that stays longer on the hands.. Mostly girls and kids would go for such designs. It is also a perfect mehndi design for professional and working women
62. Simple Foot Mehndi Design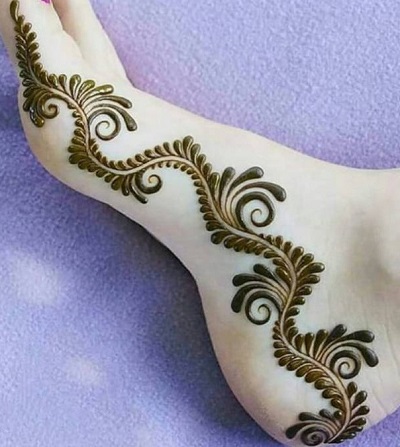 The spiral feet mehndi design is for women who like simple yet dark mehndi. You can use it for festivals like Karva Chauth as it goes well with Indian ethnic outfits. It is a western looking design that even elderly women can try.
63. Simple Half Side Mehndi Design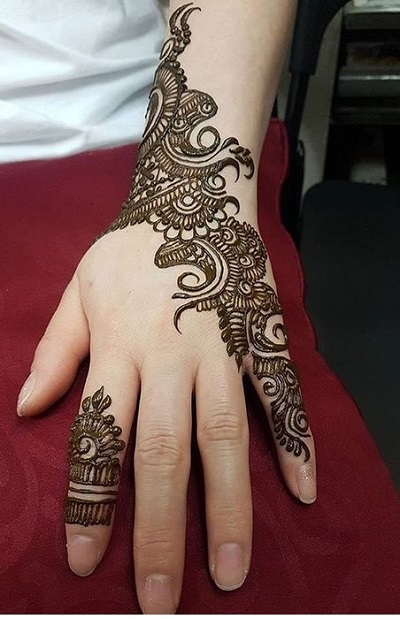 It's a simple half side mehndi design that goes from the little finger towards the wrist and beyond. The small pattern on the index finger has the same shape, which can be drawn on the middle and ring finger as well.  This is one of the best one sided mehndi pattern.
64. Simple Hand Mehndi Pattern For Diwali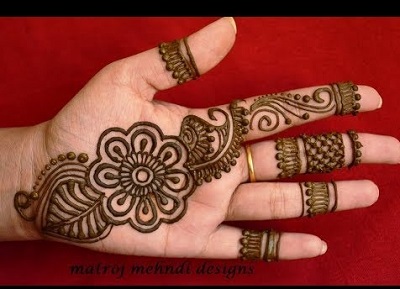 The easy mehndi design with thick lines can be done quickly when you are running out of time. It has  space that is there in this design gives the new dimension and how the mehndi turns out when it is completed.
65. Simple Henna Design For Beginners Finger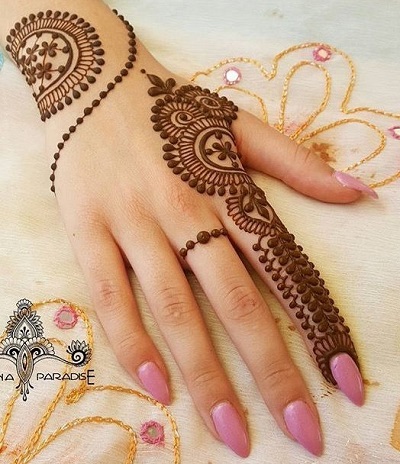 This single line simple mehndi design is good for girls, kids and women of all age group. It is for those who like easy and simplistic pattern. The henna design looks like a single bracelet that goes from the index finger towards the wrist. It is easy to do and is a beginner friendly design.
66. Simple Islamic Mehndi Designs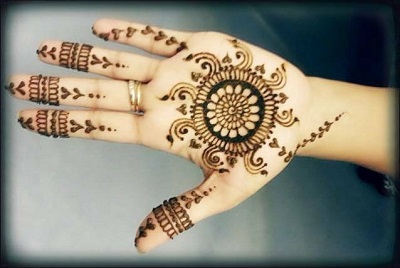 The circular design is done with filled in gaps and spiral. On the fingers the easy pattern is made with teardrop shapes. It can be used for family functions, festivals and even on Karva Chauth, where women would like to keep their hands with really simple designs. The henna design is pretty easy for beginners.
67. Simple Leaf And Chain Mehndi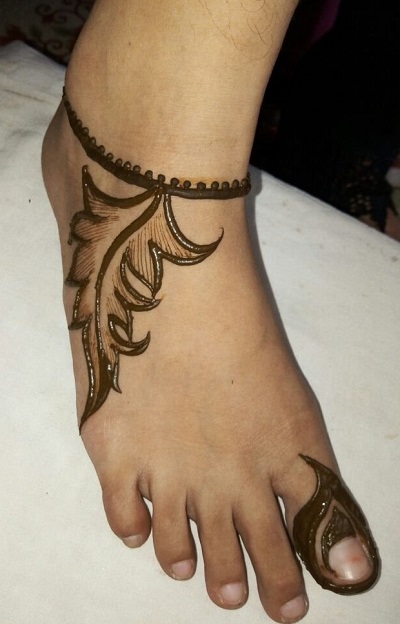 This mehndi design is perfect when you are wearing heels. It would display the mehndi even when you have heels and strappy sandals. It is clearly one of those mehndi designs that looks gorgeous and can be applied quickly and easily.
68. Simple Leg Mehndi Design For Starters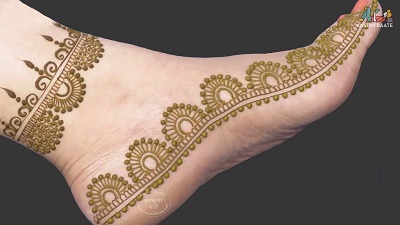 Rich anklet and floral  like style is one of the best and simple mehndi for feet that we have seen. It is appropriate for Diwali and for married women they would like to get their feet adorned with Henna designs.
69. Simple Long Arm Length Mehndi Design style
The basic idea of this long design is the spiral edges that goes from top and bottom. In the centre of the back of the palm it has for concentric circles. I have to do it of practice. It can be even more grand venue to be kept on your own design.
70. Simple Mehndi Design For Baby Girl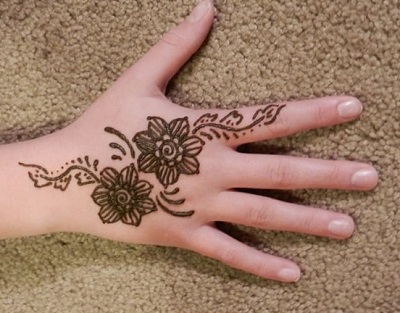 This beautiful mehendi henna design is for little girls. This Kids mehndi design has two big flowers and tendrils and branches going out from each of them. The same can be applied on the front palm.
71. Simple Mehndi Design For Beginners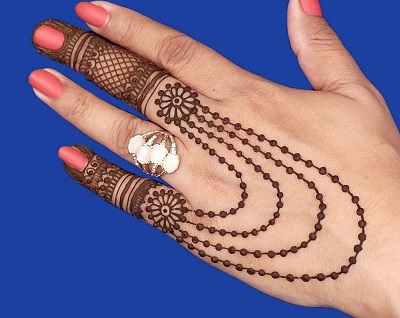 Ball chain designs are easy for beginners and learners. They are done step by steps and there is no such intricacy required to make these designs. Suitable for all hand shapes these are best to be paired with and ethnic wear.
72. Simple Mehndi Design For Children's Feet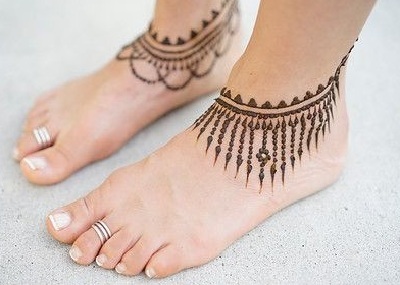 When you are wearing flip-flop the design like this makes your feet look beautiful. It would show the entire design and with the bridal mehndi as well you can try this. It has pretty design and two different designs are used on each foot.
73. Simple Mehndi Design For Front Hands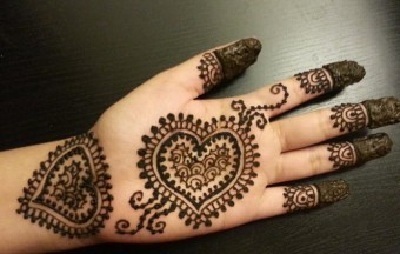 Heart shape Mehandi pattern is a romantic and cute design that beginners can go for first. It has intricate spiral and curved lines but they are not very hard to draw. You need to know how to grab the cone and draw the basic shapes like circles spirals and leaves.
74. Simple Mehndi Design For Left Hand Palm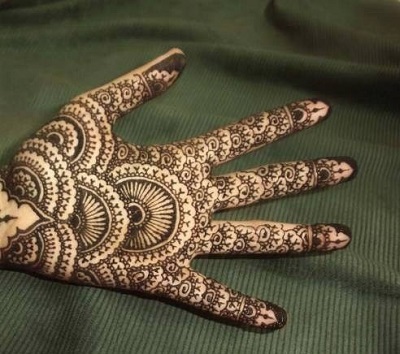 The overlapping circular mehndi design does not need as neatness as some of the other intricate designs do. The network of overlapping circles is the best thing that makes his design in you can have darkened border to make this design get dark once it gets dry. The design is suited for family functions and events.
75. Simple Mehndi For Eid And Wedding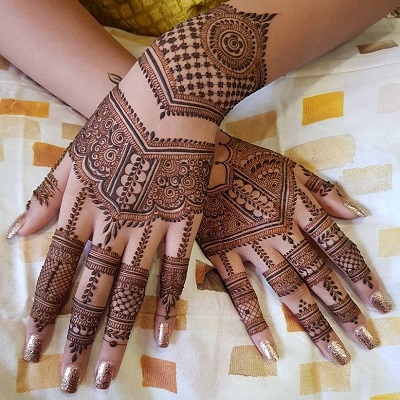 This pattern looks quite neat and sweet however with practice you can master it. This has to be done in step by step manner. And with this you would need practice for a couple of times. Applying this would not be a problem once you know the basics of drawing the intricate concentric shapes and lines.
76. Simple Modern Rose Mehndi Design
Simple side swept floral mehndi is suitable for girls and kids. The mehndi goes from the wrist towards the pinky or little finger. The same can be tweaked by taking the design to middle finger ring finger or even the index finger. There you can let your imagination flow to create a different design out of it.
77. Simple Pattern Of Mehndi For Both Hands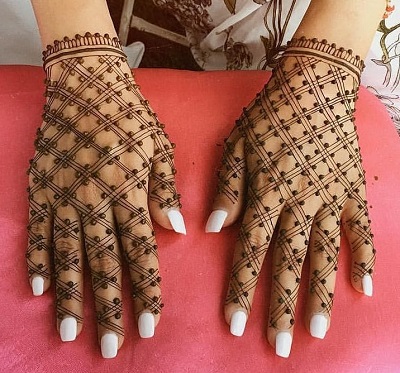 The Criss cross pattern on the back of the hand gives the very netted glove like appearance. It is purely a western mehndi design that would look good with western wear. Even for working women the design is suitable.
78. Simple Peacocok And Paisley Bridal Mehndi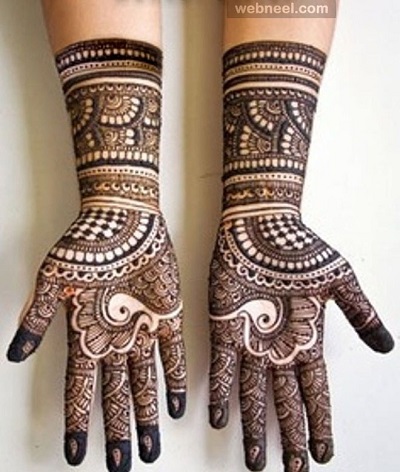 The bridal mehndi design includes peacock, paisleys, semicircles filled in shapes and structures. It is a grand design with broad cuff bracelet resembling shape near the wrist. Many women would go for such designs even for their after wedding Karva Chauth, Eid, even for roka or engagement ceremony such designs are prepared by professionals.
79. Simple Rajasthani Mehndi Design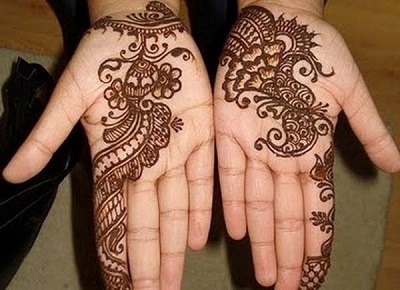 Simple Rajasthani inspired Mehndi is perfect for women who like easy and quick to do mehndi designs. It is really a traditional design that can go with your traditional wear and for festivals like Karva Chauth and Eid.
80. Simple Wedding Mehndi Design For Full Hands
It's a wedding mehndi design that a lot of bride's would prefer because of its intricacy and sophisticated patterns. It can be applied on the palms, arms and back of the hands. Suitable for festivals like Rakhi, Diwali and it is one of the best mehndi design for brides and for engagement.
81. Simple And Easy Mehndi For Brides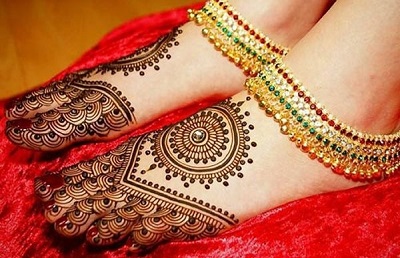 Simple and easy feet mehndi design for brides is inspired by the concentric circles. If you are not good at drawing circles then try to make bold lines.
82. Simple And Grand Arabic Henna Mehndi Design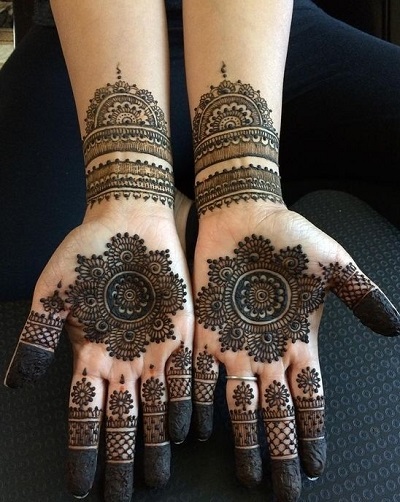 The Grand Mughlai Arabic inspired Gol Tikka Mehndi has Rangoli like circular pattern. This immensely beautiful and intricate design is for learners who would like to learn simple and intricate mehndi designs. It looks striking and gorgeous. It is one of the most beautiful mehndi designs that we have seen for brides, bridesmaid and for wedding festivals.
83. Simple And Short Mehndi Design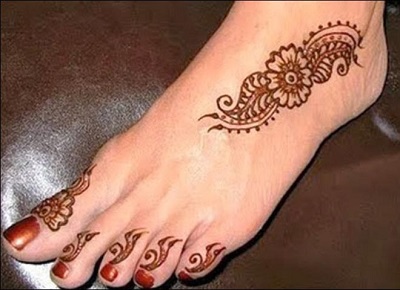 Try simple foot mehndi design like this. It's suitable for professional women or working women who go to office.
84. Simple And Unique Dulhan Mehndi Design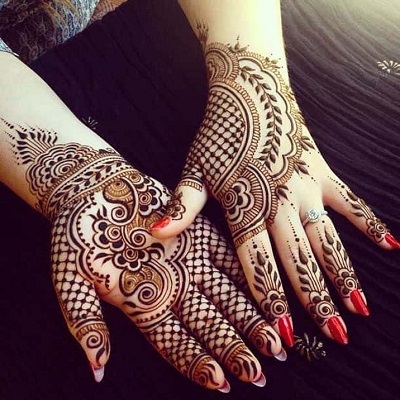 A Grand Design does not need to be extremely intricate. This design here has neatness yet is not very compactly made. The beauty is the patterns used. It is suitable for brides, festivals, weddings and parties. The flower patterns with leaves on each side of this front hand floral mehndi design give you completely trendy design. The flowers and leaves forms different shapes that spirals the circles.
85. Simple Anklet Design Mehndi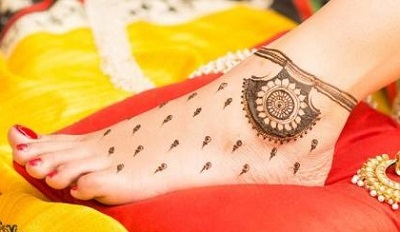 How about a jewellery inspired feet mehndi design. Yes this anklet style mehndi has a stylish pattern. You would surely like to have such a South Indian design on your feet.
86. Simple Arabic Henna Design For Left Hand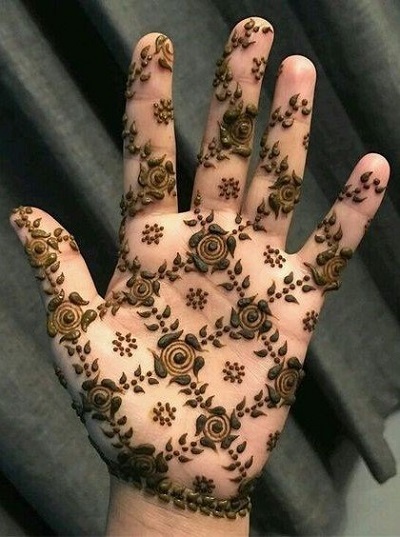 Chains, dots and rose flower pattern this is one of the most neatly done design. This design is the best simple mehndi design step by step. Their simple yet would need some practice honestly. The patterns of the petals and the dots have to be done keeping in mind the gap filling and space. These designs are proportionately made. It's suitable for casual affairs, festivals and other grand festivals.
87. Simple Arabic Mehndi Design For Left Hand
The Arabic back hand mehndi design is very grand and royal. It extends below wrist towards the arm. It is simple and easy mehndi pattern that is perfect for Palm. It has some gaps in between that draw attention to the filled in parts. When it is entirely done you would surely like the neatness and preciseness of this pattern.
88. Simple Arabic Mehndi Design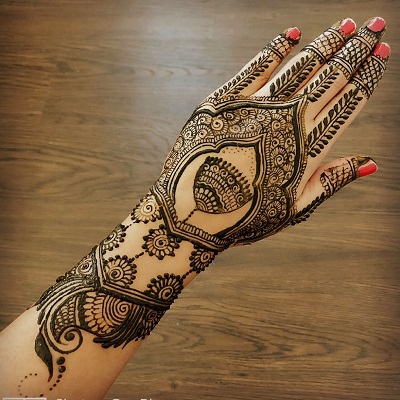 The next intricate or traditional mehndi design is simple and easy. All you need to do is to hold the cone and draw lines. It's applied this on the back side of the hand and on the front Palm like as shown in the image.
89. Simple Arabic Mehndi Pattern For Feet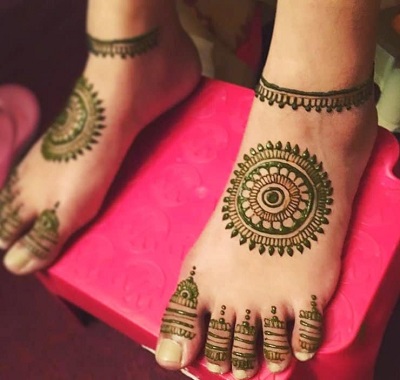 This design has everything it covers your ankle like the anklets and the centre part. Then on the toes it gives you structures like toe rings. So all in all, it is a very married women and bridal kind of simple mehndi design for feet.
90. Simple Back Finger Mehndi Idea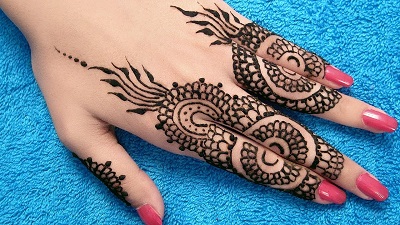 This mehndi design for back hand gives an appearance of the sketch pen art that we do. Actually the mehndi design is done with the henna cone using the single lines. It is easy to do and a lot of ladies would be able to apply this.
91. Simple Back Hand Mehndi Design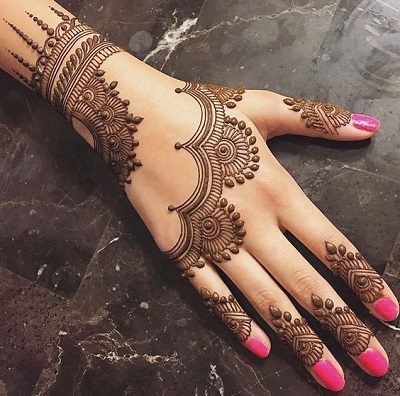 For family functions, festivals, weddings, this design is Royal looking. It is the best mehndi designs with spaces in between that draws attention to the filled in patterns and shapes. First thing you have to be precise in making the semicircular lines to create the framework of this entire design. Finally when you are done, you can go with detailing shape.
92. Simple Bharwa Mehndi Pattern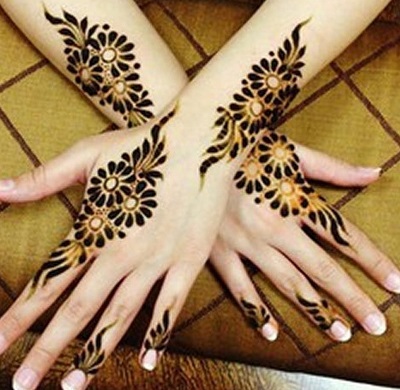 For women who like bharwa mehndi design shall try design that has filled in shapes. Such designs generally last longer and get rich when they get dry. This is a very modern and western design that even stays for days.
93. Simple Bracelet Mehndi Pattern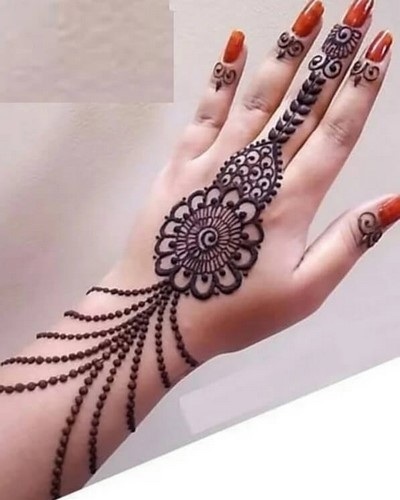 How about a chain and brooch like shape, like this that goes from your middle finger till the wrist. Exactly this design gives you that. The centre part is given a nice brooch jewellery like shape then the ball chains extension towards the wrist creating a wrist band jewellery. Suitable for family functions and festivals, it can be paired with heavy outfits, traditional and even the Western and Indo Western.
94. Simple Bridal Feet Mehndi Design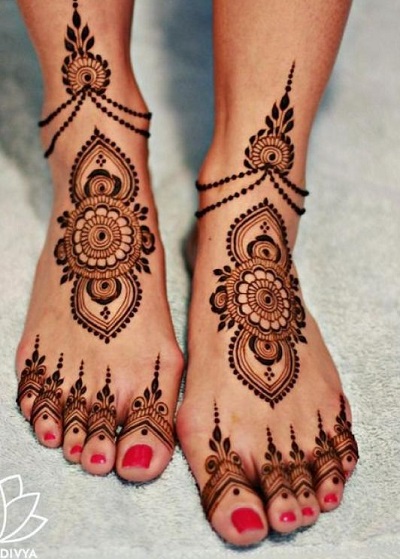 It's a stunning simple bridal feet mehndi design. Even if you are keeping your first Karva Chauth or your Eid then beautiful intricate design can be tried. It is a very Arabic feet mehndi pattern that needs practice honestly and the study of the hand. It's because the Centre has several concentric shapes which is why you need to be careful that they do not more yours bread or stick together.
95. Simple Brooch Style Mehndi Design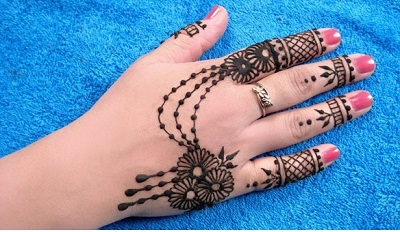 Simple and beautiful Mehndi design is extremely attractive. The design here is simple to make and many women and learners would be able to draw it. It is also a perfect easy to do mehndi for kids.
96. Simplest Tattoo Style Mehndi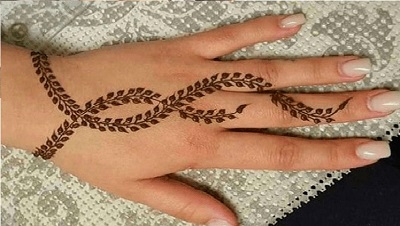 This simple and stunning mehndi pattern is for everyone who likes to have henna tattoo. This simple mehndi tattoo design does not require a lot of mehndi drawing skills.
97. Tikki Mehndi Simple Pattern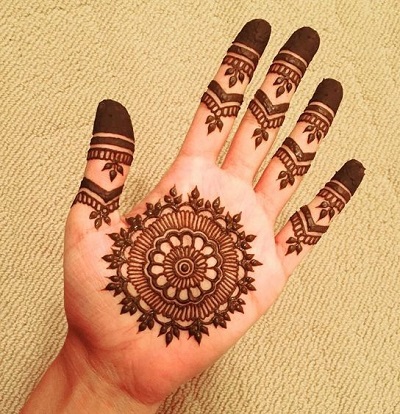 Tikki or round mehndi is in trend for bridal mehndi art.
98. Triple Circles Easy Mehndi Design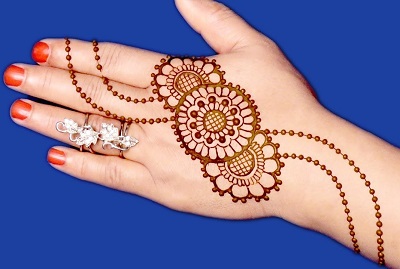 This dainty triple circle simple mehndi design is for simple pattern lovers. This is easy henna pattern to try yourself.
99. Unique Simple Mehndi Design For Feet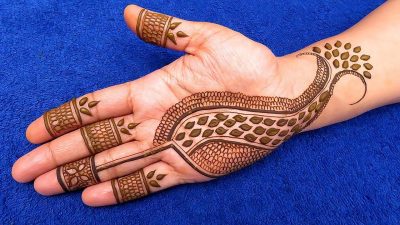 This nice and simple pattern of henna is for women who love simplicity and uniqueness. The design is done with precision and neatness. You would love this simple easy modern mehndi design.