21. Ring Pattern Simple Mehndi Art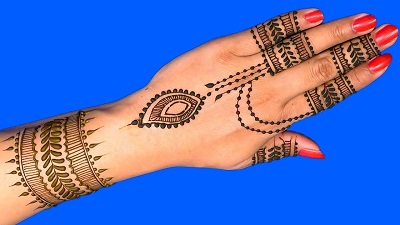 Ring like mehndi designs are currently in trend and they are very popular amongst younger girls. Such designs can be tried for Rakhi, Karva Chauth, Eid and other family functions and festivals. It can be applied for informal events too.
22. Easy Circular Pattern Of Mehndi For Feet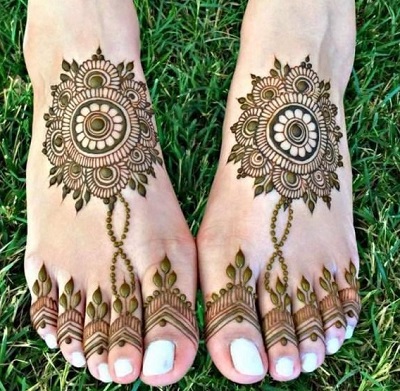 The circular mehndi is not just for your palms and back side of the palm but it can also be applied on the feet. The rich design is sure to give you compliment and you can apply it on the palms as well.
23. Backhand Easy Mehndi For Beginners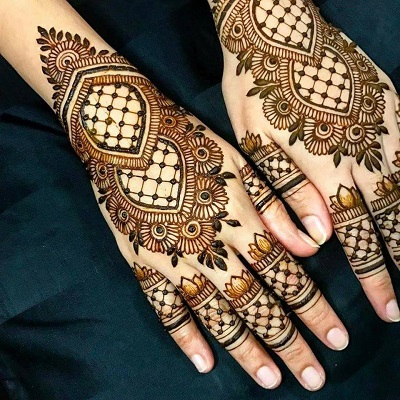 The beauty of this back hand simple mehndi design is the neatness it is done with. The simple pattern surely draws the attention and it would be easier for you to make it with some practice. It's suitable for festivals and other family gatherings.
24. Easy Gol Tikka Mehndi Design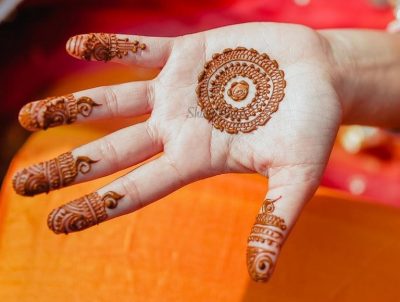 The easy Gol Tikka mehndi design is simple and even though the design is quite closely packed. Here you need to have a very thin cone and make sure that you are making the pattern with neatness else they would merge or spread ruining the design.
25. Easy Khafif Mehndi Design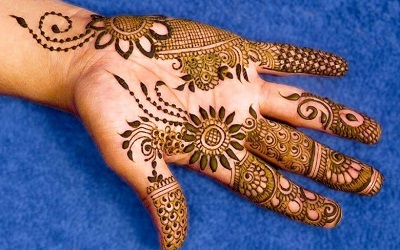 It's a very traditional mehndi design that bears everything that you need from a beautiful mehndi. From the flowers, Paisley, check pattern to filled in leaves and ball chain anything that you would like.
26. Easy Mehndi Design For Raksha Bandhan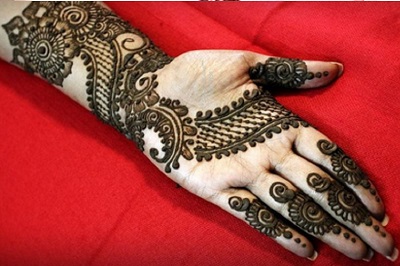 This extremely simple mehndi design is easy to make. It is done with Thick lines therefore you need to be careful that they do not more caustic together. They are filled with simple patterns therefore for family functions and other festivals. It is better to pair it with traditional outfits.
27. Easy Mehndi Design Step By Step For Beginners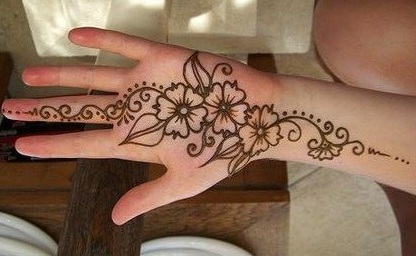 It's a very simple beginner's friendly mehndi design for kids. With three flowers on the palm it has. It is extremely simple and easy mehndi pattern that people who are learning would find it uncomplicated.
28. Easy Mehndi Flower Design For Hands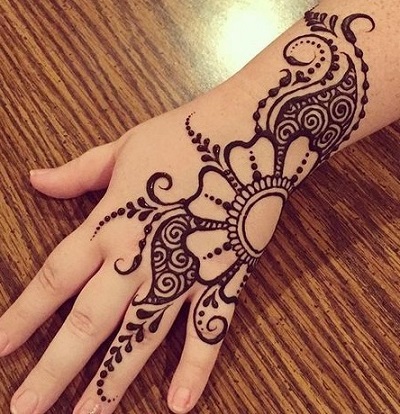 The floral simple mehndi is done using bold patterns. You won't find filled in shapes or structures it just the floral leaves and paste please. In fact it is also suitable to be paired with Western outfits.
29. Easy foot jewellery style mehndi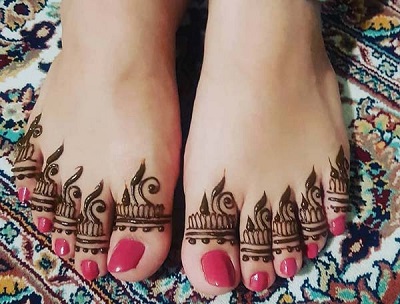 If you like easy mehndi design that quickly then try this. The mehndi here has two finger pattern. It is very easy to apply and you would surely enjoy putting it on your feet.
30. Easy Paisley Mehndi For Kids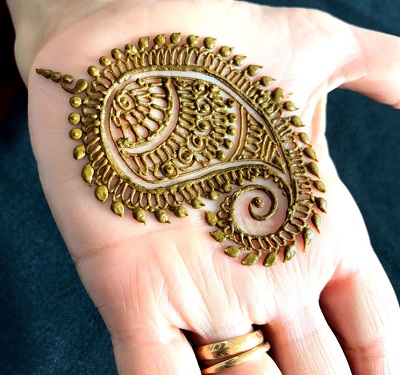 A simple paisley can do a lot when you love to have it on your palms. The easy and beginner's friendly mehndi design can be applied within few minutes. So, if you would like to practice then try design like this too more study applying Henna.
31. Cuff Bracelet Linear Simple Mehndi Design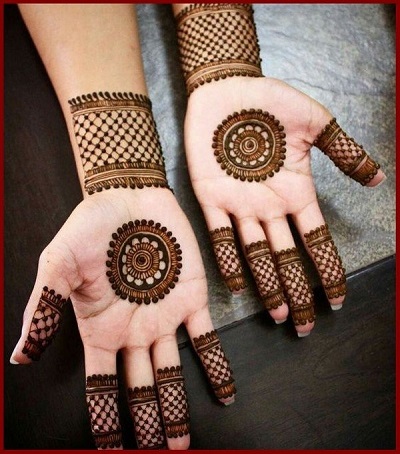 A circular mehandi design can never go out of fashion. This design has circles on palm and cuff like appearance of the wrist. The simple yet extremely beautiful design will be liked by anyone who love to apply mehndi. It is a perfection of simple mehndi design. The pattern is not grand yet has that attractiveness.
32. Foot Mehndi With Simple Chained Pattern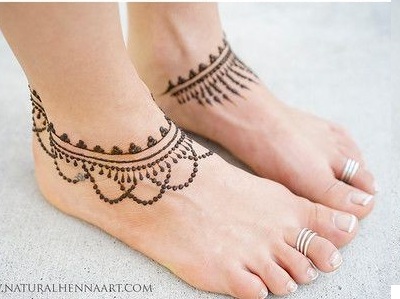 The simple chain mehndi is easy to apply with little bit of practice. It is perfect for beginners and people who would like to try some Indo Western Mehndi patterns on feet.
33. Front Finger Mehndi Design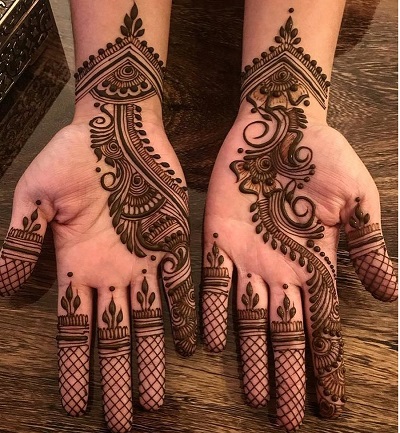 It's one of the best front finger mehndi pattern with fringe like structures. It is done so neatly and beautifully that you would surely love to apply it on your hands for weddings and parties. What makes it more traditional and beautiful is the pattern and shapes used. You can also apply it on the back of the hand.
34. Front Hand Floral Mehndi Design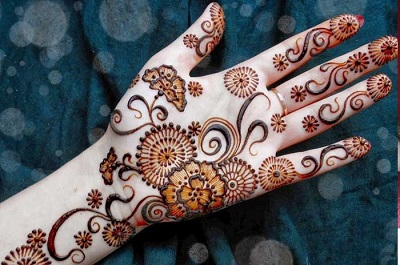 If you like circular flower shapes on the entire palm that brings a refreshing look to your design then try this one. The palm and simple mehndi design is used by putting dots and circular pattern. The shaded flowers are filled in that gives more dark and rich colour. You can apply this on the back of the palm and on the feet. It is perfect to paired with Indo Western outfits.
35. Full Hand Mehndi Design Simple And Easy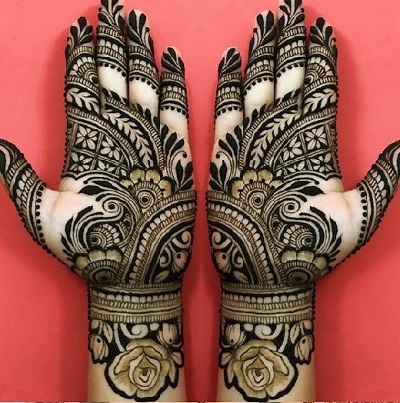 Mehndi design with rose flower shapes is a beautiful idea to go for the traditional ceremonies, other things, parties and festivals like Eid and Karva Chauth.
36. Flower And Shaded Mehndi Design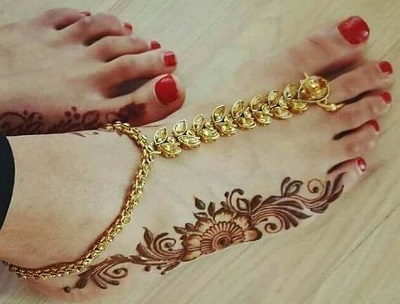 The intricate floral feet mehndi pattern is suitable for simple patterns. It has shaded flower and curvy lines. It can be paired with any outfit or parties and weddings. It is a best mehndi design for Eid and Karwa Chauth.
37. Geometric Pattern Mehndi For Weddings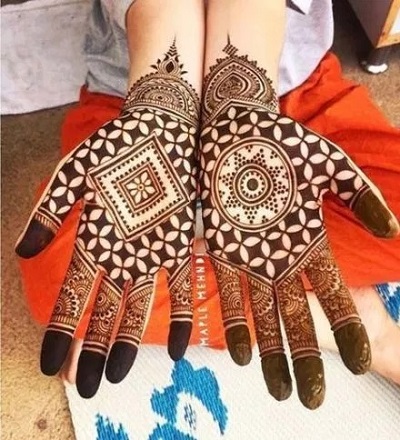 If you're wondering what mehndi design you should go for Diwali, Eid and Karva Chauth, then try this geometric pattern design. The other women would surely compliment your design. The dramatic pattern simple mehndi is easy to apply it's just that you need to be careful while filling in the shapes in the centre of the palm.
38. Quick Criss Cross Foot Design Mehndi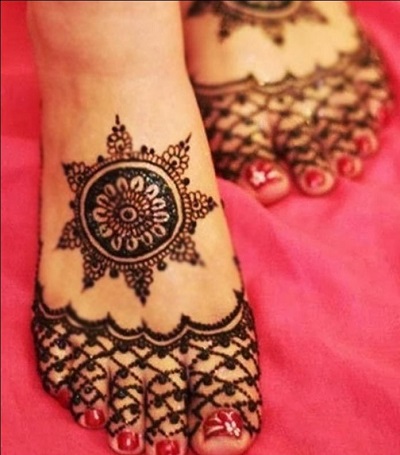 The feet mehndi bears a circular pattern in the centre palm and a beautiful design over the toes. It is a very bridal specific design. There is not much gap within the design but the feet are left there with just circles. It is suitable for wedding and engagement as well.
39. Jewelery Style Simple Foot Mehndi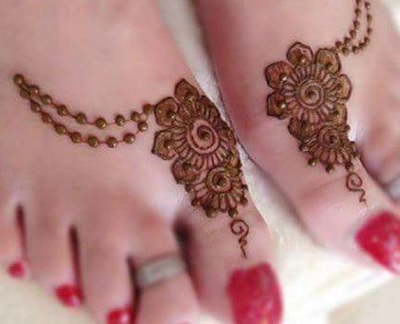 How about a beautiful Toran with ball chains? This is easy foot mehndi design that has two flowers and chains going on each side. We are sure you would love to enjoy this mehndi design.
40. Kids Easy Bracelet Style Mehndi Design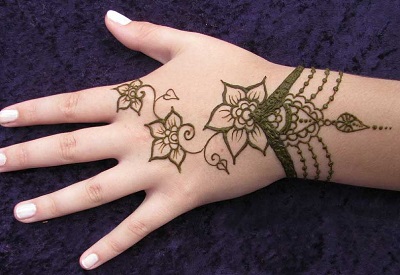 For kids this is a very and quick to apply Mehndi. With three flowers it has a band like shape. For a chains you can also tweak the design update and arrange the flowers in a line. Starting from the index finger small flowers can be made that extends and meets towards the wrist band.